Abstract
Long-standing ulcerative colitis is associated with an elevated risk of developing colonic adenocarcinoma. A very limited group of patients present with multiple synchronous cancers. This could be due to either a multifocal presentation of the same neoplastic clone or different tumors arising in a large area of polyclonal dysplastic colonic mucosa ("field cancerization"). Here, we describe a patient with long-standing colitis and three different tumors in the rectosigmoid part of the large bowel. Clonal evaluation of the lesions was performed by array-based comparative genomic hybridization. These three neoplasms showed a comparable pattern of genomic alterations characterized by gains of chromosomes 12, 13, and 20. Noteworthy, dysplastic mucosa distal to the three cancers displayed a completely different pattern of genomic changes indicating that different cell lineages were present. In addition, all three carcinomas were microsatellite stable and revealed identical immunoprofiles for several cancer-associated genes. We conclude that these three multifocal tumors must have originated from the same preneoplastic lineage.
This is a preview of subscription content, log in to check access.
Access options
Buy single article
Instant access to the full article PDF.
US$ 39.95
Price includes VAT for USA
Subscribe to journal
Immediate online access to all issues from 2019. Subscription will auto renew annually.
US$ 199
This is the net price. Taxes to be calculated in checkout.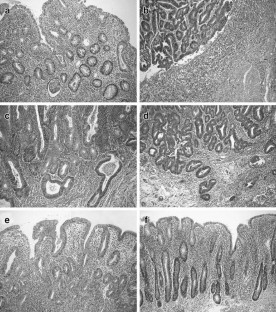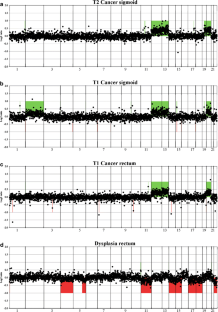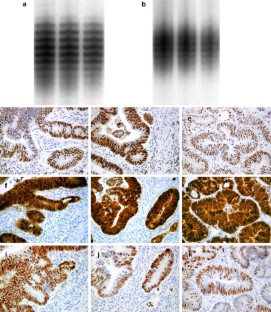 References
1.

Aust DE, Willenbucher RF, Terdiman JP, Ferell LD, Chang CG, Moore DH, Molinaro-Clark A, Baretton GB, Loehrs U, Waldman FM (2000) Chromosomal alterations in ulcerative colitis-related and sporadic colorectal cancers by comparative genomic hybridization. Human Pathol 31:109–114

2.

Blackstone MO, Riddell RH, Rogers BH, Levin B (1981) Dysplasia-associated lesion or mass (DALM) detected by colonoscopy in long-standing ulcerative colitis: an indication for colectomy. Gastroenterology 80:366–374

3.

Douglas EJ, Fiegler H, Rowan A, Halford S, Bicknell DC, Bodmer W, Tomlinson IP, Carter NP (2004) Array comparative genomic hybridization analysis of colorectal cancer cell lines and primary carcinomas. Cancer Res 64:4817–4825

4.

Ekbom A, Helmick C, Zack M, Adami HO (1990) Ulcerative colitis and colorectal cancer. A population-based study. N Engl J Med 323:1228–1233

5.

Jong K, Marchiori E, Meijer G, Vaart AV, Ylstra B (2004) Breakpoint identification and smoothing of array comparative genomic hybridization data. Bioinformatics 12:3636–3637

6.

Knijnenburg J, Szuhai K, Giltay J, Molenaar L, Sloos W, Poot M, Tanke HJ, Rosenberg C (2005) Insights from genomic microarrays into structural chromosome rearrangements. Am J Med Genet 132:36–40

7.

Lyda MH, Noffsinger A, Belli J, Fischer J, Fenoglio-Preiser CM (1998) Multifocal neoplasia involving the colon and appendix in ulcerative colitis: pathological and molecular features. Gastroenterology 115:1566–1573

8.

Odze RD, Brown CA, Hartmann CJ, Noffsinger AE, Fogt F (2000) Genetic alterations in chronic ulcerative colitis-associated adenoma-like DALMs are similar to non-colitic sporadic adenomas. Am J Surg Pathol 24:1209–1216

9.

Riddell RH, Goldman H, Ransohoff DF, Appelman HD, Fenoglio CM, Haggitt RC, Ahren C, Correa P, Hamilton SR, Morson BC (1983) Dysplasia in inflammatory bowel disease: standardized classification with provisional clinical applications. Human Pathol 14:931–968

10.

Sobin LH, Wittekind C (2002) International Union Against Cancer (6th edn). Wiley, New York

11.

Van Dekken H, Wink JC, Vissers KJ, van Marion R, Koppert LB, Tilanus HW, Siersema PD, Tanke HJ, Szuhai K, Hop WCJ (2006) Genomic analysis of early adenocarcinoma of the esophagus or gastro-esophageal junction: tumor progression is associated with alteration of 1q and 8p sequences. Genes Chromosomes Cancer 45:516–525

12.

Westenend PJ, Schutte R, Hoogmans MM, Wagner A, Dinjens WN (2005) Breast cancer in an MSH2 gene mutation carrier. Human Pathol 36:1322–1326

13.

Willenbucher RF, Aust DE, Chang CG, Zelman SJ, Ferrell LD, Moore DH, Waldman FM (1999) Genomic instability is an early event during the progression pathway of ulcerative-colitis-related neoplasia. Am J Pathol 154:1825–1830
About this article
Cite this article
van Dekken, H., Wink, J.C., Vissers, K.J. et al. Genomic analysis of a case of multifocal adenocarcinoma in ulcerative colitis. Virchows Arch 449, 716–721 (2006). https://doi.org/10.1007/s00428-006-0312-4
Received:

Accepted:

Published:

Issue Date:
Keywords
Ulcerative colitis

Dysplasia

Adenocarcinoma

Clonal analysis

CGH