Abstract
Mucoepidermoid carcinoma is a common neoplasm of the salivary glands. Salivary gland-type neoplasms are very rare in the nasopharynx, and there are only few reports on mucoepidermoid carcinoma of the nasopharynx. Two additional cases of mucoepidermoid carcinoma arising from the nasopharynx are reported here. Case 1: the patient was a 57-year-old Japanese woman who had bloody sputum. Case 2: the patient was a 51-year-old Japanese woman who underwent resection of a nasopharyngeal tumor. Histologically, both tumors were also low-grade mucoepidermoid carcinomas with clear cells. Histochemically, the gland-like nests and mucous cells were positive for mucin staining. Immunohistochemically, the lesions were positive for cytokeratins (CKs), p63, and MUC1, but negative for alpha-smooth muscle actin and EBER mRNA. The Ki-67 labeling indices of the two tumors were 10.4% and 4.3%, respectively. The two present cases and a review of the English literature indicate that salivary gland-type neoplasms arising from the nasopahrynx are extremely rare. The prognosis of salivary gland-type carcinomas of the nasopharynx is still unknown.
This is a preview of subscription content, log in to check access.
Access options
Buy single article
Instant access to the full article PDF.
US$ 39.95
Price includes VAT for USA
Subscribe to journal
Immediate online access to all issues from 2019. Subscription will auto renew annually.
US$ 199
This is the net price. Taxes to be calculated in checkout.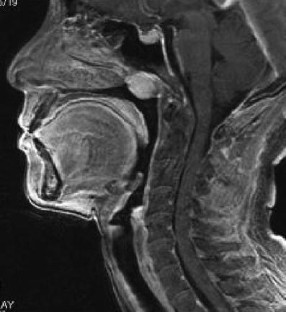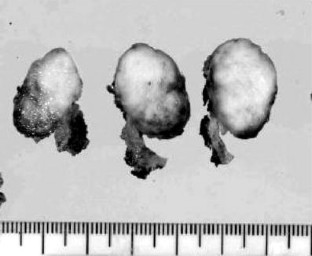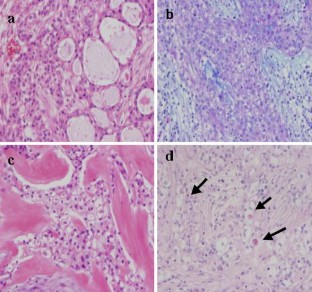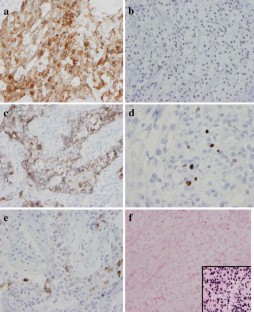 References
1.

Alos L, Lujan B, Castillo M, Nadal A, Carreras M, Caballero M, de Bolos C, Cardesa A (2005) Expression of membrane-bound mucins (MUC1 and MUC4) and secretory mucins (MUC2, MUC5AC, MUC5B, MUC6 and MUC7) in mucoepidermoid carcinomas of salivary glands. Am J Surg Pathol 29:806–813

2.

Brown J, Choi EC, Fee WE Jr (1999) Nasopharyngectomy for recurrent high-grade mucoepidermoid carcinoma after radiation failure. Otolaryngol Head Neck Surg 120:564–566

3.

Ellis ER, Million RR, Medenhall WM, Parsons JT, Cassisi NJ (1988) The use of radiation therapy in the management of minor salivary gland tumors. Int J Radiat Oncol Biol Phys 15:613–617

4.

Garden AS, Weber RS, Ang KK, Morrison WH, Matre J, Peters LJ (1994) Postoperative radiation therapy for malignant tumors of minor salivary glands. Cancer 73:2563–2569

5.

Gates GA (1982) Current concepts in otolaryngology: malignant neoplasms of the minor salivary glands. N Engl J Med 306:718–722

6.

van Hasselt CA, Ng HK (1991) Papillary adenocarcinoma of the nasopharynx. J Laryngol Otol 105:853–854

7.

Hu LF, Zabarovsky ER, Chen F, Cao SL, Ernberg I, Kein G, Winberg G (1991) Isolation and sequencing of the Epstein–Barr virus BNLM-1 gene (LMP1) from a Chinese nasopharyngeal carcinoma. J Gen Virol 72:2399–2409

8.

Kuo TT, Chan JKC, Wenig BM, Eveson JW (2005) Nasopharyngeal adneocarcinoma and salivary gland-type carcinoma. In: Barnes L, Eveson JW, Reichart P, Sidransky D (eds). World Health Organization Classification Tumours: Pathology & Genetics Head and Neck Tumours. WHO Publications Center, Albany, NY, USA, IARC Press, Lyon, p98

9.

Kuo TT, Tsang NM (2001) Salivary gland type nasopharyngeal carcinoma: a histologic, immunohistochemical, and Epstein–Barr virus study of 15 cases including a psammomatous mucoepidermoid carcinoma. Am J Surg Pathol 25:80–86

10.

Li TS (1990) Minor salivary gland tumors of the nasopharynx. Zhonghua Zhongliu Zazhi 12:127–129

11.

Schmid E, Neuwirth H (1975) On mucoepidermoid tumors with rare locations in laryngological areas (author's transl). Laryngol Rhinol Otol 54:290–296(German)

12.

Schramm VL Jr, Imora MJ (2001) Management of nasopharyngeal salivary gland malignancy. Laryngoscope 111:1533–1544

13.

Spiro RH, Koss LG, Hajdu SI, Strong EW (1973) Tumors of minor salivary origin. A clinicopathologic study of 492 cases. Cancer 31:117–129

14.

Wenig BM, Hyams VJ, Heffner DK (1988) Nasopharyngeal papillary adenocarcinoma: a clinicopathologic study of a low-grade carcinoma. Am J Surg Pathol 12:946–953
Acknowledgments
The authors thank Mr. Isamu Hayashi, Mr. Kazuhiro Kawabata, Mr. Yoichi Watanabe, Ms. Yukiko Fukazawa, Mr. Kiyoshi Tone, Mr. Koji Muramatsu, Ms. Kaori Nagata, Ms. Sayaka Tokushige, Mr. Hiroshi Tashiro, Ms. Tsukumi Yabuzaki, Mr. Eiichiro Simmori, Ms. Sachiyo Ohno, Mari Hiyoshi, and Mr. Masataka Honda, the staff of the Division of Pathology, Shizuoka Cancer Center, Shizuoka, Japan, for the technical assistance. We are grateful to Mr. Koji Sugawara, the staff of the Photo Center, Shizuoka Cancer Center, Shizuoka, Japan, for the help with the preparation of the figures.
About this article
Cite this article
Kusafuka, K., Takizawa, Y., Iida, Y. et al. Primary nasopharyngeal mucoepidermoid carcinoma in Japanese patients: two case reports with histochemical and immunohistochemical analysis and a review of the literature. Virchows Arch 450, 343–348 (2007). https://doi.org/10.1007/s00428-006-0277-3
Received:

Accepted:

Published:

Issue Date:
Keywords
Mucoepidermoid carcinoma

Nasopharynx

MUC

Immunohistochemistry

Epstein–Barr virus