Abstract
Primary non-Hodgkin's lymphomas of the conjunctiva are uncommon. They are almost exclusively extranodal marginal zone B-cell lymphomas/mucosa-associated lymphoid tissue lymphomas. In this study, we report an extremely rare case of conjunctival mantle cell lymphoma in a 78-year-old man, presenting as a unilateral epibulbar mass.
This is a preview of subscription content, log in to check access.
Access options
Buy single article
Instant access to the full article PDF.
US$ 39.95
Price includes VAT for USA
Subscribe to journal
Immediate online access to all issues from 2019. Subscription will auto renew annually.
US$ 199
This is the net price. Taxes to be calculated in checkout.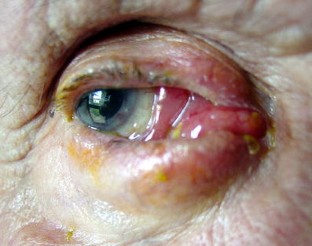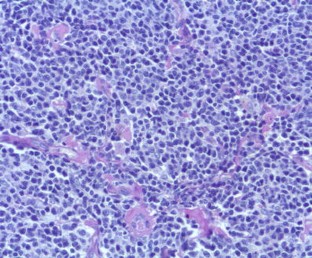 Abbreviations
MALT:

mucosa-associated lymphoid tissue

MCL:

mantle cell lymphomas

CLL/SCL:

chronic lymphocytic leukemia/small cell lymphoma

ENMZL:

extranodal marginal zone lymphoma

FCL:

follicle center lymphoma

DLBCL:

diffuse large B-cell lymphoma
References
1.

Aisenberg AC (1991) Extranodal lymphoma: presentation, natural history and special treatment considerations. In: Aisenberg AC (ed) Malignant lymphoma. Lea and Fabiger, Philadelphia, pp 235–310

2.

Akpek EK, Polcharoen W, Ferry JA, Foster CS (1999) Conjunctival lymphoma masquerading as chronic conjunctivitis. Ophthalmology 106:757–760

3.

Auw-Haedrich C, Coupland SE, Kapp A, Schmitt-Graff A, Buchen R, Witschel H (2001) Long term outcome of ocular adnexal lymphoma subtyped according to the REAL classification. Revised European and American Lymphoma. Br J Ophthalmol 85:63–69

4.

Cahill M, Barnes C, Moriarty P, Daly P, Kennedy S (1999) Ocular adnexal lymphoma-comparison of MALT lymphoma with other histological types. Br J Ophthalmol 83:742–747

5.

Calvo R, Ribera JM, Vaquero M, Garcia O, Moreno I, Feliu E (1997) Low-grade, malt-type, primary B-cell lymphoma of the conjunctiva. Leuk Lymphoma 28:203–207

6.

Charlotte F, Doghmi K, Cassoux N, Ye H, Du MQ, Kujas M, Lesot A, Mansour G, Lehoang P, Vignot N, Capron F, Leblond V (2006) Ocular adnexal marginal zone B cell lymphoma: a clinical and pathologic study of 23 cases. Virchows Arch 448:506–516

7.

Cheuk W, Wong KO, Wong CS, Chan JK (2004) Consistent immunostaining for cyclin D1 can be achieved on a routine basis using a newly available rabbit monoclonal antibody. Am J Surg Pathol 28:801–807

8.

Cho EY, Han JJ, Ree HJ, Ko YH, Kang YK, Ahn HS, Ahn SD, Park CJ, Huh J (2003) Clinicopathologic analysis of ocular adnexal lymphomas: extranodal marginal zone b-cell lymphoma constitutes the vast majority of ocular lymphomas among Koreans and affects younger patients. Am J Hematol 73:87–96

9.

Coupland SE, Krause L, Delecluse HJ, Anagnostopoulos I, Foss HD, Hummel M, Bornfeld N, Lee WR, Stein H (1998) Lymphoproliferative lesions of the ocular adnexa. Analysis of 112 cases. Ophthalmology 105:1430–1441

10.

Ellis JH, Banks PM, Campbell RJ, Liesegang TJ (1985) Lymphoid tumors of the ocular adnexa. Clinical correlation with the working formulation classification and immunoperoxidase staining of paraffin sections. Ophthalmology 92:1311–1324

11.

Freeman C, Berg JW, Cutler SJ (1972) Occurrence and prognosis of extranodal lymphomas. Cancer 29:252–260

12.

Grossniklaus HE, Green WR, Luckenbach M, Chan CC (1987) Conjunctival lesions in adults. A clinical and histopathologic review. Cornea 6:78–116 (Review)

13.

Isaacson PG, Norton AJ (1994) Lymphomas of the ocular adnexa and eye. In: Nuttall J, Daniels L, Singleton P (eds) Extranodal lymphomas. Churchill Livingstone, Edinburgh, pp 117–129

14.

Jenkins C, Rose GE, Bunce C, Wright JE, Cree IA, Plowman N, Lightman S, Moseley I, Norton A (2000) Histological features of ocular adnexal lymphoma (REAL classification) and their association with patient morbidity and survival. Br J Ophthalmol 84:907–913

15.

Knowles DM, Jakobiec FA, McNally L, Burke JS (1990) Lymphoid hyperplasia and malignant lymphoma occurring in the ocular adnexa (orbit, conjunctiva, and eyelids): a prospective multiparametric analysis of 108 cases during 1977 to 1987. Hum Pathol 21:959–973

16.

Kurz-Levin MM, Flury R, Bernauer W (1997) Diagnosis of MALT lymphoma by conjunctival biopsy: a case report. Graefes Arch Clin Exp Ophthalmol 235:606–609

17.

Lee DH, Sohn HW, Park SH, Kang YK (2001) Bilateral conjunctival mucosa-associated lymphoid tissue lymphoma misdiagnosed as allergic conjunctivitis. Cornea 20:427–429

18.

Leff SR, Shields JA, Augsburger JJ, Miller RV, Liberatore B (1985) Unilateral eyelid, conjunctival, and choroidal tumours as initial presentation of diffuse large-cell lymphoma. Br J Ophthalmol 69:861–864

19.

Looi A, Gascoyne RD, Chhanabhai M, Connors JM, Rootman J, White VA (2005) Mantle cell lymphoma in the ocular adnexal region. Ophthalmology 112:114–119

20.

Matteucci C, Galieni P, Leoncini L, Lazzi S, Lauria F, Polito E, Martelli MF, Mecucci C (2003) Typical genomic imbalances in primary MALT lymphoma of the orbit. J Pathol 200:656–660

21.

Meunier J, Lumbroso-Le Rouic L, Vincent-Salomon A, Dendale R, Asselain B, Arnaud P, Fourquet A, Desjardins L, Plancher C, Validire P, Chaoui D, Levy C, Decaudin D (2004) Ophthalmologic and intraocular non-Hodgkin's lymphoma: a large single centre study of initial characteristics, natural history, and prognostic factors. Hematol Oncol 22:143–158 (Review)

22.

Petrella T, Bron A, Foulet A, Arnould L, Chirpaz L, Michiels R (1991) Report of a primary lymphoma of the conjunctiva. A lymphoma of MALT origin? Pathol Res Pract 187:78–84

23.

Reiser M, Josting A, Diehl V, Engert A (2001) Primary lymphoma of the conjunctiva—a rare manifestation of indolent non-Hodgkin's lymphoma. Ann Hematol 80:311–313

24.

Sasai K, Yamabe H, Dodo Y, Kashii S, Nagata Y, Hiraoka M (2001) Non-Hodgkin's lymphoma of the ocular adnexa. Acta Oncol 40:485–490

25.

Schick U, Lermen O, Unsold R, Hassler W (2004) Treatment of primary orbital lymphomas. Eur J Haematol 72:186–192

26.

Sharara N, Holden JT, Wojno TH, Feinberg AS, Grossniklaus HE (2003) Ocular adnexal lymphoid proliferations: clinical, histologic, flow cytometric, and molecular analysis of forty-three cases. Ophthalmology 10:1245–1254

27.

Vandenberghe E, De Wolf-Peeters C, Vaughan Hudson G, Vaughan Hudson B, Pittaluga S, Anderson L, Linch DC (1997) The clinical outcome of 65 cases of mantle cell lymphoma initially treated with non-intensive therapy by the British National Lymphoma Investigation Group. Br J Haematol 99:842–847

28.

White WL, Ferry JA, Harris NL, Grove AS Jr (1995) Ocular adnexal lymphoma. A clinicopathologic study with identification of lymphomas of mucosa-associated lymphoid tissue type. Ophthalmology 102:1994–2006

29.

Wotherspoon AC, Diss TC, Pan LX, Schmid C, Kerr-Muir MG, Lea SH, Isaacson PG (1993) Primary low-grade B-cell lymphoma of the conjunctiva: a mucosa-associated lymphoid tissue type lymphoma. Histopathology 23:417–424
About this article
Cite this article
Aspiotis, M., Gorezis, S., Asproudis, I. et al. Primary mantle cell lymphoma of the conjunctiva: a case report. Virchows Arch 449, 472–475 (2006). https://doi.org/10.1007/s00428-006-0268-4
Received:

Accepted:

Published:

Issue Date:
Keywords
Conjunctiva

Lymphoma

Mantle cell

Cyclin D1