Abstract
Aberrant epididymal tissue is uncommon and may be associated with an undescended testis. To the best of our knowledge, aberrant epididymal tissue has not been described in a testicular appendix. We report the case of a 7-year-old boy with left cryptorchidism who underwent a homolateral orchidopexy. At operation, the surgeon removed a pedunculated appendix testis containing an epididymal heterotopia. This Wolffian-derivative tissue was confirmed by the diffuse strong CD10 reactivity of the luminal border of the epithelial cells. Awareness of this aberrant tissue avoids misinterpretation as a transected functional reproductive structure.
This is a preview of subscription content, log in to check access.
Access options
Buy single article
Instant access to the full article PDF.
US$ 39.95
Price includes VAT for USA
Subscribe to journal
Immediate online access to all issues from 2019. Subscription will auto renew annually.
US$ 199
This is the net price. Taxes to be calculated in checkout.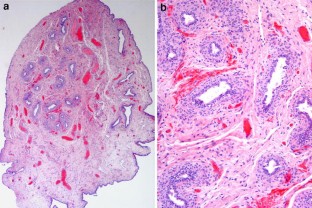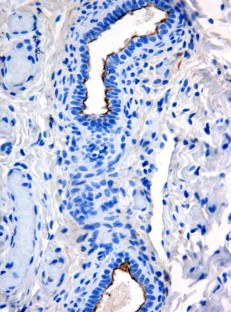 References
1.

Cerilli LA, Sotelo-Avila C, Mills SE (2003) Glandular inclusions in inguinal hernia sacs. Morphologic and immunohistochemical distinction from epididymis and vas deferens. Am J Surg Pathol 27:469–476

2.

Gomez-Roman JJ, Mayorga M, Mira C, Buelta L, Fernandez F, Val-Bernal JF (1994) Glandular inclusions in inguinal hernia sacs: a clinicopathologic study of six cases. Pediatr Pathol 14:1043–1049

3.

Jacob M, Barteczko K (2005) Contribution to the origin and development of the appendices of the testis and epididymis in humans. Anat Embryol 209:287–302

4.

Ordi J, Nogales FF, Palacin A, Márquez M, Pahisa J, Vanrell JA, Cardesa A (2001) Mesonephric adenocarcinoma of the uterine corpus. CD10 expression as evidence of mesonephric differentiation. Am J Surg Pathol 25:1540–1545

5.

Rolnick D, Kawanoue S, Szanto P, Bush IM (1968) Anatomic incidence of testicular appendages. J Urol 100:755–756

6.

Sahni D, Jit I, Joshi K, Sanjeev (1996) Incidence and structure of the appendices of the testis and epididymis. J Anat 189:342–348

7.

Willis RA (ed) (1962) The borderland of embryology and pathology, 2nd edn. Butterworths, London

8.

Wollin M, Marshall FF, Fink MP, Malhotra R, Diamond DA (1987) Aberrant epididymal tissue: a significant clinical entity. J Urol 138:1247–1250
About this article
Cite this article
Val-Bernal, J.F., Val, D. & Garijo, M.F. Ectopic epididymal tissue in appendix testis. Virchows Arch 449, 373–375 (2006). https://doi.org/10.1007/s00428-006-0248-8
Received:

Accepted:

Published:

Issue Date:
Keywords
Appendix testis

Hydatid of Morgagni

Wolffian remnants

Müllerian remnants

Epididymis

Embryologic remnants

CD10

Immunohistochemistry