Abstract
Cigarette smoke is the principal risk factor for chronic obstructive pulmonary disease (COPD). Multidrug resistance proteins, such as multidrug resistance-associated protein-1 (MRP1), P-glycoprotein (P-gp), and lung resistance-related protein (LRP), may protect against oxidative stress and toxic compounds generated by cigarette smoking. Expression of MRP1, P-gp, and LRP was evaluated in bronchial epithelium of two study groups of COPD patients and their controls and was associated with disease status and smoking history. In study group 1, MRP1, but not P-gp and LRP expression, was lower (p=0.029) in normal bronchial epithelium of COPD patients (n=11) compared to healthy controls (n=8). MRP1 expression was high in squamous metaplastic epithelium. When including expression in squamous metaplastic cells, MRP1 was still lower in total bronchial epithelium in the COPD group (p=0.038). In study group 2, expression of MRP1, but not of P-gp and LRP, was lower (p=0.047) in lung tissue of (very) severe COPD (n=10) vs mild to moderate COPD (n=9) patients. In conclusion, MRP1 expression was lower in bronchial biopsies of COPD patients than of healthy controls and was also lower in patients with severe COPD than with mild/moderate COPD. Our findings indicate that diminished MRP1 expression in normal bronchial epithelium is associated with COPD. The exact role in COPD pathogenesis is to be revealed by further functional studies.
This is a preview of subscription content, log in to check access.
Access options
Buy single article
Instant access to the full article PDF.
US$ 39.95
Price includes VAT for USA
Subscribe to journal
Immediate online access to all issues from 2019. Subscription will auto renew annually.
US$ 199
This is the net price. Taxes to be calculated in checkout.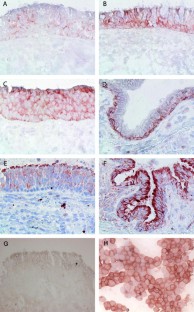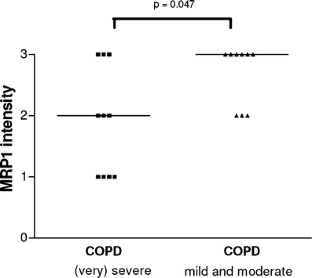 References
1.

Brechot JM, Hurbain I, Fajac A, Daty N, Bernaudin JF (1998) Different pattern of MRP localization in ciliated and basal cells from human bronchial epithelium. J Histochem Cytochem 46:513–517

2.

Cole SP, Bhardwaj G, Gerlach JH, Mackie JE, Grant CE, Almquist KC, Stewart AJ, Kurz EU, Duncan AM, Deeley RG (1992) Overexpression of a transporter gene in a multidrug-resistant human lung cancer cell line. Science 258:1650–1654

3.

Hurbain I, Sermet-Gaudelus I, Vallee B, Feuillet MN, Lenoir G, Bernaudin JF, Edelman A, Fajac A (2003) Evaluation of MRP1-5 gene expression in cystic fibrosis patients homozygous for the delta F508 mutation. Pediatr Res 54:627–634

4.

Kitazono M, Sumizawa T, Takebayashi Y, Chen ZS, Furukawa T, Nagayama S, Tani A, Takao S, Aikou T, Akiyama S (1999) Multidrug resistance and the lung resistance-related protein in human colon carcinoma SW-620 cells. J Natl Cancer Inst 91:1647–1653

5.

Lechapt-Zalcman E, Hurbain I, Lacave R, Commo F, Urban T, Antoine M, Milleron B, Bernaudin JF (1997) MDR1-Pgp 170 expression in human bronchus. Eur Respir J 10:1837–1843

6.

Leslie EM, Ito K, Upadhyaya P, Hecht SS, Deeley RG, Cole SP (2001) Transport of the beta-O-glucuronide conjugate of the tobacco-specific carcinogen 4-(methylnitrosamino)-1-(3-pyridyl)-1-butanol (NNAL) by the multidrug resistance protein 1 (MRP1). Requirement for glutathione or a non-sulfur-containing analog. J Biol Chem 276:27846–27854

7.

Muller M, Meijer C, Zaman GJ, Borst P, Scheper RJ, Mulder NH, de Vries EG, Jansen PL (1994) Overexpression of the gene encoding the multidrug resistance-associated protein results in increased ATP-dependent glutathione S-conjugate transport. Proc Natl Acad Sci U S A 91:13033-13037

8.

Nooter K, Westerman AM, Flens MJ, Zaman GJ, Scheper RJ, van Wingerden KE, Burger H, Oostrum R, Boersma T, Sonneveld P (1995) Expression of the multidrug resistance-associated protein (MRP) gene in human cancers. Clin Cancer Res 1:1301–1310

9.

Pastan I, Gottesman MM, Ueda K, Lovelace E, Rutherford AV, Willingham MC (1988) A retrovirus carrying an MDR1 cDNA confers multidrug resistance and polarized expression of P-glycoprotein in MDCK cells. Proc Natl Acad Sci U S A 85:4486–4490

10.

Pauwels RA, Buist AS, Calverley PM, Jenkins CR, Hurd SS (2001) Global strategy for the diagnosis, management, and prevention of chronic obstructive pulmonary disease. NHLBI/WHO Global Initiative for Chronic Obstructive Lung Disease (GOLD) Workshop summary. Am J Respir Crit Care Med 163:1256–1276

11.

Pryor WA, Stone K (1993) Oxidants in cigarette smoke. Radicals, hydrogen peroxide, peroxynitrate, and peroxynitrite. Ann NY Acad Sci 686:12–27

12.

Rahman I, MacNee W (1999) Lung glutathione and oxidative stress: implications in cigarette smoke-induced airway disease. Am J Physiol 277:L1067–L1088

13.

Rahman I, Morrison D, Donaldson K, MacNee W (1996) Systemic oxidative stress in asthma, COPD, and smokers. Am J Respir Crit Care Med 154:1055–1060

14.

Repine JE, Bast A, Lankhorst I (1997) Oxidative stress in chronic obstructive pulmonary disease. Oxidative stress study group. Am J Respir Crit Care Med 156:341–357

15.

Rutgers SR, Timens W, Kaufmann HF, van der Mark TW, Koeter GH, Postma DS (2000) Comparison of induced sputum with bronchial wash, bronchoalveolar lavage and bronchial biopsies in COPD. Eur Respir J 15:109–115

16.

Scheffer GL, Kool M, Heijn M, de Haas M, Pijnenborg AC, Wijnholds J, van Helvoort A, de Jong MC, Hooijberg JH, Mol CA, van der Linden M, de Vree JM, van der Valk P, Elferink RP, Borst P, Scheper RJ (2000) Specific detection of multidrug resistance proteins MRP1, MRP2, MRP3, MRP5, and MDR3 P-glycoprotein with a panel of monoclonal antibodies. Cancer Res 60:5269–5277

17.

Scheffer GL, Pijnenborg AC, Smit EF, Muller M, Postma DS, Timens W, van der Valk P, de Vries EG, Scheper RJ (2002) Multidrug resistance related molecules in human and murine lung. J Clin Pathol 55:332–339

18.

Scheffer GL, Schroeijers AB, Izquierdo MA, Wiemer EA, Scheper RJ (2000) Lung resistance-related protein/major vault protein and vaults in multidrug-resistant cancer. Curr Opin Oncol 12:550–556

19.

Scheffer GL, Wijngaard PL, Flens MJ, Izquierdo MA, Slovak ML, Pinedo HM, Meijer CJ, Clevers HC, Scheper RJ (1995) The drug resistance-related protein LRP is the human major vault protein. Nat Med 1:578–582

20.

Schroeijers AB, Scheffer GL, Reurs AW, Pijnenborg AC, Abbondanza C, Wiemer EA, Scheper RJ (2001) Detection of the Mr 110,000 lung resistance-related protein LRP/MVP with monoclonal antibodies. J Histochem Cytochem 49:1379–1385

21.

Thomas GA, Barrand MA, Stewart S, Rabbitts PH, Williams ED, Twentyman PR (1994) Expression of the multidrug resistance-associated protein (MRP) gene in human lung tumours and normal tissue as determined by in situ hybridisation. Eur J Cancer 30A:1705–1709

22.

van der Deen M, de Vries EG, Timens W, Scheper RJ, Timmer-Bosscha H, Postma DS (2005) ATP-binding cassette (ABC) transporters in normal and pathological lung. Respir Res 6:59

23.

van Straaten JF, Coers W, Noordhoek JA, Huitema S, Flipsen JT, Kauffman HF, Timens W, Postma DS (1999) Proteoglycan changes in the extracellular matrix of lung tissue from patients with pulmonary emphysema. Mod Pathol 12:697–705

24.

Wright SR, Boag AH, Valdimarsson G, Hipfner DR, Campling BG, Cole SP, Deeley RG (1998) Immunohistochemical detection of multidrug resistance protein in human lung cancer and normal lung. Clin Cancer Res 4:2279–2289
Acknowledgements
This work was supported by a grant from the Netherlands Asthma Foundation (NAF 97.35). The authors thank Dr. W.J. Sluiter for the critical evaluation of statistical analyses and Mrs. Adriana Pijnenborg for the excellent technical support. The authors declare that their experiments comply with the current laws of the country in which they were performed (i.e., the Netherlands).
About this article
Cite this article
van der Deen, M., Marks, H., Willemse, B.W.M. et al. Diminished expression of multidrug resistance-associated protein 1 (MRP1) in bronchial epithelium of COPD patients. Virchows Arch 449, 682–688 (2006). https://doi.org/10.1007/s00428-006-0240-3
Received:

Accepted:

Published:

Issue Date:
Keywords
Chronic obstructive pulmonary disease

MDR

Pathology

Lung

Immunohistochemistry