Abstract
It has been suggested that right-sided and left-sided colorectal cancer may arise by different mechanisms. However, there have been few studies of mucinous adenocarcinoma (MA) in relation to location. Therefore, we analyzed clinicopathological characteristics, microsatellite instability (MSI), and expression of MUC1, MUC2, MUC5AC mucin core proteins, and p53 by immunohistochemistry in relation to tumor location. Ninety-six consecutive colorectal MAs and ninety-eight nonmucinous adenocarcinomas (nMAs) were investigated. Right-sided MAs, by comparison with those on the left side, were characterized by older age, larger tumor size, lower stage at presentation, peritumoral lymphocytic response, background of serrated adenoma, MSI-H phenotype, higher MUC2 and MUC5AC expression, and lower p53 protein overexpression. Right-sided nMAs, relative to those on the left side, were associated with MSI-H phenotype, higher MUC2 and MUC5AC expression, and lower p53 protein overexpression. Thus, MSI-H phenotype, expression of MUC2 and MUC5AC, and infrequent p53 protein overexpression are associated with right-sided location as well as mucinous histology. In univariate analysis, right-sided location had a favorable effect on disease specific survival of the patients with MA, although it is not an independent predictor of survival. Our results indicate that MA is a distinctive form of colorectal cancer and has different phenotypes depending on tumor location.
This is a preview of subscription content, log in to check access.
Access options
Buy single article
Instant access to the full article PDF.
US$ 39.95
Price includes VAT for USA
Subscribe to journal
Immediate online access to all issues from 2019. Subscription will auto renew annually.
US$ 199
This is the net price. Taxes to be calculated in checkout.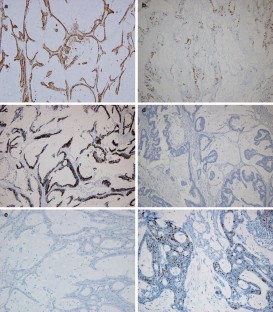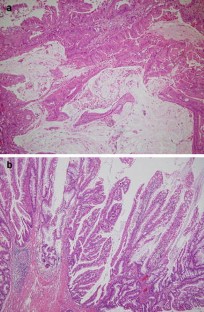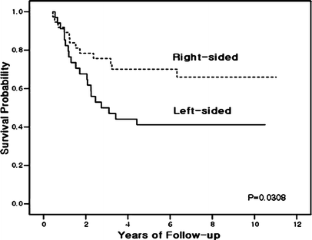 Abbreviations
MA:

Mucinous adenocarcinoma

nMA:

Nonmucinous adenocarcinoma

MSI:

Microsatellite instability
References
1.

Aaltonen LA, Peltomaki P, Leach FS, Sistonen P, Pylkkanen L, Mecklin JP, Jarvinen H, Powell SM, Jen J, Hamilton SR, Petersen GM, Kinzler KW, Vogelstein B, de la Chapelle A (1993) Clues to the pathogenesis of familial colorectal cancer. Science 260:812–816

2.

Baldus SE, Monig SP, Huxel S, Landsberg S, Hanisch FG, Engelmann K, Schneider PM, Thiele J, Holscher AH, Dienes HP (2004) MUC1 and nuclear beta-catenin are coexpressed at the invasion front of colorectal carcinomas and are both correlated with tumor prognosis. Clin Cancer Res 10:2790–2796

3.

Biemer-Huttmann AE, Walsh MD, McGuckin MA, Ajioka Y, Watanabe H, Leggett BA, Jass JR (1999) Immunohistochemical staining patterns of MUC1, MUC2, MUC4, and MUC5AC mucins in hyperplastic polyps, serrated adenomas, and traditional adenomas of the colorectum. J Histochem Cytochem 47:1039–1048

4.

Biemer-Huttmann AE, Walsh MD, McGuckin MA, Simms LA, Young J, Leggett BA, Jass JR (2000) Mucin core protein expression in colorectal cancers with high levels of microsatellite instability indicates a novel pathway of morphogenesis. Clin Cancer Res 6:1909–1916

5.

de Jong AE, van Puijenbroek M, Hendriks Y, Tops C, Wijnen J, Ausems MG, Meijers-Heijboer H, Wagner A, van Os TA, Brocker-Vriends AH, Vasen HF, Morreau H (2004) Microsatellite instability, immunohistochemistry, and additional PMS2 staining in suspected hereditary nonpolyposis colorectal cancer. Clin Cancer Res 10:972–980

6.

Distler P, Holt PR (1997) Are right- and left-sided colon neoplasms distinct tumors? Dig Dis 15:302–311

7.

Fearon ER, Vogelstein B (1990) A genetic model for colorectal tumorigenesis. Cell 61:759–767

8.

Glebov OK, Rodriguez LM, Nakahara K, Jenkins J, Cliatt J, Humbyrd CJ, DeNobile J, Soballe P, Simon R, Wright G, Lynch P, Patterson S, Lynch H, Gallinger S, Buchbinder A, Gordon G, Hawk E, Kirsch IR (2003) Distinguishing right from left colon by pattern of gene expression. Cancer Epidemiol Biomarkers Prev 12:755–762

9.

Green FL, Balch CM, Fleming ID, Fritz AG, Balch CM, Haller DG, Morrow M (eds) (2002) AJCC cancer staging manual, 6th edn. Springer, Berlin Heidelberg New York

10.

Greenson JK, Bonner JD, Ben-Yzhak O, Cohen HI, Miselevich I, Resnick MB, Trougouboff P, Tomsho LD, Kim E, Low M, Almog R, Rennert G, Gruber SB (2003) Phenotype of microsatellite unstable colorectal carcinomas: Well-differentiated and focally mucinous tumors and the absence of dirty necrosis correlate with microsatellite instability. Am J Surg Pathol 27:563–570

11.

Hanski C, Tiecke F, Hummel M, Hanski ML, Ogorek D, Rolfs A, Schmitt-Graff A, Stein H, Riecken EO (1996) Low frequency of p53 gene mutation and protein expression in mucinous colorectal carcinomas. Cancer Lett 103:163–170

12.

Ishizu H, Kumagai J, Eishi Y, Takizawa T, Koike M (2004) Mucin core protein expression by colorectal mucinous carcinomas with or without mucus hyperplasia. J Gastroenterol 39:125–132

13.

Jass JR, Love SB, Northover JM (1987) A new prognostic classification of rectal cancer. Lancet 1:1303–1306

14.

Jass JR, Do KA, Simms LA, Iino H, Wynter C, Pillay SP, Searle J, Radford-Smith G, Young J, Leggett B (1998) Morphology of sporadic colorectal cancer with DNA replication errors. Gut 42:673–679

15.

Jass JR (1999) Serrated adenoma and colorectal cancer. J Pathol 187:499–502

16.

Kakar S, Aksoy S, Burgart LJ, Smyrk TC (2004) Mucinous carcinoma of the colon: correlation of loss of mismatch repair enzymes with clinicopathologic features and survival. Mod Pathol 17:696–700

17.

Kazama Y, Watanabe T, Kanazawa T, Tada T, Tanaka J, Nagawa H (2005) Mucinous carcinomas of the colon and rectum show higher rates of microsatellite instability and lower rates of chromosomal instability: a study matched for T classification and tumor location. Cancer 103:2023–2029

18.

Kim H, Jen J, Vogelstein B, Hamilton SR (1994) Clinical and pathological characteristics of sporadic colorectal carcinomas with DNA replication errors in microsatellite sequences. Am J Pathol 145:148–156

19.

Kim YS, Gum J Jr, Brockhausen I (1996) Mucin glycoproteins in neoplasia. Glycoconj J 13:693–707

20.

Kocer B, Soran A, Erdogan S, Karabeyoglu M, Yildirim O, Eroglu A, Bozkurt B, Cengiz O (2002) Expression of MUC5AC in colorectal carcinoma and relationship with prognosis. Pathol Int 52:470–477

21.

Losi L, Scarselli A, Benatti P, Ponz de Leon M, Roncucci L, Pedroni M, Borghi F, Lamberti I, Rossi G, Marino M, Ponti G, Zangardi G, Menigatti M, Di Gregorio C (2004) Relationship between MUC5AC and altered expression of MLH1 protein in mucinous and nonmucinous colorectal carcinomas. Pathol Res Pract 200:371–377

22.

Makinen MJ, George SM, Jernvall P, Makela J, Vihko P, Karttunen TJ (2001) Colorectal carcinoma associated with serrated adenoma-prevalence, histological features, and prognosis. J Pathol 193:286–294

23.

Manne U, Weiss HL, Grizzle WE (2000) Racial differences in the prognostic usefulness of MUC1 and MUC2 in colorectal adenocarcinomas. Clin Cancer Res 6:4017–4025

24.

Messerini L, Ciantelli M, Baglioni S, Palomba A, Zampi G, Papi L (1999) Prognostic significance of microsatellite instability in sporadic mucinous colorectal cancers. Hum Pathol 30:629–634

25.

Nakamori S, Ota DM, Cleary KR, Shirotani K, Irimura T (1994) MUC1 mucin expression as a marker of progression and metastasis of human colorectal carcinoma. Gastroenterology 106:353–361

26.

Plaschke J, Kruger S, Pistorius S, Theissig F, Saeger HD, Schackert HK (2002) Involvement of hMSH6 in the development of hereditary and sporadic colorectal cancer revealed by immunostaining is based on germline mutations, but rarely on somatic inactivation. Int J Cancer 97:643–648

27.

Rigau V, Sebbagh N, Olschwang S, Paraf F, Mourra N, Parc Y, Flejou JF (2003) Microsatellite instability in colorectal carcinoma. The comparison of immunohistochemistry and molecular biology suggests a role for hMSH6 [correction of hMLH6] immunostaining. Arch Pathol Lab Med 127:694–700

28.

Schlegel J, Bocker T, Zirngibl H, Hofstadter F, Ruschoff J (1995) Detection of microsatellite instability in human colorectal carcinomas using a non-radioactive PCR-based screening technique. Virchows Arch 426:223–227

29.

Sylvester PA, Myerscough N, Warren BF, Carlstedt I, Corfield AP, Durdey P, Thomas MG (2001) Differential expression of the chromosome 11 mucin genes in colorectal cancer. J Pathol 195:327–335

30.

Symonds DA, Vickery AL (1976) Mucinous carcinoma of the colon and rectum. Cancer 37:1891–1900

31.

Thibodeau SN, Bren G, Schaid D (1993) Microsatellite instability in cancer of the proximal colon. Science 260:816–819

32.

Vogelstein B, Fearon ER, Hamilton SR, Kern SE, Preisinger AC, Leppert M, Nakamura Y, White R, Smits AM, Bos JL (1988) Genetic alterations during colorectal-tumor development. N Engl J Med 319:525–532

33.

Wu CS, Tung SY, Chen PC, Kuo YC (1996) Clinicopathological study of colorectal mucinous carcinoma in Taiwan: a multivariate analysis. J Gastroenterol Hepatol 11:77–81

34.

Yamamoto S, Mochizuki H, Hase K, Yamamoto T, Ohkusa Y, Yokoyama S, Ushitani Y, Tamakuma S (1993) Assessment of clinicopathologic features of colorectal mucinous adenocarcinoma. Am J Surg 166:257–261

35.

Young J, Simms LA, Biden KG, Wynter C, Whitehall V, Karamatic R, George J, Goldblatt J, Walpole I, Robin SA, Borten MM, Stitz R, Searle J, McKeone D, Fraser L, Purdie DR, Podger K, Price R, Buttenshaw R, Walsh MD, Barker M, Leggett BA, Jass JR (2001) Features of colorectal cancers with high-level microsatellite instability occurring in familial and sporadic settings: parallel pathways of tumorigenesis. Am J Pathol 159:2107–2116
Acknowledgements
This work is supported by a grant from the Seoul National University Bundang Hospital Research Fund, Seongnam, Korea. So Yeon Park and Hye Seung Lee contributed equally to this work.
About this article
Cite this article
Park, S.Y., Lee, H.S., Choe, G. et al. Clinicopathological characteristics, microsatellite instability, and expression of mucin core proteins and p53 in colorectal mucinous adenocarcinomas in relation to location. Virchows Arch 449, 40–47 (2006). https://doi.org/10.1007/s00428-006-0212-7
Received:

Accepted:

Published:

Issue Date:
Keywords
Mucinous adenocarcinoma

Tumor location

Microsatellite instability

MUC2

MUC5AC