Abstract
Extraskeletal osteomas have not been described in the lung. Tumors with osseous elements can be found, such as hamartoma and amyloid tumor, and reactive lesions such as osseous metaplasia. A 39-year-old male patient was treated for multiple myeloma and got a bone marrow transplantation 2 years and a few months before he presented with a solitary well-circumscribed tumor in the right middle lobe. The patient underwent surgical resection. The tumor presented with a fibrous capsule and consisted of mature bone trabecules. Within the tumor, fatty tissue was seen. There were small bone spicules interpreted as areas of new bone formation and appositional growth. No amyloid deposition, no immature epithelial tubules as in hamartomas, and no normal lung structure as in osseous metaplasia were seen. Within the osseous elements, a positive reaction was seen with antibodies for osteonectin, whereas the reaction for calcitonin was negative. To the best of our knowledge, this is the first case of an osteoma being reported in the lung looking like any other extraskeletal osteoma. This tumor might have been induced by circulating stem cells; however, due to autologous bona marrow transplantation, this cannot be proven.
This is a preview of subscription content, log in to check access.
Access options
Buy single article
Instant access to the full article PDF.
US$ 39.95
Price includes VAT for USA
Subscribe to journal
Immediate online access to all issues from 2019. Subscription will auto renew annually.
US$ 199
This is the net price. Taxes to be calculated in checkout.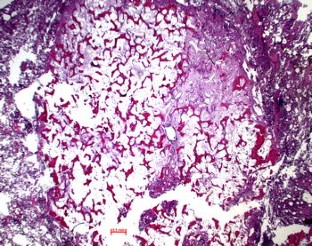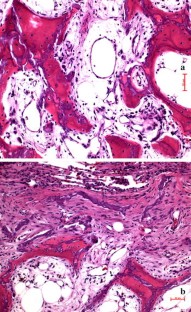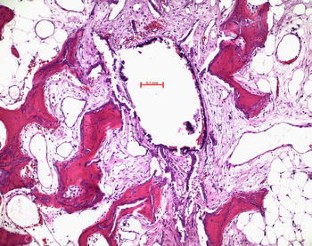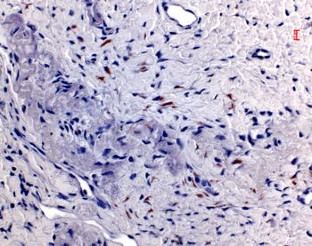 References
1.

Castella J, Puzo C, Cornudella R, Curell R, Tarres J (1981) Tracheobronchopathia osteochondroplastica. Respiration 42:129–134

2.

Frassica FJ, Waltrip RL, Sponseller PD, Ma LD, McCarthy EF, Jr. (1996) Clinicopathologic features and treatment of osteoid osteoma and osteoblastoma in children and adolescents. Orthop Clin North Am 27:559–574

3.

Gjevre JA, Myers JL, Prakash UB (1996) Pulmonary hamartomas. Mayo Clin Proc 71:14–20

4.

Hansen CP, Holtveg H, Francis D, Rasch L, Bertelsen S (1992) Pulmonary hamartoma. J Thorac Cardiovasc Surg 104:674–678

5.

Jabara AG, Paton JS (1984) Extraskeletal osteoma in a cat. Aust Vet J 61:405–407

6.

Kline LB, Skalka HW, Davidson JD, Wilmes FJ (1982) Bilateral choroidal osteomas associated with fatal systemic illness. Am J Ophthalmol 93:192–197

7.

Lekas MD, Sayegh R, Finkelstein SD (1997) Osteoma of the base of the tongue. Ear Nose Throat J 76:827–828

8.

Lynch LA, Moriarty AT (1993) Localized primary amyloid tumor associated with osseous metaplasia presenting as bilateral breast masses: cytologic and radiologic features. Diagn Cytopathol 9:570–575

9.

Sale GE, Storb R (1983) Bilateral diffuse pulmonary ectopic ossification after marrow allograft in a dog. Evidence for allotransplantation of hemopoietic and mesenchymal stem cells. Exp Hematol 11:961–966

10.

Salminen US (1990) Pulmonary hamartoma. A clinical study of 77 cases in a 21-year period and review of literature. Eur J Cardiothorac Surg 4:15–18

11.

van den Bosch JM, Wagenaar SS, Corrin B, Elbers JR, Knaepen PJ, Westermann CJ (1987) Mesenchymoma of the lung (so called hamartoma): a review of 154 parenchymal and endobronchial cases. Thorax 42:790–793

12.

Zarrabi MH, Rosner F (1989) Second neoplasms in Hodgkin's disease: current controversies. Hematol Oncol Clin North Am 3:303–318
About this article
Cite this article
Markert, E., Gruber-Moesenbacher, U., Porubsky, C. et al. Lung osteoma—a new benign lung lesion. Virchows Arch 449, 117–120 (2006). https://doi.org/10.1007/s00428-006-0205-6
Received:

Accepted:

Published:

Issue Date:
Keywords
Pulmonary osteoma

Hamartoma

Ossification

Osteonectin