Abstract
At 31 weeks gestation, a hydropic male fetus died in utero with metastatic disease from a renal clear cell sarcoma. The tumor had metastasized to para–aortic and mediastinal lymph nodes, lung, pleura, and liver, leading to superior vena cava obstruction and pulmonary hypoplasia. The pathologic findings and cytogenetic analysis of the fetus and tumor are presented. In addition, review of the literature reveals six other cases aged <6 months of age, including two extrarenal cases.
This is a preview of subscription content, log in to check access.
Access options
Buy single article
Instant access to the full article PDF.
US$ 39.95
Price includes VAT for USA
Subscribe to journal
Immediate online access to all issues from 2019. Subscription will auto renew annually.
US$ 199
This is the net price. Taxes to be calculated in checkout.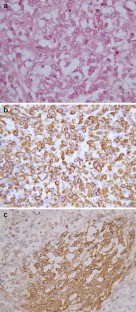 References
1.

Argani P, Perlman EJ, Breslow NE, Browning NG, Green DM, D'Angio GJ, Beckwith JB (2000) Clear cell sarcoma of the kidney: a review of 351 cases from the National Wilms Tumor Study Group Pathology Center. Am Surg Pathol 24(1):4–18

2.

El Kababri M, Khattab M, El Khorassani M, Hessissen L, Kili A, Nachef MN, Cherradi N, Malihy A, Alhamany Z, Msefer-Alaoui F (2004) Clear cell sarcoma of the kidney. A study of 13 cases. Arch Pediatr 11(7):794–799

3.

Kataoka Y, Shimada H, Sugimoto T, Mine H, Hachitanda Y, Doi Y, Sawada T, Weeks DA (1993) Congenital sarcoma in the terminal ileum histologically resembling clear cell sarcoma of the kidney: a case report with an immunohistochemical study. Hum Pathol 24(9):1026–1030

4.

Mazzoleni S, Vecchiato L, Alaggio R, Cecchetto G, Zorzi C, Carli M (2003) Clear cell sarcoma of the kidney in a newborn. Med Pediatr Oncol 41(2):153–155

5.

Newbould MJ, Kelsey AM (1993) Clear cell sarcoma of the kidney in a 4-month-old infant: a case report. Med Pediatr Oncol 21(7):525–528

6.

Punnett HH, Halligan GE, Zaeri N, Karmazin N (1989) Translocation 10;17 in clear cell sarcoma of the kidney, a first report. Cancer Genet Cytogenet 41:123–128

7.

Satoh F, Tsutsumi Y, Yokoyama S, Osamura RY (2000) Comparative immunohistochemical analysis of developing kidneys, nephroblastomas and related tumors: considerations on their histogenesis. Pathol Int 50(6):458–471

8.

Suzuki H, Honzumi M, Itoh Y, Umehara N, Moriyama S, Funada M (1983) Clear cell sarcoma of the kidney seen in a 3-day-old newborn. Z Kinderchir 38(6):422–424

9.

Finn LS, Patterson K (2000) Ovarian sarcoma with pathologic features of clear cell sarcoma of the kidney. Pediatr Dev Pathol 3:487–491
Acknowledgements
The author wishes to thank Spencer Walker for his expert technical assistance.
About this article
Cite this article
Hung, N.A. Congenital "clear cell sarcoma of the kidney". Virchows Arch 446, 566–568 (2005). https://doi.org/10.1007/s00428-005-1253-z
Received:

Accepted:

Published:

Issue Date:
Keywords
Clear cell sarcoma kidney

Congenital

Metastatic

Cytogenetics