Abstract
We present, in a 47-year-old man, the first case of the signet-ring stromal tumor of the testis. The tumor was located beneath the tunica albuginea surrounded by the testicular tubules and rete testis. It was sharply circumscribed by a thin and irregular fibrous capsule. Histologically, it was composed of cells with a widespread signet-ring cell change separated by fibrous stroma. In some places, the signet-ring cells formed vague Indian files, thus resembling metastatic carcinomas with signet-ring cell morphology. Under high magnification, most of the cytoplasm of the tumor cells was seen to be replaced by an empty clear vacuole which pushed the nuclei to the periphery of the cells. Some of the nuclei were indented by the cytoplasmic vacuoles, others were without indentation. Only in a small area did the tumor show cells without a signet-ring cell change. They looked like epithelioid fibroblasts forming abortive and vaguely tubular structures. Mitoses and necroses were absent. Mucicarmine and PAS stains were negative. Immunohistochemically, the tumor was vimentin positive and it was negative with antibodies to cytokeratins, inhibin, prostatic acid phosphatase, prostate-specific antigen, smooth muscle actin, S-100 protein, EMA and calretinin. The signet-ring stromal tumor of the testis is thus similar morphologically and immunohistochemically to the signet-ring stromal tumor of the ovary. The patient was free of recurrence and metastasis 3 years after the excision.
This is a preview of subscription content, log in to check access.
Access options
Buy single article
Instant access to the full article PDF.
US$ 39.95
Price includes VAT for USA
Subscribe to journal
Immediate online access to all issues from 2019. Subscription will auto renew annually.
US$ 199
This is the net price. Taxes to be calculated in checkout.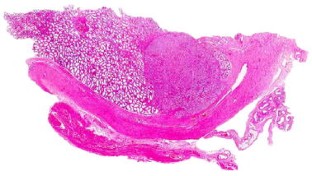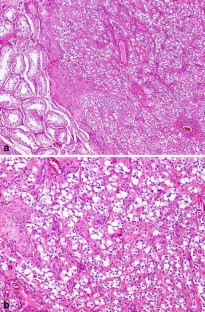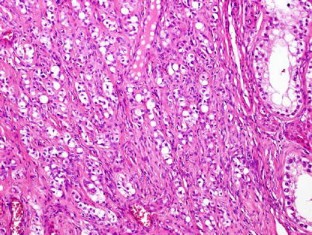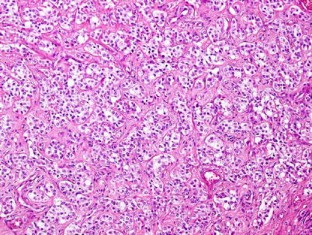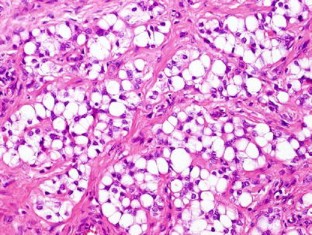 References
1.

Cashell AW, Jerome WG, Flores E (2000) Signet ring stromal tumor of ovary occurring in conjunction with Brenner tumor. Gynecol Oncol 77:323–326

2.

de Pinieux G, Glaser C, Chatelain D, Perie G, Flam T, Vieillefond A (1999) Testicular fibroma of gonadal stromal origin with minor sex cord elements: clinicopathologic and immunohistochemical study of 2 cases. Arch Pathol Lab Med 123:391–394

3.

Dickersin GR, Young RH, Scully RE (1995) Signet-ring stromal and related tumors of the ovary. Ultrastruct Pathol 9:401–419

4.

Jones MA, Young RH, Scully RE (1997) Benign fibromatous tumors of the testis and paratesticular region: a report of 9 cases with a proposed classification of fibromatous tumors and tumor-like lesions. Am J Surg Pathol 21:2996–2305

5.

Muir GH, Fisher C (1995) Gastric carcinoma presenting with testicular metastasis. Br J Urol 75:114–115

6.

Ozdal OL, Yakupoglu YK, Cicek A, Erdem O, Memis L, Memis A (2002) Epididymal metastasis from gastric signet ring cell adenocarcinoma. Can J Urol 9:1498–1499

7.

Ramzy I (1976) Signet-ring stromal tumor of ovary. Histochemical, light, and electron microscopic study. Cancer 38:166–172

8.

Shimokawa K, Ikeda T, Ojima A (1986) Sclerosing stromal tumor of the ovary. Gan No Rinsho 32:2021–2025

9.

Su RM, Chang KC, Chou CY (2003) Signet-ring stromal tumor of the ovary: a case report. Int J Gynecol Cancer 13:90–93

10.

Suarez A, Palacios J, Burgos E, Gamallo C (1993) Signet-ring stromal tumor of the ovary: a histochemical immunohistochemical and ultrastructural study. Virchows Arch A Pathol Anat Histopathol 422:333–336

11.

Ulbright TM, Amin MB, Young RH (1999) Tumors of the testis, adnexa, spermatic cord, and scrotum. In: Atlas of tumor pathology. Armed Forces Institute of Pathology, Washington, DC, Series 3, Fascicle 25

12.

Vang R, Bague S, Tavassoli FA, Prat J (2003) Signet-ring stromal tumor of the ovary: clinicopathologic analysis and comparison with Krukenberg tumor. Int J Gynecol Pathol 23:45–51
About this article
Cite this article
Michal, M., Hes, O. & Kazakov, D.V. Primary signet-ring stromal tumor of the testis. Virchows Arch 447, 107–110 (2005). https://doi.org/10.1007/s00428-005-1218-2
Received:

Accepted:

Published:

Issue Date:
Keywords
Testis

Signet-ring cell stromal tumor