Abstract
We present two cases of solitary fibrous tumour (SFT) showing biphasic morphology with a spectrum of malignant epithelioid components. Slides prepared from formalin-fixed and paraffin-embedded tissue from both cases were stained with haematoxylin and eosin and by immunohistochemistry. Interphase fluorescent in situ hybridisation studies were performed in both cases using paraffin-embedded tissue to look for the t(X;18) translocation, thereby to exclude synovial sarcoma. Both cases showed biphasic morphology with some areas having typical benign spindled SFT morphology (including CD34 expression) and other areas having a malignant epithelioid appearance. In one of the cases, the epithelioid area, which was well circumscribed and showed packeting of cell groups, demonstrated expression of cytokeratin and epithelial cadherin but not of CD34. In the second case, the immunophenotype of the epithelioid component was similar to that of the benign SFT component. These findings suggest that epithelioid change in SFT shows a range of differentiation at one end, similar to that of a standard SFT, and at the other end, possibly acquiring epithelial characteristics.
This is a preview of subscription content, log in to check access.
Access options
Buy single article
Instant access to the full article PDF.
US$ 39.95
Price includes VAT for USA
Subscribe to journal
Immediate online access to all issues from 2019. Subscription will auto renew annually.
US$ 199
This is the net price. Taxes to be calculated in checkout.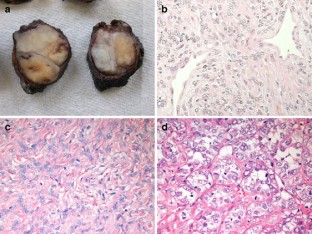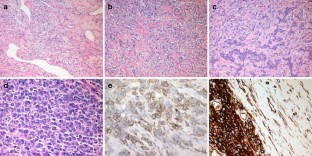 References
1.

Amo-Takyi BK, Gunther K, Peters I, Mittermayer C, Eblenkamp M, Tietze L (2001) Benign solitary fibrous pleural tumour. Evidence of primitive features and complex genomic imbalances, including loss of 20q. APMIS 109:601–606

2.

Cavazza A, Rossi G, Agostini L, Roncella S, Ferro P, Fedeli F (2003) Cytokeratin-positive malignant solitary fibrous tumour of the pleura: an unusual pitfall in the diagnosis of pleural spindle cell neoplasms. Histopathology 43:606–608

3.

Hanau CA, Miettinen M (1995) Solitary fibrous tumour: histological and immunohistochemical spectrum of benign and malignant variants presenting at different sites. Hum Pathol 26:440–449

4.

Laskin WB, Miettinen M (2002) Epithelial-type and neural-type cadherin expression in malignant noncarcinomatous neoplasms with epithelioid features that involve the soft tissues. Arch Pathol Lab Med 126:425–431

5.

Marchevsky AM, Varshney D, Fuller C (2003) Mediastinal epithelioid solitary fibrous tumour. Arch Pathol Lab Med 127:e212–e215

6.

Mourra N, Lewin M, Sautet A, Parc R, Flejou JF (2005) Epithelioid solitary fibrous tumour in the ischioanal fossa. Virchows Arch 446:674–676

7.

Sato H, Hasegawa T, Abe Y, Sakai H, Hirohashi S (1999) Expression of E-cadherin in bone and soft tissue sarcomas: a possible role in epithelial differentiation. Hum Pathol 30:1344–1349

8.

Smith MEF, Cowley GP, Dogan A, Weiss SW, Fisher C (1994) E-cadherin is a differentiation antigen of normal Schwann cells and is expressed in epithelioid Schwann cell tumours. J Pathol 173:181A

9.

Smith MEF, Pignatelli M (1997) The molecular histology of neoplasia: the role of the cadherin/catenin complex. Histopathology 31:107–111
About this article
Cite this article
Awasthi, R., O'Neill, J.K., Keen, C.E. et al. Biphasic solitary fibrous tumour: a report of two cases with epithelioid features. Virchows Arch 448, 306–310 (2006). https://doi.org/10.1007/s00428-005-0099-8
Received:

Accepted:

Published:

Issue Date:
Keywords
Solitary fibrous tumour

Biphasic

Epithelioid

Epithelial differentiation

Cytokeratin