Abstract
We reported a case of intravascular T-cell lymphoma (T-IVL) with anaplastic large cell morphology, the hemophagocytic syndrome, and an aggressive clinical course. Phenotypic analysis of the tumor cells revealed CD2+, CD3−, CD4+, CD5−, CD8−, CD30+, CD56−, T-cell receptor alpha/beta−, ALK−, TIA1+, granzyme B+, and perforin+. No association with Epstein–Barr virus was found by in situ hybridization. A review revealed that 25 cases of T-IVL have been reported in the available literature, only two of which were of CD30+ anaplastic large cell or cytotoxic T-cell type. The findings in the present case may highlight the unique clinicopathologic aspects of a subset of CD30-positive T-IVLs with an ALK-negative cytotoxic phenotype.
This is a preview of subscription content, log in to check access.
Access options
Buy single article
Instant access to the full article PDF.
US$ 39.95
Price includes VAT for USA
Subscribe to journal
Immediate online access to all issues from 2019. Subscription will auto renew annually.
US$ 199
This is the net price. Taxes to be calculated in checkout.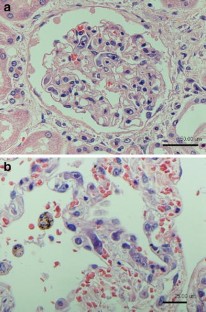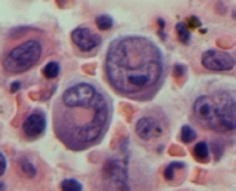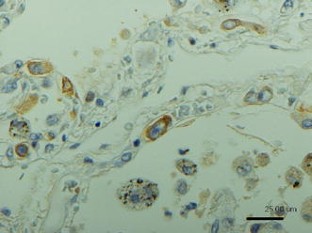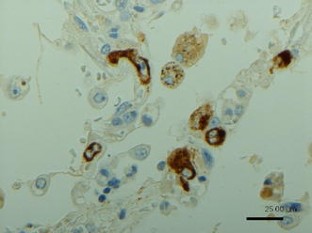 References
1.

Allory Y, Challine D, Haioun C, Copie-Bergman C, Delfau-Larue MH, Boucher E, Charlotte F, Fabre M, Michel M, Gaulard P (2001) Bone marrow involvement in lymphomas with hemophagocytic syndrome at presentation: a clinicopathologic study of 11 patients in a Western institution. Am J Surg Pathol 25:865–874

2.

Asano N, Suzuki R, Kagami Y, Ishida F, Kitamura K, Fukutani H, Morishima Y, Takeuchi K, Nakamura S (2005) Clinicopathologic and prognostic significance of cytotoxic molecule expression in nodal peripheral T-cell lymphoma, unspecified. Am J Surg Pathol 29:1284–1293

3.

Au WY, Shek WH, Nicholls J, Tse KM, Todd D, Kwong YL (1997) T cell intravascular lymphomatosis (angiotropic large cell lymphoma): association with Epstein–Barr viral infection. Histopathology 31:563–567

4.

Chen M, Qiu B, Kong J, Chen J (1998) Angiotropic T cell lymphoma. Chin Med J 111:762–764

5.

Clark WC, Dohan FC Jr, Moss T, Schweitzer JB (1991) Immunocytochemical evidence of lymphocytic derivation of neoplastic cells in malignant angioendotheliomatosis. J Neurosurg 74:757–762

6.

Delsol G, Ralfkiaer E, Stein H, Wright D, Jaffe ES (2001) Anaplastic large cell lymphoma. In: Jaffe ES, Harris NL, Stein H, Vardiman JW (eds) World Health Organization classification of tumors. Pathology and genetics of tumours of haematopoietic and lymphoid tissues. IARC Press, Lyon, France, pp 230–235

7.

DiGiuseppe JA, Nelson WG, Seifter EJ, Boitnott JK, Mann RB (1994) Intravascular lymphomatosis: a clinicopathologic study of 10 cases and assessment of response to chemotherapy. J Clin Oncol 12:2573–2579

8.

Ferreri AJ, Campo E, Seymour JF, Willemze R, Ilariucci F, Ambrosetti A, Zucca E, Rossi G, Lopez-Guillermo A, Pavlovsky MA, Geerts ML, Candoni A, Lestani M, Asioli S, Milani M, Piris MA, Pileri S, Facchetti F, Cavalli F, Ponzoni M, International Extranodal Lymphoma Study Group (IELSG) (2004) Intravascular lymphoma: clinical presentation, natural history, management and prognostic factors in a series of 38 cases, with special emphasis on the 'cutaneous variant'. Br J Haematol 127:173–183

9.

Gatter KC, Warnke RA (2001) Intravascular large B-cell lymphoma. In: Jaffe ES, Harris NL, Stein H, Vardiman JW (eds) World Health Organization classification of tumors. Pathology and genetics of tumours of haematopoietic and lymphoid tissues. IARC Press, Lyon, France, pp 177–178

10.

Ghorbani RP, Shokouh-Amiri H, Gaber LW (1996) Intragraft angiotropic large-cell lymphoma of T cell-type in a long-term renal allograft recipient. Mod Pathol 9:671–676

11.

Glass J, Hochberg FH, Miller DC (1993) Intravascular lymphomatosis. A systemic disease with neurologic manifestations. Cancer 71:3156–3164

12.

Ko YH, Han JH, Go JH, Kim DS, Kwon OJ, Yang WI, Shin DH, Ree HJ (1997) Intravascular lymphomatosis: a clinicopathological study of two cases presenting as an interstitial lung disease. Histopathology 31:555–562

13.

Lakhani SR, Hulman G, Hall JM, Slack DN, Sloane JP (1994) Intravascular malignant lymphomatosis (angiotropic large-cell lymphoma). A case report with evidence for T-cell lineage with polymerase chain reaction analysis. Histopathology 25:283–286

14.

Lopez-Gil F, Roura M, Umbert I, Umbert P (1992) Malignant proliferative angioendotheliomatosis or angiotropic lymphoma associated with a soft-tissue lymphoma. J Am Acad Dermatol 26:101–104

15.

Lymphoma Study Group of Japanese Pathologists (2000) The World Health Organization classification of malignant lymphomas in Japan: incidence of recently recognized entities. Pathol Int 50:696–702

16.

Malicki DM, Suh YK, Fuller GN, Shin SS (1999) Angiotropic (intravascular) large cell lymphoma of T-cell phenotype presenting as acute appendicitis in a patient with acquired immunodeficiency syndrome. Arch Pathol Lab Med 123:335–337

17.

Merchant SH, Viswanatha DS, Zumwalt RE, Foucar K (2003) Epstein–Barr virus-associated intravascular large T-cell lymphoma presenting as acute renal failure in a patient with acquired immune deficiency syndrome. Human Pathol 34:950–954

18.

Murase T, Nakamura S, Kawauchi K, Matsuzaki H, Sakai C, Inaba T, Nasu K, Tashiro K, Suchi T, Saito H (2000) An Asian variant of intravascular large B-cell lymphoma: clinical, pathological and cytogenetic approaches to diffuse large B-cell lymphoma associated with haemophagocytic syndrome. Br J Haematol 111:826–834

19.

Pfeger L, Tappeiner J (1959) Zur Kenntnis der Systemisierten Endotheliomatose der cuanen Blutegefasse (Reticulo-endotheilose?). Hautarzt 10:359–363

20.

Sangueza O, Hyder DM, Sangueza P (1992) Intravascular lymphomatosis: report of an unusual case with T cell phenotype occurring in an adolescent male. Cutan Pathol 19:226–231

21.

Sepp N, Schuler G, Romani N, Geissler D, Gattringer C, Burg G, Bartram CR, Fritsch P (1990) "Intravascular lymphomatosis" (angioendotheliomatosis): evidence for a T-cell origin in two cases. Human Pathol 21:1051–1058

22.

Setoyama M, Mizoguchi S, Orikawa T, Tashiro M (1992) A case of intravascular malignant lymphomatosis (angiotropic large-cell lymphoma) presenting memory T cell phenotype and its expression of adhesion molecules. J Dermatol 19:263–269

23.

Sheibani K, Battifora H, Winberg CD, Burke JS, Ben-Ezra J, Ellinger GM, Quigley NJ, Fernandez BB, Morrow D, Rappaport H (1986) Further evidence that "malignant angioendotheliomatosis" is an angiotropic large-cell lymphoma. N Engl J Med 614:943–948

24.

Shimazaki C, Inaba T, Nakagawa M (2000) B-cell lymphoma-associated hemophagocytic syndrome. Leuk Lymphoma 38:121–130

25.

Shimokawa I, Higami Y, Sakai H, Moriuchi Y, Murase K, Ikeda T (1991) Intravascular malignant lymphomatosis: a case of T-cell lymphoma probably associated with human T-cell lymphotropic virus. Human Pathol 22:200–202

26.

Stroup RM, Sheibani K, Moncada A, Purdy LJ, Battifora H (1990) Angiotropic (intravascular) large cell lymphoma. A clinicopathologic study of seven cases with unique clinical presentations. Cancer 66:1781–1788

27.

Suh CH, Kim SK, Shin DH, Chung KY, Kim SK (1997) Intravascular lymphomatosis of the T cell type presenting as interstitial lung disease–a case report. J Korean Med Sci 12:457–460

28.

Tateyama H, Eimoto T, Tada T, Kamiya M, Fujiyoshi Y, Kajiura S (1991) Congenital angiotropic lymphoma (intravascular lymphomatosis) of the T-cell type. Cancer 67:2131–2136

29.

Watabe R, Shibata K, Hirase N, Kodera T, Muta K, Nishimura J, Nawata H (2000) Angiotropic B-cell lymphoma with hemophagocytic syndrome associated with syndrome of inappropriate secretion of antidiuretic hormone. Ann Hematol 79:581–584

30.

Williams G, Foyle A, White D, Greer W, Burrell S, Couban S (2005) Intravascular T-cell lymphoma with bowel involvement: case report and literature review. Am J Hematol 78:207–211
About this article
Cite this article
Takahashi, E., Kajimoto, K., Fukatsu, T. et al. Intravascular large T-cell lymphoma: a case report of CD30-positive and ALK-negative anaplastic type with cytotoxic molecule expression. Virchows Arch 447, 1000–1006 (2005). https://doi.org/10.1007/s00428-005-0080-6
Received:

Accepted:

Published:

Issue Date:
Keywords
Intravascular lymphoma

Cytotoxic T cell

Anaplastic large cell morphology

Hemophagocytic syndrome

Immunohistochemistry