Abstract
Calcifying fibrous tumor (CFT) is a rare lesion characterized histologically by hypocellular hyalinized collagenous tissue with psammomatous and/or dystrophic calcifications and patchy lymphoplasmacytic infiltrates. CFT usually occurs in the somatic soft tissue of children and young adults but is rarely found in the pleura. We describe here an unusual case of multiple small CFTs in the right mediastinal pleura of a 54-year-old man who had a history of renal cell carcinoma. Suspecting pulmonary and pleural metastases, we performed wedge resection of the right middle lobe and local excision of two nodules in the right pleura. Light microscopy revealed metastatic lesions of renal cell carcinoma in the resected wedge. The pleural nodules were well circumscribed and composed of hypocellular, dense, hyalinized, collagenous tissue with scant lymphoplasmacytic infiltration and characteristic psammoma bodies. Immunohistochemical staining revealed that most spindle cells were positive for vimentin, CD34 and factor XIIIa, and negative for epithelial membrane antigen, keratin, smooth-muscle actin, desmin, S-100 protein and anaplastic lymphoma kinase. We made a histological diagnosis of CFT of the pleura, and the patient remains well 6 months after the wedge resection.
This is a preview of subscription content, log in to check access.
Access options
Buy single article
Instant access to the full article PDF.
US$ 39.95
Price includes VAT for USA
Subscribe to journal
Immediate online access to all issues from 2019. Subscription will auto renew annually.
US$ 199
This is the net price. Taxes to be calculated in checkout.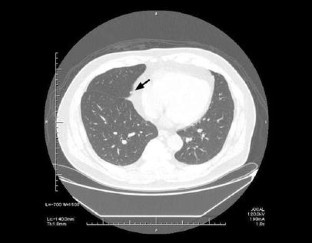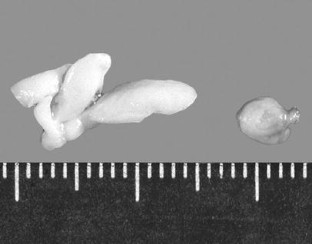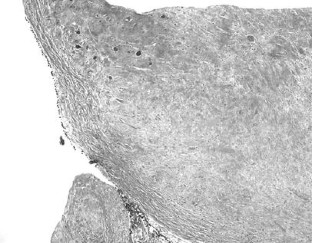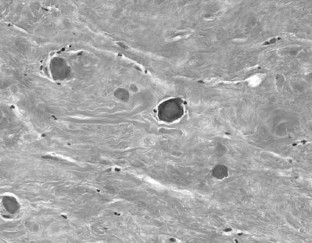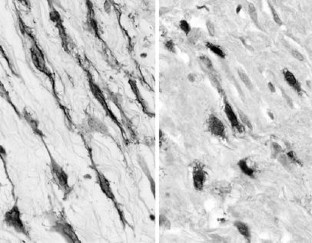 References
1.

Rosenthal NS, Abdul-Karim FW (1988) Childhood fibrous tumor with psammoma bodies. Clinicopathologic features in two cases. Arch Pathol Lab Med 112:798–800

2.

Fetsch JF, Montgomery EA, Meis JM (1993) Calcifying fibrous pseudotumor. Am J Surg Pathol 17:502–508

3.

Montgomery E (2002) Calcifying fibrous tumour. In: Fletcher CDM, Unni KK, Mertens F (eds) Pathology and genetics of tumours of soft tissue and bone. IARC Press, Lyon, pp 77–78

4.

Pinkard NB, Wilson RW, Lawless N, Dodd LG, McAdams HP, Koss MN, Travis WD (1996) Calcifying fibrous pseudotumor of pleura. A report of three cases of a newly described entity involving the pleura. Am J Clin Pathol 105:189–194

5.

Hainaut P, Lesage V, Weynand B, Coche E, Noirhomme P (1999) Calcifying fibrous pseudotumor (CFPT): a patient presenting with multiple pleural lesions. Acta Clin Belg 54:162–164

6.

Ammar A, El Hammami S, Horchani H, Sellami N, Kilani T (2003) Calcifying fibrous pseudotumor of the pleura: a rare location. Ann Thorac Surg 76:2081–2082

7.

Lee HY, Chuah KL, Tan PH (2003) Test and teach. Diagnosis: calcifying fibrous pseudotumour. Pathology 35:166–169

8.

Reed MK, Margraf LR, Nikaidoh H, Cleveland DC (1996) Calcifying fibrous pseudotumor of the chest wall. Ann Thorac Surg 62:873–874

9.

Peachell M, Mayo J, Kalloger S, Flint J, English J (2003) Calcifying fibrous pseudotumour of the lung. Thorax 58:1018–1019

10.

Pomplun S, Goldstraw P, Davies SE, Burke MM, Nicholson AG (2000) Calcifying fibrous pseudotumour arising within an inflammatory pseudotumour: evidence of progression from one lesion to the other? Histopathology 37:380–382

11.

Dumont P, de Muret A, Skrobala D, Robin P, Toumieux B (1997) Calcifying fibrous pseudotumor of the mediastinum. Ann Thorac Surg 63:543–544

12.

Jeong HS, Lee GK, Sung R, Ahn JH, Song HG (1997) Calcifying fibrous pseudotumor of mediastinum—a case report. J Korean Med Sci 12:58–62

13.

Nascimento AF, Ruiz R, Hornick JL, Fletcher CD (2002) Calcifying fibrous "pseudotumor": clinicopathologic study of 15 cases and analysis of its relationship to inflammatory myofibroblastic tumor. Int J Surg Pathol 10:189–196

14.

Hill KA, Gonzalez-Crussi F, Chou PM (2001) Calcifying fibrous pseudotumor versus inflammatory myofibroblastic tumor: a histological and immunohistochemical comparison. Mod Pathol 14:784–790

15.

Van Dorpe J, Ectors N, Geboes K, D'Hoore A, Sciot R (1999) Is calcifying fibrous pseudotumor a late sclerosing stage of inflammatory myofibroblastic tumor? Am J Surg Pathol 23:329–335

16.

Flint A, Weiss SW (1995) CD-34 and keratin expression distinguishes solitary fibrous tumor (fibrous mesothelioma) of pleura from desmoplastic mesothelioma. Hum Pathol 26:428–431

17.

Weynand B, Draguet AP, Bernard P, Marbaix E, Galant C (1999) Calcifying fibrous pseudotumour: first case report in the peritoneum with immunostaining for CD34. Histopathology 34:86–87

18.

Zamecnik M, Michal M, Boudova L, Sulc M (2000) CD34 expression in calcifying fibrous pseudotumours. Histopathology 36:183–184

19.

Sigel JE, Smith TA, Reith JD, Goldblum JR (2001) Immunohistochemical analysis of anaplastic lymphoma kinase expression in deep soft tissue calcifying fibrous pseudotumor: evidence of a late sclerosing stage of inflammatory myofibroblastic tumor? Ann Diagn Pathol 5:10–14

20.

Seo JB, Im JG, Goo JM, Chung MJ, Kim MY (2001) Atypical pulmonary metastases: spectrum of radiologic findings. Radiographics 21:403–417

21.

Erasmus JJ, McAdams HP, Patz EF Jr, Murray JG, Pinkard NB (1996) Calcifying fibrous pseudotumor of pleura: radiologic features in three cases. J Comput Assist Tomogr 20:763–765
Acknowledgements
The authors thank Mr. S. Yano and Ms. T. Nakamatsu for their skilled technical assistance.
About this article
Cite this article
Mito, K., Kashima, K., Daa, T. et al. Multiple calcifying fibrous tumors of the pleura. Virchows Arch 446, 78–81 (2005). https://doi.org/10.1007/s00428-004-1148-4
Received:

Accepted:

Published:

Issue Date:
Keywords
Calcifying fibrous tumor

Calcifying fibrous pseudotumor

Psammoma body

Pleura