Abstract
Myxoid changes rarely occur in adrenocortical adenomas and carcinomas. Only eight benign tumours with such features have been described thus far, five of which also had a prominent pseudoglandular component. We report an additional pseudoglandular myxoid adenoma of the adrenal gland detected in a 58-year-old male patient who developed mild hypertension. At surgery, a 4-cm mass was resected and found to contain cords and tubules of polygonal cells in a myxoid background. Limited areas of classical adrenocortical adenoma were detected in less than 20% of the tumour area. Lack of atypias and absence of mucin markers, together with an immunophenotype consistent with adrenal tumours (focal cytokeratin, vimentin, synaptophysin and alpha-inhibin immunoreactivities), led to a diagnosis of primary adrenocortical adenoma with an extensive pseudoglandular myxoid pattern. However, the differential diagnosis from metastatic well-differentiated adenocarcinomas, chordomas and retroperitoneal myxoid mesenchymal tumours (e.g. liposarcoma) may be difficult in the absence of a complete clinical history and a reliable immunoprofile. We strongly recommend staining of any myxoid or glandular tumour of the adrenal gland for alpha-inhibin and synaptophysin (probably the currently best characterised markers of adrenocortical origin) before considering alternative (probably more common) diagnoses of metastatic adenocarcinoma or retroperitoneal tumours localised to the adrenal gland.
This is a preview of subscription content, log in to check access.
Access options
Buy single article
Instant access to the full article PDF.
US$ 39.95
Price includes VAT for USA
Subscribe to journal
Immediate online access to all issues from 2019. Subscription will auto renew annually.
US$ 199
This is the net price. Taxes to be calculated in checkout.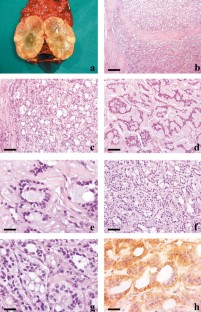 References
1.

Brown FM, Gaffey TA, Wold LE, Lloyd RV (2000) Myxoid neoplasm of the adrenal cortex: a rare histologic variant. Am J Surg Pathol 24:396–401

2.

Carney JA, Gordon H, Carpenter PC, Shenoy BV, Go VL (1985) The complex of myxomas, spotty pigmentation, and endocrine overactivity. Medicine (Baltimore) 64:270–283

3.

Chivite A, Matias-Guiu X, Pons C, Algaba F, Prat J (1998) Inhibin A expression in adrenal neoplasms: a new immunohistochemical marker for adrenocortical tumors. Appl Immunohistochem 6:42–49

4.

Dundr P, Novak K (2003) Pseudoglandular myxoid adenoma of the adrenal gland. Pathol Res Pract 199:493–496

5.

Forsthoefel KF (1994) Myxoid adrenal cortical carcinoma. A case report with the differential diagnostic considerations. Arch Pathol Lab Med 118:1151–1153

6.

Honda K, Kashima K, Daa T, Gamachi A, Nakayama I, Yokoyama S (2001) Myxoid adrenal cortical adenoma. Pathol Int 51:887–891

7.

Ivsic T, Komorowski RA, Sudakoff GS, Wilson SD, Datta MW (2002) Adrenal cortical adenoma with adrenalin-type neurosecretory granules clinically mimicking a pheochromocytoma. Arch Pathol Lab Med 126:1530–1533

8.

Izumi M, Serizwa H, Iwaya K, Takeda K, Sasano H, Mukai K (2003) A case of myxoid adrenocortical carcinoma with extensive lipomatous metaplasia. Arch Pathol Lab Med 177:227–230

9.

McNicol AM (2002) The adrenal cortex. In: Li Volsi VA, Asa SL (eds) Endocrine pathology. Churchill Livingstone, New York, pp 171–204

10.

Tang CK, Harriman BB, Toker C (1979) Myxoid adrenal cortical carcinoma: a light and electron microscopy study. Arch Pathol Lab Med 103:635–638

11.

Terzolo M, Boccuzzi A, Bovio S, Cappia S, De Giuli P. Alì A, Paccotti P, Porpiglia F, Fontana D, Angeli A (2001) Immunohistochemical assessment of Ki-67 in the differential diagnosis of adrenocortical tumors. Urology 57:176–182

12.

Weiss LM (1984) Comparative histologic study of 43 metastasizing and non-metastasizing adrenocortical tumors. Am J Surg Pathol 8:163–169
Acknowledgements
Work partially supported by grants from the Italian Ministry of University and Research (MIUR, Rome, to MP and MT).
About this article
Cite this article
Bollito, E.R., Papotti, M., Porpiglia, F. et al. Myxoid adrenocortical adenoma with a pseudoglandular pattern. Virchows Arch 445, 414–418 (2004). https://doi.org/10.1007/s00428-004-1071-8
Received:

Accepted:

Published:

Issue Date:
Keywords
Adrenal gland

Adenoma

Myxoid

Glandular pattern

Differential diagnosis