Abstract
Several studies have shown that endometrial stromal neoplasms express estrogen and progesterone receptors (ER, PR). To our knowledge, the presence or absence of androgen receptors (AR) in these rare uterine neoplasms has not been investigated. Tumors (n=20)—3 endometrial stromal nodules, 14 low-grade endometrial stromal sarcomas (ESS, low grade), and 3 high-grade endometrial sarcomas (undifferentiated endometrial sarcoma, UES)—were studied. Immunohistochemical analyses for ER, PR, and AR were performed on formalin-fixed, paraffin-embedded archival material. Positive immunoreactions for ER and PR were observed in 14 (70%) and 17 (85%) cases, respectively. Furthermore, 9 cases (45%) were positive for AR. Among 17 ESS and UES cases, 7 (41%) revealed positivity for AR. Two of three benign stromal nodules were also positive for AR. Moreover, one of the three high-grade sarcomas (undifferentiated endometrial sarcoma) was negative for both ER and PR, but showed positive reaction for AR. In summary, ARs are expressed in 45% of endometrial stromal neoplasms. In addition to determination of ER and PR, the results of immunohistochemical examination of AR in these rare uterine tumors may have some impact on the postoperative management of the patients.
This is a preview of subscription content, log in to check access.
Access options
Buy single article
Instant access to the full article PDF.
US$ 39.95
Price includes VAT for USA
Subscribe to journal
Immediate online access to all issues from 2019. Subscription will auto renew annually.
US$ 199
This is the net price. Taxes to be calculated in checkout.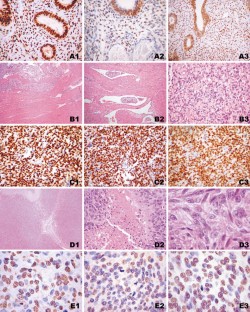 References
1.

Aaro LA, Symmonds RE, Dockerty MB (1966) Sarcoma of the uterus. A clinical and pathologic study of 177 cases. Am J Obstet Gynecol 94:101–109

2.

Bergeron C, Ferenczy A, Shyamala G (1988) Distribution of estrogen receptors in various cell types of normal, hyperplastic, and neoplastic human endometrial tissues. Lab Invest 58:338–345

3.

Brys M, Semczuk A, Baranowski W, Jakowicki J, Krajewska WM (2002) Androgen receptor (AR) expression in normal and cancerous human endometrial tissues detected by RT-PCR and immunohistochemistry. Anticancer Res 22:1025–1031

4.

Chang KL, Crabtree GS, Lim-Tan SK, Kempson RL, Hendrickson MR (1990) Primary uterine endometrial stromal neoplasms. A clinicopathologic study of 117 cases. Am J Surg Pathol 14:415–438

5.

Evans HL (1982) Endometrial stromal sarcoma and poorly differentiated endometrial sarcoma. Cancer 50:2170–2182

6.

Gadducci A, Sartori E, Landoni F, Zola P, Maggino T, Urgesi A, Lissoni A, Losa G, Fanucchi A (1996) Endometrial stromal sarcoma: analysis of treatment failures and survival. Gynecol Oncol 63:247–253

7.

Gloor E, Schnyder P, Cikes M, Hofstetter J, Cordey R, Burnier F, Knobel P (1982) Endolymphatic stromal myosis. Surgical and hormonal treatment of extensive abdominal recurrence 20 years after hysterectomy. Cancer 50:1888–1893

8.

Horowitz K, Rutherford T, Schwarz PE (1996) Hormone replacement therapy in women with sarcomas. CME J Gynecol Oncol 1:23–29

9.

Katz L, Merino MJ, Sakamoto H, Schwartz PE (1987) Endometrial stromal sarcoma: a clinicopathologic study of 11 cases with determination of estrogen and progestin receptor levels in three tumors. Gynecol Oncol 26:87–97

10.

Keen CE, Philip G (1989) Progestogen-induced regression in low-grade endometrial stromal sarcoma. Case report and literature review. Br J Obstet Gynaecol 96:1435–1439

11.

Koss LG, Spiro RH, Brunschwig A (1965) Endometrial stromal sarcoma. Surg Gynecol Obstet 121:531–537

12.

Krumholz BA, Lobovsky FY, Halitsky V (1973) Endolymphatic stromal myosis with pulmonary metastases. Remission with progestin therapy: report of a case. J Reprod Med 10:85–89

13.

Lantta M, Kahanpaa K, Karkkainen J, Lehtovirta P, Wahlstrom T, Widholm O (1984) Estradiol and progesterone receptors in two cases of endometrial stromal sarcoma. Gynecol Oncol 18:233–239

14.

Mesia AF, Demopoulos RI (2000) Effects of leuprolide acetate on low-grade endometrial stromal sarcoma. Am J Obstet Gynecol 182:1140–1141

15.

Navarro D, Cabrera JJ, Leon L, Chirino R, Fernandez L, Lopez A, Rivero JF, Fernandez P, Falcon O, Jimenez P, et al (1992) Endometrial stromal sarcoma expression of estrogen receptors, progesterone receptors and estrogen-induced srp27 (24 K) suggests hormone responsiveness. J Steroid Biochem Mol Biol 41:589–596

16.

Norris HJ, Taylor HB (1966) Mesenchymal tumors of the uterus. I. A clinical and pathological study of 53 endometrial stromal tumors. Cancer 19:755–766

17.

Nyholm HC, Nielsen AL, Lyndrup J, Norup P, Thorpe SM (1992) Biochemical and immunohistochemical estrogen and progesterone receptors in adenomatous hyperplasia and endometrial carcinoma: correlations with stage and other clinicopathologic features. Am J Obstet Gynecol 167:1334–1342

18.

Pellillo D (1968) Proliferative stromatosis of the uterus with pulmonary metastases. Remission following treatment with a long acting synthetic progestin: a case report. Obstet Gynecol 31:33–39

19.

Pickartz H, Beckmann R, Fleige B, Due W, Gerdes J, Stein H (1990) Steroid receptors and proliferative activity in non-neoplastic and neoplastic endometria. Virchows Arch 417:163–171

20.

Piver MS, Rutledge FN, Copeland L, Webster K, Blumenson L, Suh O (1984) Uterine endolymphatic stromal myosis: a collaborative study. Obstet Gynecol 64:173–178

21.

Reich O, Regauer S, Urdl W, Lahousen M, Winter R (2000) Expression of oestrogen and progesterone receptors in low-grade endometrial stromal sarcomas. Br J Cancer 82:1030–1034

22.

Sabini G, Chumas JC, Mann WJ (1992) Steroid hormone receptors in endometrial stromal sarcomas. A biochemical and immunohistochemical study. Am J Clin Pathol 97:381–386

23.

Schilder JM, Hurd WW, Roth LM, Sutton GP (1999) Hormonal treatment of an endometrial stromal nodule followed by local excision. Obstet Gynecol 93:805–807

24.

Scribner DR Jr, Walker JL (1998) Low-grade endometrial stromal sarcoma preoperative treatment with Depo-Lupron and Megace. Gynecol Oncol 71:458–460

25.

Soper JT, McCarty KS Jr, Hinshaw W, Creasman WT, McCarty KS Sr, Clarke-Pearson DL (1984) Cytoplasmic estrogen and progesterone receptor content of uterine sarcomas. Am J Obstet Gynecol 150:342–348

26.

Tamaya T, Arabori K, Okada H (1988) Relation between steroid receptor levels and prolactin level in the endometrial stromal cells. Acta Obstet Gynecol Scand 67:265–269

27.

Tavassoli FA, Devilee P (2003) World Health Organization classification of tumors: pathology and genetics of tumors of the breast and female genital organs, IARC Press, Lyon

28.

Thatcher SS, Woodruff JD (1982) Uterine stromatosis: a report of 33 cases. Obstet Gynecol 59:428–434

29.

Tosi P, Sforza V, Santopietro R (1989) Estrogen receptor content, immunohistochemically determined by monoclonal antibodies, in endometrial stromal sarcoma. Obstet Gynecol 73:75–78

30.

Wade K, Quinn MA, Hammond I, Williams K, Cauchi M (1990) Uterine sarcoma: steroid receptors and response to hormonal therapy. Gynecol Oncol 39:364–367
Acknowledgement
This study was supported by the Lore-Saldow-Reasearch-Fund. The authors thank Mrs. Margit Gogg-Kamerer and Ms. Andrea Sommersacher for their excellent technical assistance.
About this article
Cite this article
Moinfar, F., Regitnig, P., Tabrizi, A.D. et al. Expression of androgen receptors in benign and malignant endometrial stromal neoplasms. Virchows Arch 444, 410–414 (2004). https://doi.org/10.1007/s00428-004-0981-9
Received:

Accepted:

Published:

Issue Date:
Keywords
Endometrial stromal tumors

Androgen receptor

Estrogen receptor

Progesterone receptor

Immunohistochemistry