This is a preview of subscription content, log in to check access.
Access options
Buy single article
Instant access to the full article PDF.
US$ 39.95
Price includes VAT for USA
Subscribe to journal
Immediate online access to all issues from 2019. Subscription will auto renew annually.
US$ 199
This is the net price. Taxes to be calculated in checkout.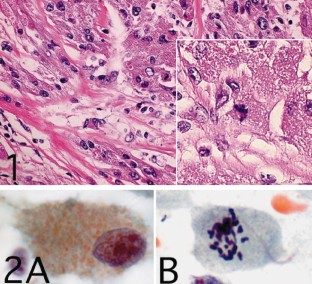 References
1.

Crawford ES, DeBakey ME (1953) Granular-cell myoblastoma: two unusual cases. Cancer 6:786–789

2.

Ehara T, Katsuyama T (1990) Characterization of glycoconjugates found in granular cell tumors, with special reference to keratan sulfate. Virchows Arch 58:221–227

3.

Fanburg-Smith JC, Meis-Kindblom JM, Fante R, Kindblom LG (1998) Malignant granular cell tumor of soft tissue: diagnostic criteria and clinicopathologic correlation. Am J Surg Pathol 22:779–794

4.

Johnston MJ, Helwig EB (1981) Granular cell tumors of the gastrointestinal tract and perianal region. A study of 74 cases. Dig Dis Sci 26:807–816

5.

Obiditsch-Mayer I, Salzer-Kuntschik M (1961) Malignes, "getorntzelliges neurom" sogenanntes, "myoblastenmyom," des oesophagus. Beitr Pathol Anat 125:357–373

6.

Ohmori T, Arita N, Uraga N, Tabei R, Tani M, Okamura H (1987) Malignant granular cell tumor of the esophagus. A case report with light and electron microscopic, histochemical, and immunohistochemical study. Acta Pathol Jpn 37:775–783

7.

Ordonez NG (1999) Granular cell tumor: a review and update. Adv Anat Pathol 6:186–203

8.

Wieczorek TJ, Krane JF, Domanski HA, Akerman M, Carlen B, Misdraji J, Granter SR (2001) Cytologic findings in granular cell tumors, with emphasis on the diagnosis of malignant granular cell tumor by fine-needle aspiration biopsy. Cancer 93:398–408

9.

Wyatt MG, O'Donoghue DS, Clarke TJ, Teasdale C (1991) Malignant granular cell tumour of the oesophagus. Eur J Surg Oncol 17:388–391
Acknowledgements
We thank Dr. Kaiyo Takubo, Department of Clinical Pathology, Tokyo Metropolitan Institute of Gerontology, Tokyo, and Professor David Y. Graham, Baylor College of Medicine, Houston, TX, for their helpful comments and encouragement.
About this article
Cite this article
Yoshizawa, A., Ota, H., Sakaguchi, N. et al. Malignant granular cell tumor of the esophagus. Virchows Arch 444, 304–306 (2004). https://doi.org/10.1007/s00428-003-0957-1
Received:

Accepted:

Published:

Issue Date:
Keywords
Keratan Sulfate

Granular Cell Tumor

Esophageal Epithelium

Vesicular Nucleus

Connective Tissue Septum