Abstract
The diagnosis of pulmonary Langerhans cell histiocytosis might be refined by demonstrating reliability of a new cell marker, i.e., Langerin (CD207), used on bronchoalveolar lavage fluid. For this purpose, we collected material from patients with this disease and also with sarcoidosis and idiopathic pulmonary fibrosis as controls. In addition to the immunocytochemical detection of Langerin, we examined the expression profiles of CD1a and the macrophage tandem-repeat mannose receptor (CD206). To test accessibility of Langerin, a C-type lectin, for mannosides, we employed reverse lectin histochemistry using mannose-containing neoglycoproteins. The analysis revealed a significantly increased percentage of CD1a- and Langerin-positive cells in pulmonary Langerhans cell histiocytosis in comparison with both other studied diseases. No expression of the 175-kDa mannose-binding lectin (CD206) in Langerhans cells was observed. Evidently, binding sites on the cells were not accessible for the mannose-containing neoglycoligand. These results provide evidence for the usefulness of Langerin-directed immuno- and glycohistochemical monitoring of bronchoalveolar lavage fluid in the diagnosis of pulmonary Langerhans cell histiocytosis.
This is a preview of subscription content, log in to check access.
Access options
Buy single article
Instant access to the full article PDF.
US$ 39.95
Price includes VAT for USA
Subscribe to journal
Immediate online access to all issues from 2019. Subscription will auto renew annually.
US$ 199
This is the net price. Taxes to be calculated in checkout.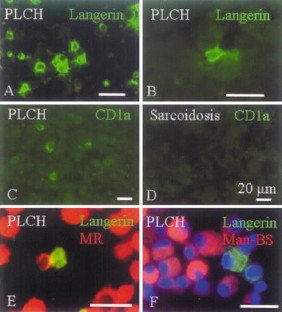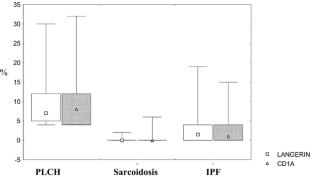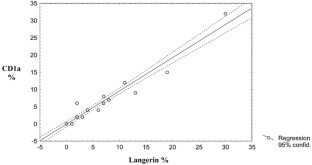 References
1.

Auerswald U, Barth J, Magnussen H (1991) Value of CD1-positive cells in bronchoalveolar lavage fluid for the diagnosis of pulmonary histiocytosis X. Lung 169:305–309

2.

Colby TV, Lombard C (1993) Histiocytosis X in the lung. Hum Pathol 14:847–856

3.

Friedman PJ, Liebow AA, Sokoloff J (1981) Eosinophilic granuloma of lung: clinical aspects of primary histiocytosis in the adult. Medicine (Baltimore) 60:385–396

4.

Froňková V, Holíková Z, Liu F-T, Homolka J, Rijken DC, André S, Bovin NV, Smetana K Jr, Gabius H-J (1999) Simultaneous detection of endogenous lectins and their binding capacity at the single cell level—a technical note. Folia Biol (Praha) 45:157–162

5.

Gabius H-J (2001) Glycohistochemistry: the why and how of detection and localization of endogenous lectins. Anat Histol Embryol 30:3–31

6.

Gabius H-J, Bodanowitz S, Schauer A (1988) Endogenous sugar-binding proteins in human breast tissue and benign and malignant breast lesions. Cancer 61:1125–1131

7.

Geissmann F, Lepelletier Y, Fraitag S, Valladeau J, Bodemer C, Debré M, Leborgne M, Saeland S, Brousse N (2001) Differentiation of Langerhans cells in Langerhans cell histiocytosis. Blood 97:1241–1248

8.

Harari S, Comel A (2001) Pulmonary Langerhans cell histiocytosis. Sarcoidosis Vasc Diff 18:253–262

9.

McDermott R, Ziylan U, Spehner D, Bausinger H, Lipsker D, Mommaas M, Cazenave J-P, Raposo G, Goud B, de la Salle H, Salamero J, Hanau D (2002) Birbeck granules are subdomains of endosomal recycling compartment in human epidermal Langerhans cells, which form where Langerin accumulates. Mol Biol Cell 13:317–335

10.

Noorman F, Braat EAM, Barrett-Bergshoeff M, Barbé E, van Leeuwen A, Lindeman J, Rijken DG (1997) Monoclonal antibodies against human mannose receptor as a specific marker in flow cytometry and immunohistochemistry for macrophages. J Leukocyte Biol 61:63–72

11.

Plzák J, Holíková Z, Smetana K Jr, Betka J, Hercogová J, Saeland S, Bovin NV, Gabius H-J (2002) Analysis of binding of mannosides in relation to Langerin (CD207) in Langerhans cells of normal and transformed epithelia. Histochem J 34:247–253

12.

Schonfeld N, Frank W, Wenig S, Uhrmeister P, Allica F, Preussler H, Grassot A, Loddenkerper R (1993) Clinical and radiologic features, lung function and therapeutic results in pulmonary histiocytosis X. Respiration 60:38–44

13.

Sledziewska J, Roginska E, Oblakowski P, Slodowska J, Hawrylkiewicz I, Kus J, Pawlicka L, Pirozynski M, Rowinska-Zakrzewska E (1999) Usefulness of CD1 expression on surface of cells in bronchoalveolar fluid for diagnosis of histiocytosis X—our experience. Pneumol Allergol Pol (in Polish) 67:311–317

14.

Smetana K Jr, Holíková Z, Klubal R, Bovin NV, Dvořánková B, Bartůňková J, Liu F-T, Gabius H-J (1999) Coexpression of binding sites for A(B) histo-blood group trisaccharides with galectin-3 and Lag antigen in human Langerhans cells. J Leukocyte Biol 66:644–649

15.

Tazi A, Moreau J, Bergeron A, Dominique S, Hance AJ, Soler P (1999) Evidence that Langerhans cells in adult pulmonary Langerhans cell histiocytosis are matured dendritic cells: importance of the cytokine microenvironment. J Immunol 163:3511–3515

16.

Valladeau J, Duvert-Frances V, Pinn J-J, Dezutter-Dambuyant C, Vincent C, Massacrier C, Vincent J, Yoneda K, Banchereau J, Caux C, Davoust J, Saeland S (1999) The monoclonal antibody DCGM4 recognizes Langerin, a protein specific for Langerhans cells, and is rapidly internalized from the cell surface. Eur J Immunol 29:2695–2704

17.

Valladeau J, Ravel O, Dezutter-Dambuyant C, Moore K, Kleijmeer M, Liu Y, Duvert-Frances V, Vincent C, Schmitt D, Davoust J, Caux C, Lebecque S, Saeland S (2000) Langerin, a novel C-type lectin specific to Langerhans cells, is an endocytic receptor that induces the formation of Birbeck granules. Immunity 12:71–81

18.

Vassallo R, Ryu JH, Colby TV, Hartman T, Limper AH (2000) Pulmonary Langerhans cell histiocytosis. N Engl J Med 342:1969–1978
Acknowledgements
This study was supported by the Ministry of Education, Youth and Sport of the Czech Republic, project no. MSM111100005. The authors are grateful to Mrs. Eva Vancová for excellent technical assistance.
About this article
Cite this article
Smetana, K., Měřička, O., Saeland, S. et al. Diagnostic relevance of Langerin detection in cells from bronchoalveolar lavage of patients with pulmonary Langerhans cell histiocytosis, sarcoidosis and idiopathic pulmonary fibrosis. Virchows Arch 444, 171–174 (2004). https://doi.org/10.1007/s00428-003-0952-6
Received:

Accepted:

Published:

Issue Date:
Keywords
Fibrosis

Histiocytosis

Immunohistochemistry

Langerin (CD207)

Lectin

Neoglycoprotein

Sarcoidosis