Abstract
Coxsackievirus B is the most common cause of viral myocarditis and is particularly virulent in neonates and children. Adenovirus is also a leading cause of the disease. The determinant of tropism for both viruses is considered to be the expression of coxsackievirus and adenovirus receptor (CAR) in target organs. However, developmental change and physiological localization of CAR in the heart are unknown. We examined expression levels of CAR in rat hearts by quantitative real-time polymerase chain reaction and Western blot analysis and found that CAR decreased gradually during postnatal development, although CAR was detectable, even in adults. Immunohistochemistry revealed CAR on the whole surface of cardiomyocytes in immature rat hearts. In contrast, CAR was detected predominantly on intercalated disks in the adult heart and was accumulated especially at the contact point between the cultured cardiomyocytes, even though they were prepared from the neonatal rat heart. In conclusion, CAR was expressed abundantly on the whole surface of cardiomyocytes in immature rat hearts. Both the expression level and the localization of CAR are possible determinants of the susceptibility to viral myocarditis of neonates and children.
This is a preview of subscription content, log in to check access.
Access options
Buy single article
Instant access to the full article PDF.
US$ 39.95
Price includes VAT for USA
Subscribe to journal
Immediate online access to all issues from 2019. Subscription will auto renew annually.
US$ 199
This is the net price. Taxes to be calculated in checkout.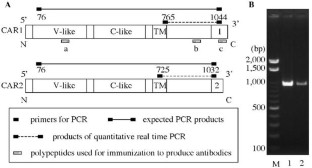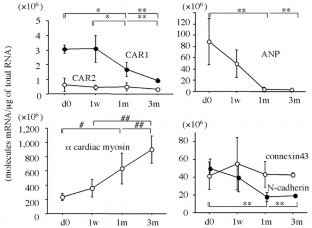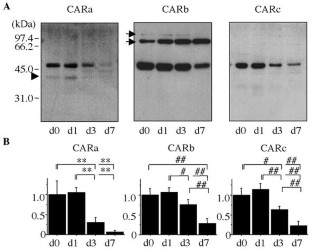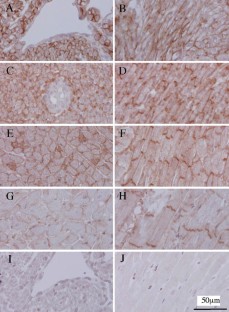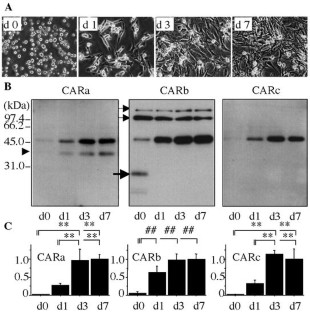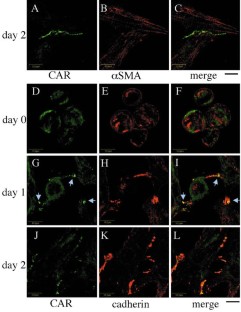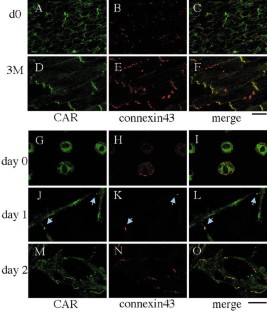 References
1.

Angst BD, Khan LU, Severs NJ, Whitely K, Rothery S, Thompson RP, Magee AI, Gourdie RG (1997) Dissociated spatial patterning of gap junctions and cell adhesion junctions during postnatal differentiation of ventricular myocardium. Circ Res 80:88–94

2.

Bergelson JM, Cunningham JA, Droguett G, Kurt-Jones EA, Krithivas A, Hong JS, Horwitz MS, Crowell RL, Finberg RW (1997) Isolation of a common receptor for coxsackie B viruses and adenoviruses 2 and 5. Science 275:1320–1323

3.

Bowles NE, Towbin JA (2003) Childhood myocarditis and dilated cardiomyopathy. In: Cooper LT (ed) Myocarditis: from bench to bedside. Humana Press, Totowa, pp 559–587

4.

Carson SD (2000) Limited proteolysis of the coxsackievirus and adenovirus receptor (CAR) on HeLa cells exposed to trypsin. FEBS Lett 484:149–152

5.

Carson SD, Chapman NN, Tracy SM (1997) Purification of the putative coxsackievirus B receptor from HeLa cells. Biochem Biophys Res Commun 233:325–328

6.

Cohen CJ, Shieh JT, Pickles RJ, Okegawa T, Hsieh JT, Bergelson JM (2001) The coxsackievirus and adenovirus receptor is a transmembrane component of the tight junction. Proc Natl Acad Sci U S A 98:15191–15196

7.

Dec GW, Fuster V (1994) Idiopathic dilated cardiomyopathy. N Engl J Med 331:1564–1575

8.

Douglas JT, Kim M, Sumerel LA, Carey DE, Curiel DT (2001) Efficient oncolysis by a replicating adenovirus (ad) in vivo is critically dependent on tumor expression of primary ad receptors. Cancer Res 61:813–917

9.

Fechner H, Haack A, Wang H, Wang X, Eizema K, Pauschinger M, Schoemaker R, Veghel R, Houtsmuller A, Schultheiss HP, Lamers J, Poller W (1999) Expression of coxsackie adenovirus receptor and alpha-integrin does not correlate with adenovector targeting in vivo indicating anatomical vector barriers. Gene Ther 6:1520–1535

10.

Fechner H, Noutsias M, Tschoepe C, Hinze K, Wang X, Escher F, Pauschinger M, Dekkers D, Vetter R, Paul M, Lamers J, Schultheiss HP, Poller W (2003) Induction of coxsackievirus-adenovirus-receptor expression during myocardial tissue formation and remodeling: identification of a cell-to-cell contact-dependent regulatory mechanism. Circulation 107:876–882

11.

Hanawa H, Abe S, Hayashi M, Yoshida T, Yoshida K, Shiono T, Fuse K, Ito M, Tachikawa H, Kashimura T, Okura Y, Kato K, Kodama M, Maruyama S, Yamamoto T, Aizawa Y (2002) Time course of gene expression in rat experimental autoimmune myocarditis. Clin Sci 103:623–632

12.

Hirschman SZ, Hammer GS. Coxsackie virus myopericarditis. A microbiological and clinical review. Am J Cardiol 34:224–232

13.

Honda T, Saitoh H, Masuko M, Katagiri-Abe T, Tominaga K, Kozakai I, Kobayashi K, Kumanishi T, Watanabe YG, Odani S, Kuwano R (2000) The coxsackievirus-adenovirus receptor protein as a cell adhesion molecule in the developing mouse brain. Brain Res Mol Brain Res 77:19–28

14.

Ito M, Kodama M, Masuko M, Yamaura M, Fuse K, Uesugi Y, Hirono S, Okura Y, Kato K, Hotta Y, Honda T, Kuwano R, Aizawa Y (2000) Expression of coxsackievirus and adenovirus receptor in hearts of rats with experimental autoimmune myocarditis. Circ Res 86:275–280

15.

Leon RP, Hedlund T, Meech SJ, Li S, Schaack J, Hunger SP, Duke RC, DeGregori J (1998) Adenoviral-mediated gene transfer in lymphocytes. Proc Natl Acad Sci U S A 95:13159–13164

16.

Martin AB, Webber S, Fricker FJ, Jaffe R, Demmler G, Kearney D, Zhang YH, Bodurtha J, Gelb B, Ni J, Bricker TB, Towbin JA (1994) Acute myocarditis. Rapid diagnosis by PCR in children. Circulation 90:330–339

17.

Montague TJ, Lopaschuk GD, Davies NJ (1990) Viral heart disease. Chest 98:190–199

18.

Nakagawa M, Sato A, Okagawa H, Kondo M, Okuno M, Takamatsu T (1999) Detection and evaluation of asymptomatic myocarditis in schoolchildren: report of four cases. Chest 116:340–345

19.

Nalbantoglu J, Pari G, Karpati G, Holland PC (1999) Expression of the primary coxsackie and adenovirus receptor is downregulated during skeletal muscle maturation and limits the efficacy of adenovirus-mediated gene delivery to muscle cells. Hum Gene Ther 10:1009–1019

20.

Nalbantoglu J, Larochelle N, Wolf E, Karpati G, Lochmuller H, Holland PC (2001) Muscle-specific overexpression of the adenovirus primary receptor CAR overcomes low efficiency of gene transfer to mature skeletal muscle. J Virol 75:4276-4282

21.

Nicholson F, Ajetunmobi JF, Li M, Shackleton EA, Starkey WG, Illavia SJ, Muir P, Banatvala JE (1995) Molecular detection and serotypic analysis of enterovirus RNA in archival specimens from patients with acute myocarditis. Br Heart J 74:522–527

22.

Noutsias M, Fechner H, de Jonge H, Wang X, Dekkers D, Houtsmuller AB, Pauschinger M, Bergelson J, Warraich R, Yacoub M, Hetzer R, Lamers J, Schultheiss HP, Poller W (2001) Human coxsackie-adenovirus receptor is colocalized with integrins alpha(v)beta(3) and alpha(v)beta(5) on the cardiomyocyte sarcolemma and upregulated in dilated cardiomyopathy: implications for cardiotropic viral infections. Circulation 104:275–280

23.

Oyamada M, Kimura H, Oyamada Y, Miyamoto A, Ohshika H, Mori M (1994) The expression, phosphorylation, and localization of connexin 43 and gap-junctional intercellular communication during the establishment of a synchronized contraction of cultured neonatal rat cardiac myocytes. Exp Cell Res 212:351–358

24.

Peters NS, Severs NJ, Rothery SM, Lincoln C, Yacoub MH, Green CR (1994) Spatiotemporal relation between gap junctions and fascia adherens junctions during postnatal development of human ventricular myocardium. Circulation 90:713–725

25.

Pickles RJ, Fahrner JA, Petrella JM, Boucher RC, Bergelson JM (2000) Retargeting the coxsackievirus and adenovirus receptor to the apical surface of polarized epithelial cells reveals the glycocalyx as a barrier to adenovirus-mediated gene transfer. J Virol 74:6050–6057

26.

Pisani B, Taylor DO, Mason JW (1997) Inflammatory myocardial diseases and cardiomyopathies. Am J Med 102:459–469

27.

Poller W, Fechner H, Noutsias M, Tschoepe C, Schultheiss HP (2002) Highly variable expression of virus receptors in the human cardiovascular system Implications for cardiotropic viral infections and gene therapy. Z Kardiol 91:978–991

28.

Reinecke H, Zhang M, Bartosek T, Murry CE (1999) Survival, integration, and differentiation of cardiomyocyte grafts: a study in normal and injured rat hearts. Circulation 100:193–202

29.

Rosenberg HS, McNamara DG (1964) Acute myocarditis in infancy and childhood. Prog Cardiovasc Dis 7:179–197

30.

Simpson P, Savion S (1982) Differentiation of rat myocytes in single cell cultures with and without proliferating nonmyocardial cells. Cross-striations, ultrastructure, and chronotropic response to isoproterenol. Circ Res 50:101–116

31.

Thoelen I, Magnusson C, Tagerud S, Polacek C, Lindberg M, Van Ranst M (2001) Identification of alternative splice products encoded by the human coxsackie-adenovirus receptor gene. Biochem Biophys Res Commun 287:216–222

32.

Tomko RP, Xu R, Philipson L (1997) HCAR and MCAR: the human and mouse cellular receptors for subgroup C adenoviruses and group B coxsackieviruses. Proc Natl Acad Sci U S A 94:3352–3356

33.

Walters RW, Grunst T, Bergelson JM, Finberg RW, Welsh MJ, Zabner J (1999) Basolateral localization of fiber receptors limits adenovirus infection from the apical surface of airway epithelia. J Biol Chem 274:10219–10226

34.

Walters RW, van't Hof W, Yi SM, Schroth MK, Zabner J, Crystal RG, Welsh MJ (2001) Apical localization of the coxsackie-adenovirus receptor by glycosyl-phosphatidylinositol modification is sufficient for adenovirus-mediated gene transfer through the apical surface of human airway epithelia. J Virol 75:7703–7711

35.

Walters RW, Freimuth P, Moninger TO, Ganske I, Zabner J, Welsh MJ (2002) Adenovirus fiber disrupts CAR-mediated intercellular adhesion allowing virus escape. Cell 110:789–799

36.

Wan YY, Leon RP, Marks R, Cham CM, Schaack J, Gajewski TF, DeGregori J (2000) Transgenic expression of the coxsackie/adenovirus receptor enables adenoviral-mediated gene delivery in naive T cells. Proc Natl Acad Sci U S A 97:13784–13789

37.

Young JAT (2001) Virus entry and uncoating. In: Kimpe DM, Howley PM (eds) Fieles virology. Lippincott Williams & Wilkins, Philadelphia, pp 87–103
Acknowledgement
This study was supported in part by a grant for research on specific diseases from the Ministry of Health, Labor and Welfare.
About this article
Cite this article
Kashimura, T., Kodama, M., Hotta, Y. et al. Spatiotemporal changes of coxsackievirus and adenovirus receptor in rat hearts during postnatal development and in cultured cardiomyocytes of neonatal rat. Virchows Arch 444, 283–292 (2004). https://doi.org/10.1007/s00428-003-0925-9
Received:

Accepted:

Published:

Issue Date:
Keywords
Coxsackievirus and adenovirus receptor

Myocarditis

Development

Cardiomyocyte

Intercalated disk