Abstract
Little is known about the role of the M cells of human nasopharyngeal lymphoid tissue in the sampling of viruses that cause respiratory infections. To clarify whether M cells could function as a gateway for influenza virus into human nasopharyngeal lymphoid tissue, excised adenoid tissue was incubated in media containing influenza A virus for 30, 60, and 90 min, respectively. Transmission electron microscopic observation revealed that many influenza viruses adhered to M cell surfaces and were taken up into the cytoplasmic vesicles of M cells after 30 min incubation; the viruses had been transported into enfolded lymphoid cells after 60 min incubation. By staining M cells with Sambucus nigra lectin, which specifically recognizes the NeuAcα2,6 Gal linkage of sialoprotein, it was also found that abundant receptors for the human influenza virus are present on the M cell surface. Our findings indicated that M cells of human nasopharyngeal tonsils function as a major port for influenza A virus entry and that the virus could be efficiently transferred to enfolded macrophages and lymphoid cells by M cells. The transport of influenza viruses to lymphoid cells by M cells may promote antigen delivery to the immune system, and these findings may be important for systemic delivery of those influenza viruses that have the capacity to productively infect cells outside of the respiratory tract.
This is a preview of subscription content, log in to check access.
Access options
Buy single article
Instant access to the full article PDF.
US$ 39.95
Price includes VAT for USA
Subscribe to journal
Immediate online access to all issues from 2019. Subscription will auto renew annually.
US$ 199
This is the net price. Taxes to be calculated in checkout.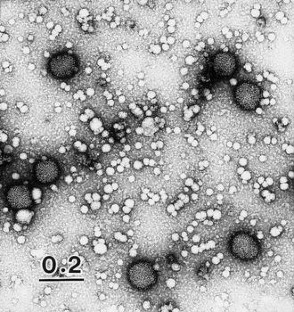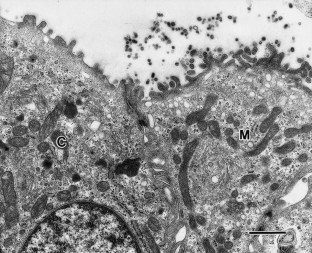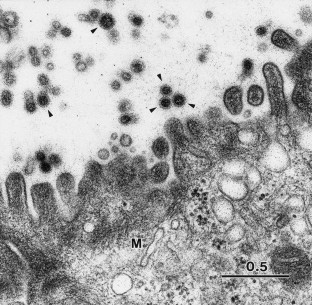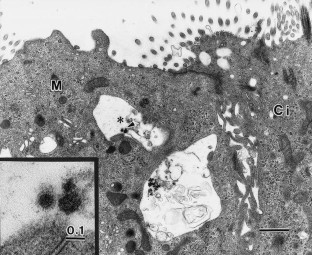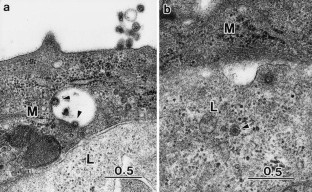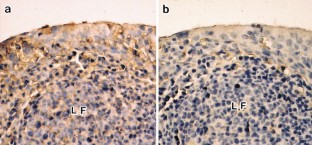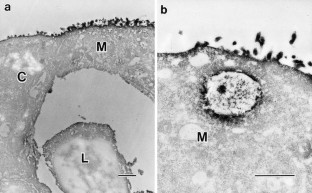 References
1.

Amerongen H, Welzin R, Farnet C, Michetti P, Haseltine W, Neutra MR (1991) Transepithelial transport of HIV-1 by intestinal M cells: a mechanism for transmission of AIDS. J Acquir Immune Defic Syndr 4:760–765

2.

Couceiro JN, Paulson JC, Baum LG (1993) Influenza virus strains selectively recognize sialyloligosaccharides on human respiratory epithelium: the role of the host cell in selection of hemagglutinin receptor specificity. Virus Res 29:155–165

3.

Edwards KM, Snyder PN, Stephens DS, Wright PF (1986) Human adenoid organ culture: a model to study the interaction of influenza A with human nasopharyngeal mucosa. J Infect Dis 153:41–47

4.

Fujimura Y (2000) Evidence of cells as portals of entry for antigens in the nasopharyngeal lymphoid tissue of humans. Virchows Arch 436:560–566

5.

Fujimura Y, Owen RL (2000) The intestinal epithelial M cell—properties and function. In: Kirsner JB (ed) Inflammatory bowel disease, 5th edn. Saunders, Philadelphia, pp 33–44

6.

Iwakawa K, Ueda N, Murao S, Kobayashi N (1996) Altered carbohydrate composition in colorectal adenomas and carcinomas: histochemical characterization of N- acetylgalactosamine, L-fucose, and o-acetylated sialic acid. J Gastroenterol 31:24–32

7.

Knossow M, Gaudier M, Douglas A, Barrere B Bizebard T, Barbey C, Gigant B, Skehel JJ (2002) Mechanism of neutralization of influenza virus infectivity by antibodies. Virology 302:294–298

8.

Kuper CF, Hameleers DMH, Bruijntjes JP, Van der Ven I, Biewenga J, Sminia T (1990) Lymphoid and non-lymphoid cells in nasal-associated lymphoid tissue (NALT) in the rat. An immuno- and enzyme-histochemical study. Cell Tissue Res 29:371–377

9.

Matrosovich M, Klenk HD (2003) Natural and synthetic sialic acid-containing inhibitors of influenza virus receptor binding. Rev Med Viol 13:85–97

10.

Neutra MR, Pringault E, Kraehenbuhl JP (1996) Antigen sampling across epithelial barriers and induction of mucosal immune responses. Ann Rev Immunol 14:275–300

11.

Ohuchi R, Ohuchi M, Garten W, Klenk HD (1991) Human influenza virus hemagglutinin with high sensitivity to proteolytic activation. J Virol 65:3530–3537

12.

Rogers GN, Paulson JC (1983) Receptor determinants of human and animal influenza virus isolates: differences in receptor specificity of H3 hemagglutinin based on species of origin. Virology 127:361–373

13.

Shibuya N, Goldstein IJ, Broekhaet WF, Nsimbe-Lubake M, Peeters B, Pneumans WJ (1987) The elderberry (Sambuccus nigra L.) bark lectin recognizes the NeuAc(α2,6) Gal/GalNAc sequence. J Biol Chem 262:1596–1601

14.

Sicinski P, Rowinski J, Warchol JB, Jarzabek Z, Gut W, Szczygiel B, Bielecki K, Koch G (1990) Poliovirus type 1 enters the human host through intestinal M cells. Gastroenterology 98:56–58

15.

Skehel JJ, Wiley DC (2000) Receptor binding and membrane fusion in virus entry: the influenza hemagglutinin. Ann Rev Biochem 69:531–569

16.

Sminia T, Kraal G (1999) Nasal-associated lymphoid tissue. In: Ogra PL Mestecky J, Lamm ME, Strober W, McGhee JR, Bienenstock J (eds) Handbook of mucosal immunology. Academic, San Diego, pp 357–364

17.

Spit BJ, Hendriksen EGJ, Bruijntjes JP, Kuper CF (1989) Nasal lymphoid tissue in the rat. Cell Tissue Res 255:193–198

18.

Sweet C, Smith H (1980) Pathogenicity of influenza virus. Microbiol Rev 44:303–330

19.

Tamura S-I, Iwasaki I, Thompson AH, Asanuma H, Chen Ze, Suzuki Y, Aizawa C, Kurata T (1998) Antibody-forming cells in the nasal-associated lymphoid tissue during primary influenza virus infection. J Gen Virol 79:291–299

20.

Wolf JL, Kauffman RS, Finberg R, Dambrauskas R, Fields BN, Trier JS (1983) Determinants of retrovirus interaction with the intestinal M cells and absorptive cells of murine intestine. Gastroenterology 85:291–300
Acknowledgements
This work was supported by project research grants from the Kawasaki Medical School, a grant-in-aid for scientific research from the Ministry of Education, Science, and Culture (15591072), and a grant-in-aid for scientific research from the Ministry of Health, Labour and Welfare of Japan.
About this article
Cite this article
Fujimura, Y., Takeda, M., Ikai, H. et al. The role of M cells of human nasopharyngeal lymphoid tissue in influenza virus sampling. Virchows Arch 444, 36–42 (2004). https://doi.org/10.1007/s00428-003-0898-8
Received:

Accepted:

Published:

Issue Date:
Keywords
M cell

Influenza A virus

NALT

Lectin

Electron microscopy