Abstract
Amyloid is defined as a proteinaceous tissue deposit that shows a typical green birefringence in polarized light after staining with Congo red, the presence of non-branching linear fibrils of indefinite length with a mean diameter of 10 nm, and a distinct X-ray diffraction pattern consistent with Pauling's model of a cross β-fibril. Amyloid may deposit locally or may present as a systemic disease. The origin of amyloid is diverse: 25 different fibril proteins have been described so far. The precursor proteins differ from each other in their primary structures and functions. The only common denominator is the propensity to form anti-parallel cross β-fibrils under certain circumstances. Early diagnosis of amyloid is still a major challenge in surgical pathology. Histological proof can be obtained using Congo-red staining and polarization microscopy. However, small deposits may be difficult to discern, and sensitivity can be improved using fluorescence microscopy. Classification of amyloid is mandatory, since amyloid is treatable and different treatment regimens are applied to different amyloid diseases. This review focuses on the epidemiology, clinical features, pathology and diagnosis of amyloid in surgical pathology.
This is a preview of subscription content, log in to check access.
Access options
Buy single article
Instant access to the full article PDF.
US$ 39.95
Price includes VAT for USA
Subscribe to journal
Immediate online access to all issues from 2019. Subscription will auto renew annually.
US$ 199
This is the net price. Taxes to be calculated in checkout.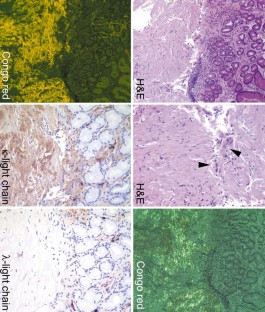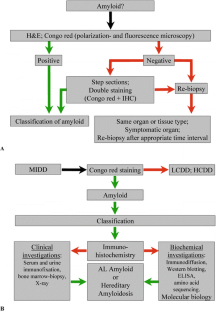 References
1.

Abe Y, Utsunomiya H, Tsutsumi Y (1992) Atypical carcinoid tumor of the lung with amyloid stroma. Acta Pathol Jpn 42:286–292

2.

Alexanian R, Weber D, Liu F (1999) Differential diagnosis of monoclonal gammopathies. Arch Pathol Lab Med 123:108–113

3.

Andrews TR, Colon-Otero G, Calamia KT, Menke DM, Boylan KB, Kyle RA (2002) Utility of subcutaneous fat aspiration for diagnosing amyloidosis in patients with isolated peripheral neuropathy. Mayo Clin Proc 77:1287–1290

4.

Arbustini E, Morbini P, Verga L, Concardi M, Porcu E, Pilotto A, Zorzoli I, Garini P, Anesi E, Merlini G (1997) Light and electron microscopy immunohistochemical characterization of amyloid deposits. Amyloid 4:157–170

5.

Arbustini E, Verga L, Concardi M, Palladini G, Obici L, Merlini G (2002) Electron and immuno-electron microscopy of abdominal fat identifies and characterizes amyloid fibrils in suspected cardiac amyloidosis. Amyloid 9:108–114

6.

Aviel-Ronen S, Liokumovich P, Rahima D, Polak-Charcon S, Goldberg I, Horowitz A (2000) The amyloid deposit in calcifying epithelial odontogenic tumor is immunoreactive for cytokeratins. Arch Pathol Lab Med 124:872–876

7.

Benson MD, Liepnieks JJ, Yazaki M, Yamashita T, Asl KH, Guenther B, Kluve-Beckerman B (2001) A new human hereditary amyloidosis: the result of a stop-codon mutation in the apolipoprotein AII gene. Genomics 72:272–277

8.

Bohle A, Wehrmann M, Eissele R, Gise Hv, Mackensen-Haen S, Müller C, Müller GA (1993) The long-term prognosis of AA and AL renal amlyoidosis and the pathogenesis of chronic renal failure in renal amyloidosis. Pathol Res Pract 189:316–331

9.

Breedveld FC, Markusse HM, MacFarlane JD (1989) Subcutaneous fat biopsy in the diagnosis of amyloidosis secondary to chronic arthritis. Clin Exp Rheumatol 7:407–410

10.

Cameron JS (1996) Nephrotic syndrome in the elderly. Semin Nephrol 16:319–329

11.

Carson FL, Kingsley WB (1980) Nonamyloid green birefringence following Congo red staining. Arch Pathol Lab Med 104:333–335

12.

Choufani EB, Sanchorawala V, Ernst T, Quillen K, Skinner M, Wright DG, Seldin DC (2001) Acquired factor X deficiency in patients with amyloid light-chain amyloidosis: incidence, bleeding manifestations, and response to high-dose chemotherapy. Blood 97:1885–1887

13.

Chugh KS, Datta BN, Singhal PC, Jain SK, Sakhuja V, Dash SC (1981) Pattern of renal amyloidosis in Indian patients. Postgrad Med J 57:31–35

14.

Cohen AS, Calkins E (1959) Electron microscopic observations on a fibrous component in amyloid of diverse origins. Nature 183:1202–1203

15.

Comenzo RL, Gertz MA (2002) Autologous stem cell transplantation for primary systemic amyloidosis. Blood 99:4276–4282

16.

Crowley PF, Slavin JL, Rode J (1996) Massive amyloid deposition in pancreatic vipoma: a case report. Pathology 28:377–379

17.

Danilewicz M, Wagrowska-Danilewicz M (2002) Quantitative analysis of interstitial mast cells in AA and AL renal amyloidosis. Pathol Res Pract 198:413–419

18.

de Carvalho M, Conceicao I, Bentes C, Luis ML (2002) Long-term quantitative evaluation of liver transplantation in familial amyloid polyneuropathy (in Portuguese). Amyloid 9:126–133

19.

Delgado WA, Aranachavez VE (1997) Amyloid deposits in labial salivary glands identified by electron microscopy. J Oral Pathol Med 26:51–52

20.

Delgado WA, Mosqueda A (1989) A highly sensitive method for diagnosis of secondary amyloidosis by labial salivary gland biopsy. J Oral Pathol Med 18:310–314

21.

deSousa MM, Vital C, Ostler D, Fernandes R, PougetAbadie J, Carles D, Saraiva MJ (2000) Apolipoprotein Al and transthyretin as components of amyloid fibrils in a kindred with apoAl Leu178His amyloidosis. Am J Pathol 156:1911–1917

22.

Dhodapkar MV, Merlini G, Solomon A (1997) Biology and therapy of immunoglobulin deposition diseases. Hematol Oncol Clin North Am 11:89–110

23.

Duston M, Skinner M, Shirahama TS, Cohen AS (1987) Diagnosis of amyloidosis by abdominal fat aspiration. Analysis of four years' experience. Am J Med 82:412–414

24.

Emori Y, Sakugawa M, Niiya K, Kiguchi T, Kojima K, Takenaka K, Shinagawa K, Ishimaru F, Ikeda K, Tanimoto M, Yamasaki R, Ohara N, Harada M (2002) Life-threatening bleeding and acquired factor V deficiency associated with primary systemic amyloidosis. Blood Coagul Fibrinolysis 13:555–559

25.

Eriksson L, Westermark P (1986) Intracellular neurofibrillary tangle-like aggregations. A constantly present amyloid alteration in the aging choroid plexus. Am J Pathol 125:124–129

26.

Fatihi E, Zahiri K, Hachim K, Fadel H, Benghanem GM, Sqalli S, Ramdani B, Zaid D (1999) Diagnostic value of accessory salivary gland biopsy in amyloidosis. Rev Med Interne 20:759–761

27.

Fatihi E, Ramdani B, Fadel H, Hachim K, Zahiri K, Benghanem GM, Sqalli S, Zaid D (2000) Prevalence of subcutaneous, labial, and rectal amyloidosis in patients with renal amyloidosis. Nephrologie 21:19–21

28.

Fernandez-Alonso J, Rios-Camacho C, Valenzuela-Castano A, Hernanz-Mediano W (1994) Mixed systemic amyloidosis in a patient receiving long term haemodialysis. J Clin Pathol 47:560–561

29.

Foschini MP, Dadda T, Bordi C, Eusebi V (1993) Amyloid stroma in meningiomas. Virchows Arch 422:53–59

30.

Gafni J, Sohar E (1960) Rectal biopsy for the diagnosis of amyloidosis. Am J Med Sci 240:332–336

31.

Gallo G, Wisniewski T, Choi-Miura NH, Ghiso J, Frangione B (1994) Potential role of apolipoprotein-E in fibrillogenesis. Am J Pathol 145:526–530

32.

Garciagonzalez R, Fernandez FA, Garijo MF, Valbernal JF (1998) Amyloidosis of the rectum mimicking collagenous colitis. Pathol Res Pract 194:731–735

33.

Gertz MA (2002) Diagnosing primary amyloidosis. Mayo Clin Proc 77:1278–1279

34.

Gertz MA, Li CY, Shirahama T, Kyle RA (1988) Utility of subcutaneous fat aspiration for the diagnosis of systemic amyloidosis (immunoglobulin light chain). Arch Intern Med 148:929–933

35.

Gertz MA, Lacy MQ, Dispenzieri A (1999) Amyloidosis: recognition, confirmation, prognosis, and therapy. Mayo Clin Proc 74:490–494

36.

Gertz MA, Lacy MQ, Dispenzieri A (2002) Immunoglobulin light chain amyloidosis and the kidney. Kidney Int 61:1–9

37.

Gillmore JD, Booth DR, Rela M, Heaton ND, Rahman V, Stangou AJ, Pepys MB, Hawkins PN (2000) Curative hepatorenal transplantation in systemic amyloidosis caused by the Glu526Val fibrinogen α-chain variant in an English family. Q J Med 93:269–275

38.

Gillmore JD, Stangou AJ, Tennent GA, Booth DR, O'Grady J, Rela M, Heaton ND, Wall CA, Keogh JA, Hawkins PN (2001) Clinical and biochemical outcome of hepatorenal transplantation for hereditary systemic amyloidosis associated with apolipoprotein AI Gly26Arg. Transplantation 71:986–992

39.

Glasbrenner B, Güthner C, Röcken C, Mattfeld T, Hetzel W, Adler G (1999) 56jähriger Patient mit segmental florider Colitis und Colonamyloidose. Internist 40:668–672

40.

Groisman GM, Lachter J, Vlodavsky E (1997) Amyloid colitis mimicking collagenous colitis. Histopathology 31:201–202

41.

Gupta RK, Dowle CS (1996) Cytodiagnosis of amyloid deposition within the breast. Cytopathology 7:136–140

42.

Gupta RK, Wakefield J, Halliwell T, Foo K, Lallu S, Naran S, Fauck R (2002) Aspiration cytodiagnosis of amyloid from vitreous fluid. Diagn Cytopathol 26:294–296

43.

Guy CD, Jones CK (2001) Abdominal fat pad aspiration biopsy for tissue confirmation of systemic amyloidosis: specificity, positive predictive value, and diagnostic pitfalls. Diagn Cytopathol 24:181–185

44.

Halliday BE, Silverman JF, Finley JL (1998) Fine-needle aspiration cytology of amyloid associated with nonneoplastic and malignant lesions. Diagn Cytopathol 18:270–275

45.

Hamidi AL, Liepnieks JJ, Uemichi T, Rebibou JM, Justrabo E, Droz D, Mousson C, Chalopin JM, Benson MD, Delpech M, Grateau G (1997) Renal amyloidosis with a frame shift mutation in fibrinogen Aα- chain gene producing a novel amyloid protein. Blood 90:4799–4805

46.

Häggqvist B, Naslund J, Sletten K, Westermark GT, Mucchiano G, Tjernberg LO, Nordstedt C, Engstrom U, Westermark P (1999) Medin: An integral fragment of aortic smooth muscle cell-produced lactadherin forms the most common human amyloid. Proc Natl Acad Sci U S A 96:8669–8674

47.

Hazenberg BPC, Limburg PC, Bijzet J, Vanrijswijk MH (1999) A quantitative method for detecting deposits of amyloid A protein in aspirated fat tissue of patients with arthritis. Ann Rheum Dis 58:96–102

48.

Helin HJ, Korpela MM, Mustonen JT, Pasternack AI (1995) Renal biopsy findings and clinicopathologic correlations in rheumatoid arthritis. Arthritis Rheum 38:242–247

49.

Horn U, Goebel HH, Storkel S, Bohl J, Thomas E, Schlote W, Budzilovich G (1991) Immunohistochemistry of amyloid-related neuropathies. Clin Neuropathol 10:237–243

50.

Hrncic R, Wall J, Wolfenbarger DA, Murphy CL, Schell M, Weiss DT, Solomon A (2000) Antibody-mediated resolution of light chain-associated amyloid deposits. Am J Pathol 157:1239–1246

51.

Ii K, Kyle RA, Dyck PJ (1992) Immunohistochemical characterization of amyloid proteins in sural nerves and clinical associations in amyloid neuropathy. Am J Pathol 141:217–226

52.

Isobe T, Matsushita T, Minakata T, Takahashi M, Hoshii Y, Ishiwara T, Uchino F (1996) Coexistence of AL and A beta 2 M amyloid in tissues of a patient with myeloma on hemodialysis. Amyloid 3:41–43

53.

Jones LA, Harding JA, Cohen AS, Skinner M (1990) New USA family has apolipoprotein AI (Arg26) variant. In: Natvig JB, Forre O, Husby G, Husebekk A, Skogen B, Sletten K, Westermark P (eds) Amyloid and amyloidosis. Kluwer Academic, Dordrecht, Netherlands, pp 385–388

54.

Kaplan B, Hrncic R, Murphy CL, Gallo G, Weiss DT, Solomon A (1999) Microextraction and purification techniques applicable to chemical characterization of amyloid proteins in minute amounts of tissue. Methods Enzymol 309:67–81

55.

Kaplan B, Vidal R, Kumar A, Ghiso J, Gallo G (1999) Immunochemical microanalysis of amyloid proteins in fine- needle aspirates of abdominal fat. Am J Clin Pathol 112:403–407

56.

Kisilevsky R, Lemieux LJ, Fraser PE, Kong X, Hultin PG, Szarek WA (1995) Arresting amyloidosis in vivo using small-molecule anionic sulphonates or sulphates: implications for Alzheimer's disease. Nat Med 1:143–148

57.

Klemi PJ, Sorsa S, Happonen RP (1987) Fine-needle aspiration biopsy from subcutaneous fat. An easy way to diagnose secondary amyloidosis. Scand J Rheumatol 16:429–431

58.

Kobayashi H, Tada S, Fuchigami T, Okuda Y, Takasugi K, Matsumoto T, Iida M, Aoyagi K, Iwashita A, Daimaru Y, Fujishima M (1996) Secondary amyloidosis in patients with rheumatoid arthritis: diagnostic and prognostic value of gastroduodenal biopsy. Br J Rheumatol 35:44–49

59.

Korbet SM, Schwartz MM, Lewis EJ (1994) The fibrillary glomerulopathies. Am J Kidney Dis 23:751–765

60.

Kuroda T, Tanabe N, Sakatsume M, Nozawa S, Mitsuka T, Ishikawa H, Tohyama CT, Nakazono K, Murasawa A, Nakano M, Gejyo F (2002) Comparison of gastroduodenal, renal and abdominal fat biopsies for diagnosing amyloidosis in rheumatoid arthritis. Clin Rheumatol 21:123–128

61.

Kyle RA, Spencer RJ, Dahlin DC (1966) Value of rectal biopsy in the diagnosis of primary systemic amyloidosis. Am J Med Sci 251:501–506

62.

Lachmann HJ, Booth DR, Booth SE, Bybee A, Gilbertson JA, Gillmore JD, Pepys MB, Hawkins PN (2002) Misdiagnosis of hereditary amyloidosis as AL (primary) amyloidosis. N Engl J Med 346:1786–1791

63.

Layfield R, Bailey K, Lowe J, Allibone R, Mayer RJ, Landon M (1996) Extraction and protein sequencing of immunoglobulin light chain from formalin-fixed cerebrovascular amyloid deposits. J Pathol 180:455–459

64.

Lewis WD (2002) Liver transplantation: an effective treatment for familial ATTR amyloidosis. Amyloid 9:201–202

65.

Libbey CA, Skinner M, Cohen AS (1983) Use of abdominal fat tissue aspirate in the diagnosis of systemic amyloidosis. Arch Intern Med 143:1549–1552

66.

Linke RP (2000) Highly sensitive diagnosis of amyloid and various amyloid syndromes using Congo red fluorescence. Virchows Arch 436:439–448

67.

Linke RP, Gärtner HV, Michels H (1995) High-sensitivity diagnosis of AA amyloidosis using congo red and immunohistochemistry detects missed amyloid deposits. J Histochem Cytochem 43:863–869

68.

Löfberg H, Grubb A, Thysell H, Nilsson E, Kjellander B, Moller C, Gruic V, Ljungquist A, Sternby NH (1987) The prevalence of renal amyloidosis of the AA-type in a series of 1.158 consecutive autopsies. Acta Pathol Microbiol Immunol Scand [A] 95:297–302

69.

Maniatis A (1998) Pathophysiology of paraprotein production. Ren Fail 20:821–828

70.

Maruyama K, Ikeda S, Yanagisawa N, Nakazato M (1987) Diagnostic value of abdominal fat tissue aspirate in familial amyloid polyneuropathy. J Neurol Sci 81:11–18

71.

Masouye I (1997) Diagnostic screening of systemic amyloidosis by abdominal fat aspiration: an analysis of 100 cases. Am J Dermatopathol 19:41–45

72.

Murphy CL, Eulitz M, Hrncic R, Sletten K, Westermark P, Williams T, Macy SD, Wooliver C, Wall J, Weiss DT, Solomon A (2001) Chemical typing of amyloid protein contained in formalin-fixed paraffin-embedded biopsy specimens. Am J Clin Pathol 116:135–142

73.

Nakano M, Ueno M, Nishi S, Shimada H, Hasegawa H, Watanabe T, Kuroda T, Sato T, Maruyama Y, Arakawa M (1998) Analysis of renal pathology and drug history in 158 Japanese patients with rheumatoid arthritis. Clin Nephrol 50:154–160

74.

Ohsawa H, Kanatsuka A, Tokuyama Y, Yamaguchi T, Makino H, Yoshida S, Horie H, Mikata A, Kohen Y (1991) Amyloid protein in somatostatinoma differs from islet amyloid polypeptide. Acta Endocrinol 124:45–53

75.

Okuzono Y, Gondo T, Kawano H, Nagasawa T, Uchino F (1986) Histopathology of cutaneous amyloid: a comparitive study on 144 cases of localized cutaneous amyloidosis and 20 cases of systemic amyloidosis. In: Glenner GG, Osserman EF, Benditt EP, Calkins E, Cohen AS, Zucker-Franklin D (eds) Amyloidosis. Plenum Publishing Corporation, New York, pp 821–828

76.

Olsen KE, Westermark P (1994) Amyloid in basal cell carcinoma and seborrheic keratosis. Acta Derm Venereol 74:273–275

77.

Olsen KE, Sletten K, Westermark P (1998) Extended analysis of AL-amyloid protein from abdominal wall subcutaneous fat biopsy: kappa IV immunoglobulin light chain. Biochem Biophys Res Commun 245:713–716

78.

Olsen KE, Sletten K, Sandgren O, Olsson H, Myrvold K, Westermark P (1999) What is the role of giant cells in AL-amyloidosis. Amyloid 6:89–97

79.

Olsen KE, Sletten K, Westermark P (1999) The use of subcutaneous fat tissue for amyloid typing by enzyme-linked immunosorbent assay. Am J Clin Pathol 111:355–362

80.

Orfila C, Giraud P, Modesto A, Suc JM (1986) Abdominal fat tissue aspirate in human amyloidosis: light, electron, and immunofluorescence microscopic studies. Hum Pathol 17:366–369

81.

Pepys MB, Hawkins PN, Booth DR, Vigushin DM, Tennent GA, Soutar AK, Totty N, Nguyen O, Blake CCF, Terry CJ, Feest TG, Zalin AM, Hsuan JJ (1993) Human lysozyme gene mutations cause hereditary systemic amyloidosis. Nature 362:553–557

82.

Pepys MB, Herbert J, Hutchinson WL, Tennent GA, Lachmann HJ, Gallimore JR, Lovat LB, Bartfai T, Alanine A, Hertel C, Hoffmann T, Jakob-Roetne R, Norcross RD, Kemp JA, Yamamura K, Suzuki M, Taylor GW, Murray S, Thompson D, Purvis A, Kolstoe S, Wood SP, Hawkins PN (2002) Targeted pharmacological depletion of serum amyloid P component for treatment of human amyloidosis. Nature 417:254–259

83.

Pitkänen P, Westermark P, Cornwell GGI, Murdoch W (1983) Amyloid of the seminal vesicles. A distinctive and common localized form of senile amyloidosis. Am J Pathol 110:64–69

84.

Prayson RA (1998) Amyloid myopathy: clinicopathologic study of 16 cases. Hum Pathol 29:463–468

85.

Puchtler H, Sweat F, Levine M (1962) On the binding of Congo red by amyloid. J Histochem Cytochem 10:355–364

86.

Puchtler H, Waldrop FS, Meloan SN (1985) A review of light, polarization and fluorescence microscopic methods for amyloid. Appl Pathol 3:5–17

87.

Rajani B, Rajani V, Prayson RA (2000) Peripheral nerve amyloidosis in sural nerve biopsies—a clinicopathologic analysis of 13 cases. Arch Pathol Lab Med 124:114–118

88.

Ramstad HM, Sletten K, Husby G (1995) The amino acid sequence and carbohydrate composition of an immunoglobulin kappa light chain amyloid fibril protein (AL) of variable subgroup I. Amyloid 2:223–228

89.

Röcken C, Roessner A (1999) An evaluation of antigen retrieval procedures for immunoelectron microscopical classification of amyloid deposits. J Histochem Cytochem 47:1385–1394

90.

Röcken C, Saeger W, Linke RP (1993) Mehrere unterschiedliche Amyloidtypen bei einer 93-jährigen Patientin: Kasuistik eines Sektionsfalles. Pathologe 14:42–46

91.

Röcken C, Saeger W, Linke RP (1994) Gastrointestinal amyloid deposits in old age. Report on 110 consecutive autopsical patients and 98 retrospective bioptic specimens. Pathol Res Pract 190:641–649

92.

Röcken C, Uhlig H, Saeger W, Linke RP, Fehr S (1995) Amyloid deposits in pituitaries and pituitary adenomas: immunohistochemistry and in situ hybridization. Endocr Pathol 6:135–143

93.

Röcken C, Eick B, Saeger W (1996) Intracellular amyloid in pituitary and adrenal glands. Morphological and statistical investigations. Virchows Arch 429:293–299

94.

Röcken C, Linke RP, Saeger W (1996) Corpora amylacea in the lung, prostate and uterus: a comparitive immunohistochemical study. Pathol Res Pract 192:998–1006

95.

Röcken C, Saeger W, Linke RP (1996) Portal amyloid. Novel amyloid deposits in gastrointestinal veins? Arch Pathol Lab Med 120:1044–1051

96.

Röcken C, Schwotzer E, Linke RP, Saeger W (1996) The classification of amyloid deposits in clinicopathological practice. Histopathology 29:325–335

97.

Röcken C, Radun D, Glasbrenner B, Malfertheiner P, Roessner A (1999) Generalized AA-amyloidosis in a 58-year-old Caucasian woman with an 18-month history of gastrointestinal tuberculosis. Virchows Arch 434:95–100

98.

Röcken C, Hegenbarth V, Schmitz M, Stix B, Schade G, Mohnert A, Roessner A (2000) Plasmacytoma of the tonsil with AL amyloidosis: evidence of post-fibrillogenic proteolysis of the fibril protein. Virchows Arch 436:336–344

99.

Röcken C, Stix B, Brömme D, Ansorge S, Roessner A, Bühling F (2001) A putative role for cathepsin K in degradation of AA and AL amyloidosis. Am J Pathol 158:1029–1038

100.

Röcken C, Kronsbein H, Sletten K, Roessner A, Bässler R (2002) Amyloidosis of the breast. Virchows Arch 440:527–535

101.

Röcken C, Peters B, Juenemann G, Saeger W, Klein HU, Huth C, Roessner A, Goette A (2002) Atrial amyloidosis: an arrhythmogenic substrate for persistent atrial fibrillation. Circulation 106:2091–2097

102.

Rubinow A, Cohen AS (1978) Skin involvement in generalized amyloidosis. A study of clinically involved and uninvolved skin in 50 patients with primary and secondary amyloidosis. Ann Intern Med 88:781–785

103.

Schena FP, Pannarale G, Carbonara MC (1996) Clinical and therapeutic aspects of renal amyloidosis. Nephrol Dial Transplant 11[Suppl 9]:63–68

104.

Shaz BH, Lewis WD, Skinner M, Khettry U (2001) Livers from patients with apolipoprotein A-I amyloidosis are not suitable as "domino" donors. Mod Pathol 14:577–580

105.

Simmons Z, Blaivas M, Aguilera AJ, Feldman EL, Bromberg MB, Towfighi J (1993) Low diagnostic yield of sural nerve biopsy in patients with peripheral neuropathy and primary amyloidosis. J Neurol Sci 120:60–63

106.

Steensma DP (2001) "Congo" red—out of Africa. Arch Pathol Lab Med 125:250–252

107.

Steinhoff MM, Wells SAJ, DeSchryver Kecskemeti K (1992) Stromal amyloid in pheochromocytomas. Hum Pathol 23:33–36

108.

Takahashi M, Yokota T, Kawano H, Gondo T, Ishihara T, Uchino F (1989) Ultrastructural evidence for intracellular formation of amyloid fibrils in macrophages. Virchows Arch 415:411–419

109.

Tennent GA (1999) Isolation and characterization of amyloid fibrils from tissue. Methods Enzymol 309:26–47

110.

Tishler M, Pras M, Yaron M (1988) Abdominal fat tissue aspirate in amyloidosis of familial Mediterranean fever. Clin Exp Rheumatol 6:395–397

111.

Toth T, Toth-Jakatics R, Jimi S, Takebayashi S (2000) Increased density of interstitial mast cells in amyloid A renal amyloidosis. Mod Pathol 13:1020–1028

112.

Toyoda M, Kudo M, Ebihara Y (1999) Amyloid deposition in renal angiomyolipoma. Pathol Int 49:180–184

113.

Tripodi SA, Civitelli S, Schurfeld K, Cintorino M (2000) Microcystic adenoma of the pancreas (glycogen-rich cystadenoma) with stromal amyloid deposits. Histopathology 37:147–149

114.

Uemichi T, Liepnieks JJ, Gertz MA, Benson MD (1998) Fibrinogen A α-chain Leu 554: an African-American kindred with late onset renal amyloidosis. Amyloid 5:188–192

115.

Varga J, Idelson BA, Felson D, Skinner M, Cohen AS (1987) Lack of amyloid in abdominal fat aspirates from patients undergoing long-term hemodialysis. Arch Intern Med 147:1455–1457

116.

Westermark P (1973) Fine structure of islets of Langerhans in insular amyloidosis. Virchows Arch 359:1–18

117.

Westermark P, Stenkvist B (1973) A new method for the diagnosis of systemic amyloidosis. Arch Int Med 132:522–523

118.

Westermark P, Benson L, Olofsson BO (1986) Fine needle aspiration biopsy of abdominal subcutaneous fat tissue for the diagnosis and typing of amyloidosis. In: Glenner GG, Osserman EF, Benditt EP, Calkins E, Cohen AS, Zucker-Franklin D (eds) Amyloidosis. Plenum Publishing Corporation, New York, pp 613–615

119.

Westermark P, Wernstedt C, Wilander E, Hayden DW, O'Brien TD, Johnson KH (1987) Amyloid fibrils in human insulinoma and islets of Langerhans of the diabetic cat are derived from a neuropeptide-like protein also present in normal islet cells. Proc Natl Acad Sci U S A 84:3881–3885

120.

Westermark P, Mucchiano G, Marthin T, Johnson KH, Sletten K (1995) Apolipoprotein A1-derived amyloid in human aortic atherosclerotic plaques. Am J Pathol 147:1186–1192

121.

Westermark P, Benson MD, Buxbaum JN, Cohen AS, Frangione B, Ikeda S, Masters CL, Merlini G, Saraiva MJ, Sipe JD (2002) Amyloid fibril protein nomenclature—2002. Amyloid 9:197–200

122.

Yamada M, Hatakeyama S, Tsukagoshi H (1985) Gastrointestinal amyloid deposition in AL (primary or myeloma-associated) and AA (secondary) amyloidosis: diagnostic value of gastric biopsy. Hum Pathol 16:1206–1211

123.

Yazaki M, Liepnieks JJ, Yamashita T, Guenther B, Skinner M, Benson MD (2001) Renal amyloidosis caused by a novel stop-codon mutation in the apolipoprotein A-II gene. Kidney Int 60:1658–1665

124.

Yoshimatsu SI, Ando Y, Terazaki H, Sakashita N, Tada S, Yamashita T, Suga M, Uchino M, Ando M (1998) Endoscopic and pathological manifestations of the gastrointestinal tract in familial amyloidotic polyneuropathy type I (Met30). J Intern Med 243:65–72
About this article
Cite this article
Röcken, C., Sletten, K. Amyloid in surgical pathology. Virchows Arch 443, 3–16 (2003). https://doi.org/10.1007/s00428-003-0834-y
Received:

Accepted:

Published:

Issue Date:
Keywords
Amyloid

Surgical pathology