Abstract
EMR2 and CD97, members of the epidermal growth factor (EGF)-TM7 family, show a very high homology. CD97, whose expression is closely related to clinical tumor stage in colorectal carcinomas, potentially functions as an adhesion molecule. Nothing is known about the presence of EMR2 in these tumors. We systematically examined the expression of EMR2 in colorectal carcinoma cell lines and adenocarcinomas. Of 18 cell lines, 10 were only slightly positive for EMR2 according to flow cytometry. Various EMR2 splice variants, including a new isoform, have been detected at the mRNA level. EMR2 expression did not correlate with in vitro migration or invasion capacity of the cell lines. Normal colorectal epithelial cells were EMR2 negative. In contrast to CD97, which is found in most colorectal adenocarcinomas, only 8 of 81 of these tumors expressed EMR2. No correlation was found between EMR2 expression and clinicopathological parameters of the tumors. In summary, a significant but low number of colorectal carcinomas are positive for EMR2, indicating different roles for this molecule and CD97 in these tumors.
This is a preview of subscription content, log in to check access.
Access options
Buy single article
Instant access to the full article PDF.
US$ 39.95
Price includes VAT for USA
Subscribe to journal
Immediate online access to all issues from 2019. Subscription will auto renew annually.
US$ 199
This is the net price. Taxes to be calculated in checkout.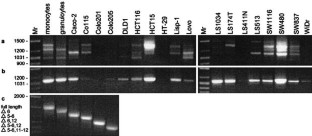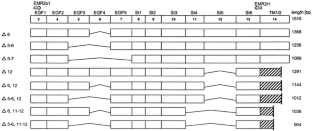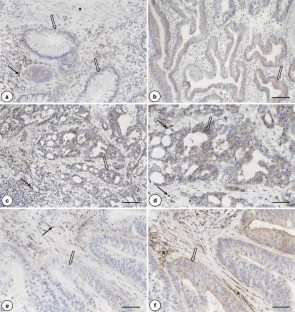 References
1.

McKnight AJ, Gordon S (1998) The EGF-TM7 family: unusual structures at the leukocyte surface. J Leukoc Biol 63:271–280

2.

Stacey M, Lin HH, Gordon S, McKnight AJ (2000) LNB-TM7, a group of seven-transmembrane proteins related to family-B G-protein-coupled receptors. Trends Biochem Sci 25:284–289

3.

Eichler W, Aust G, Hamann D (1994) Characterization of the early activation-dependent antigen on lymphocytes defined by the monoclonal antibody BL-Ac(F2). Scand J Immunol 39:111–115

4.

Baud V, Chissoe SL, Viegas-Pequignot E, Diriong S, N'Guyen VC, Roe BA, Lipinski M (1995) EMR1, an unusual member in the family of hormone receptors with seven transmembrane segments. Genomics 26:334–344

5.

Lin HH, Stacey M, Hamann J, Gordon S, McKnight AJ (2000) Human EMR2, a novel EGF-TM7 molecule on chromosome 19p13.1, is closely related to CD97. Genomics 67:188–200

6.

Stacey M, Lin HH, Hilyard KL, Gordon S, McKnight AJ (2001) Human epidermal growth factor (EGF) module-containing mucin-like hormone receptor 3 is a new member of the EGF-TM7 family that recognizes a ligand on human macrophages and activated neutrophils. J Biol Chem 276:18863–18870

7.

Caminschi I, Lucas KM, O'Keeffe MA, Hochrein H, Laabi Y, Kontgen F, Lew AM, Shortman K, Wright MD (2001) Molecular cloning of F4/80-like-receptor, a seven-span membrane protein expressed differentially by dendritic cell and monocyte-macrophage subpopulations. J Immunol 167:3570–3576

8.

Stacey M, Chang GW, Sanos SL, Chittenden LR, Stubbs L, Gordon S, Lin HH (2002) EMR4, a novel EGF-TM7 molecule up-regulated in activated mouse macrophages, binds to a putative cellular ligand on B lymphoma cell line, A20. J Biol Chem 277:29283–29293

9.

Nechiporuk T, Urness LD, Keating MT (2001) ETL, a novel seven transmembrane receptor that is developmentally regulated in the heart. ETL is a member of the secretin family and belongs to the EGF-TM7 subfamily. J Biol Chem 276:4150–4157

10.

Hamann J, Eichler W, Hamann D, Kerstens HM, Poddighe PJ, Hoovers JM, Hartmann E, Strauss M, van Lier RA (1995) Expression cloning and chromosomal mapping of the leukocyte activation antigen CD97, a new seven-span transmembrane molecule of the secretion receptor superfamily with an unusual extracellular domain. J Immunol 155:1942–1950

11.

Gray JX, Haino M, Roth MJ, Maguire JE, Jensen PN, Yarme A, Stetler-Stevenson MA, Siebenlist U, Kelly K (1996) CD97 is a processed, seven-transmembrane, heterodimeric receptor associated with inflammation. J Immunol 157:5438–5447

12.

Lin HH, Stacey M, Saxby C, Knott V, Chaudhry Y, Evans D, Gordon S, McKnight AJ, Handford P, Lea S (2001) Molecular analysis of the epidermal growth factor-like short consensus repeat domain-mediated protein-protein interactions: dissection of the CD97-CD55 complex. J Biol Chem 276:24160–24169

13.

Hamann J, Vogel B, van Schijndel GM, van Lier RA (1996) The seven-span transmembrane receptor CD97 has a cellular ligand (CD55, DAF). J Exp Med 184:1185–1189

14.

Kwakkenbos MJ, Chang GW, Lin HH, Pouwels W, de Jong EC, van Lier RA, Gordon S, Hamann J (2002) The human EGF-TM7 family member EMR2 is a heterodimeric receptor expressed on myeloid cells. J Leukoc Biol 71:854–862

15.

Jaspars LH, Vos W, Aust G, van Lier RA, Hamann J (2001) Tissue distribution of the human CD97 EGF-TM7 receptor. Tissue Antigens 57:325–331

16.

Aust G, Eichler W, Laue S, Lehmann I, Heldin N-E, Lotz O, Scherbaum WA, Dralle H, Hoang-Vu C (1997) CD97: a dedifferentiation marker in human thyroid carcinomas. Cancer Res 57:1798–1806

17.

Hoang-Vu C, Bull K, Schwarz I, Krause G, Schmutzler C, Aust G, Köhrle J, Dralle H (1999) Regulation of CD97 protein in thyroid carcinoma. J Clin Endocrinol Metab 84:1104–1109

18.

Steinert M, Wobus M, Boltze C, Schütz A, Wahlbuhl M, Hamann J, Aust G (2002) Expression and regulation of CD97 in colorectal carcinoma cell lines and tumor tissues. Am J Pathol 161:1657–1667

19.

Kwakkenbos MJ, van Lier RA, Hamann J (2002) Characterization of EGF-TM7 family members by novel monoclonal antibodies. In: Mason D (ed) Leucocyte typing VII. White cell differentiation antigens. Oxford University Press, Oxford, pp 381–383

20.

Minsky BD, Mies C, Recht A, Rich TA, Chaffey JT (1988) Resectable adenocarcinoma of the rectosigmoid and rectum. II. The influence of blood vessel invasion. Cancer 61:1417–1424

21.

Aust G, Steinert M, Schütz A, Wahlbuhl M, Hamann J, Wobus M (2002) CD97, but not its closely related EGF-TM7 family member EMR2, is expressed on gastric, pancreatic and esophageal carcinomas. Am J Clin Pathol 118:699–707

22.

Singh R (2002) RNA-protein interactions that regulate pre-mRNA splicing. Gene Expr 10:79–92

23.

Nissim-Rafinia M, Kerem B (2002) Splicing regulation as a potential genetic modifier. Trends Genet 18:123–127

24.

Caballero OL, De Souza SJ, Brentani RR, Simpson AJ (2001) Alternative spliced transcripts as cancer markers. Dis Markers 17:67–75

25.

Eichler W (2000) CD97 isoform expression in leukocytes. J Leukoc Biol 68:561–567

26.

Hamann J, Wishaupt JO, van Lier RA, Smeets TJ, Breedveld FC, Tak PP (1999) Expression of the activation antigen CD97 and its ligand CD55 in rheumatoid synovial tissue. Arthritis Rheum 42:650–658
Acknowledgements
The study was supported by the Deutsche Krebshilfe, project 10–1530-Au I. We thank Dr. M. Steinert (Department of Surgery) and Dr. A. Schütz (Institute of Pathology; both University of Leipzig) for providing the colorectal tissues and Prof. C. Boltze (Institute of Pathology, University of Magdeburg) for performing the migration and invasion assays.
About this article
Cite this article
Aust, G., Hamann, J., Schilling, N. et al. Detection of alternatively spliced EMR2 mRNAs in colorectal tumor cell lines but rare expression of the molecule in colorectal adenocarcinomas. Virchows Arch 443, 32–37 (2003). https://doi.org/10.1007/s00428-003-0812-4
Received:

Accepted:

Published:

Issue Date:
Keywords
Splice variant

EMR2

CD97

Colorectal carcinoma