Abstract
Trematode worms have the neoophoran mode of development in which several specialized vitelline cells surround the zygote. This vitelline cell mass appears just before the zygote passes through the ootype, a thickening of the oviduct, where the egg shell is formed. The great amount of vitelline material blurs the visualization of embryo development in whole egg seen by brightfield microscopy. The eggshell is difficult to cut into thin or ultrathin sections and acts as a barrier to fixation and infiltration with embedding media. The egg shell is also brightly fluorescent when analyzed by fluorescence microscopy. To overcome these technical disadvantages a simple staining protocol widely used in adult helminth morphological analysis was adapted for the study of the embryonic development of two different trematode species. The effects of potassium hydroxide as bleach and ethylene glycol as mounting medium were also evaluated. Confocal microscopy allowed virtual sectioning of whole-mounted eggs and made possible internal morphological detailed analysis of different embryonic stages. This method could contribute to the study of helminth egg embryology.
This is a preview of subscription content, log in to check access.
Access options
Buy single article
Instant access to the full article PDF.
US$ 39.95
Price includes VAT for USA
Subscribe to journal
Immediate online access to all issues from 2019. Subscription will auto renew annually.
US$ 99
This is the net price. Taxes to be calculated in checkout.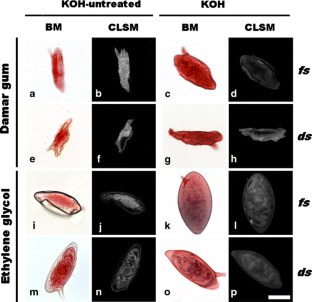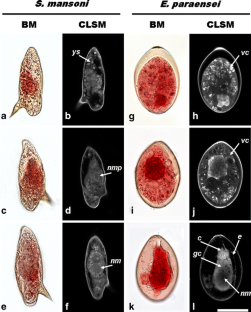 References
Ashton PD, Harrop R, Shah B, Wilson RA (2001) The schistosome egg: development and secretions. Parasitology 122:329–338

Cardona A, Fernández J, Solana J, Romero R (2005) An in situ hybridization protocol for planarian embryos: monitoring myosin heavy chain gene expression. Dev Genes Evol 215:482–488

Carson FL, Martin JH, Lynn JA (1973) Formalin fixation for electron microscopy: a re-evaluation. Am J Clin Pathol 59:365–373

Dresden MH, Payne DC (1981) A sieving method for the collection of schistosome eggs from mouse intestines. J Parasitol 67:450–452

Lenzi HL, Lenzi JA, Sobral AC (1987) Eosinophils favor the passage of eggs to the intestinal lumen in schistosomiasis. Braz J Med Biol Res 20:433–435

Lenzi HL, Pelajo-Machado M, Vale BS, Machado-Silva JR, Paiva DD, Mota EM, Lenzi JA (1997) Confocal laser scanning microscopy applied to the study of parasitic and infectious agents. Cell Vision 4:196–197

Machado-Silva JR, Pelajo-Machado M, Lenzi HL, Gomes DC (1998) Morphological study of adult male worms of Schistosoma mansoni Sambon, 1907 by confocal laser scanning microscopy. Mem Inst Oswaldo Cruz 93(Suppl 1):303–307

Swiderski Z (1994) Origin, differentiation and ultrastructure of egg envelopes surrounding the miracidia of Schistosoma mansoni. Acta Parasitol 39:64–72
Acknowledgment
The authors thank Pedro Paulo de Abreu Manso from the Laboratório de Patologia, IOC, for his assistance with CLSM analyses; and Dr. Paulo Marcos Zech Coelho from the Laboratório de Esquistossomose, Instituto René Rachou-Fiocruz, MG, and Dr. John Kusel from the Glasgow University for critical review of the manuscript. A.D.J. received a scholarship from the Programa Institucional de Bolsas de Iniciação Científica from the Conselho Nacional de Desenvolvimento Científico e Tecnológico (PIBIC/CNPq). The work was supported by Fundação Oswaldo Cruz (Fiocruz) and CNPq, Brazil.
Additional information
Communicated by D.A. Weisblat
About this article
Cite this article
Jurberg, A.D., Pascarelli, B.M., Pelajo-Machado, M. et al. Trematode embryology: a new method for whole-egg analysis by confocal microscopy. Dev Genes Evol 218, 267–271 (2008). https://doi.org/10.1007/s00427-008-0209-0
Received:

Accepted:

Published:

Issue Date:
Keywords
Schistosoma mansoni
Echinostoma paraensei

Embryo

Carmine staining

Confocal microscopy