Abstract
The bone morphogenetic proteins (BMPs) are a family of the transforming growth factor-β (TGF-β) superfamily that perform multiple roles during vertebrate and invertebrate development. Here, we report the molecular cloning of a novel BMP from regenerating arms of the ophiuroid Amphiura filiformis. The theoretically translated amino acid sequence of this novel BMP has high similarity to that of the sea urchin BMP univin. This novel BMP has been named afuni. Whole-mount in situ hybridisation implicates afuni in arm regeneration. Expression occurs in distinct proximal and distal regions of late regenerates (3- and 5-week postablation). These sites are at different stages of regeneration, suggesting multiple roles for this gene in adult arm development. Cellular expression of this gene occurs in migratory cells within the radial water canal (RWC) of regenerating and nonregenerating arms. These migrating coelomocytes suggest a key role for the coelomic RWC as a source of the cellular material for use in arm regeneration by A. filiformis.
This is a preview of subscription content, log in to check access.
Access options
Buy single article
Instant access to the full article PDF.
US$ 39.95
Price includes VAT for USA
Subscribe to journal
Immediate online access to all issues from 2019. Subscription will auto renew annually.
US$ 99
This is the net price. Taxes to be calculated in checkout.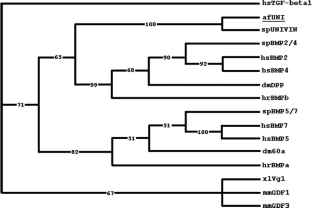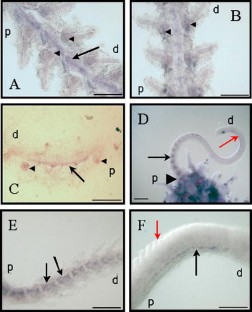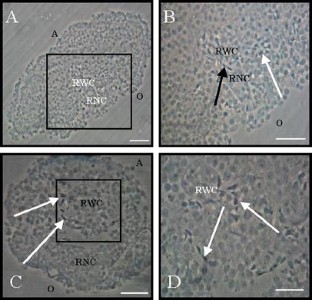 References
Angerer LM, Oleksyn DW, Logan CY, McClay DR, Dale L, Angerer RC (2000) A BMP pathway regulates cell fate allocation along the sea urchin animal-vegetal embryonic axis. Development 127:1105–1114

Candia Carnevali MD, Bonasoro F (2001) Microscopic overview of crinoid regeneration. Microsc Res Tech 55:403–426

Candia Carnevali MD, Bonasoro F, Lucca E, Thorndyke MC (1995) Pattern of cell proliferation in the early stages of arm regeneration in the feather star Antedon mediterranea. J Exp Zoolog 272:464–474

Chang C, Hemmati-Brivanlou A (1998) Cell fate determination in embryonic ectoderm. J Neurobiol 36:128–151

Chitnis AB (1999) Control of neurogenesis—lessons from frogs, fish and flies. Curr Opin Neurobiol 9:18–25

Combet C, Blanchet C, Geourjon C, Deleage G (2000) NPS@: network protein sequence analysis. Trends Biochem Sci 25:147–150

Davidson EH, Peterson KJ, Cameron RA (1995) Origin of bilaterian body plans: evolution of developmental regulatory mechanisms. Science 270:1319–1325

De Robertis EM, Sasai Y (1996) A common plan for dorsoventral patterning in bilateria. Nature 380:37–40

Ducy P, Karsenty Y (2000) The family of bone morphogenetic proteins. Kidney Int 57:2207–2214

Gilbert SF (2000) Developmental biology, 6th edn. Sinauer Associates, Sunderland, USA

Graff JM (1997) Embryonic patterning: to BMP or not to BMP, that is the question. Cell 89:171–174

Harada Y, Shoguchi E, Taguchi S, Okai N, Humphreys T, Tagawa K, Satoh N (2002) Conserved expression pattern of BMP-2/4 in hemichordate acorn worm and echinoderm sea-cucumber embryos. Zool Sci 19:1113–1121

Hogan BLM (1996) Bone morphogenetic proteins: multifunctional regulators of vertebrate development. Genes Dev 10:1580–1594

Holland LZ, Holland PWH, Holland ND (1996) Protocols: whole-mount in situ hybridisation applicable to amphioxus and other small larvae. In: Ferraris JD, Palumbi SR (eds) Molecular zoology. Wiley-Liss, New York, pp 476–483

Nieto MA, Patel K, Wilkinson DG (1996) In situ hybridization analysis of chick embryos in whole mount and tissue sections. Methods Cell Biol 51:219–235

O'Kane S, Ferguson MJW (1997) Transforming growth factor βs and wound healing. Int J Biochem Cell Biol 29:63–78

Patruno M, McGonnell IM, Graham A, Beesley PW, Candia Carnevali MD, Thorndyke MC (2003) Anbmp2/4 is a new member of the transforming growth factor-β superfamily isolated from a crinoid and involved in regeneration. Proc R Soc Lond B 270:1341–1347

Peterson KJ, Cameron RA, Davidson EH (1997) Set-aside cells in maximal indirect development: evolutionary and developmental significance. Bioessays 19:623–631

Ponce MR, Micol JL, Peterson KJ, Davidson EH (1999) Molecular characterization and phylogenetic analysis of SpBMP5–7, a new member of the TGF-β superfamily expressed in sea urchin embryos. Mol Biol Evol 16:634–645

Reinhardt B, Broun M, Blitz IL, Bode HR (2004) HyBMP5–8b, a BMP5–8 orthologue, acts during axial patterning and tentacle formation in hydra. Dev Biol 267:43–59

Saitou N, Nei M (1987) The neighbor-joining met hod: a new method for reconstructing phylogenetic trees. Mol Biol Evol 4:406–425

Shih LJ, Chen CA, Chen CP, Hwang SP (2002) Identification and characterization of bone morphogenetic protein 2/4 gene from the starfish Archaster typicus. Comp Biochem Physiol B Biochem Mol Biol 131:143–151

Stancyk SE, Golde HM, Papelindstrom PA, Dobson WE (1994) Born to lose. 1. Measures of tissue loss and regeneration by the brittlestar Microphiopholis gracillima (Echinodermata, Ophiuroidea). Mar Biol 118:451–462

Stenzel P, Angerer LM, Smith BJ, Angerer RC, Vale WW (1994) The univin gene encodes a member of the transforming growth factor-β superfamily with restricted expression in the sea urchin embryo. Dev Biol 166:149–158

Thorndyke MC, Patruno M, Beesley PW, Mallefet J (2001) Cellular and molecular bases of arm regeneration in brittlestars. In: Barker M (ed) Echinoderms 2000. Swets and Zeitlinger, Lisse, pp. 323–326

Ueno N, Moos M (1997) Bone morphogenetc proteins. Genes Funct 1:287–288

Urist MR, Iwata H, Ceccotti PL, Dorfman RL, Boyd SD, McDowell RM, Chien C (1973) Bone morphogenesis in implants of insoluble bone gelatin. Proc Natl Acad Sci U S A 70:3511–3515

Wozney JM, Rosen V, Celeste AJ, Mitsock LM, Whitters MJ, Kriz RW, Hewick RM, Wang EA (1988) Novel regulators of bone formation: molecular clones and activites. Science 242:1528–1534

Zito F, Costa C, Sciarrino S, Poma V, Russo R, Angerer LM, Matranga V (2003) Expression of univin, a TGF-β growth factor, requires ectoderm-ECM interaction and promotes skeletal growth in the sea urchin embryo. Dev Biol 264:217–227
Acknowledgements
We thank the Kristineberg Marine Research Station's staff for support during this work. R.B. and M.C.T. also acknowledge the support of the EU Transnational Access to Infrastructures Programme and V.R. (Sweden) for work conducted at Kristineberg. We would also like to thank Patricia Goggin at the Electron Microscopy Unit, Royal Holloway, University of London, for assistance with preparation of resin sections. R.B. was funded by a NERC studentship.
About this article
Cite this article
Bannister, R., McGonnell, I.M., Graham, A. et al. Afuni, a novel transforming growth factor-β gene is involved in arm regeneration by the brittle star Amphiura filiformis. Dev Genes Evol 215, 393–401 (2005). https://doi.org/10.1007/s00427-005-0487-8
Received:

Accepted:

Published:

Issue Date:
Keywords
Amphiura filiformis

Bone morphogenetic protein

Coelomic canal

Regeneration