Abstract
Using a series of online self-report measures, we examine media multitasking, a particularly pervasive form of multitasking, and its relations to three aspects of everyday attention: (1) failures of attention and cognitive errors (2) mind wandering, and (3) attentional control with an emphasis on attentional switching and distractibility. We observed a positive correlation between levels of media multitasking and self-reports of attentional failures, as well as with reports of both spontaneous and deliberate mind wandering. No correlation was observed between media multitasking and self-reported memory failures, lending credence to the hypothesis that media multitasking may be specifically related to problems of inattention, rather than cognitive errors in general. Furthermore, media multitasking was not related with self-reports of difficulties in attention switching or distractibility. We offer a plausible causal structural model assessing both direct and indirect effects among media multitasking, attentional failures, mind wandering, and cognitive errors, with the heuristic goal of constraining and motivating theories of the effects of media multitasking on inattention.
This is a preview of subscription content, log in to check access.
Access options
Buy single article
Instant access to the full article PDF.
US$ 39.95
Price includes VAT for USA
Subscribe to journal
Immediate online access to all issues from 2019. Subscription will auto renew annually.
US$ 199
This is the net price. Taxes to be calculated in checkout.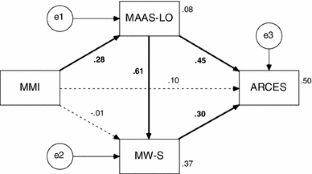 Notes
1.

Five subjects were removed due to missing data and nine subjects had their responses changed from fractions or strings to their equivalent digit representations for data analysis purposes.
References
Alzahabi, R., & Becker, M. W. (2013). The association between media multitasking, task-switching, and dual-task performance. Journal of Experimental Psychology: Human Perception and Performance. doi:10.1037/a0031208.

Brown, K. W., & Ryan, R. M. (2003). The benefits of being present: mindfulness and its role in psychological well-being. Journal of Personality and Social Psychology, 84(4), 822–848. doi:10.1037/0022-3514.84.4.822.

Cain, M. S., & Mitroff, S. R. (2011). Distractor filtering in media multitaskers. Perception, 40(10), 1183–1192. doi:10.1068/p7017.

Carriere, J. S. A., Cheyne, J. A., & Smilek, D. (2008). Everyday attention lapses and memory failures: the affective consequences of mindlessness. Consciousness and Cognition, 17, 835–847. doi:10.1016/j.concog.2007.04.008.

Carriere, J. S., Seli, P., & Smilek, D. (2013). Wandering in both mind and body: individual differences in mind wandering and inattention predict fidgeting. Canadian Journal of Experimental Psychology/Revue canadienne de psychologie expérimentale, 67(1), 19–31. doi:10.1037/a0031438.

Cheyne, J. A., Carriere, J. S. A., & Smilek, D. (2006). Absent-mindedness: lapses of conscious awareness and everyday cognitive failures. Consciousness and Cognition, 15(3), 578–592. doi:10.1016/j.concog.2005.11.009.

Derryberry, D., & Reed, M. A. (2002). Anxiety-related attentional biases and their regulation by attentional control. Journal of Abnormal Psychology, 111(2), 225–236. doi:10.1037/0021-843X.111.2.225.

Lin, L. (2009). Breadth-biased versus focused cognitive control in media multitasking behaviours. Proceedings of the National Academy of Sciences of the United States of America (PNAS), 106(37), 15521–15522. doi:10.1073/pnas.0908642106.

MacLean, K. A., Ferrer, E., Aichele, S. R., Bridwell, D. A., Zanesco, A. P., Jacobs, T. L., et al. (2010). Intensive meditation training improves perceptual discrimination and sustained attention. Psychological Science, 21(6), 829–839. doi:10.1177/0956797610371339.

McVay, J. C., & Kane, M. J. (2010). Does mind wandering reflect executive function or executive failure? Comment on Smallwood and Schooler (2006) and Watkins (2008). Psychological Bulletin, 136(2), 188–207. doi:10.1037/a0018298.

Minear, M., Brasher, F., McCurdy, M., Lewis, J., & Younggren, A. (2013). Working memory, fluid intelligence, and impulsiveness in heavy media multitaskers. Psychonomic Bulletin and Review,. doi:10.3758/s13423-013-0456-6.

Mrazek, M. D., Franklin, M. S., Phillips, D. T., Baird, B., & Schooler, J. W. (2013). Mindfulness training improves working memory capacity and GRE performance while reducing mind wandering. Psychological Science, 24(5), 776–781. doi:10.1177/0956797612459659.

Mrazek, M. D., Smallwood, J., & Schooler, J. W. (2012). Mindfulness and mind-wandering: finding convergence through opposing constructs. Emotion, 12(3), 442–448. doi:10.1037/a0026678.

Ophir, E., Nass, C., & Wagner, A. D. (2009). Cognitive control in media multitaskers. Proceedings of the National Academy of Sciences of the United States of America (PNAS), 106(37), 15583–15587. doi:10.1073/pnas.0903620106.

Pea, R., Nass, C., Meheula, L., Rance, M., Kumar, A., Bamford, H., et al. (2012). Media use, face-to-face communication, media multitasking, and social well-being among 8- to 12-year-old girls. Developmental Psychology, 48(2), 327–336. doi:10.1037/a0027030.

Rideout, V. J., Foehr, U. G., & Roberts, D. F. (2010). Generations M [superscript 2]: media in the lives of 8- to 18-year-olds. Henry J. Kaiser Family Foundation.

Robertson, I. H., Manly, T., Andrade, J., Baddeley, B. T., & Yiend, J. (1997). Oops: performance correlates of everyday attentional failures in traumatic brain injured and normal subjects. Neuropsychologia, 35(6), 747–758.

Sanbonmatsu, D. M., Strayer, D. L., Mederois-Ward, N., & Watson, J. M. (2013). Who multi-tasks and why? Multi-tasking ability, perceived multi-tasking ability, impulsivity, and sensation seeking. PLoS ONE, 8(1). doi: 10.1371/journal.pone.0054402.

Seli, P., Cheyne, J. A., & Smilek, D. (2013). Wandering minds and wavering rhythms: linking mind wandering and behavioral variability. Journal of Experimental Psychology: Human Perception and Performance, 39(1), 1–5. doi:10.1037/a0030954.

Shih, S.-I. (2013). A null relationship between media multitasking and well-being. PLoS ONE, 8(5), e64508. doi:10.1371/journal.pone.0064508.

Smallwood, J., Beach, E., Schooler, J. W., & Handy, T. C. (2008). Going AWOL in the brain: mind wandering reduces cortical analysis of external events. Journal of Cognitive Neuroscience, 20(3), 458–469. doi:10.1162/jocn.2008.20037.

Smallwood, J., & Schooler, J. W. (2006). The restless mind. Psychological Bulletin, 132(6), 946–958. doi:10.1037/0033-2909.132.6.946.

Wang, Z., & Tchernev, J. M. (2012). The "myth" of media multitasking: reciprocal dynamics of media multitasking, personal needs, and gratifications. Journal of Communication, 62(3), 493–513. doi:10.1111/j.1460-2466.2012.01641.x.
Acknowledgments
This research was supported by a Natural Sciences and Engineering Research Council of Canada (NSERC) discovery grant to DS, and an Ontario Graduate Scholarship to BR. We would like to thank Jonathan Carriere for programming assistance.
About this article
Cite this article
Ralph, B.C.W., Thomson, D.R., Cheyne, J.A. et al. Media multitasking and failures of attention in everyday life. Psychological Research 78, 661–669 (2014). https://doi.org/10.1007/s00426-013-0523-7
Received:

Accepted:

Published:

Issue Date:
Keywords
Attentional Control

Mindfulness Training

Attentional Switching

Cognitive Error

Memory Failure