Abstract
In this paper, we present an experiment that integrates a semiotic investigation with a dynamical perspective on embodied social interactions. The primary objective is to study the emergence of a communication system between two interacting individuals, where no dedicated communication modalities are predefined and the only possible interaction is very simple, non-directional, and embodied. Throughout the experiment, we observe the following three phenomena: (1) the spontaneous emergence of turn-taking behaviour that allows communication in non-directional environments; (2) the development of an association between behaviours and perceptive categories; (3) the acquisition of novel meaning by exploiting the notion of complementary set theory.
This is a preview of subscription content, log in to check access.
Access options
Buy single article
Instant access to the full article PDF.
US$ 39.95
Price includes VAT for USA
Subscribe to journal
Immediate online access to all issues from 2019. Subscription will auto renew annually.
US$ 199
This is the net price. Taxes to be calculated in checkout.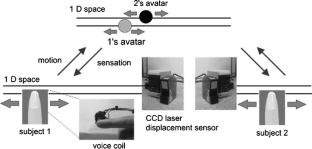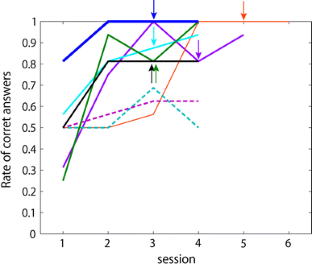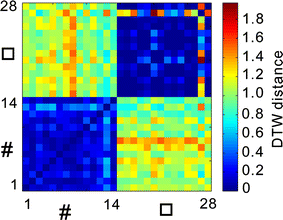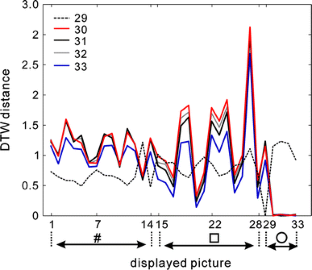 References
Auvray, M., Lenay, C., & Stewart, J. (2006). The attribution of intentionality in a simulated environment: the case of minimalist devices. Tenth meeting of the Association for the Scientific Study of Consciousness, Oxford

Beer, R. (2000). Dynamical approaches to cognitive science. Trends in Cognitive Science, 4, 91–99.

Clark, H. H. (1996). Using Language. Cambridge: Cambridge University Press.

Clark, H. H., & Wilkes-Gibbs, D. (1986). Referring as a collaborative process. Cognition, 22, 1–39.

Cormen, T. H., Leiserson, C. E., Rivest, R. L., & Stein, C. (2001) Introduction to Algorithms (2nd edn.). MIT Press & McGraw-Hill.

Di Paolo, E. A. (2000). Behavioural coordination, structural congruence and entrainment in acoustically coupled agents. Adaptive Behaviour, 8, 27–47.

Di Paolo, E. A., Rohde, M., & Iizuka, H. (2008). Sensitivity to social contingency or stability of interaction? Modelling the dynamics of perceptual crossing. New Ideas in Psychology, 26, 278–294.

Fay, N., Garrod, S., & Swoboda, N. (2010). The interactive evolution of human communicative systems. Cognitive Science, 34, 351–386.

Galantucci, B. (2005). An experimental study of the emergence of human communication systems. Cognitive Science, 29(5), 737–767.

Galantucci, B. (2009). Experimental semiotics: a new approach for studying communication as a form of joint action. Topics in Cognitive Science, 1(2), 393–410.

Garrod, S., & Anderson, A. (1987). Saying what you mean in dialog: a study in conceptual and semantic coordination. Cognition, 27, 181–218.

Goodwin, C. (2000). Action and embodiment within situated human interaction. Journal of Pragmatics, 32(10), 1489–1522.

Granic, I. (2000). The self-organization of parent-child relations: beyond bidirectional models. In M. Lewis & I. Granic (Eds.), Emotion, development, and self-organization: Dynamic systems approaches to emotional development. Cambridge: Cambridge University Press.

Healey, P.G.T., Swoboda, N., Umata, I., & King, J. (2007). Graphical language games: interactional constraints on representational form. Cognitive Science, 31(2), 285–309.

Iizuka, H., & Ikegami, T. (2004). Adaptability and diversity in simulated turn-taking behaviour. Artificial Life, 10, 361–378.

Kirby, S., Cornish, H., & Smith, K. (2008). Cumulative cultural evolution in the laboratory: an experimental approach to the origins of structure in human language. PNAS, 105(31), 10681–10686.

Marocco, D., & Nolfi, S. (2007). Emergence of communication in embodied agents evolved for the ability to solve a collective navigation problem. Connection Science, 19, 53–74.

Nehaniv, C. L. (2005). Open problems in the emergence and evolution of linguistic communication: a road-map for research. In Proc. Second International Symposium on the Emergence and Evolution of Linguistic Communication (EELC'05) (pp. 86–93). The Society for the Study of Artificial Intelligence and Simulation of Behaviour

Pickering, M. J., & Garrod, S. (2004). Toward a mechanistic psychology of dialogue. Behavioural and Brain Sciences, 27(2), 169–226.

Port, R., & van Gelder, T. (1995). Mind as motion: explorations in the dynamics of cognition. Cambridge: MIT Press.

Quinn, M. (2001). Evolving communication without dedicated communication channels. In Kelemen, J., & Sosik, P. (Eds.) Proc. of the 6th Euro. Conf. on Artificial Life, ECAL'01 (pp. 357–366). Springer

Rice, C. E., & Feinstein, S. H. (1965). Sonar system of the blind: size discrimination. Science, 148(21), 1107–1108.

Sakoe, H., & Chiba, S. (1978). A dynamic programming algorithm optimization for spoken word recognition. IEEE Trans. On ASSP, 26(27), 43–49.

Scaife, M., & Bruner, J. S. (1975). The capacity for joint visual attention in the infant. Nature, 253, 265–266.

Scott-Phillips, T. C., Kirby, S., & Ritchie, G. R. S. (2009). Signalling signalhood and the emergence of communication. Cognition, 113, 226–233.

Thelen, E., & Smith, L. B. (1996). A dynamic systems approach to the development of cognition and action. Cambridge: MIT Press.

Tomasello, M. (2003). Constructing a language: a usage-based theory of language acquisition. Cambridge: Harvard University Press.

Tomasello, M. (2008). Origins of human communication. Cambridge: MIT Press.

Uno, R., Marocco, D., Nolfi, S., & Ikegami, T. (2011). Emergence of declarative sentences in artificial communicating systems, IEEE Transactions on Autonomous Mental Development

van Geert, P. (2005). Vygotskian dynamics of development. Human Development, 37, 346–365.

Varela, F. J., Thompson, E., & Rosch, E. (1991). The embodied mind. Cambridge: MIT Press.
Acknowledgment
We are very grateful to anonymous reviewers for their helpful comments. This study was partially supported by KAKENHI(22240008) and the "Global COE Program: Founding Ambient Information Society Infrastructure" of the Ministry of Education, Culture, Sports, Science and Technology in Japan and by the European Commission FP7 Project ITALK (ICT-214668) within the Cognitive Systems and Robotics unit (FP7 ICT Challenge 2).
About this article
Cite this article
Iizuka, H., Marocco, D., Ando, H. et al. Experimental study on co-evolution of categorical perception and communication systems in humans. Psychological Research 77, 53–63 (2013). https://doi.org/10.1007/s00426-012-0420-5
Received:

Accepted:

Published:

Issue Date:
Keywords
Communication System

Joint Attention

Dynamic Time Warping

Communicative Behaviour

Graphical Communication