Abstract
The purpose of this study was to investigate how attentional focus on body sway affects postural control during quiet standing. To address this issue, sixteen young healthy adults were asked to stand upright as immobile as possible on a force platform in both Control and Attention conditions. In the latter condition, participants were instructed to deliberately focus their attention on their body sways and to increase their active intervention into postural control. The critical analysis was focused on elementary motions computed from the centre of pressure (CoP) trajectories: (1) the vertical projection of the centre of gravity (CoGv) and (2) the difference between CoP and CoGv (CoP–CoGv). The former is recognised as an index of performance in this postural task, whilst the latter constitutes a fair expression of the ankle joint stiffness and is linked to the level of neuromuscular activity of the lower limb muscles required for controlling posture. A frequency-domain analysis showed increased amplitudes and frequencies of CoP–CoGv motions in the Attention relative to the Control condition, whereas non-significant changes were observed for the CoGv motions. Altogether, the present findings suggest that attentional focus on body sway, induced by the instructions, promoted the use of less automatic control process and hampered the efficiency for controlling posture during quiet standing.
This is a preview of subscription content, log in to check access.
Access options
Buy single article
Instant access to the full article PDF.
US$ 39.95
Price includes VAT for USA
Subscribe to journal
Immediate online access to all issues from 2019. Subscription will auto renew annually.
US$ 199
This is the net price. Taxes to be calculated in checkout.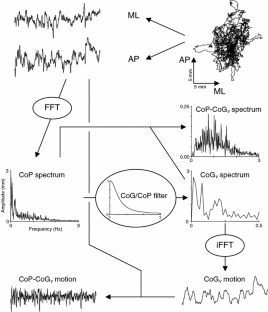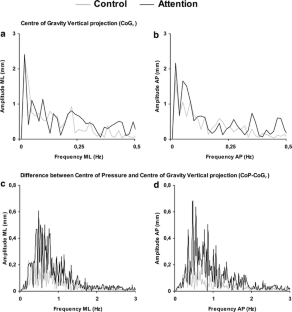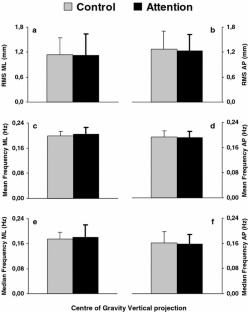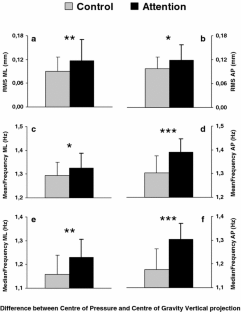 References
Abernethy, B. (1988). Dual-task methodology and motor skills research: Some methodological constraints. Journal of Human Movement Studies 14, 101–132.

Baumeister, R. F. (1984). Choking under pressure: Self-consciousness and paradoxical effects of incentives on skillful performance. Journal of Personality and Social Psychology 46, 610–620.

Beilock, S. L., & Carr T. H. (2001). On the fragility of skilled performance: What governs choking under pressure? Journal of Experimental Psychology: General 130, 701–725.

Bonnet, M., Decety, J., Jeannerod, M., & Requin, J. (1997). Mental simulation of an action modulates the excitability of spinal reflex pathways in man. Cognitive Brain Research 5, 221–228.

Breniere, Y. (1996). Why we walk the way we do? Journal of Motor Behavior 28, 291–298.

Burke, D., Adams, R. W., & Skuse, N. F. (1989). The effects of voluntary contraction on the H-reflex of human limb muscles. Brain 112, 417–493.

Capaday, C., & Stein, R. B. (1987). Difference in the amplitude of the human soleus H reflex during walking and running. Journal of Physiology (London) 392, 513–522.

Caron, O., Faure, B., & Breniere, Y. (1997). Estimating the center of gravity of the body on the basis of the center of pressure in standing posture. Journal of Biomechanics 30, 1169–1171.

Caron, O., Gelat, T., Rougier, P., & Blanchi, J. P. (2000). A comparative analysis of the center of gravity and center of pressure trajectory path lengths in standing posture: An estimation of active stiffness. Journal of Applied Biomechanics 16, 234–247.

Carpenter, M. G., Frank, J. S., Silcher, C. P., & Peysar, G. W. (2001). The influence of postural threat on the control of upright stance. Experimental Brain Research 138, 210–218.

Clément, G., Gurfinkel, V. S., Lestienne, F., Lipshits, M. I., & Popov, K. E. (1984). Adaptation of postural control to weightlessness. Experimental Brain Research 57, 61–72.

Gage, W. H., Winter, D. A., Frank, J. S., & Adkin, A. L. (2004). Kinematic and kinetic validity of the inverted pendulum model in quiet standing. Gait Posture 19, 124–132.

Gollhofer, A., Horstmann, G. A., Berger, W., & Dietz, V. (1989). Compensation of translational and rotational perturbations in human posture: Stabilization of the centre of gravity. Neuroscience Letters 105, 73–78.

Henneman, E., Somjen, G., & Carpenter, D. O. (1965). Functional significance of cell size in spinal motoneurons. Journal of Neurophysiology 28, 560–580.

Horstmann, A., & Dietz, V. (1990). A basic posture control mechanism: The stabilization of the centre of gravity. Electroencephalography and Clinical Neurophysiology 76, 165–176.

Kahneman, D. (1973). Attention and Effort. Englewood Cliffs, NJ: Prentice-Hall.

LeClair, K., & Riach, C. (1996). Postural stability measures: What to measure and for how long. Clinical Biomechanics 11, 176–178.

Ledebt, A., & Breniere, Y. (1994). Dynamical implication of anatomical and mechanical parameters in gait initiation process in children. Human Movement Science 13, 801–815.

Magill, R. A. (2001). Motor learning: Concepts and applications. (6th edn.). New York: Mc Graw-Hill.

Massion, J. (1994). Postural control system. Current Opinion in Neurobiology 4, 877–887.

McNevin, N. H., & Wulf, G. (2002). Attentional focus on supra-postural tasks affects postural control. Human Movement Science 21, 187–202.

McNevin, N. H., Shea, C. H., & Wulf, G. (2003). Increasing the distance of an external focus of attention enhances learning. Psychological Research 67, 22–29.

Nafati G., Rossi-Durand C., & Schmied A. (2004). Proprioceptive control of human wrist extensor motor units during an attention demanding task. Brain Research 1018, 208–220.

Nault, M. L., Allard, P., Hinse, S., Le Blanc, R., Caron, O., Labelle, H., & Sadeghi, H. (2002). Relations between standing stability and body posture parameters in adolescent idiopathic scoliosis. Spine 27, 1911–1917.

Requin, J., & Paillard, J. (1971). Depression of monosynaptic reflexes as a specific aspect of preparatory motor set in visual reaction time. In Bulgarian Academy of Sciences (ed) Visual information processing and control of motor activity (pp. 391–396). Sofia.

Rossi-Durand, C. (2002). The influence of increased muscle spindle sensitivity on Achilles tendon jerk and H-reflex in relaxed human subjects. Somatosensory & Motor Research 19, 286–295.

Rossignol, S., Lund, J. P., & Drew, T. (1988). The role of sensory inputs in regulating patterns of rhythmical movements in higher vertebrates. In A. H. Cohen, S. Rossignol, S. Grillner (eds). Neural control of rhythmic movement in vertebrates (pp. 201–283). New York: Wiley

Rougier, P. (2003). Visual feedback induces opposite effects on elementary centre of gravity and centre of pressure minus centre of gravity motions in undisturbed upright stance. Clinical Biomechanics 18, 341–349.

Rougier, P., Caron, O. (2000). Centre of gravity motions and ankle joint stiffness control in upright undisturbed stance modeled through a fractional Brownian motion framework. Journal of Motor Behavior 32, 405–413.

Rougier, P., & Farenc, I. (2000). Adaptive effects of loss of vision on upright undisturbed stance. Brain Research 871, 161–174.

Rougier, P., Burdet, C., Farenc, I., & Berger, L. (2001). Backward and forward leaning postures modelled by a fBm framework. Neuroscience Research 41, 41–50.

Rougier, P., Burdet, C., Farenc, I., & Berger, L. (2004). How postural behaviour in undisturbed upright stance can be used to assess the physical characteristics of various models of ankle orthoses. Clinical Biomechanics 19, 497–505.

Singer, R. N., Lidor, R., & Cauraugh, J. H. (1993). To be aware or not aware: What to think about while learning and performing a motor skill. The Sport Psychologist 7, 19–30.

Winter, D. A. (1995). Human balance and posture control during standing and walking. Gait Posture 3, 193–204.

Winter, D. A., Patla, A.E., Prince, F., Ishac, M., & Gielo-Perczak, K. (1998). Stiffness control of balance in quiet standing. Journal of Neurophysiology 80, 1211–1221.

Wulf, G., & Prinz, W. (2001). Directing attention to movement effects enhances learning: A review. Psychonomic Bulletin & Review 8, 648–660.

Wulf, G., & Weigelt, C. (1997). Instructions in learning a complex motor skill: To tell or not to tell. Research Quarterly for Exercise and Sport 68, 362–367.

Wulf, G., Höß, M., & Prinz, W. (1998). Instructions for motor learning: Differential effects of internal versus external focus of attention. Journal of Motor Behavior 30, 169–179.

Wulf, G., McNevin, N. H., & Shea, C. H. (2001). The automaticity of complex motor skill learning as a function of attentional focus. The Quaterly Journal of Experimental Psychology 54A, 1143–1154.

Wulf, G., Shea, C. H., & Park, J. -H. (2001). Attention in motor learning: Preferences of and advantages of an external focus. Reseach Quaterly for Exercise and Sport 72, 335–344.

Wulf, G., Mercer, J., McNevin, N. H. & Guadagnoli, M. A. (2004). Reciprocal influences of attentional focus on postural and suprapostural task performance. Journal of Motor Behavior 36, 189–199.
Acknowledgements
The authors would like to thank R. A. Bianchi for technical assistance and A. Schmied and Ch. Rossi-Durand for helpful comments and suggestions. Special thanks also are extended to Jeff B. and Christelle B. for various contributions.
About this article
Cite this article
Vuillerme, N., Nafati, G. How attentional focus on body sway affects postural control during quiet standing. Psychological Research 71, 192–200 (2007). https://doi.org/10.1007/s00426-005-0018-2
Received:

Accepted:

Published:

Issue Date:
Keywords
Postural Control

Attentional Focus

Attention Condition

Postural Task

Quiet Standing