Abstract
Main conclusion
AXY4/XGOAT1, AXY4L/XGOAT2 and PtrXGOATs are O-acetyltransferases acetylating fucosylated galactose residues on xyloglucan and AXY9 does not directly catalyze O-acetylation of xyloglucan but exhibits weak acetylesterase activity.
Xyloglucan is a major hemicellulose that cross-links cellulose in the primary walls of dicot plants and the galactose (Gal) residues on its side chains can be mono- and di-O-acetylated. In Arabidopsis thaliana, mutations of three AXY (altered xyloglucan) genes, AXY4, AXY4L and AXY9, have previously been shown to cause a reduction in xyloglucan acetylation, but their biochemical functions remain to be investigated. In this report, we demonstrated that recombinant proteins of AXY4/XGOAT1 (xyloglucan O-acetyltransferase1), AXY4L/XGOAT2 and their close homologs from Populus trichocarpa, PtrXGOATs, displayed O-acetyltransferase activities transferring acetyl groups from acetyl CoA onto xyloglucan oligomers. Structural analysis of XGOAT-catalyzed reaction products revealed that XGOATs mediated predominantly 6-O-monoacetylation and a much lesser degree of 3-O and 4-O-monoacetylation and 4,6-di-O-acetylation of Gal residues on xyloglucan side chains. XGOATs appeared to preferentially acetylate fucosylated Gal residues with little activity toward non-fucosylated Gal residues. Mutations of the conserved amino acid residues in the GDS and DXXH motifs in AXY4/XGOAT1 resulted in a drastic reduction in its ability to transfer acetyl groups onto xyloglucan oligomers. In addition, although recombinant AXY9 was unable to transfer acetyl groups from acetyl CoA onto xyloglucan oligomers, it was catalytically active as demonstrated by its weak acetylesterase activity that was also exhibited by AXY4/XGOAT1 and AXY4L/XGOAT2. Furthermore, we showed that the AXY8 fucosidase was able to hydrolyze fucosyl residues from both non-acetylated and acetylated xyloglucan oligomers. These findings provide biochemical evidence that AXY4/XGOAT1, AXY4L/XGOAT2 and PtrXGOATs are xyloglucan O-acetyltransferases catalyzing acetyl transfer onto fucosylated Gal residues on xyloglucan side chains and the defucosylation of these acetylated side chains by apoplastic AXY8 generates side chains with acetylated, non-fucosylated Gal residues.
This is a preview of subscription content, log in to check access.
Access options
Buy single article
Instant access to the full article PDF.
US$ 39.95
Price includes VAT for USA
Subscribe to journal
Immediate online access to all issues from 2019. Subscription will auto renew annually.
US$ 199
This is the net price. Taxes to be calculated in checkout.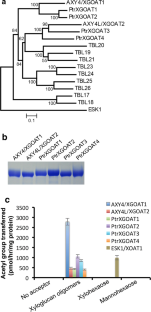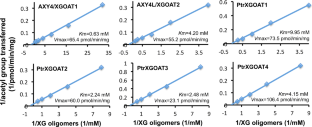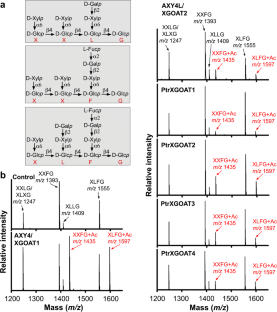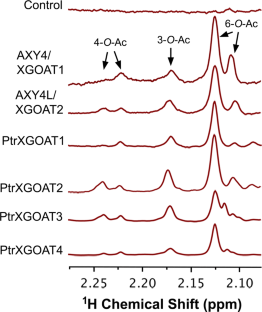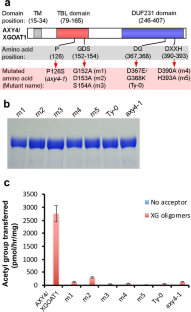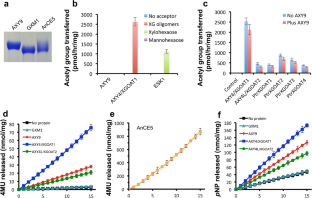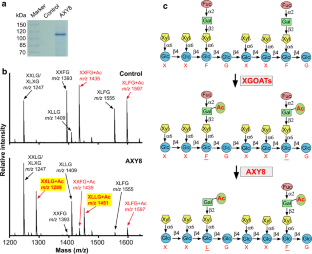 References
Baker P, Ricer T, Moynihan PJ, Kitova EN, Walvoort MT, Little DJ et al (2014) P. aeruginosa SGNH hydrolase-like proteins AlgJ and AlgX have similar topology but separate and distinct roles in alginate acetylation. PLoS Pathog 10:e1004334

Cavalier DM, Keegstra K (2006) Two xyloglucan xylosyltransferases catalyze the addition of multiple xylosyl residues to cellohexaose. J Biol Chem 281:34197–34207

Cavalier DM, Lerouxel O, Neumetzler L, Yamauchi K, Reinecke A, Freshour G et al (2008) Disrupting two Arabidopsis thaliana xylosyltransferase genes results in plants deficient in xyloglucan, a major primary cell wall component. Plant Cell 20:1519–1537

Chou YH, Pogorelko G, Zabotina OA (2012) Xyloglucan xylosyltransferases XXT1, XXT2, and XXT5 and the glucan synthase CSLC4 form Golgi-localized multiprotein complexes. Plant Physiol 159:1355–1366

Cocuron JC, Lerouxel O, Drakakaki G, Alonso AP, Liepman AH, Keegstra K et al (2007) A gene from the cellulose synthase-like C family encodes a β-1,4 glucan synthase. Proc Natl Acad Sci USA 104:8550–8555

Culbertson AT, Chou YH, Smith AL, Young ZT, Tietze AA, Cottaz S et al (2016) Enzymatic activity of xyloglucan xylosyltransferase 5. Plant Physiol 171:1893–1904

Fry SC, Smith RC, Renwick KF, Martin DJ, Hodge SK, Matthews KJ (1992) Xyloglucan endotransglycosylase, a new wall-loosening enzyme activity from plants. Biochem J 282:821–828

Gille S, de Souza A, Xiong G, Benz M, Cheng K, Schultink A et al (2011) O-acetylation of Arabidopsis hemicellulose xyloglucan requires AXY4 or AXY4L, proteins with a TBL and DUF231 domain. Plant Cell 23:4041–4053

Günl M, Neumetzler L, Kraemer F, de Souza A, Schultink A, Pena M et al (2011) AXY8 encodes an α-fucosidase, underscoring the importance of apoplastic metabolism on the fine structure of Arabidopsis cell wall polysaccharides. Plant Cell 23:4025–4040

Janbon G, Himmelreich U, Moyrand F, Improvisi L, Dromer F (2001) Cas1p is a membrane protein necessary for the O-acetylation of the Cryptococcus neoformans capsular polysaccharide. Mol Microbiol 42:453–467

Jensen JK, Schultink A, Keegstra K, Wilkerson CG, Pauly M (2012) RNA-Seq analysis of developing nasturtium seeds (Tropaeolum majus): identification and characterization of an additional galactosyltransferase involved in xyloglucan biosynthesis. Mol Plant 5:984–992

Jia Z, Cash M, Darvill AG, York WS (2005) NMR characterization of endogenously O-acetylated oligosaccharides isolated from tomato (Lycopersicon esculentum) xyloglucan. Carbohydr Res 340:1818–1825

Lee C, Teng Q, Zhong R, Ye Z-H (2011) The four Arabidopsis REDUCED WALL ACETYLATION genes are expressed in secondary wall-containing cells and required for the acetylation of xylan. Plant Cell Physiol 52:1289–1301

Lee C, Teng Q, Zhong R, Yuan Y, Haghighat M, Ye Z-H (2012) Three Arabidopsis DUF579 domain-containing GXM proteins are methyltransferases catalyzing 4-O-methylation of glucuronic acid on xylan. Plant Cell Physiol 53:1934–1949

Léonard R, Pabst M, Bondili JS, Chambat G, Veit C, Strasser R, Altmann F (2008) Identification of an Arabidopsis gene encoding a GH95 alpha1,2-fucosidase active on xyloglucan oligo- and polysaccharides. Phytochemistry 69:1983–1988

Liu L, Hsia MM, Dama M, Vogel J, Pauly M (2016) A xyloglucan backbone 6-O-acetyltransferase from Brachypodium distachyon modulates xyloglucan xylosylation. Mol Plant 9:615–617

Madson M, Dunand C, Li X, Verma R, Vanzin GF, Caplan J et al (2003) The MUR3 gene of Arabidopsis encodes a xyloglucan galactosyltransferase that is evolutionarily related to animal exostosins. Plant Cell 15:1662–1670

Manabe Y, Verhertbruggen Y, Gille S, Harholt J, Chong SL, Pawar PM et al (2013) Reduced Wall Acetylation proteins play vital and distinct roles in cell wall O-acetylation in Arabidopsis. Plant Physiol 163:1107–1117

McQueen-Mason S, Cosgrove DJ (1994) Disruption of hydrogen bonding between plant cell wall polymers by proteins that induce wall extension. Proc Natl Acad Sci USA 91:6574–6578

Moynihan PJ, Clarke AJ (2014) Substrate specificity and kinetic characterization of peptidoglycan O-acetyltransferase B from Neisseria gonorrhoeae. J Biol Chem 289:16748–61670

Neumüller KG, de Souza A, van Rijn J, Streekstra H, Gruppen H, Schols HA (2015) Positional preferences of acetyl esterases from different CE families towards acetylated 4-O-methyl glucuronic acid-substituted xylo-oligosaccharides. Biotechnol Biofuels 8(1):7

Pauly M, Keegstra K (2016) Biosynthesis of the plant cell wall matrix polysaccharide xyloglucan. Annu Rev Plant Biol 67:235–259

Perrin RM, DeRocher AE, Bar-Peled M, Zeng W, Norambuena L, Orellana A et al (1999) Xyloglucan fucosyltransferase, an enzyme involved in plant cell wall biosynthesis. Science 284:1976–1979

Perrin RM, Jia Z, Wagner TA, O'Neill MA, Sarria R, York WS et al (2003) Analysis of xyloglucan fucosylation in Arabidopsis. Plant Physiol 132:768–778

Riley LM, Weadge JT, Baker P, Robinson H, Codée JD, Tipton PA et al (2013) Structural and functional characterization of Pseudomonas aeruginosa AlgX: role of AlgX in alginate acetylation. J Biol Chem 288:22299–22314

Schultink A, Naylor D, Dama M, Pauly M (2015) The role of the plant-specific ALTERED XYLOGLUCAN9 protein in Arabidopsis cell wall polysaccharide O-acetylation. Plant Physiol 167:1271–1283

Sychantha D, Little DJ, Chapman RN, Boons GJ, Robinson H, Howell PL et al (2018) PatB1 is an O-acetyltransferase that decorates secondary cell wall polysaccharides. Nat Chem Biol 14:79–85

Urbanowicz BR, Peña MJ, Moniz HA, Moremen KW, York WS (2014) Two Arabidopsis proteins synthesize acetylated xylan in vitro. Plant J 80:197–206

Vanzin GF, Madson M, Carpita NC, Raikhel NV, Keegstra K, Reiter WD (2002) The mur2 mutant of Arabidopsis thaliana lacks fucosylated xyloglucan because of a lesion in fucosyltransferase AtFUT1. Proc Natl Acad Sci USA 99:3340–3345

Vuttipongchaikij S, Brocklehurst D, Steele-King C, Ashford DA, Gomez LD, McQueen-Mason SJ (2012) Arabidopsis GT34 family contains five xyloglucan α-1,6-xylosyltransferases. New Phytol 195:585–595

Weadge JT, Clarke AJ (2006) Identification and characterization of O-acetylpeptidoglycan esterase: a novel enzyme discovered in Neisseria gonorrhoeae. Biochemistry 45:839–851

Xiong G, Cheng K, Pauly M (2013) Xylan O-acetylation impacts xylem development and enzymatic recalcitrance as indicated by the Arabidopsis mutant tbl29. Mol Plant 6:1373–1375

York WS, Oates JE, van Halbeek H, Darvill AG, Albersheim P, Tiller PR et al (1988) Location of the O-acetyl substituents on a nonasaccharide repeating unit of sycamore extracellular xyloglucan. Carbohydr Res 173:113–132

Yuan Y, Teng Q, Zhong R, Ye Z-H (2013) The Arabidopsis DUF231 domain-containing protein ESK1 mediates 2-O- and 3-O-acetylation of xylosyl residues in xylan. Plant Cell Physiol 54:1186–1199

Yuan Y, Teng Q, Zhong R, Haghighat M, Richardson EA, Ye Z-H (2016a) Mutations of Arabidopsis TBL32 and TBL33 affect xylan acetylation and secondary wall deposition. PLoS One 11:e0146460

Yuan Y, Teng Q, Zhong R, Ye Z-H (2016b) Roles of Arabidopsis TBL34 and TBL35 in xylan acetylation and plant growth. Plant Sci 243:120–130

Yuan Y, Teng Q, Zhong R, Ye Z-H (2016c) TBL3 and TBL31, two Arabidopsis DUF231 domain proteins, are required for 3-O-monoacetylation of xylan. Plant Cell Physiol 57:35–45

Zabotina OA (2012) Xyloglucan and its biosynthesis. Front Plant Sci 3:134

Zabotina OA, Avci U, Cavalier D, Pattathil S, Chou YH, Eberhard S et al (2012) Mutations in multiple XXT genes of Arabidopsis reveal the complexity of xyloglucan biosynthesis. Plant Physiol 159:1367–1384

Zhong R, Peña MJ, Zhou G-K, Nairn CJ, Wood-Jones A, Richardson EA et al (2005) Arabidopsis Fragile Fiber8, which encodes a putative glucuronyltransferase, is essential for normal secondary wall synthesis. Plant Cell 17:3390–3408

Zhong R, Cui D, Ye Z-H (2017a) Regiospecific acetylation of xylan is mediated by a group of DUF231-containing O-acetyltransferases. Plant Cell Physiol 58:2126–2138

Zhong R, Teng Q, Haghighat M, Yuan Y, Furey ST, Dasher RL et al (2017b) Cytosol-localized UDP-xylose synthases provide the major source of UDP-xylose for the biosynthesis of xylan and xyloglucan. Plant Cell Physiol 58:156–174

Zhong R, Cui D, Dasher RL, Ye Z-H (2018a) Biochemical characterization of rice xylan O-acetyltransferases. Planta 247:1489–1498

Zhong R, Cui D, Ye Z-H (2018b) A group of Populus trichocarpa DUF231 proteins exhibit differential O-acetyltransferase activities toward xylan. PLoS One 13:e0194532
Acknowledgements
We thank Dr. D. R. Phillips at the PAMS facility for technical help. This work was funded by the U.S. Department of Energy, Office of Science, Office of Basic Energy Sciences (Grant No. DE-FG02-03ER15415).
Electronic supplementary material
Below is the link to the electronic supplementary material.
About this article
Cite this article
Zhong, R., Cui, D. & Ye, Z. Xyloglucan O-acetyltransferases from Arabidopsis thaliana and Populus trichocarpa catalyze acetylation of fucosylated galactose residues on xyloglucan side chains. Planta 248, 1159–1171 (2018). https://doi.org/10.1007/s00425-018-2972-0
Received:

Accepted:

Published:

Issue Date:
Keywords
Acetyltransferase

Arabidopsis

Cell wall

DUF231

Populus

Xyloglucan