Abstract
Main conclusions
ALDH7B4 expression contributes to abiotic stress tolerance. The NAC transcription factor ATAF1 is a main regulator of expression of the ALDH7B4 gene in Arabidopsis thaliana as shown by ATAF1 mutants.
The aldehyde dehydrogenase 7B4 (ALDH7B4) protein has important roles in detoxification of excessive aldehydes, elimination of reactive oxygen species (ROS) and inhibition of lipid peroxidation when plants are exposed to abiotic stress. However, the regulation of the expression of the ALDH7B4 gene under stress is largely unknown. Promoter studies revealed crucial cis-elements in the ALDH7B4 promoter in response to heat and stress combinations. Using a yeast one-hybrid assay, several NAC transcription factors, including ATAF1 were isolated. These transcription factors play an important role in plant adaptation to abiotic stress. ATAF1 activates the expression of the ALDH7B4 gene by directly binding to the promoter. Overexpression of ATAF1 in Arabidopsis plants results in elevated expression of ALDH7B4 in seeds, seedlings, and mature plants, whereas ATAF1 knock-out mutant plants abolished the expression of ALDH7B4. This study implies that ATAF1 may confer stress tolerance by up-regulating the target gene ALDH7B4.
This is a preview of subscription content, log in to check access.
Access options
Buy single article
Instant access to the full article PDF.
US$ 39.95
Price includes VAT for USA
Subscribe to journal
Immediate online access to all issues from 2019. Subscription will auto renew annually.
US$ 199
This is the net price. Taxes to be calculated in checkout.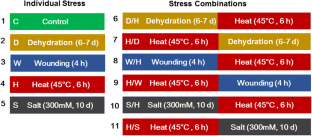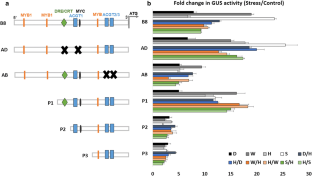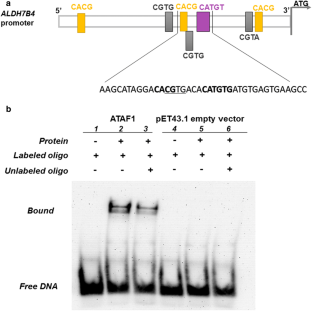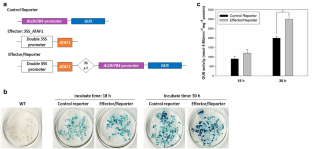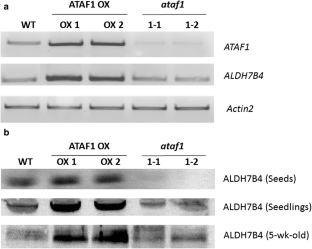 Abbreviations
ALDH:

Aldehyde dehydrogenase

ATAF1:

Arabidopsis transcription activation factor1

DIG:

Digoxigenin

DRE/CRT:

Dehydration-responsive element/C-repeat

EMSA:

Electrophoretic mobility shift assay

FAST:

Fast agro-mediated seedling transformation

HSE:

Heat shock element

NAC:

NAM, ATAF1/2 and CUC2

ROS:

Reactive oxygen species

Y1H:

Yeast one-hybrid
References
An YQ, Huang S, McDowell JM, McKinney EC, Meagher RB (1996) Conserved expression of the Arabidopsis ACT1 and ACT 3 actin subclass in organ primordia and mature pollen. Plant Cell 8:15–30

Arda HE, Walhout AJM (2009) Gene-centered regulatory networks. Brief Funct Genom Proteom 9:4–12. https://doi.org/10.1093/bfgp/elp049

Balazadeh S, Siddiqui H, Allu AD et al (2010) A gene regulatory network controlled by the NAC transcription factor ANAC092/AtNAC2/ORE1 during salt-promoted senescence. Plant J 62:250–264. https://doi.org/10.1111/j.1365-313X.2010.04151.x

Balazadeh S, Kwasniewski M, Caldana C et al (2011) ORS1, an H2O2-responsive NAC transcription factor, controls senescence in Arabidopsis thaliana. Mol Plant 4:346–360. https://doi.org/10.1093/mp/ssq080

Barros MD, Czarnecka E, Gurley WB (1992) Mutational analysis of a plant heat shock element. Plant Mol Biol 19:665–675

Bradford MM (1976) A rapid and sensitive method for the quantitation of microgram quantities of protein utilizing the principle of protein-dye binding. Analytical Biochem 72(1–2):248–254

Christianson JA, Dennis ES, Llewellyn DJ, Wilson IW (2010) ATAF NAC transcription factors: regulators of plant stress signaling. Plant Signal Behav 5:428–432. https://doi.org/10.4161/psb.5.4.10847

Fang Y, Liao K, Du H et al (2015) A stress-responsive NAC transcription factor SNAC3 confers heat and drought tolerance through modulation of reactive oxygen species in rice. J Exp Bot 66:6803–6817

Gietz RD, Schiestl RH (2007) High-efficiency yeast transformation using the LiAc/SS carrier DNA/PEG method. Nat Protoc 2:31–34

Jefferson RA, Kavanagh TA, Bevan MW (1987) GUS fusions: β-glucuronidase as a sensitive and versatile gene fusion marker in higher plants. EMBO J 6:3901–3907

Jensen M, Skriver K (2014) NAC transcription factor gene regulatory and protein-protein interaction networks in plant stress responses and senescence. Int Union Biochem Mol Biol 66(3):156–166

Jensen MK, Lindemose S, de Masi F et al (2013) ATAF1 transcription factor directly regulates abscisic acid biosynthetic gene NCED3 in Arabidopsis thaliana. FEBS Open Bio 3:321–327. https://doi.org/10.1016/j.fob.2013.07.006

Kirch HH, Nair A, Bartels D (2001) Novel ABA- and dehydration-inducible aldehyde dehydrogenase genes isolated from the resurrection plant Craterostigma plantagineum and Arabidopsis thaliana. Plant J 28:555–567

Kirch HH, Bartels D, Wei Y et al (2004) The ALDH gene superfamily of Arabidopsis. Trends Plant Sci 9:371–377. https://doi.org/10.1016/j.tplants.2004.06.004

Kirch H-H, Schlingensiepen S, Kotchoni S et al (2005) Detailed expression analysis of selected genes of the aldehyde dehydrogenase (ALDH) gene superfamily in Arabidopsis thaliana. Plant Mol Biol 57:315–332. https://doi.org/10.1007/s11103-004-7796-6

Kleinow T, Himbert S, Krenz B, Jeske H, Koncz C (2009) NAC domain transcription factor ATAF1 interacts with SNF1-related kinases and silencing of its subfamily causes severe developmental defects in Arabidopsis. Plant Sci 177:360–370

Kotchoni SO, Kuhns C, Ditzer A et al (2006) Over-expression of different aldehyde dehydrogenase genes in Arabidopsis thaliana confers tolerance to abiotic stress and protects plants against lipid peroxidation and oxidative stress. Plant Cell Environ 29:1033–1048

Kotchoni SO, Jimenez-Lopez JC, Gao D et al (2010) Modeling-dependent protein characterization of the rice aldehyde dehydrogenase (ALDH) superfamily reveals distinct functional and structural features. PLoS One 5:e11516. https://doi.org/10.1371/journal.pone.0011516

Li J-F, Park E, von Arnim AG, Nebenführ A (2009) The FAST technique: a simplified Agrobacterium-based transformation method for transient gene expression analysis in seedlings of Arabidopsis and other plant species. Plant Methods 5:6. https://doi.org/10.1186/1746-4811-5-6

Missihoun TD, Schmitz J, Klug R et al (2011) Betaine aldehyde dehydrogenase genes from Arabidopsis with different sub-cellular localization affect stress responses. Planta 233:369–382. https://doi.org/10.1007/s00425-010-1297-4

Missihoun TD, Hou Q, Mertens D, Bartels D (2014) Sequence and functional analyses of the aldehyde dehydrogenase 7B4 gene promoter in Arabidopsis thaliana and selected Brassicaceae: regulation patterns in response to wounding and osmotic stress. Planta 239:1281–1298. https://doi.org/10.1007/s00425-014-2051-0

Mitsuda N, Ikeda M, Takada S et al (2010) Efficient yeast one-/two-hybrid screening using a library composed only of transcription factors in Arabidopsis thaliana. Plant Cell Physiol 51:2145–2151

Mittler R (2006) Abiotic stress, the field environment and stress combination. Trends Plant Sci 11:15–19. https://doi.org/10.1016/j.tplants.2005.11.002

Mohammed N, Sharoni AM, Shoshi K (2013) Roles of NAC transcription factors in the regulation of biotic and abiotic stress responses in plants. Front Microbiol 4:248

Nakashima K, Takasaki H, Mizoi J et al (2012) NAC transcription factors in plant abiotic stress responses. Biochim Biophys Acta Gene Regul Mech 1819:97–103. https://doi.org/10.1016/j.bbagrm.2011.10.005

Niu F, Wang C, Yan J et al (2016) Functional characterization of NAC55 transcription factor from oilseed rape (Brassica napus L.) as a novel transcriptional activator modulating reactive oxygen species accumulation and cell death. Plant Mol Biol 92(1–2):89–104. https://doi.org/10.1007/s11103-016-0502-7

Nuruzzaman M, Sharoni AM, Kikuchi S (2013) Roles of NAC transcription factors in the regulation of biotic and abiotic stress responses in plants. Front Microbiol 4:1–16. https://doi.org/10.3389/fmicb.2013.00248

Olsen AN, Ernst HA, Leggio LL, Skriver K (2005) NAC transcription factors: structurally distinct, functionally diverse. Trends Plant Sci 10:79–87

Prändl R, Schöffl F (1996) Heat shock elements are involved in heat shock promoter activation during tobacco seed maturation. Plant Mol Biol 31:157–162

Puranik S, Sahu PP, Srivastava PS, Prasad M (2012) NAC proteins: regulation and role in stress tolerance. Trends Plant Sci 17:369–381. https://doi.org/10.1016/j.tplants.2012.02.004

Schöffl F, Prändl R, Reindl A (1998) Regulation of the heat-shock response. Plant Physiol 117:1135–1141

Stiti N, Missihoun TD, Kotchoni SO et al (2011) Aldehyde dehydrogenases in Arabidopsis thaliana: biochemical requirements, metabolic pathways, and functional analysis. Front Plant Sci 2:65. https://doi.org/10.3389/fpls.2011.00065

Sunkar R, Bartels D, Kirch H-H (2003) Overexpression of a stress-inducible aldehyde dehydrogenase gene from Arabidopsis thaliana in transgenic plants improves stress tolerance. Plant J 35:452–464

Suzuki N, Rivero RM, Shulaev V et al (2014) Abiotic and biotic stress combinations. New Phytol 203:32–43

Tran LS, Nakashima K, Sakuma Y et al (2004) Isolation and functional analysis of Arabidopsis stress-inducible NAC transcription factors that bind to a drought-responsive cis-element in the early responsive to dehydration stress 1 promoter. Plant Cell 16:2481–2498. https://doi.org/10.1105/tpc.104.022699

Valenzuela-Avendaño JP, Mota IAE, Uc GL et al (2005) Use of a simple method to isolate intact RNA from partially hydrated Selaginella lepidophylla plants. Plant Mol Biol Report 23:199–200. https://doi.org/10.1007/bf02772713

Wu Y, Deng Z, Lai J et al (2009) Dual function of Arabidopsis ATAF1 in abiotic and biotic stress responses. Cell Res 19:1279–1290. https://doi.org/10.1038/cr.2009.108

Wu A, Allu AD, Garapati P et al (2012) JUNGBRUNNEN1, a reactive oxygen species-responsive NAC transcription factor, regulates longevity in Arabidopsis. Plant Cell 24:482–506

Xu B, Ohtani M, Yamaguchi M et al (2014) Contribution of NAC transcription factors to plant adaptation to land. Science 343:1505–1508. https://doi.org/10.1126/science.1248417

Yamaguchi-Shinozaki K, Shinozaki K (2006) Transcriptional regulatory networks in cellular responses and tolerance to dehydration and cold stresses. Annu Rev Plant Biol 57:781–803

Yang Y, Sornaraj P, Borisjuk N et al (2016) Transcriptional network involved in drought response and adaptation in cereals. Abiotic and biotic stress in plants—recent advances and future perspectives., pp 3–30. https://doi.org/10.5772/62336

Zhao J, Missihoun TD, Bartels D (2017) The role of Arabidopsis aldehyde dehydrogenase genes in response to high temperature and stress combinations. J Exp Bot 68:4295–4308. https://doi.org/10.1093/jxb/erx194
Acknowledgements
Junyi Zhao acknowledges a fellowship from the China Scholarship Council (CSC). Part of the work was supported by the DFG funded graduate school GRK2064. We thank Dr. Qi Xie (Institute of Genetics and Developmental Biology, Chinese Academy of Sciences, Beijing, China) for providing seeds of ATAF1 overexpressing and T-DNA insertion lines. We also thank Dr. Nobutaka Mitsuda (National Institute of Advanced Industrial Science and Technology (AIST), Tsukuba, Japan) for providing the cDNA library for the yeast one-hybrid screen. The authors would like to thank C. Buchholz for growing plants, D. Mertens for providing the constructs Y1H: pLacZi-PL and pHISi-PH and T. Dieckmann for help with the Western blot.
Electronic supplementary material
Below is the link to the electronic supplementary material.
About this article
Cite this article
Zhao, J., Missihoun, T.D. & Bartels, D. The ATAF1 transcription factor is a key regulator of aldehyde dehydrogenase 7B4 (ALDH7B4) gene expression in Arabidopsis thaliana. Planta 248, 1017–1027 (2018). https://doi.org/10.1007/s00425-018-2955-1
Received:

Accepted:

Published:

Issue Date:
Keywords
ALDH7B4 promoter

ATAF1 transcription factor

Gene expression

NAC transcription factor

Stress combinations