Abstract
Main conclusion
We provide evidence that Aspergillus oryzae not only acts as an endophyte in Raphanus sativus, but also works as a plant growth promoter and provides some protection against its herbivore, Plutella xylostella affecting its feeding rate, mortality and fitness parameters, thereby contributing to the pest population suppression.
Seed inoculation of radish seeds with the fungus Aspergillus oryzae allowed its establishment as an endophyte promoting plant growth and negatively affecting fitness parameters of its major herbivore, diamondback moth, Plutella xylostella. Endophytic fungi may contribute to the growth of their host plants and enhance resistance to herbivores and diseases. We evaluated the effect of A. oryzae (Ahlburg) E. Cohn as an endophyte in radish (Raphanus sativus L.) on growth and development of the plants themselves and their major herbivore, the diamondback moth P. xylostella (L). A. oryzae colonization rates in leaves were significantly higher than in roots and stems, with a rate of 80% in leaves, 40% in stems and 20% in roots 1 week after seed inoculation. Colonization gradually decreased in the various plant tissues, and disappeared completely in roots, stems and leaves within 2, 5 and 7 weeks, respectively. A. oryzae did not affect seed germination; however, it promoted radish growth with endophytic plants attaining average heights of 116 mm compared to 99.6 mm in the controls at the third week post-inoculation. The P. xylostella fitness parameters, consumption, larval and pupal weights, and feeding on the endophytic plants were significantly lower than the controls, while larval mortality was significantly higher. Larvae fed on endophytic plants consumed 0.46 mg less leaf matter in the first week post seed inoculation and weighed 0.83 mg less as mature 4th instars than controls. We have demonstrated that A. oryzae can establish as an endophyte in R. sativus through seed inoculation providing some plant growth promotion and protection against its herbivore by increasing its mortality and negatively affecting its fitness parameters, suggesting that adopting seed treatments with A. oryzae may be beneficial in the commercial cultivation of radish.
This is a preview of subscription content, log in to check access.
Access options
Buy single article
Instant access to the full article PDF.
US$ 39.95
Price includes VAT for USA
Subscribe to journal
Immediate online access to all issues from 2019. Subscription will auto renew annually.
US$ 199
This is the net price. Taxes to be calculated in checkout.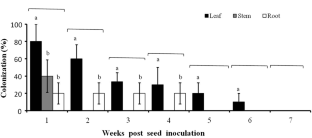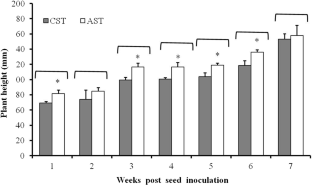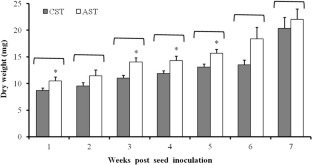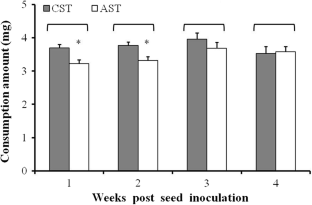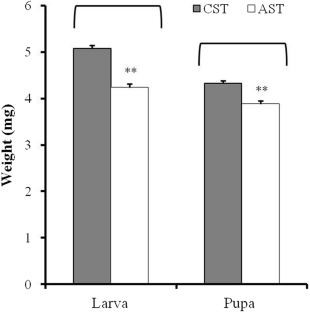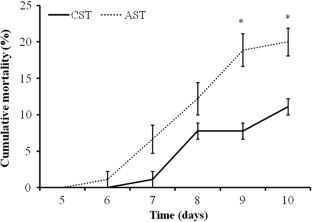 Abbreviations
AST:

Aspergillus seed treatment

CST:

Control seed treatment

DBM:

Diamondback moth

PDA:

Potato dextrose agar
References
Akello J, Dubois T, Coyne D, Kyamanywa S (2008) Endophytic Beauveria bassiana in banana (Musa spp.) reduces banana weevil (Cosmopolites sordidus) fitness and damage. Crop Prot 27:1437–1441. https://doi.org/10.1016/j.cropro.2008.07.003

Akhtar KP, Saleem MY, Asghar M, Haq MA (2004) New report of Alternaria alternata causing leaf blight of tomato in Pakistan. Plant Pathol 53:816. https://doi.org/10.1111/j.1365-3059.2004.01099.x

Akutse KS, Maniania NK, Fiaboe KKM, Berg JVD, Ekesi S (2013) Endophytic colonization of Vicia faba and Phaseolus vulgaris (Fabaceae) by fungal pathogens and their effects on the life-history parameters of Liriomyza huidobrensis (Diptera: Agromyzidae). Fungal Ecol 6:293–301. https://doi.org/10.1016/j.funeco.2013.01.003

Alverson J (2003) Effects of mycotoxins, kojic acid and oxalic acid, on biological fitness of Lygus hesperus (Heteroptera: Miridae). J Invertebr Pathol 83:60–62. https://doi.org/10.1016/S0022-2011(03)00040-5

Babu RM, Sajeena A, Seetharaman K (2003) Bioassay of the potentiality of Alternaria alternata (Fr.) Keissler as a bioherbicide to control waterhyacinth and other aquatic weeds. Crop Prot 22:1005–1013. https://doi.org/10.1016/S0261-2194(03)00115-7

Backman PA, Sikora RA (2008) Endophytes: an emerging tool for biological control. Biol Control 46:1–3. https://doi.org/10.1016/j.biocontrol.2008.03.009

Baxter SW, Chen M, Dawson A, Zhao JZ, Vogel H, Shelton AM, Heckel DG, Jiggins CD (2010) Mis-spliced transcripts of nicotinic acetylcholine receptor α6 are associated with field evolved spinosad resistance in Plutella xylostella (L.). PLoS Genet 6:e1000802. https://doi.org/10.1371/journal.pgen.1000802

Biswas C, Dey P, Satpathy S, Satpathy P (2012) Establishment of the fungal entomopathogen Beauveria bassiana as a season long endophyte in jute (Corchorus olitorius) and its rapid detection using SCAR marker. BioControl 57:565–571. https://doi.org/10.1007/s10526-011-9424-0

Burdock G, Soni MG, Carabin IG (2001) Evaluation of health aspects of kojic acid in ood. Regul Toxicol Pharm 33:80–101. https://doi.org/10.1006/rtph.2000.1442

Carroll G (1988) Fungal endophytes in stems and leaves: form latent pathogen to mutualistic symbiont. Ecology 69:2–9. https://doi.org/10.2307/1943154

Chaves FC, Gianfagna TJ, Aneja M, Posada F, Peterson SW, Vega FE (2012) Aspergillus oryzae NRRL 35191 from coffee, a non-toxigenic endophyte with the ability to synthesize kojic acid. Mycol Prog 11:263–267. https://doi.org/10.1007/s11557-011-0745-2

Dowd PF (1999) Relative inhibition of insect phenoloxidase by cyclic fungal metabolites from insect and plant pathogens. Nat Toxins 7:337–341

Fisher PJ, Petrini O (1992) Fungal saprobes and pathogens as endophytes of rice (Oryza sativa L.). New Phytol 120:137–143. https://doi.org/10.1111/j.1469-8137.1992.tb01066.x

Greenfield M, Gomez-Jimenez MI, Ortiz V, Vega FE, Kramer M, Parsa S (2016) Beauveria bassiana and Metarhizium anisopliae endophytically colonize cassava roots following soil drench inoculation. Biol Control 95:40–48. https://doi.org/10.1016/j.biocontrol.2016.01.002

Gurulingappa P, Sword GA, Murdoch G, Mcgee PA (2010) Colonization of crop plants by fungal entomopathogens and their effects on two insect pests when in planta. Biol Control 55:34–41. https://doi.org/10.1016/j.biocontrol.2010.06.011

Inglis GD, Enkerli J, Goettel MS (2012) Laboratory techniques used for entomopathogenic fungi: hypocreales. In: Lacey LA (ed) Manual of techniques in invertebrate pathology. Academic Press, London, pp 189–253. https://doi.org/10.1016/b978-0-12-386899-2.00007-5

Jaber LR, Enkerli J (2016) Effect of seed treatment duration on growth and colonization of Vicia faba by endophytic Beauveria bassiana and Metarhizium brunneum. Biol Control 103:187–195. https://doi.org/10.1016/j.biocontrol.2016.09.008

Jaber LR, Ownley BH (2017) Can we use entomopathogenic fungi as endophytes for dual biological control of insect pests and plant pathogens? Biol Control 116:36–45. https://doi.org/10.1016/j.biocontrol.2017.01.018

Kepler RM, Sung GH, Harada Y, Tanaka K, Tanaka E, Hosoya T, Bischoff JF, Spatafora JW (2012) Host jumping onto close relatives and across kingdoms by Tyrannicordyceps (Clavicipitaceae) gen. nov. and Ustilaginoidea_ (Clavicipitaceae). Am J Bot 99:552–561. https://doi.org/10.3732/ajb.1100124

Larran S, Perello A, Simon MR, Moreno V (2002a) Isolation and analysis of endophytic microorganisms in wheat (Triticum aestivum L.) leaves. World J Microbiol Biotechnol 18:683–686. https://doi.org/10.1023/A:1016857917950

Larran S, Rollán C, Ángeles HB, Alippi HE, Urrutia MI (2002b) Endophytic fungi in healthy soybean leaves. Prod Prot Veg 17:173–178

Li Z, Feng X, Liu SS, You M, Furlong MJ (2016) Biology, ecology, and management of the diamondback moth in China. Annu Rev Entomol 61:277–296. https://doi.org/10.1146/annurev.en.38.010193.001423

Lopez DC, Sword GA (2015) The endophytic fungal entomopathogens Beauveria bassiana and Purpureocillium lilacinum enhance the growth of cultivated cotton (Gossypium hirsutum) and negatively affect survival of the cotton bollworm (Helicoverpa zea). Biol Control 89:53–60. https://doi.org/10.1016/j.biocontrol.2015.03.010

Lu H, Zou WX, Meng JC, Hu J, Tan RX (2000) New bioactive metabolites produced by Colletotrichum sp. an endophytic fungus in Artemisia annua. Plant Sci 151:67–73

Lugtenberg B, Caradus J, Johnson L (2016) Fungal endophytes for sustainable crop production. FEMS Microbiol Ecol 94:fiw194. https://doi.org/10.1093/femsec/fiw194

Lyons PC, Evans JJ, Cw Bacon (1990) Effects of the fungal endophyte Acremonium coenophialum on nitrogen accumulation and metabolism in tall fescue. Plant Physiol 92:726–732

Machida M, Asai K, Sano M, Tanaka T, Kumagai T, Terai G et al (2005) Genome sequencing and analysis of Aspergillus oryzae. Nature 438:1157–1161. https://doi.org/10.1038/nature04300

Malinowski DP, Brauer DK, Belesky DP (1999) The endophyte Neotyphodium coenophialum affects root morphology of tall fescue grown under phosphorus eficiency. J Agron Crop Sci 183:56–60

Muvea AM, Meyhofer R, Subramanian S, Poehling HM, Ekesi S, Maniania NK (2014) Colonization of onions by endophytic fungi and their impacts on the biology of Thrips tabaci. PLoS ONE 9:e108242. https://doi.org/10.1371/journal.pone.0108242

Nair DN, Padmavathy S (2014) Impact of endophytic microorganisms on plants, environment and humans. Sci World J 2014:1–11. https://doi.org/10.1155/2014/250693

Nihorimbere V, Ongena M, Smargiassi M, Thonart P (2011) Beneficial effect of the rhizosphere microbial community for plant growth and health. Biotechnol Agron Soc Environ 15:327–337

Noda T, Miyai S, Yamada S, Konishi K (1996) Larval and pupal parasitoids of diamondback moth, Plutella xylostella (L.) in cabbage fields in Morioka, Japan. Jpn J Appl Entomol Z 40:164–167. https://doi.org/10.1303/jjaez.40.164

Paul B, Bala K, Gognies S, Belarbi A (2005) Morphological and molecular taxonomy of Pythium longisporangium sp. nov. isolated from the Burgundian region of France. FEMS Microbiol Lett 246:207–212. https://doi.org/10.1016/j.femsle.2005.04.004

Raps A, Vidal S (1998) Indirect effects of an unspecialized endophytic fungus on specialized plant–herbivorous insect interactions. Oecologia 114:541–547. https://doi.org/10.1007/s004420050478

Rowell B, Bunsong N, SatthapornK Phithamma S, Doungsa-ard C (2005) Hymenopteran parasitoids of diamondback moth (Lepidoptera: Ypeunomutidae) in northern Thailand. J Econ Entomol 98:449–456. https://doi.org/10.1603/0022-0493-98.2.449

Russo ML, Pelizza SA, Cabello MN, Stenglein SA, Vianna MF, Scorsetti AC (2016) Endophytic fungi from selected varieties of soybean (Glycine max L. Merr.) and corn (Zea mays L.) grown in an agricultural area of Argentina. Rev Argent Microbiol 48:154–160. https://doi.org/10.1016/j.ram.2015.11.006

Salo PM, Arbes SJ, Sever M, Jaramillo R, Cohn RD, London SJ, Zeldin DC (2006) Exposure to Alternaria alternata in US homes is associated with asthma symptoms. J Allergy Clin Immun 118:892–898. https://doi.org/10.1016/j.jaci.2006.07.037

Schulz B, Guske S, Dammann U, Boyle C (1998) Endophyte-host interactions. II. Defining symbiosis of the endophyte-host interaction. Symbiosis 25:213–227. http://www.org/serials/c_54cc45ac

Shelton AM, Wyman JA (1992) Insecticide resistance of diamondback moth in North America. In: Diamondback moth and other crucifer pests: proceedings second international workshop, Tainan (Taiwán), 10–14 December 1990. Asian Vegetable Research and Development Center, Shanhua, Taiwan, pp 447–454

Shikano I, Rosa C, Tan CW, Felton GW (2017) Tritrophic interactions: microbe-mediated plant effects on insect herbivores. Annu Rev Phytopathol 55:313–331. https://doi.org/10.1146/annurev-phyto-080516-035319

Talekar NS (1993) Biology, ecology, and management of the diamondback moth. Annu Rev Entomol 38:275–301. https://doi.org/10.1146/annurev.en.38.010193.001423

Tefera T, Vidal S (2009) Effect of inoculation method and plant growth medium on endophytic colonization of sorghum by the entomopathogenic fungus Beauveria bassiana. BioControl 54:663–669. https://doi.org/10.1007/s10526-009-9216-y

Thakur A, Kaur S, Kaur A, Singh V (2013) Enhanced resistance to Spodoptera litura in endophyte infected cauliflower plants. Environ Entomol 42:240–246. https://doi.org/10.1603/EN12001

United States Environmental Protection Agency (1997) Biotechnology program under toxic substances control act Aspergillus oryzae final risk assessment. US EPA, Washington, DC. http://www.epa.gov/oppt/biotech/pubs/fra/fra007.htm

Usman F, Abid M, Hussain F, Khan SA, Sultana J (2014) Soil borne fungi associated with different vegetable crops in Sindh, Pakistan. Pak J Sci Ind Res 57:140–147. https://www.researchgate.net/publication/270686022

Vega FE, Posada F, Aime MC, Pava-Ripoll M, Infante F, Rehner SA (2008) Entomopathogenic fungal endophytes. Biol Control 46:72–82

Verkerk RHJ, Wright DJ (1996) Multitrophic interactions and management of the diamondback moth: a review. Bull Entomol Res 86:205–216. https://doi.org/10.1017/S0007485300052482

Vickers RA, Furlong MJ, White A, Pell JK (2004) Initiation of fungal epizootics in diamondback moth populations within a large field cage: proof of concept for auto-dissemination. Entomol Exp Appl 111:7–17. https://doi.org/10.1111/j.0013-8703.2004.00140.x

Vogl AE (1898) Mehl und die anderen mehlprodukte der cerealien und leguminosen. Z Nahr Unters Hyg Warenkd 12:25–29

Wei H, Wang J, Li HS, Dai HG, Gu XJ (2010) Sub-lethal effects of fenvalerate on the development, fecundity, and juvenile hormone esterase activity of diamondback moth, Plutella xylostella (L.). Agric Sci China 9:1612–1622. https://doi.org/10.1016/s1671-2927(09)60258-3

Zhao LF, Xu YJ (2006) Research progress on the application of Aspergillus oryzae. China Brewing 156:8–10
Acknowledgements
This work was supported by the National Natural Science Foundation of China to Profs. You (Nos. 31320103922 and 31230061) and Xia (No. 31501639). Dr. Goettel is supported by a Jinshan Scholar Fellowship. We are grateful for the project of Distinguished Young Scholars at Fujian Agriculture and Forestry University (XJQ201624).
Ethics declarations
Conflict of interest
The authors declare that there is no conflict of interest.
About this article
Cite this article
Sun, B., Akutse, K.S., Xia, X. et al. Endophytic effects of Aspergillus oryzae on radish (Raphanus sativus) and its herbivore, Plutella xylostella. Planta 248, 705–714 (2018). https://doi.org/10.1007/s00425-018-2928-4
Received:

Accepted:

Published:

Issue Date:
Keywords
Diamondback moth

Seed treatment

Alternaria alternata

Plant growth promotion

Endophytic properties