Abstract
Main conclusion
Seeds of native species from the rain forest (Amazon) are source of chitinases and their protein extracts exhibited strong and broad antifungal activity.
Numerous plant species native to the Amazon have not yet been chemically studied. Studies of seeds are scarcer, since adversities in accessing study areas and seasonality pose constant hurdles to systematic research. In this study, proteins were extracted from seeds belonging to endemic Amazon species and were investigated for the first time. Proteolytic activity, peptidase inhibitors, and chitinases were identified, but chitinolytic activity predominated. Four proteins were purified through chromatography and identified as lectin and chitinases by MS/MS analyses. The proteins were examined for inhibition of a phytopathogen (Fusarium oxysporum). Analyses by fluorescence microscopy suggested binding of propidium iodide to DNA of fungal spores, revealing that spore integrity was lost when accessed by the proteins. Further structural and functional analyses of defensive proteins belonging to species facing highly complex ecosystems such as Amazonia should be conducted, since these could provide new insights into specificity and synergism involving defense proteins of plants submitted to a very complex ecosystem.
This is a preview of subscription content, log in to check access.
Access options
Buy single article
Instant access to the full article PDF.
US$ 39.95
Price includes VAT for USA
Subscribe to journal
Immediate online access to all issues from 2019. Subscription will auto renew annually.
US$ 199
This is the net price. Taxes to be calculated in checkout.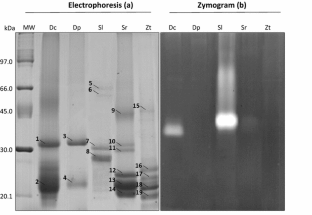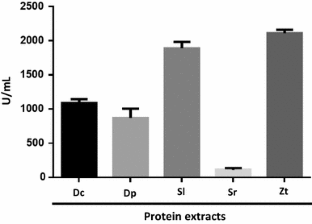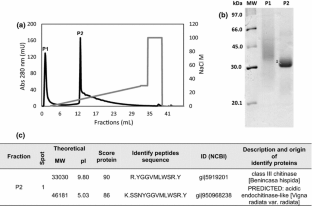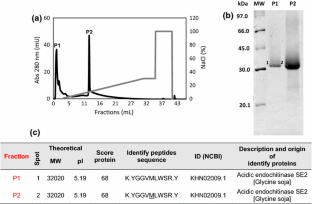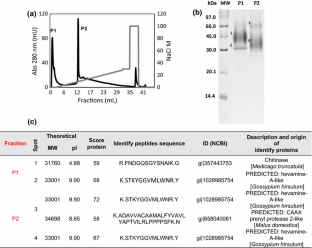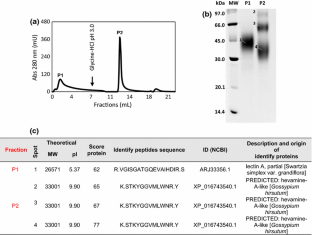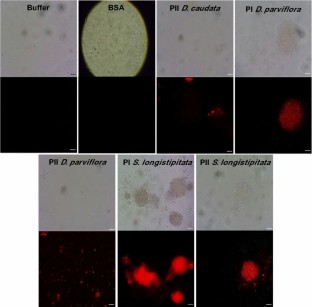 References
Baetz U, Martinoia E (2014) Root exudates: the hidden part of plant defense. Trends Plant Sci 19:90–98

Broekaert WF, Cammue BPA, Vanderleyden J (1990) An automated quantitative assay for fungal growth inhibition. FEMS Microbiol Lett 69:61–66

Bruce TJA (2015) Interplay between insects and plants: dynamic and complex interactions that have coevolved over millions of years but act in milliseconds. J Exp Bot 66:455–465

Diz AP, Páez de la Cadena M, Rolán-Alvarez E (2012) Proteomic evidence of a paedomorphic evolutionary process within a marine snail species: a strategy for adapting to extreme ecological conditions? J Evol Biol 25:2569–2581

Fernandes AV, Ramos MV, Gonçalves JFC et al (2011) Seeds of Amazonian Fabaceae as a source of new lectins. Braz J Plant Physiol 23:237–244

Fernandes AV, Ramos MV, Vasconcelos IM et al (2012) Purification and characterization of a lectin of the Swartzieae legume taxa. Protein Pept Lett 19:1082–1088

Freitas CDT, Viana CA, Vasconcelos IM et al (2016) First insights into the diversity and functional properties of chitinases of the latex of Calotropis procera. Plant Physiol Biochem 108:361–371

Gabaldón T (2005) Evolution of proteins and proteomes: a phylogenetics approach. Evol Bioinform Online 1:51–61

Gorjanovic S (2009) A Review : biological and technological functions of barley seed pathogenesis-related proteins (PRs). J Inst Brew 115:334–360

Hakim Ullah A, Hussain A et al (2018) Osmotin: a plant defense tool against biotic and abiotic stresses. Plant Physiol Biochem 123:149–159

Hellman U, Wernstedt C, Góñez J et al (1995) Improvement of an 'in-gel' digestion procedure for the micro-preparation of internal protein fragments for amino acid sequencing. Anal Biochem 224:451–455

Hong JK, Hwang IS, Hwang BK (2017) Functional roles of the pepper leucine-rich repeat protein and its interactions with pathogenesis-related and hypersensitive-induced proteins in plant cell death and immunity. Planta 246:351–364

Jactel H, Bauhus J, Boberg J et al (2017) Tree diversity drives forest stand resistance to natural disturbances. Curr For Rep 3:223–243

Karmakar S, Molla KA, Chanda PK et al (2016) Green tissue-specific co-expression of chitinase and oxalate oxidase 4 genes in rice for enhanced resistance against sheath blight. Planta 243:115–130

Kim NH, Hwang BK (2015) Pepper pathogenesis-related protein 4c is a plasma membrane-localized cysteine protease inhibitor that is required for plant cell death and defense signaling. Plant J 81:81–94

Lacerda AF, Vasconcelos ÉAR, Pelegrini PB et al (2014) Antifungal defensins and their role in plant defense. Front Microbiol 5:116

Laemmli UK (1970) Cleavage of structural proteins during the assembly of the head of bacteriophage T4. Nature 227:680–685

Martinez-Medina A, Flors V, Heil M et al (2016) Recognizing plant defense priming. Trends Plant Sci 21:818–822

Mélida H, Sopeña-Torres S, Bacete L et al (2017) Non-branched β-1,3-glucan oligosaccharides trigger immune responses in Arabidopsis. Plant J 93:34–49

Naumann TA, Bakota EL, Price NPJ (2017) Recognition of corn defense chitinases by fungal polyglycine hydrolases. Protein Sci 26:1214–1223

Oliveira JTA, Gondim DMF, Vasconcelos IM (2010) Ensaios enzimáticos de proteínas e inibidores de proteases envolvidos com a defesa de plantas a patógenos. In: Figueiredo MVB, Burity HA, Oliveira JO, Santos CERS, Stamford NP (eds) Biotecnologia aplicada à agricultura: textos de apoio e protocolos experimentais, 1st edn. EMBRAPA Informação Tecnológica, Brasília, pp 62–92

Panis C, Pizzatti L, Herrera AC et al (2013) Putative circulating markers of the early and advanced stages of breast cancer identified by high-resolution label-free proteomics. Cancer Lett 330:57–66

Ramos MV, Araújo ES, Jucá TL et al (2013) New insights into the complex mixture of latex cysteine peptidases in Calotropis procera. Int J Biol Macromol 58:211–219

Regente M, Taveira GB, Pinedo M et al (2014) A sunflower lectin with antifungal properties and putative medical mycology applications. Curr Microbiol 69:88–95

Savatin DV, Gramegna G, Modesti V et al (2014) Wounding in the plant tissue: the defense of a dangerous passage. Front Plant Sci 5:470

Valente RH, Guimarães PR, Junqueira MR et al (2009) Bothrops insularis venomics: a proteomic analysis supported by transcriptomic-generated sequence data. J Proteom 72:241–255

Xavier-Filho J, Campos FAP, Ary MB et al (1989) Poor correlation between the levels of proteinase inhibitors found in seeds of different cultivars of cowpea (Vigna unguiculata) and the resistance/susceptibility to predation by Callosobruchus maculatus. J Agric Food Chem 37:1139–1143

Zahid A, Jaber R, Laggoun F et al (2017) Holaphyllamine, a steroid, is able to induce defense responses in Arabidopsis thaliana and increases resistance against bacterial infection. Planta 246:1109–1124
Acknowledgements
This study was supported by Grants from CAPES (Brazil) registered upon the number 042/2012 "Pro-Amazonia: Biodiversity and Sustainability".
Ethics declarations
Conflict of interest
The authors hereby declare no conflict of interest.
Electronic supplementary material
Below is the link to the electronic supplementary material.
About this article
Cite this article
Ramos, M.V., Brito, D., Freitas, C.D.T. et al. Proteomic identification and purification of seed proteins from native Amazonian species displaying antifungal activity. Planta 248, 197–209 (2018). https://doi.org/10.1007/s00425-018-2893-y
Received:

Accepted:

Published:

Issue Date:
Keywords
Chitinase

Defense

Dimorphandra caudata
Dimorphandra parviflora

Peptidase inhibitors

Phytopathogens

Swartzia longistipitata
Swartzia recurva
Zygia trunciflora