Abstract
Main conclusion
Defective cracking frequently occurs in buff-pigmented soybean seed coats, where proanthocyanidins accumulate and lignin is deposited, suggesting that proanthocyanidins and/or lignin may change physical properties and lead to defective cracking.
In the seed production of many yellow soybean (Glycine max) cultivars, very low percentages of self-pigmented seeds are commonly found. This phenomenon is derived from a recessive mutation of the I gene inhibiting seed coat pigmentation. In Japan, most of these self-pigmented seeds are buff-colored, and frequently show multiple defective cracks in the seed coat. However, it is not known why cracking occurs specifically in buff seed coats. In this study, quantitative analysis was performed between yellow and buff soybean seed coats. Compared with yellow soybeans, in which defective cracking rarely occurs, contents of proanthocyanidins (PAs) and lignin were significantly higher in buff seed coats. Histochemical data of PAs and lignin in the seed coats strongly supported this result. Measurements of the physical properties of seed coats using a texture analyzer showed that a hardness value was significantly decreased in the buff seed coats. These results suggest that PA accumulation and/or lignin deposition may affect the physical properties of buff seed coats and lead to the defective cracking. This work contributes to understanding of the mechanism of defective cracking, which decreases the seed quality of soybean and related legumes.
This is a preview of subscription content, log in to check access.
Access options
Buy single article
Instant access to the full article PDF.
US$ 39.95
Price includes VAT for USA
Subscribe to journal
Immediate online access to all issues from 2019. Subscription will auto renew annually.
US$ 199
This is the net price. Taxes to be calculated in checkout.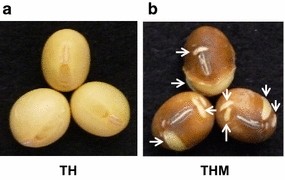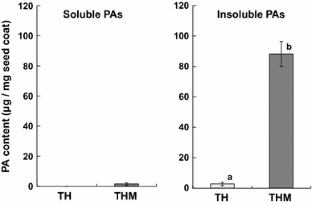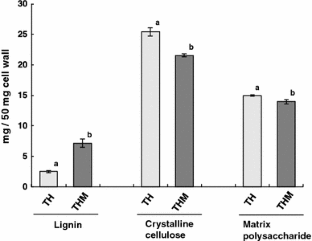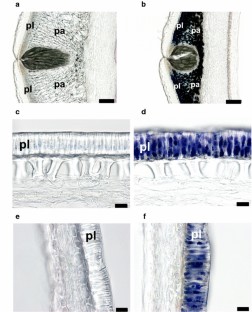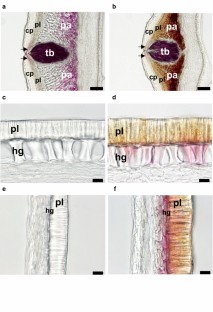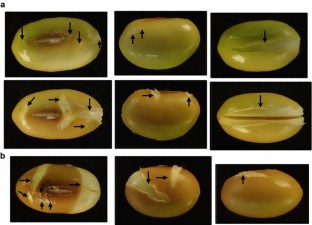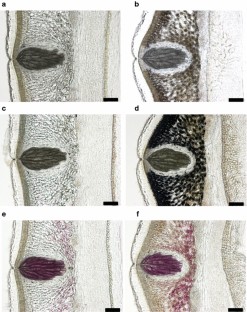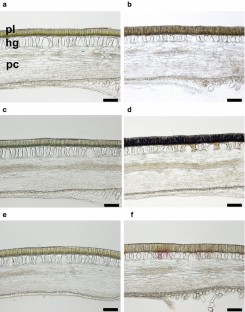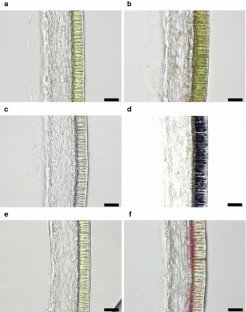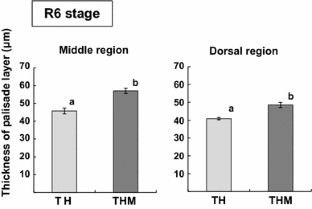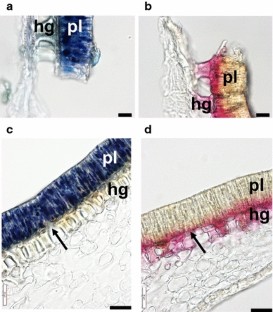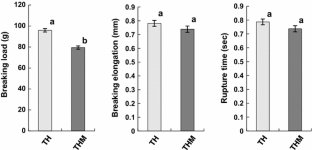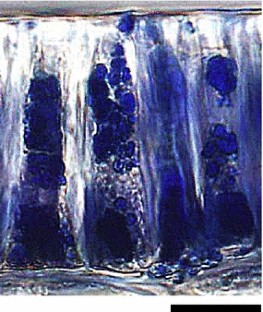 Abbreviations
CHS:

Chalcone synthase

DMACA:

4-Dimethylaminocinnamaldehyde

PA:

Proanthocyanidin

TH:

cv. Toyohomare

THM:

Pigmented seed-coat mutant of Toyohomare
References
Abe I, Morita H (2010) Structure and function of the chalcone synthase superfamily of plant type III polyketide synthases. Nat Prod Rep 27:809–838

Bernard RL, Weiss MG (1973) Qualitative genetics. In: Caldwell BE (ed) Soybean: improvement, production, and uses. American Society of Agronomy, Madison, pp 117–154

Carlson JB, Lersten NR (1987) Reproductive morphology. In: Wilcox JR (ed) Soybean: improvement, production, and uses. American Society of Agronomy, Madison, pp 95–133

Gillman JD, Tetlow A, Lee J-D, Shannon JG, Bilyeu K (2011) Loss-of-function mutations affecting a specific Glycine max R2R3 MYB transcription factor result in brown hilum and brown seed coats. BMC Plant Biol 11:155

Ishii T, Matsunaga T, Hayashi N (2001) Formation of rhamnogalacturonan II-borate dimer in pectin determines cell wall thickness of pumpkin tissue. Plant Physiol 126:1698–1705

Kannenberg LW, Allard RW (1964) An association between pigment and lignin formation in the seed coat of the lima bean. Crop Sci 4:621–622

Kasai A, Watarai M, Yumoto S, Akada S, Ishikawa R, Harada T, Niizeki M, Senda M (2004) Influence of PTGS on chalcone synthase gene family in yellow soybean seed coat. Breed Sci 54:355–360

Kasai A, Kasai K, Yumoto S, Senda M (2007) Structural features of GmIRCHS, candidate of the I gene inhibiting seed coat pigmentation in soybean: implications for inducing endogenous RNA silencing of chalcone synthase genes. Plant Mol Biol 64:467–479

Kurauchi T, Matsumoto T, Taneda A, Sano T, Senda M (2009) Endogenous short interfering RNAs of chalcone synthase genes associated with inhibition of seed coat pigmentation in soybean. Breed Sci 59:419–426

Kurauchi T, Kasai A, Tougou M, Senda M (2011) Endogenous RNA interference of chalcone synthase genes in soybean: formation of double-stranded RNA of GmIRCHS transcripts and structure of the 5′ and 3′ ends of short interfering RNAs. J Plant Physiol 168:1264–1270

Li Y-G, Tanner G, Larkin P (1996) The DMACA–HCl protocol and the threshold proanthocyanidin content for bloat safety in forage legumes. J Sci Food Agric 70:89–101

Liang M, Davis E, Gardner D, Cai X, Wu Y (2006) Involvement of AtLAC15 in lignin synthesis in seeds and in root elongation of Arabidopsis. Planta 224:1185–1196

Liu HL (1949) Inheritance of defective seed coat in soybeans. J Hered 40:317–322

Ma F, Cholewa E, Mohamed T, Peterson CA, Gijzen M (2004) Cracks in the palisade cuticle of soybean seed coats correlate with their permeability to water. Ann Bot 94:213–228

Nagamatsu A, Masuta C, Senda M, Matsuura H, Kasai A, Hong JS, Kitamura K, Abe J, Kanazawa A (2007) Functional analysis of soybean genes involved in flavonoid biosynthesis by virus-induced gene silencing. Plant Biotechnol J 5:778–790

Nicholas CD, Lindstrom JT, Vodkin LO (1993) Variation of proline rich cell wall proteins in soybean lines with anthocyanin mutations. Plant Mol Biol 21:145–156

Palmer RG, Kilen TC (1987) Qualitative genetics and cytogenetics. In: Wilcox JR (ed) Soybeans: improvement, production, and uses. American Society of Agronomy, Madison, pp 135–209

Percy JD, Philip R, Vodkin LO (1999) A defective seed coat pattern (Net) is correlated with the post-transcriptional abundance of soluble proline-rich cell wall proteins. Plant Mol Biol 40:603–613

Pourcel L, Routaboul JM, Kerhoas L, Caboche M, Lepiniec L, Debeaujon I (2005) TRANSPARENT TESTA10 encodes a laccase-like enzyme involved in oxidase polymerization of flavonoids in Arabidopsis seed coat. Plant Cell 17:2966–2980

Qutob D, Ma F, Peterson CA, Bernards MA, Gijzen M (2008) Structural and permeability of the soybean seed coat. Botany 86:219–227

Ritchie SW, Hanway JJ, Thompson HE, Benson GO (1985) How a soybean plant develops. Special Report No. 53. Iowa State University of Science and Technology Cooperative Extension Service, Ames

Sato S, Kato T, Kakegawa K, Ishii T, Liu YG, Awano T, Takabe K, Nishiyama Y, Kuga S, Nakamura Y, Tabata S, Shibata D (2001) Role of the putative membrane-bound endo-1,4-beta-glucanase KORRIGAN in cell elongation and cellulose synthesis in Arabidopsis thaliana. Plant Cell Physiol 42:251–263

Senda M, Kasai A, Yumoto S, Akada S, Ishikawa R, Harada T, Niizeki M (2002) Sequence divergence at chalcone synthase gene in pigmented seed coat soybean mutants of the Inhibitor locus. Genes Genet Syst 77:341–350

Senda M, Masuta C, Ohnishi S, Goto K, Kasai A, Sano T, Hong JS, MacFarlane S (2004) Patterning of virus-infected Glycine max seed coat is associated with suppression of endogenous silencing of chalcone synthase genes. Plant Cell 16:807–818

Senda M, Kurauchi T, Kasai A, Ohnishi S (2012) Suppressive mechanism of seed coat pigmentation in yellow soybean. Breed Sci 61:523–530

Senda M, Nishimura S, Kasai A, Yumoto S, Takada Y, Tanaka Y, Ohnishi S, Kuroda T (2013) Comparative analysis of the inverted repeat of a chalcone synthase pseudogene between yellow soybean and seed coat pigmented mutants. Breed Sci 63:384–392

Shaipulah NFM, Muhlemann JK, Woodworth BD, Moerkercke AV, Verdonk JC, Ramirez AA, Haring MA, Dudareva N, Shuurink RC (2016) CCoAOMT down-regulation activates anthocyanin biosynthesis in petunia. Plant Physiol 170:717–731

Song J, Liu Z, Hong H, Ma Y, Tian L, Li X, Li Y-H, Guan R, Guo Y, Qiu L-J (2016) Identification and validation of loci governing seed coat color by combining association mapping and bulk segregation analysis in soybean. PLoS One 11(7):e0159064

Stewart RT, Wentz JB (1930) A defective seed-coat character in soybeans. J Am Soc Agron 22:658–662

Toda K, Yang D, Yamanaka N, Watanabe S, Harada K, Takahashi R (2002) A single-base deletion in soybean flavonoid 3′ hydroxylase gene is associated with gray pubescence color. Plant Mol Biol 50:187–196

Todd JJ, Vodkin LO (1993) Pigmented soybean (Glycine max) seed coats accumulate proanthocyanidins during development. Plant Physiol 102:663–670

Todd JJ, Vodkin LO (1996) Duplications that suppress and deletions that restore expression from a chalcone synthase multigene family. Plant Cell 8:687–699

Tuteja JH, Clough SJ, Chan WC, Vodkin LO (2004) Tissue-specific gene silencing mediated by a naturally occurring chalcone synthase gene cluster in Glycine max. Plant Cell 16:819–835

Wang CS, Todd JJ, Vodkin LO (1994) Chalcone synthase mRNA and activity are reduced in yellow soybean seed coats with dominant I alleles. Plant Physiol 105:739–748

Wang Y, Chantreau M, Sibout R, Hawkins S (2013) Plant cell wall lignification and monolignol metabolism. Front Plant Sci 4:220

Wood JA, Knights EJ, Campbell GM, Choct M (2014) Difference between easy- and difficult-to-mill chickpea (Cicer arietinum L.) genotypes. Part I: broad chemical composition. J Sci Food Agric 94:1437–1445

Yumoto S, Matsukawa I, Tanaka Y, Kurosaki H, Tsunoda M, Tsuchiya T, Shirai K, Tomita K, Sasaki K, Kamiya M, Ito T, Sakai S (1995) A new soybean variety 'Toyohomare'. Bull Hokkaido Pref Agric Exp Stn 68:33–49

Zabala G, Vodkin L (2003) Cloning of the pleiotropic T locus in soybean and two recessive alleles that differentially affect structure and expression of the encoded flavonoid 3′ hydroxylase. Genetics 163:295–309

Zeng Y, Zhao S, Yang S, Ding SY (2014) Lignin plays a negative role in the biochemical process for producing lignocellulosic biofuels. Curr Opin Biotechnol 27:38–45

Zhang K, Lu K, Qu C, Liang Y, Wang R, Chai Y, Li J (2013) Gene silencing of BnTT10 family genes causes retarded pigmentation and lignin reduction in the seed coat of Brassica napus. PLoS One 8:e61247

Zhao J, Pang Y, Dixon RA (2010) The mysteries of proanthocyanidin transport and polymerization. Plant Physiol 153:437–443
Acknowledgements
This work was supported by the Ministry of Agriculture, Forestry, and Fisheries of Japan [Genomics-based Technology for Agricultural Improvement, SFC1006 (to MS, NY, HM and MK)] and the Japan Society for the Promotion of Science [KAKENHI, Grant Number 15K07268 (to MS)].
Electronic supplementary material
Below is the link to the electronic supplementary material.
About this article
Cite this article
Senda, M., Yamaguchi, N., Hiraoka, M. et al. Accumulation of proanthocyanidins and/or lignin deposition in buff-pigmented soybean seed coats may lead to frequent defective cracking. Planta 245, 659–670 (2017). https://doi.org/10.1007/s00425-016-2638-8
Received:

Accepted:

Published:

Issue Date:
Keywords
Cell wall components

DMACA

Histochemical analysis

Phloroglucinol

Physical property

Texture analysis