Abstract
Main conclusion
The PeNAC1 promoter is a non-tissue-specific and stress-inducible promoter containing a GA-responsive element and a MYB recognition sequence that are responsible for induced expression patterns.
NAC transcription factors play vital roles in complex signaling networks during plant stress responses. Promoters as crucial molecular switches are involved in the transcriptional regulation of gene activities dynamic network controlling a variety of biological processes, such as developmental processes, responses to hormone and abiotic stress. In this study, a 1217-bp flanking fragment of the stress-responsive NAC gene PeNAC1 was isolated from Populus euphratica. In transgenic Arabidopsis, this promoter fragment was found to have a higher activity than the cauliflower mosaic virus 35S promoter and remained active throughout the plant life cycle, particularly in the spiral vessels and cortical cells of vascular tissues of various organs. We identified a gibberellic acid-responsive element, required for response to gibberellic acid and involved in the salt-stress signaling pathway, and a MYB recognition sequence, which has an important role in promoter response to drought stress, in the PeNAC1 promoter. These results suggest that the PeNAC1 promoter is more effective, non-tissue-specific, and inducible. In addition, the presence of a putative NAC protein-binding motif in the PeNAC1 promoter indicates that PeNAC1 is either regulated by other NAC transcription factors or is self-regulated. Our research will help reveal the regulatory mechanism of the upstream region of the PeNAC1 gene and provide a foundation for the use of the PeNAC1 promoter in molecular breeding.
This is a preview of subscription content, log in to check access.
We're sorry, something doesn't seem to be working properly.
Please try refreshing the page. If that doesn't work, please contact support so we can address the problem.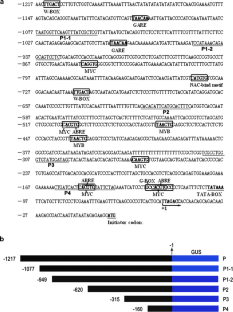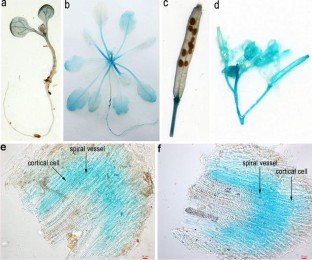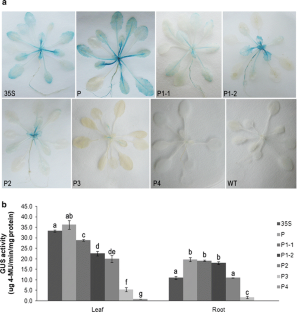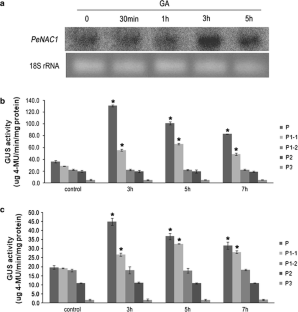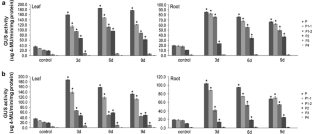 References
Abe H, Yamaguchi-Shinozaki K, Urao T, Iwasaki T, Hosokawa D, Shinozaki K (1997) Role of arabidopsis MYC and MYB homologs in drought- and abscisic acid-regulated gene expression. Plant Cell 9:1859–1868

Abe H, Urao T, Ito T, Seki M, Shinozaki K, Yamaguchi-Shinozaki K (2003) Arabidopsis AtMYC2 (bHLH) and AtMYB2 (MYB) function as transcriptional activators in abscisic acid signaling. Plant Cell 15:63–78

Behnam B, Kikuchi A, Celebi-Toprak F, Kasuga M, Yamaguchi-Shinozaki K, Watanabe KN (2007) Arabidopsis rd29A:DREB1A enhances freezing tolerance in transgenic potato. Plant Cell Rep 26:1275–1282

Benfey PN, Ren L, Chua NH (1989) The CaMV 35S enhancer contains at least two domains which can confer different developmental and tissue-specific expression patterns. EMBO J 8:2195–2202

Bhatnagar-Mathur P, Devi MJ, Reddy DS, Lavanya M, Vadez V, Serraj R, Yamaguchi-Shinozaki K, Sharma KK (2007) Stress-inducible expression of AtDREB1A in transgenic peanut (Arachis hypogaea L.) increases transpiration efficiency under water-limiting conditions. Plant Cell Rep 26:2071–2082

Bradford MM (1976) A rapid and sensitive method for the quantitation of microgram quantities of protein utilizing the principle of protein-dye binding. Anal Biochem 72:248–254

Christensen AH, Quail PH (1996) Ubiquitin promoter-based vectors for high-level expression of selectable and/or screenable marker genes in monocotyledonous plants. Transgenic Res 5:213–218

Christensen AH, Sharrock RA, Quail PH (1992) Maize polyubiquitin genes: structure, thermal perturbation of expression and transcript splicing, and promoter activity following transfer to protoplasts by electroporation. Plant Mol Biol 18:675–689

Datta K, Baisakh N, Ganguly M, Krishnan S, Yamaguchi-Shinozaki K, Datta SK (2012) Overexpression of Arabidopsis and rice stress genes' inducible transcription factor confers drought and salinity tolerance to rice. Plant Biotech J 10:579–586

Fujita M, Fujita Y, Maruyama K, Seki M, Hiratsu K, Ohme-Takagi M, Tran LS, Yamaguchi-Shinozaki K, Shinozaki K (2004) A dehydration-induced NAC protein, RD26, is involved in a novel ABA-dependent stress-signaling pathway. Plant J 39:863–876

Golldack D, Lüking I, Yang O (2011) Plant tolerance to drought and salinity: stress regulating transcription factors and their functional significance in the cellular transcriptional network. Plant Cell Rep 30:1383–1391

Gubler F, Kalla R, Roberts JK, Jacobsen JV (1995) Gibberellin-regulated expression of a myb gene in barley aleurone cells: evidence for Myb transactivation of a high-pI alpha-amylase gene promoter. Plant Cell 7:1879–1891

Hao YJ, Wei W, Song QX, Chen HW, Zhang YQ, Wang F, Zou HF, Lei G, Tian AG, Zhang WK, Ma B, Zhang JS, Chen SY (2011) Soybean NAC transcription factors promote abiotic stress tolerance and lateral root formation in transgenic plants. Plant J 68:302–313

He XJ, Mu RL, Cao WH, Zhang ZG, Zhang JS, Chen SY (2005) AtNAC2, a transcription factor downstream of ethylene and auxin signaling pathways, is involved in salt stress response and lateral root development. Plant J 44:903–916

Hernandez-Garcia CM, Martinelli AP, Bouchard RA, Finer JJ (2009) A soybean (Glycine max) polyubiquitin promoter gives strong constitutive expression in transgenic soybean. Plant Cell Rep 28:837–849

Higo K, Ugawa Y, Iwamoto M, Korenaga T (1999) Plant cis-acting regulatory DNA elements (PLACE) database: 1999. Nucleic Acids Res 27:297–300

Hong B, Tong Z, Ma N, Li J, Kasuga M, Yamaguchi-Shinozaki K, Gao J (2006) Heterologous expression of the AtDREB1A gene in chrysanthemum increases drought and salt stress tolerance. Sci China C Life Sci 49:436–445

Hsieh TH, Lee JT, Charng YY, Chan MT (2002a) Tomato plants ectopically expressing Arabidopsis CBF1 show enhanced resistance to water deficit stress. Plant Physiol 130:618–626

Hsieh TH, Lee JT, Yang PT, Chiu LH, Charng YY, Wang YC, Chan MT (2002b) Heterology expression of the Arabidopsis C-repeat/dehydration response element binding factor 1 gene confers elevated tolerance to chilling and oxidative stresses in transgenic tomato. Plant Physiol 129:1086–1094

Jefferson RA, Kavanagh TA, Bevan MW (1987) GUS fusions: beta-glucuronidase as a sensitive and versatile gene fusion marker in higher plants. EMBO J 6:3901–3907

Jensen MK, Lindemose S, de Masi F, Reimer JJ, Nielsen M, Perera V, Workman CT, Turck F, Grant MR, Mundy J, Petersen M, Skriver K (2013) ATAF1 transcription factor directly regulates abscisic acid biosynthetic gene NCED3 in Arabidopsis thaliana. FEBS Open Bio 3:321–327

Kasuga M, Liu Q, Miura S, Yamaguchi-Shinozaki K, Shinozaki K (1999) Improving plant drought, salt, and freezing tolerance by gene transfer of a single stress-inducible transcription factor. Nat Biotech 17:287–291

Kasuga M, Miura S, Shinozaki K, Yamaguchi-Shinozaki K (2004) A combination of the Arabidopsis DREB1A gene and stress-inducible rd29A promoter improved drought- and low-temperature stress tolerance in tobacco by gene transfer. Plant Cell Physiol 45:346–350

Liu Q, Kasuga M, Sakuma Y, Abe H, Miura S, Yamaguchi-Shinozaki K, Shinozaki K (1998) Two transcription factors, DREB1 and DREB2, with an EREBP/AP2 DNA binding domain separate two cellular signal transduction pathways in drought- and low-temperature-responsive gene expression, respectively, in Arabidopsis. Plant Cell 10:1391–1406

Liu X, Hong L, Li XY, Yao Y, Hu B, Li L (2011) Improved drought and salt tolerance in transgenic Arabidopsis overexpressing a NAC transcriptional factor from Arachis hypogaea. Biosci Biotechnol Biochem 75:443–450

Makandar R, Nalam V, Chaturvedi R, Jeannotte R, Sparks AA, Shah J (2010) Involvement of salicylate and jasmonate signaling pathways in Arabidopsis interaction with Fusarium graminearum. Mol Plant Microbe Interact 23:861–870

McElroy D, Zhang W, Cao J (1990) Wu R (1990) Isolation of an efficient actin promoter for use in rice transformation. Plant Cell 2:163–171

Nakashima K, Yamaguchi-Shinozaki K (2002) Use of b-glucuronidase to show dehydration and high-salt gene expression. In: Jackson JF (ed) Molecular methods of plant analysis: testing for genetic manipulation in plants, vol 22. Springer-Verlag, Berlin, pp 37–61

Nakashima K, Tran LS, Nguyen DV, Fujita M, Maruyama K, Todaka D, Ito Y, Hayashi N, Shinozaki K, Yamaguchi-Shinozaki K (2007) Functional analysis of a NAC-type transcription factor OsNAC6 involved in abiotic and biotic stress-responsive gene expression in rice. Plant J 51:617–630

Nakashima K, Jan A, Todaka D, Maruyama K, Goto S, Shinozaki K, Yamaguchi-Shinozaki K (2014) Comparative functional analysis of six drought-responsive promoters in transgenic rice. Planta 239:47–60

Odell JT, Nagy F, Chua NH (1985) Identification of DNA sequences required for activity of the cauliflower mosaic virus 35S promoter. Nature 313:810–812

Pellegrineschi A, Reynolds M, Pacheco M, Brito RM, Almeraya R, Yamaguchi-Shinozaki K, Hoisington D (2004) Stress-induced expression in wheat of the Arabidopsis thaliana DREB1A gene delays water stress symptoms under greenhouse conditions. Genome 47:493–500

Polizel AM, Medri ME, Nakashima K, Yamanaka N, Farias JR, de Oliveira MC, Marin SR, Abdelnoor RV, Marcelino-Guimaraes FC, Fuganti R et al (2011) Molecular, anatomical and physiological properties of a genetically modified soybean line transformed with rd29A:AtDREB1A for the improvement of drought tolerance. Genet Mol Res 10:3641–3656

Rocher A, Dumas C, Cock JM (2005) A W-box is required for full expression of the SA-responsive gene SFR2. Gene 344:181–192

Rushton PJ, Torres JT, Parniske M, Wernert P, Hahlbrock K, Somssich IE (1996) Interaction of elicitor-induced DNA-binding proteins with elicitor response elements in the promoters of parsley PR1 genes. EMBO J 15:5690–5700

Saint Pierre C, Crossa JL, Bonnett D, Yamaguchi-Shinozaki K, Reynolds MP (2012) Phenotyping transgenic wheat for drought resistance. J Exp Bot 63:1799–1808

Sakuraba Y, Kim YS, Han SH, Lee BD, Paek NC (2015) The Arabidopsis transcription factor NAC016 promotes drought stress responses by repressing AREB1 transcription through a trifurcate feed-forward regulatory loop involving NAP. Plant Cell 27:1771–1787

Shao H, Wang H, Tang X (2015) NAC transcription factors in plant multiple abiotic stress responses: progress and prospects. Front Plant Sci 6:902

Skriver K, Olsen FL, Rogers JC, Mundy J (1991) cis-acting DNA elements responsive to gibberellin and its antagonist abscisic acid. Proc Natl Acad Sci USA 88:7266–7270

Sutoh K, Yamauchi D (2003) Two cis-acting elements necessary and sufficient for gibberellin-upregulated proteinase expression in rice seeds. Plant J 34:635–645

Takasaki H, Maruyama K, Kidokoro S, Ito Y, Fujita Y, Shinozaki K, Yamaguchi-Shinozaki K, Nakashima K (2010) The abiotic stress-responsive NAC-type transcription factor OsNAC5 regulates stress-inducible genes and stress tolerance in rice. Mol Genet Genom 284:173–183

Tran LS, Nakashima K, Sakuma Y, Simpson SD, Fujita Y, Maruyama K, Fujita M, Seki M, Shinozaki K, Yamaguchi-Shinozaki K (2004) Isolation and functional analysis of Arabidopsis stress-inducible NAC transcription factors that bind to a drought-responsive cis-element in the early responsive to dehydration stress 1 promoter. Plant Cell 16:2481–2498

Tran LS, Nakashima K, Sakuma Y, Osakabe Y, Qin F, Simpson SD, Maruyama K, Fujita Y, Shinozaki K, Yamaguchi-Shinozaki K (2007) Co-expression of the stress-inducible zinc finger homeodomain ZFHD1 and NAC transcription factors enhances expression of the ERD1 gene in Arabidopsis. Plant J 49:46–63

Uchimiya H, Iwata M, Nojiri C, Samarajeewa PK, Takamatsu S, Ooba S, Anzai H, Christensen AH, Quail PH, Toki S (1993) Bialaphos treatment of transgenic rice plants expressing a bar gene prevents infection by the sheath blight pathogen (Rhizoctonia solani). Nat Biotechnol 11:835–836

Wang JY, Yin WL, Xia XL (2005) Cloning and structure analysis of zinc finger protein gene in P. euphratica Oliver. Yi Chuan 27:245–248

Wang JY, Wang JP, He Yuan (2013) A Populus euphratica NAC protein regulating Na+/K+ homeostasis improves salt tolerance in Arabidopsis thaliana. Gene 521:265–273

Xu ZY, Kim SY, Hyeon do Y, Kim DH, Dong T, Park Y, Jin JB, Joo SH, Kim SK, Hong JC, Hwang D, Hwang I (2013) The Arabidopsis NAC transcription factor ANAC096 cooperates with bZIP-type transcription factors in dehydration and osmotic stress responses. Plant Cell 25:4708–4724

Yamaguchi-Shinozaki K, Shinozaki K (2005) Organization of cis-acting regulatory elements in osmotic- and cold-stress-responsive promoters. Trends Plant Sci 10:88–94

Zhang K, Gan SS (2012) An abscisic acid-AtNAP transcription factor-SAG113 protein phosphatase 2C regulatory chain for controlling dehydration in senescing Arabidopsis leaves. Plant Physiol 158:961–969

Zhang W, McElroy D, Wu R (1991) Analysis of rice Act1 5′ region activity in transgenic rice plants. Plant Cell 3:1155–1165

Zhang X, Henriques R, Lin SS, Niu QW, Chua NH (2006) Agrobacterium-mediated transformation of Arabidopsis thaliana using the floral dip method. Nat Protoc 1:641–646

Zhu YX, Li Y (2002) Modern molecular biology. Beijing Higher Education Press, Beijing
Acknowledgments
This work was supported by the National Key Technology Support Program (2014BAD01B01-5), the National Modern Agricultural Industry Technology System (CARS-08-B-5), and the National High-tech R&D Program (2011AA101604).
Electronic supplementary material
Below is the link to the electronic supplementary material.
About this article
Cite this article
Wang, J., Wang, J. & Yang, H. Identification and functional characterization of the NAC gene promoter from Populus euphratica . Planta 244, 417–427 (2016). https://doi.org/10.1007/s00425-016-2511-9
Received:

Accepted:

Published:

Issue Date:
Keywords
Cis-acting element

5′-Flanking sequence

Poplar

Stress response

Transcription factor