Abstract
Main conclusion
Two alcohol acetyltransferases, LiAAT-3 and LiAAT-4, from L. x intermedia were cloned, expressed in bacteria, and functionally characterized.
Two monoterpene acetyltransferase cDNA clones (LiAAT-3 and LiAAT-4) were isolated from L. x intermedia glandular trichomes, expressed in bacteria to produce, and functionally characterize the encoded proteins in vitro. The recombinant LiAAT-3 and LiAAT-4 proteins had molecular weights of ca. 47 and 49 kDa, respectively, as evidenced by SDS-PAGE. The K m (mM) values for the recombinant LiAAT-3 and LiAAT-4 were 1.046 and 0.354 for lavandulol, 1.31 and 0.279 for geraniol, and 0.87 and 0.113 for nerol, respectively. The V max (pkat/mg) values for LiAAT-3 and LiAAT-4 were 92.13 and 105.1 for lavandulol, 81.07 and 52.17 for geraniol, and 15.02 and 15.8 for nerol, correspondingly. Catalytic efficiencies (mM−1 min−1) for LiAAT-3 and LiAAT-4 were 0.27 and 0.85 for lavandulol, 0.19 and 0.54 for geraniol, and 0.052 and 0.4 for nerol, respectively. These kinetic properties are in the range of those reported for other plant acetyltransferases, and indicate that LiAAT-4 has a better catalytic efficiency than LiAAT-3, with lavandulol serving as the preferred substrate for both enzymes. Transcripts for both genes were abundant in L. angustifolia and L. x intermedia flowers, where monoterpene acetates are produced, and were undetectable (or present in trace quantities) in L. latifolia flowers, which do not accumulate significant amounts of these metabolites.
This is a preview of subscription content, log in to check access.
Access options
Buy single article
Instant access to the full article PDF.
US$ 39.95
Price includes VAT for USA
Subscribe to journal
Immediate online access to all issues from 2019. Subscription will auto renew annually.
US$ 199
This is the net price. Taxes to be calculated in checkout.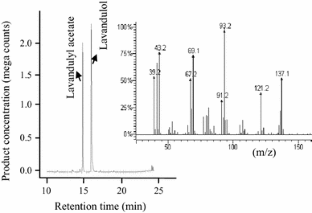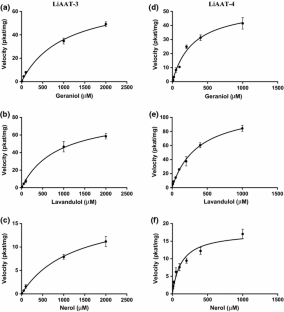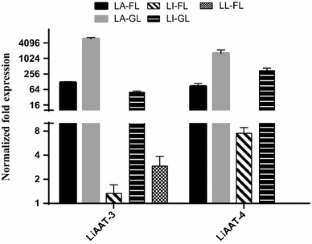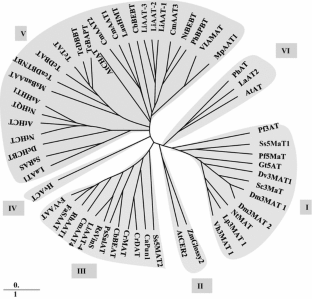 References
Aharoni A, Keizer LCP, Bouwmeester HJ, Sun ZK, Alvarez-Huerta M, Verhoeven HA, Blaas J, van Houwelingen AMML, De Vos RCH, van der Voet H, Jansen RC, Guis M, Mol J, Davis RW, Schena M, van Tunen AJ, O'Connell AP (2000) Identification of the SAAT gene involved in strawberry flavor biogenesis by use of DNA microarrays. Plant Cell 12:647–661

Balbontin C, Gaete-Eastman C, Fuentes L, Figueroa CR, Herrera R, Manriquez D, Latche A, Pech J, Alejandra Moya-Leon M (2010) VpAAT1, a gene encoding an alcohol acyltransferase, is involved in ester biosynthesis during ripening of mountain papaya fruit. J Agric Food Chem 58:5114–5121

Bayer A, Ma XY, Stockigt J (2004) Acetyltransfer in natural product biosynthesis—functional cloning and molecular analysis of vinorine synthase. Bioorg Med Chem 12:2787–2795

Beekwilder J, Alvarez-Huerta M, Neef E, Verstappen F, Bouwmeester H, Aharoni A (2004) Functional characterization of enzymes forming volatile esters from strawberry and banana. Plant Physiol 135:1865–1878

Cavanagh HMA, Wilkinson JN (2002) Biological activities of lavender essential oil. Phytotherapy Research 16:301–308

D'Auria JC (2006) Acyltransferases in plants: a good time to be BAHD. Curr Opin Plant Biol 9:331–340

D'Auria J, Chen F, Pichersky E (2002) Characterization of an acyltransferase capable of synthesizing benzylbenzoate and other volatile esters in flowers and damaged leaves of Clarkia breweri. Plant Physiol 130:466–476

Demissie ZA, Cella MA, Sarker LS, Thompson TJ, Rheault MR, Mahmoud SS (2012) Cloning, functional characterization and genomic organization of 1,8-cineole synthases from Lavandula. Plant Mol Biol 79:393–411

El-Sharkawy I, Manriquez D, Flores F, Regad F, Bouzayen M, Latche A, Pech J (2005) Functional characterization of a melon alcohol acyl-transferase gene family involved in the biosynthesis of ester volatiles. Identification of the crucial role of a threonine residue for enzyme activity. Plant Mol Biol 59:345–362

Garvey GS, McCormick SP, Alexander NJ, Rayment I (2009) Structural and functional characterization of TRI3 trichothecene 15-O-acetyltransferase from Fusarium sporotrichioides. Protein Sci 18:747–761

Gonzalez M, Gaete-Eastman C, Valdenegro M, Figueroa CR, Fuentes L, Herrera R, Alejandra Moya-Leon M (2009) Aroma development during ripening of Fragaria chiloensis fruit and participation of an alcohol acyltransferase (FcAAT1) gene. J Agric Food Chem 57:9123–9132

Herraiz-Penalver D, Angeles Cases M, Varela F, Navarrete P, Sanchez-Vioque R, Usano-Alemany J (2013) Chemical characterization of Lavandula latifolia Medik. essential oil from Spanish wild populations. Biochem Syst Ecol 46:59–68

International Standard (2002) ISO 3515:2002 Oil of lavender (Lavandula angustifolia Mill)

Landmann C, Huecherig S, Fink B, Hoffmann T, Dittlein D, Coiner HA, Schwab W (2011) Substrate promiscuity of a rosmarinic acid synthase from lavender (Lavandula angustifolia L.). Planta 234:305–320

Lane A, Boecklemann A, Woronuk GN, Sarker L, Mahmoud SS (2010) A genomics resource for investigating regulation of essential oil production in Lavandula angustifolia. Planta 231:835–845

Lawrence BM (1990) Progress in Essential Oils. Perfum Flavor 15(57–60):63–65

Lis-Balchin M (2002) Lavender: the genus Lavandula. Taylor and Francis, London

Mahmoud S, Croteau R (2003) Menthofuran regulates essential oil biosynthesis in peppermint by controlling a downstream monoterpene reductase. Proc Natl Acad Sci USA 100:14481–14486

Ruijter JM, Ramakers C, Hoogaars WMH, Karlen Y, Bakker O, van den Hoff MJB, Moorman AFM (2009) Amplification efficiency: linking baseline and bias in the analysis of quantitative PCR data. Nucleic Acids Res 37:e45

Sarker LS (2013) Cloning of Lavandula essential oil biosynthetic genes. M.Sc thesis, University of British Columbia. http://hdl.handle.net/2429/43964

Sarker LS, Galata M, Demissie ZD, Mahmoud SS (2012) Molecular cloning and functional characterization of borneol dehydrogenase from the glandular trichomes of Lavandula x intermedia. Arch Biochem Biophys 528(2):163–170

Shalit M, Guterman I, Volpin H, Bar E, Tamari T, Menda N, Adam Z, Zamir D, Vainstein A, Weiss D, Pichersky E, Lewinsohn E (2003) Volatile ester formation in roses. Identification of an acetyl-coenzyme A. Geraniol/citronellol acetyltransferase in developing rose petals. Plant Physiol 131:1868–1876

Sharma PK, Sangwan NS, Bose SK, Sangwan RS (2013) Biochemical characteristics of a novel vegetative tissue geraniol acetyltransferase from a monoterpene oil grass (Palmarosa, Cymbopogon martinii var. Motia) leaf. Plant Sci 203:63–73

Shaw WV (1992) Chemical anatomy of antibiotic-resistance—chloramphenicol acetyltransferase. Sci Prog 76:565–580

St-Pierre B, De Luca V (2000) Evolution of acyltransferase genes: origin and diversification of the BAHD superfamily of acyltransferases involved in secondary metabolism. Evol Metabol Pathw 34:285–315

Suzuki H, Nakayama T, Yonekura-Sakakibara K, Fukui Y, Nakamura N, Yamaguchi M, Tanaka Y, Kusumi T, Nishino T (2002) cDNA cloning, heterologous expressions, and functional characterization of malonyl-coenzyme A : anthocyanidin 3-O-glucoside-6″-O-malonyltransferase from dahlia flowers. Plant Physiol 130:2142–2151

Tacke E, Korfhage C, Michel D, Maddaloni M, Motto M, Lanzini S, Salamini F, Doring HP (1995) Transposon tagging of the maize Glossy2 locus with the transposable element En/Spm. Plant J 8:907–917

Turner GW, Gershenzon J, Croteau RB (2000) Development of peltate glandular trichomes of peppermint. Plant Physiol 124:665–679

Unno H, Ichimaida F, Suzuki H, Takahashi S, Tanaka Y, Saito A, Nishino T, Kusunoki M, Nakayama T (2007) Structural and mutational studies of anthocyanin malonyltransferases establish the features of BAHD enzyme catalysis. J Biol Chem 282:15812–15822

Xia YJ, Nicolau BJ, Schnable PS (1996) Cloning and characterization of CER2, an Arabidopsis gene that affects cuticular wax accumulation. Plant Cell 8:1291–1304

Zaks A, Davidovich-Rikanati R, Bar E, Inbar M, Lewinsohn E (2008) Biosynthesis of linalyl acetate and other terpenes in lemon mint (Mentha aquatica var. citrata, Lamiaceae) glandular trichomes. Isr J Plant Sci 56:233–244
Acknowledgments
This work was supported through grants or in-kind contributions to SSM by UBC, Natural Sciences and Engineering Research Council of Canada, and Investment Agriculture Foundation of British Columbia. We are grateful to Dr. Mark Rheault of UBC Okanagan for his support to use Geneious 5.0.3 software. We also thank Felisha Truong for her editorial assistance.
Compliance with ethical standards
There were no humans or animals used in this research. All authors have read and approve of the manuscript, and there are no conflicts of interest.
About this article
Cite this article
Sarker, L.S., Mahmoud, S.S. Cloning and functional characterization of two monoterpene acetyltransferases from glandular trichomes of L. x intermedia.. Planta 242, 709–719 (2015). https://doi.org/10.1007/s00425-015-2325-1
Received:

Accepted:

Published:

Issue Date:
Keywords
Lavandula x intermedia

Essential oil

Alcohol acetyltransferase

Lavandulyl acetate

Geranyl acetate

Neryl acetate