Abstract
In many flowering plants, flowers consist of two peripheral organs, sepals and petals, occurring in outer two whorls, and two inner reproductive organs, stamens and carpels. These organs are arranged in a concentric pattern in a floral meristem, and the organ identity is established by the combined action of floral homeotic genes expressed along the whorls. Floral organ primordia arise at fixed positions in the floral meristem within each whorl. The RABBIT EARS (RBE) gene is transcribed in the petal precursor cells and primordia, and regulates petal initiation and early growth in Arabidopsis thaliana. We investigated the spatial and temporal expression pattern of a RBE protein fused to the green fluorescent protein (GFP). Expression of the GFP:RBE fusion gene under the RBE cis-regulatory genomic fragment rescues the rbe petal defects, indicating that the fusion protein is functional. The GFP signal is located to the cells where RBE is transcribed, suggesting that RBE function is cell-autonomous. Ectopic expression of GFP:RBE under the APETALA1 promoter causes the homeotic conversion of floral organs, resulting in sterile flowers. In these plants, the class B homeotic genes APETALA3 and PISTILLATA are down-regulated, suggesting that the restriction of the RBE expression to the petal precursor cells is crucial for flower development.
This is a preview of subscription content, log in to check access.
Access options
Buy single article
Instant unlimited access to the full article PDF.
US$ 39.95
Price includes VAT for USA
Subscribe to journal
Immediate online access to all issues from 2019. Subscription will auto renew annually.
US$ 199
This is the net price. Taxes to be calculated in checkout.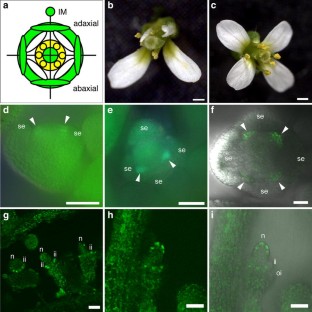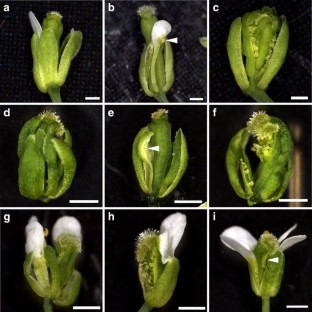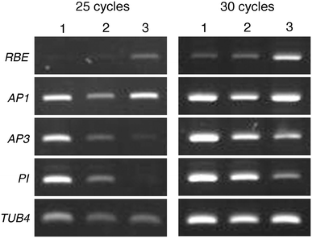 Abbreviations
AP1 :

APETALA1

AP3 :

APETALA3

CAPS:

Cleaved amplified polymorphic sequences

FM:

Floral meristem

GFP:

GREEN FLUORESCENT PROTEIN

IM:

Inflorescence meristem

PI :

PISTILLATA

PTL :

PETAL LOSS

RBE :

RABBIT EARS

SEP :

SEPALLATA

TUB :

TUBULIN
References
Aida M, Ishida T, Fukaki H, Fujisawa H, Tasaka M (1997) Genes involved in organ separation in Arabidopsis: an analysis of the cup-shaped cotyledon mutant. Plant Cell 9:841–857

Baker CC, Sieber P, Wellmer F, Meyerowitz EM (2005) The early extra petals1 mutant uncovers a role for microRNA miR164c in regulating petal number in Arabidopsis. Curr Biol 15:303–315

Bowman JL, Smyth DR, Meyerowitz EM (1989) Genes directing flower development in Arabidopsis. Plant Cell 1:37–52

Brewer PB, Howles PA, Dorian K, Griffith ME, Ishida T, Kaplan-Levy RN, Kilinc A, Smyth DR (2004) PETAL LOSS, a trihelix transcription factor gene, regulates perianth architecture in the Arabidopsis flower. Development 131:4035–4045

Busch MA, Bomblies K, Weigel D (1999) Activation of a floral homeotic gene in Arabidopsis. Science 285:585–587

Byzova MV, Franken J, Aarts MG, de Almeida-Engler J, Engler G, Mariani C, Van LookerenCampagne MM, Angenent GC (1999) Arabidopsis STERILE APETALA, a multifunctional gene regulating inflorescence, flower, and ovule development. Genes Dev 13:1002–1014

Clough SJ, Bent AF (1998) Floral dip: a simplified method for Agrobacterium-mediated transformation of Arabidopsis thaliana. Plant J 16:735–743

Conner J, Liu Z (2000) LEUNIG, a putative transcriptional corepressor that regulates AGAMOUS expression during flower development. Proc Natl Acad Sci USA 97:12902–12907

Edwards K, Johnstone C, Thompson C (1991) A simple and rapid method for the preparation of plant genomic DNA for PCR analysis. Nucleic Acids Res 19:1349

Franks RG, Wang C, Levin JZ, Liu Z (2002) SEUSS, a member of a novel family of plant regulatory proteins, represses floral homeotic gene expression with LEUNIG. Development 129:253–263

Goto K, Meyerowitz EM (1994) Function and regulation of the Arabidopsis floral homeotic gene PISTILLATA. Genes Dev 8:1548–1560

Griffith ME, da Silva Conceicao A, Smyth DR (1999) PETAL LOSS gene regulates initiation and orientation of second whorl organs in the Arabidopsis flower. Development 126:5635–5644

Grigorova B, Mara C, Hollender C, Sijacic P, Chen X, Liu Z (2011) LEUNIG and SEUSS co-repressors regulate miR172 expression in Arabidopsis flowers. Development 138:2451–2456

Gustafson-Brown C, Savidge B, Yanofsky MG (1994) Regulation of the arabidopsis floral homeotic gene APETALA1. Cell 76:131–143

Hill TA, Day CD, Zondlo SC, Thackeray AG, Irish VF (1998) Discrete spatial and temporal cis-acting elements regulate transcription of the Arabidopsis floral homeotic gene APETALA3. Development 125:1711–1721

Huang T, Lopez-Giraldez F, Townsend JP, Irish VF (2012) RBE controls microRNA164 expression to effect floral organogenesis. Development 139:2161–2169

Ishida T, Aida M, Takada S, Tasaka M (2000) Involvement of CUP-SHAPED COTYLEDON genes in gynoecium and ovule development in Arabidopsis thaliana. Plant Cell Physiol 41:60–67

Jack T, Brockman LL, Meyerowitz EM (1992) The homeotic gene APETALA3 of Arabidopsis thaliana encodes a MADS box and is expressed in petals and stamens. Cell 68:683–697

Jofuku KD, den Boer BG, Van Montagu M, Okamuro JK (1994) Control of Arabidopsis flower and seed development by the homeotic gene APETALA2. Plant Cell 6:1211–1225

Kamata N, Okada H, Komeda Y, Takahashi T (2013) Mutations in epidermis-specific HD-ZIP IV genes affect floral organ identity in Arabidopsis thaliana. Plant J 75:430–440

Krizek BA, Fletcher JC (2005) Molecular mechanisms of flower development: an armchair guide. Nat Rev Genet 6:688–698

Krizek BA, Prost V, Macias A (2000) AINTEGUMENTA promotes petal identity and acts as a negative regulator of AGAMOUS. Plant Cell 12:1357–1366

Krizek BA, Lewis MW, Fletcher JC (2006) RABBIT EARS is a second-whorl repressor of AGAMOUS that maintains spatial boundaries in Arabidopsis flowers. Plant J 45:369–383

Lampugnani ER, Kilinc A, Smyth DR (2012) PETAL LOSS is a boundary gene that inhibits growth between developing sepals in Arabidopsis thaliana. Plant J 71:724–735

Lampugnani ER, Kilinc A, Smyth DR (2013) Auxin controls petal initiation in Arabidopsis. Development 140:185–194

Li X, Qin G, Chen Z, Gu H, Qu LJ (2008) A gain-of-function mutation of transcriptional factor PTL results in curly leaves, dwarfism and male sterility by affecting auxin homeostasis. Plant Mol Biol 66:315–327

Liu Z, Meyerowitz EM (1995) LEUNIG regulates AGAMOUS expression in Arabidopsis flowers. Development 121:975–991

Mallory AC, Dugas DV, Bartel DP, Bartel B (2004) MicroRNA regulation of NAC-domain targets is required for proper formation and separation of adjacent embryonic, vegetative, and floral organs. Curr Biol 14:1035–1046

Mandel MA, Gustafson-Brown C, Savidge B, Yanofsky MF (1992) Molecular characterization of the Arabidopsis floral homeotic gene APETALA1. Nature 360:273–277

Nikovics K, Blein T, Peaucelle A, Ishida T, Morin H, Aida M, Laufs P (2006) The balance between the MIR164A and CUC2 genes controls leaf margin serration in Arabidopsis. Plant Cell 18:2929–2945

Smyth DR, Bowman JL, Meyerowitz EM (1990) Early flower development in Arabidopsis. Plant Cell 2:755–767

Sridhar VV, Surendrarao A, Gonzalez D, Conlan RS, Liu Z (2004) Transcriptional repression of target genes by LEUNIG and SEUSS, two interacting regulatory proteins for Arabidopsis flower development. Proc Natl Acad Sci USA 101:11494–11499

Takada S, Hibara K, Ishida T, Tasaka M (2001) The CUP-SHAPED COTYLEDON1 gene of Arabidopsis regulates shoot apical meristem formation. Development 128:1127–1135

Takeda S, Matsumoto N, Okada K (2004) RABBIT EARS, encoding a SUPERMAN-like zinc finger protein, regulates petal development in Arabidopsis thaliana. Development 131:425–434

The Arabidopsis Genome Initiative (2000) Analysis of the genome sequence of the flowering plant Arabidopsis thaliana. Nature 408:796–815

Theissen G, Saedler H (2001) Plant biology. Floral quartets. Nature 409:469–471

Urbanus SL, de Folter S, Shchennikova AV, Kaufmann K, Immink RG, Angenent GC (2009) In planta localisation patterns of MADS domain proteins during floral development in Arabidopsis thaliana. BMC Plant Biol 9:5

Weigel D, Meyerowitz EM (1994) The ABCs of floral homeotic genes. Cell 78:203–209

Wuest SE, O'Maoileidigh DS, Rae L, Kwasniewska K, Raganelli A, Hanczaryk K, Lohan AJ, Loftus B, Graciet E, Wellmer F (2012) Molecular basis for the specification of floral organs by APETALA3 and PISTILLATA. Proc Natl Acad Sci USA 109:13452–13457

Xing S, Rosso MG, Zachgo S (2005) ROXY1, a member of the plant glutaredoxin family, is required for petal development in Arabidopsis thaliana. Development 132:1555–1565
Acknowledgments
We thank Mitsuhiro Aida, Takehide Kato (NAIST, Japan), Tetsu Kinoshita (Nagahama Institute of Bio-Science and Technology, Japan), Mie Ichikawa, Masahiko Sato, Takashi Shiina (Kyoto Prefectural University, Japan), and Kiyotaka Okada (NIBB, Japan) for providing materials and helpful discussion, and Rebecca Horn for critical reading of the manuscript. This research was supported by Japan Advanced Plant Science Network and funded by JSPS KAKENHI grant number 22570042 (S.T.).
Conflict of interest
The authors declare that they have no conflict of interest.
Electronic supplementary material
Below is the link to the electronic supplementary material.
Online Resource 1. Serial transverse images of a flower of RBEp:GFP:RBEg plants showing the GFP:RBE expression in petal precursor cells.
Online Resource 2. RT-PCR analysis in AP1p:GFP:RBEg plants. 1, Ler: 2, AP1p:GFP:RBEg (rbe-1 heterozygous): 3, AP1p:GFP:RBEg (rbe-1 homozygous). a AP1 and RBE expression is not altered. b Expression of floral homeotic genes, showing down-regulation of AP3 and PI in rbe-1 heterozygous background. Note that SEP3 is upregulated in rbe-1 homozygous plants.
Supplementary material 1 (MPG 241359 kb)
About this article
Cite this article
Takeda, S., Noguchi, M., Hamamura, Y. et al. Spatial distribution of the RABBIT EARS protein and effects of its ectopic expression in Arabidopsis thaliana flowers. Planta 239, 707–715 (2014). https://doi.org/10.1007/s00425-013-2010-1
Received:

Accepted:

Published:

Issue Date:
Keywords
APETALA1
APETALA3

Floral organ

Homeotic genes

Petal

PISTILLATA