Abstract
Hairpin RNA-based RNA interference (hpRNAi) has become a powerful tool for exploring gene function in reverse genetics. Although, several methods are available for making constructs that express hpRNAi, multiple time-consuming cloning steps are usually involved. Here, we introduce an efficient and flexible hpRNAi vector construction method via the isothermal in vitro recombination system (IR-hpRNAi). For an IR-hpRNAi reaction, two PCR products of a target gene sequence are generated, which containS complementary ends (~20 bp) to each other and to the ends of linearized vector, are fused in a way of head-to-head or tail-to-tail into the vector. This IR-hpRNAi method offers two options to construct the RNAi vectors. Using this method, we created a IR-hpRNAi construct for the Arabidopsis PDS3 gene,and verified the silencing effect via Agrobacterium-mediated transformation. The IR-hpRNAi system rules out the requirement of engineering restriction enzyme cutting sites in target DNA fragments, and is ligation-independent. Thus, this method has advantages over the other hpRNAi construction methods.
This is a preview of subscription content, log in to check access.
Access options
Buy single article
Instant access to the full article PDF.
US$ 39.95
Price includes VAT for USA
Subscribe to journal
Immediate online access to all issues from 2019. Subscription will auto renew annually.
US$ 199
This is the net price. Taxes to be calculated in checkout.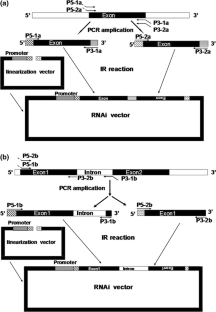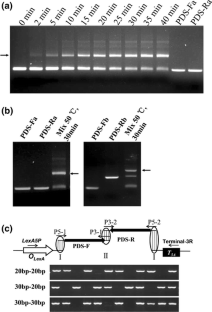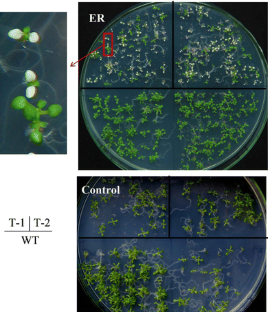 Abbreviations
ER:

17β-Estradiol

hpRNAi:

Hairpin RNA-based RNA interference

IR:

Isothermal in vitro recombination system

IR-hpRNAi:

HpRNAi vector via the isothermal in vitro recombination system

PDS3:

Phytoene desaturase 3

RT-PCR:

Reverse transcription PCR

WT:

Wild type
References
Chen S, Songkumarn P, Liu J, Wang GL (2009) A versatile zero background T-vector system for gene cloning and functional genomics. Plant Physiol 150:1111–1121

Clough SJ, Bent AF (1998) Floral dip: a simplified method for Agrobacterium-mediated transformation of Arabidopsis thaliana. Plant J 16:735–743

Fire A, Xu S, Montgomery MK, Kostas SA, Driver SE, Mello CC (1998) Potent and specific genetic interference by double-stranded RNA in Caenorhabditis elegans. Nature 391:806–811

Foudree A, Aluru M, Rodermel S (2010) PDS activity acts as a rheostat of retrograde signaling during early chloroplast biogenesis. Plant Signal Behav 5:1629–1632

Gibson DG (2011) Enzymatic assembly of overlapping DNA fragments. Methods Enzymol 498:349–361

Gibson DG, Benders GA, Andrews-Pfannkoch C, Denisova EA, Baden-Tillson H, Zaveri J, Stockwell TB, Brownley A, Thomas DW, Algire MA, Merryman C, Young L, Noskov VN, Glass JI, Venter JC, Hutchison CR, Smith HO (2008) Complete chemical synthesis, assembly, and cloning of a Mycoplasma genitalium genome. Science 319:1215–1220

Gibson DG, Young L, Chuang RY, Venter JC, Hutchison CR, Smith HO (2009) Enzymatic assembly of DNA molecules up to several hundred kilobases. Nat Methods 6:343–345

Gibson DG, Smith HO, Hutchison CR, Venter JC, Merryman C (2010) Chemical synthesis of the mouse mitochondrial genome. Nat Methods 7:901–903

Hauge B, Oggero C, Nguyen N, Fu C, Dong F (2009) Single tube, high throughput cloning of inverted repeat constructs for double-stranded RNA expression. Plos One 4:e7205

Lee YS, Carthew RW (2003) Making a better RNAi vector for Drosophila: use of intron spacers. Methods 30:322–329

Smith NA, Singh SP, Wang MB, Stoutjesdijk PA, Green AG, Waterhouse PM (2000) Total silencing by intron-spliced hairpin RNAs. Nature 407:319–320

Wesley SV, Helliwell CA, Smith NA, Wang MB, Rouse DT, Liu Q, Gooding PS, Singh SP, Abbott D, Stoutjesdijk PA, Robinson SP, Gleave AP, Green AG, Waterhouse PM (2001) Construct design for efficient, effective and high-throughput gene silencing in plants. Plant J 27:581–590

Xiao YH, Yin MH, Hou L, Pei Y (2006) Direct amplification of intron-containing hairpin RNA construct from genomic DNA. Biotechniques 41:548, 550, 552

Xu G, Sui N, Tang Y, Xie K, Lai Y, Liu Y (2010) One-step, zero-background ligation-independent cloning intron-containing hairpin RNA constructs for RNAi in plants. New Phytol 187:240–250

Yan P, Shen W, Gao X, Duan J, Zhou P (2009) Rapid one-step construction of hairpin RNA. Biochem Biophys Res Commun 383:464–468

Zuo J, Chua NH (2000) Chemical-inducible systems for regulated expression of plant genes. Curr Opin Biotechnol 11:146–151
Acknowledgments
We are grateful to N.H. Chua (Rockefeller University, NY, USA) for inducible T-DNA binary vectors pER8 and to X.J. Wang (South China Normal University, Guangzhou, China) for the seed of Arabidopsis Columbia ecotype. This work was supported by grants from Ministry of Science and Technology of China (2012AA10A303 and 2011CB100204) and National Natural Science Foundation of China (30871331).
About this article
Cite this article
Jiang, Y., Xie, M., Zhu, Q. et al. One-step cloning of intron-containing hairpin RNA constructs for RNA interference via isothermal in vitro recombination system. Planta 238, 325–330 (2013). https://doi.org/10.1007/s00425-013-1896-y
Received:

Accepted:

Published:

Issue Date:
Keywords
Hairpin RNA

Intron

Isothermal in vitro recombination

Phytoene desaturase 3 (PDS3)

RNA interference vector