Abstract
RNA-dependent RNA polymerase 1 (RDR1), a component of gene silencing, participates in plant pathogen defense. However, there are few reports on its expression pattern or regulatory mechanism. To clarify how the Arabidopsis RDR1 gene is regulated at the transcriptional level in response to various stresses, its native 1,303 bp promoter sequence upstream of the translational start site and five truncated regions were inserted upstream of a fused reporter gene (β-glucuronidase-green fluorescent protein) in Arabidopsis. Histochemical staining and fluorescent signal detection revealed that AtRDR1 was expressed primarily in the plant vascular tissue system and its expression was specifically localized in phloem cell layers in roots. Stress experiments showed that the AtRDR1 promoter has a broad-spectrum response to various stresses and is sensitive to 1-naphthaleneacetic acid, abscisic acid, and salicylic acid. Analysis of promoter derivatives revealed that the −1,088 to −690 region was involved in auxin and dehydration responsiveness, that −690 to −434 was responsive to cold treatment, and the intron in the 5′-untranslated region (5′-UTR) responded to jasmonic acid molecules. The 5′-UTR intron was functional in transcript accumulation. Together, our findings suggest that AtRDR1-associated pathogen defense is conducted mainly in the plant vascular tissue system and is under complex regulation.
This is a preview of subscription content, log in to check access.
Access options
Buy single article
Instant access to the full article PDF.
US$ 39.95
Price includes VAT for USA
Subscribe to journal
Immediate online access to all issues from 2019. Subscription will auto renew annually.
US$ 199
This is the net price. Taxes to be calculated in checkout.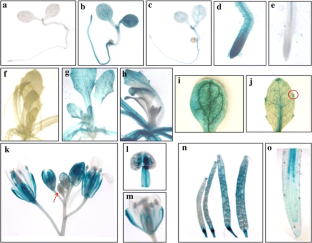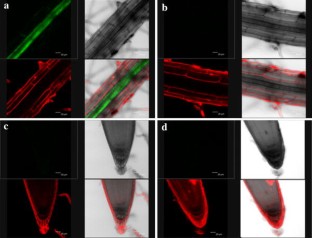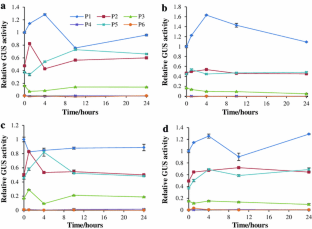 Abbreviations
ABA:

Abscisic acid

DCL:

Dicer-like enzyme

DIC:

Differential interference contrast microscopy

dsRNA:

Double-stranded RNA

GA:

Gibberellic acid

GFP:

Green fluorescent protein

GUS:

β-Glucuronidase

JA:

Jasmonic acid

MeJA:

Methyl jasmonate

NAA:

1-Naphthaleneacetic acid

ORF:

Open reading frame

RDR:

RNA-dependent RNA polymerase

SA:

Salicylic acid

siRNA:

Small interfering RNAs

5′-UTR:

5′-Untranslated region
References
Bartlett JG, Snape JW, Harwood WA (2009) Intron-mediated enhancement as a method for increasing transgene expression levels in barley. Plant Biotechnol J 7:856–866

Bradford MM (1976) A rapid and sensitive method for the quantitation of microgram quantities of protein utilizing the principle of protein-dye binding. Anal Biochem 72:248–254

Chapman EJ, Carrington JC (2007) Specialization and evolution of endogenous small RNA pathways. Nat Rev Genet 8:884–896

Clough SJ, Bent AF (1998) Floral dip: a simplified method for Agrobacterium-mediated transformation of Arabidopsis thaliana. Plant J 16:735–743

Gao Q, Liu Y, Wang M, Zhang J, Gai Y, Zhu C, Guo X (2009) Molecular cloning and characterization of an inducible RNA-dependent RNA polymerase gene, GhRdRP, from cotton (Gossypium hirsutum L.). Mol Biol Rep 36:47–56

Grewal SI, Moazed D (2003) Heterochromatin and epigenetic control of gene expression. Science 301:798–802

Grewal SI, Rice JC (2004) Regulation of heterochromatin by histone methylation and small RNAs. Curr Opin Cell Biol 16:230–238

Guleria P, Mahajan M, Bhardwaj J, Yadav SK (2011) Plant small RNAs: biogenesis, mode of action and their roles in abiotic stresses. Genomics Proteomics Bioinformatics 9:183–199

He J, Dong Z, Jia Z, Wang J, Wang G (2010) Isolation, expression and functional analysis of a putative RNA-dependent RNA polymerase gene from maize (Zea mays L.). Mol Biol Rep 37:865–874

Jiang L, Qian D, Zheng H, Meng LY, Chen J, Le WJ, Zhou T, Zhou YJ, Wei CH, Li Y (2012) RNA-dependent RNA polymerase 6 of rice (Oryza sativa) plays role in host defense against negative-strand RNA virus, Rice stripe virus. Virus Res 163:512–519

Kapoor M, Arora R, Lama T, Nijhawan A, Khurana JP, Tyagi AK, Kapoor S (2008) Genome-wide identification, organization and phylogenetic analysis of Dicer-like, Argonaute and RNA-dependent RNA Polymerase gene families and their expression analysis during reproductive development and stress in rice. BMC Genomics 9:451

Kehr J, Buhtz A (2008) Long distance transport and movement of RNA through the phloem. J Exp Bot 59:85–92

Koornneef A, Pieterse CM (2008) Cross talk in defense signaling. Plant Physiol 146:839–844

Liu Y, Gao Q, Wu B, Ai T, Guo X (2009) NgRDR1, an RNA-dependent RNA polymerase isolated from Nicotiana glutinosa, was involved in biotic and abiotic stresses. Plant Physiol Biochem 47:359–368

Lough TJ, Lucas WJ (2006) Integrative plant biology: role of phloem long-distance macromolecular trafficking. Annu Rev Plant Biol 57:203–232

Lu J, Sivamani E, Azhakanandam K, Samadder P, Li X, Qu R (2008) Gene expression enhancement mediated by the 5′ UTR intron of the rice rubi3 gene varied remarkably among tissues in transgenic rice plants. Mol Genet Genomics 279:563–572

Meshi T, Taoka KI, Iwabuchi M (2000) Regulation of histone gene expression during the cell cycle. Plant Mol Biol 43:643–657

Parra G, Bradnam K, Rose AB, Korf I (2011) Comparative and functional analysis of intron-mediated enhancement signals reveals conserved features among plants. Nucleic Acids Res 39:5328–5337

Petricka JJ, Winter CM, Benfey PN (2012) Control of Arabidopsis root development. Annu Rev Plant Biol 63:563–590

Rakhshandehroo F, Takeshita M, Squires J, Palukaitis P (2009) The influence of RNA-dependent RNA polymerase 1 on potato virus Y infection and on other antiviral response genes. Mol Plant Microbe Interact 22:1312–1318

Ronemus M, Vaughn MW, Martienssen RA (2006) MicroRNA-targeted and small interfering RNA-mediated mRNA degradation is regulated by argonaute, dicer, and RNA-dependent RNA polymerase in Arabidopsis. Plant Cell 18:1559–1574

Ruiz-Ferrer V, Voinnet O (2009) Roles of plant small RNAs in biotic stress responses. Annu Rev Plant Biol 60:485–510

Vaucheret H (2006) Post-transcriptional small RNA pathways in plants: mechanisms and regulations. Genes Dev 20:759–771

Vilar JM, Saiz L (2005) DNA looping in gene regulation: from the assembly of macromolecular complexes to the control of transcriptional noise. Curr Opin Genet Dev 15:136–144

Wang L, Luo YZ, Zhang L, Jiao XM, Wang MB, Fan YL (2008) Rolling circle amplification-mediated hairpin RNA (RMHR) library construction in plants. Nucleic Acids Res 36:e149

Willmann MR, Endres MW, Cook RT, Gregory BD (2011) The functions of RNA-dependent RNA polymerases in Arabidopsis. Arabidopsis Book 9:e0146

Yang SJ, Carter SA, Cole AB, Cheng NH, Nelson RS (2004) A natural variant of a host RNA-dependent RNA polymerase is associated with increased susceptibility to viruses by Nicotiana benthamiana. Proc Natl Acad Sci USA 101:6297–6302

Yang JH, Seo HH, Han SJ, Yoon EK, Yang MS, Lee WS (2008) Phytohormone abscisic acid control RNA-dependent RNA polymerase 6 gene expression and post-transcriptional gene silencing in rice cells. Nucleic Acids Res 36:1220–1226

Ying XB, Dong L, Zhu H, Duan CG, Du QS, Lv DQ, Fang YY, Garcia JA, Fang RX, Guo HS (2010) RNA-dependent RNA polymerase 1 from Nicotiana tabacum suppresses RNA silencing and enhances viral infection in Nicotiana benthamiana. Plant Cell 22:1358–1372

Yu D, Fan B, MacFarlane SA, Chen Z (2003) Analysis of the involvement of an inducible Arabidopsis RNA-dependent RNA polymerase in antiviral defense. Mol Plant Microbe Interact 16:206–216

Zhu H, Guo H (2012) The role of virus-derived small interfering RNAs in RNA silencing in plants. Sci China Life Sci 55:119–125
Acknowledgments
This work was supported by the National Natural Science Foundation of China (Grant Number 31271801) and National High Technology Research and Development Program of China (Grant Number 2012AA10A306).
About this article
Cite this article
Xu, T., Zhang, L., Zhen, J. et al. Expressional and regulatory characterization of Arabidopsis RNA-dependent RNA polymerase 1. Planta 237, 1561–1569 (2013). https://doi.org/10.1007/s00425-013-1863-7
Received:

Accepted:

Published:

Issue Date:
Keywords
Gene silencing

RNA-dependent RNA polymerase

RDR

Pathogen defense

Promoter deletion

Arabidopsis