Abstract
Dehydrins are highly hydrophilic proteins involved in playing key adaptive roles in response to abiotic stress conditions having dehydration as a common component. In the present study, a novel banana SK3-type dehydrin, MusaDHN-1, was identified and later characterized using transgenic banana plants to investigate its functions in abiotic stress tolerance. Expression profiling in native banana plants demonstrated that MusaDHN-1 was induced in leaves by drought, salinity, cold, oxidative and heavy metal stress as well as by treatment with signalling molecules like abscisic acid, ethylene and methyl jasmonate. Promoter analysis carried out by making a MusaDHN-1 promoter: β-glucuronidase fusion construct reconfirmed the abiotic stress inducibility of MusaDHN-1. Transgenic banana plants constitutively overexpressing MusaDHN-1 were phenotypically normal and displayed improved tolerance to drought and salt-stress treatments in both in vitro and ex vitro assays. Enhanced accumulation of proline and reduced malondialdehyde levels in drought and salt-stressed MusaDHN-1 overexpressing plants further established their superior performance in stressed conditions. This study is the first to report generation of transgenic banana plants engineered for improved drought and salt-stress tolerance.
This is a preview of subscription content, log in to check access.
Access options
Buy single article
Instant access to the full article PDF.
US$ 39.95
Price includes VAT for USA
Subscribe to journal
Immediate online access to all issues from 2019. Subscription will auto renew annually.
US$ 199
This is the net price. Taxes to be calculated in checkout.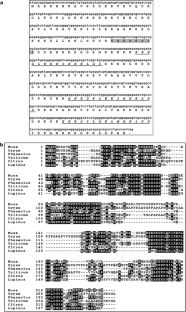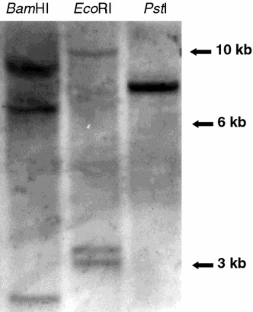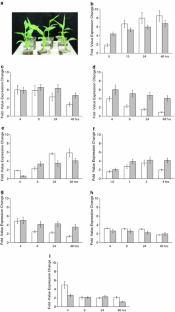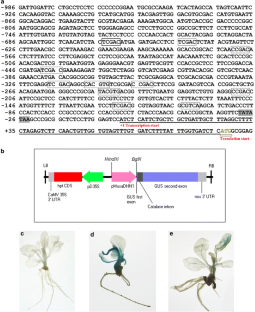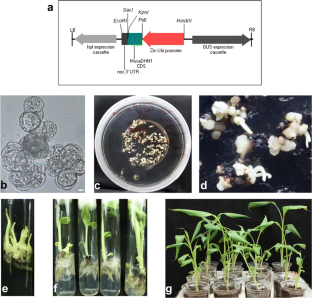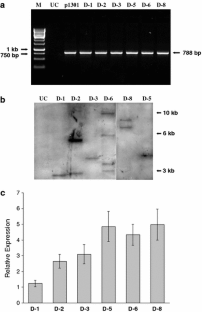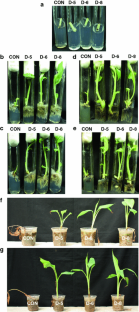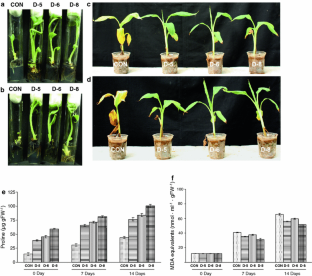 Abbreviations
ABA:

Abscisic acid

ACS:

Acetosyringone

BAP:

6-Benzylaminopurine

PCV:

Packed cell volume

TBA:

Thiobarbituric acid
References
Allagulova CHR, Gimalov FR, Shakirova FM, Vakhitov VA (2003) The plant dehydrins: structure and putative functions. Biochemistry (Mosc) 68:945–951

Bae EK, Lee H, Lee JS, Noh EW (2009) Differential expression of a poplar SK2-type dehydrin gene in response to various stresses. BMB Rep 42:439–443

Bakry F, Carreel F, Jenny C, Horry JP (2009) Genetic Improvement of Banana. In: Jain SM, Priyadarshan PM (ed) Breeding plantation tree crops: tropical species. Springer, Berlin, pp 3–51

Bapat VA, Trivedi PK, Ghosh A, Sane VA, Ganapathi TR, Nath P (2010) Ripening of fleshy fruit: molecular insight and the role of ethylene. Biotechnol Adv 28:94–107

Bates LS, Waldren RP, Teare ID (1973) Rapid determination of free proline for water-stress studies. Plant Soil 39:205–207

Brini F, Hanin M, Lumbreras V, Amara I, Khoudi H, Hassairi A, Pagès M, Masmoudi K (2007) Overexpression of wheat dehydrin DHN-5 enhances tolerance to salt and osmotic stress in Arabidopsis thaliana. Plant Cell Rep 26:2017–2026

Brini F, Yamamoto A, Jlaiel L, Takeda S, Hobo T, Dinh HQ, Hattori T, Masmoudi K, Hanin M (2011) Pleiotropic effects of the wheat dehydrin DHN-5 on stress responses in Arabidopsis. Plant Cell Physiol 52:676–688

Chen L, Zhong HY, Kuang JF, Li JG, Lu WJ, Chen JY (2011) Validation of reference genes for RT-qPCR studies of gene expression in banana fruit under different experimental conditions. Planta. doi:10.1007/s00425-011-1410-3

Close TJ (1996) Dehydrins: emergence of a biochemical role of a family of plant dehydration proteins. Physiol Plant 97:795–803

Cote FX, Domergue R, Monmarson S, Schwendiman J, Teisson C, Escalant JV (1996) Embryogenic cell suspensions from the male flower of Musa AAA cv. Grand Nain. Physiol Plant 97:285–290

Danyluk J, Perron A, Houde M, Limin A, Fowler B, Benhamou N, Sarhan F (1998) Accumulation of an acidic dehydrin in the vicinity of the plasma membrane during cold acclimation of wheat. Plant Cell 10:623–638

Ekanayake IJ, Ortiz R, Vuylsteke DR (1994) Influence of leaf age, soil moisture, VPD and time of day on leaf conductance of various Musa genotypes in a humid forest-moist savanna transition site. Ann Bot 74:173–178

Feng DR, Liu B, Li WY, He YM, Qi KB, Wang HB, Wang JF (2009) Over-expression of a cold-induced plasma membrane protein gene (MpRCI) from plantain enhances low temperature resistance in transgenic tobacco. Environ Exp Bot 65:395–402

Ganapathi TR, Higgs NS, Balint-Kurti PJ, Arntzen CJ, May GD, Van Eck JM (2001) Agrobacterium-mediated transformation of embryogenic cell suspensions of the banana cultivar Rasthali (AAB). Plant Cell Rep 20:157–162

Ganapathi TR, Sidhaa M, Suprasannaa P, Ujjappa KM, Bapat VA, D'Souza SF (2008) Field performance and RAPD analysis of gamma-irradiated variants of banana cultivar 'Giant Cavendish' (AAA). Int J Fruit Sci 8:147–159

Hara M (2010) The multifunctionality of dehydrins: an overview. Plant Signal Behav 5:1–6

Hara M, Terashima S, Fukaya T, Kuboi T (2003) Enhancement of cold tolerance and inhibition of lipid peroxidation by citrus dehydrin in transgenic tobacco. Planta 217:290–298

Hara M, Shinoda Y, Tanaka Y, Kuboi T (2009) DNA binding of citrus dehydrin promoted by zinc ion. Plant Cell Environ 32:532–541

Hermann SR, Harding RM, Dale JL (2001) The banana actin 1 promoter drives near-constitutive transgene expression in vegetative tissues of banana (Musa spp.). Plant Cell Rep 20:525–530

Hodges DM, DeLong JM, Forney CF, Prange RK (1999) Improving the thiobarbituric acid-reactive substance assay for estimating lipid peroxidation in plant tissues containing anthocyanin and other interfering compounds. Planta 207:604–611

Hood EE, Gelvin SB, Melchers LS, Hoekama A (1993) New Agrobacterium helper plasmids for gene transfer to plants. Transgenic Res 2:208–218

Kasuga M, Liu Q, Miura S, Yamaguchi-Shinozaki K, Shinozaki K (1999) Improving plant drought, salt, and freezing tolerance by gene transfer of a single stress-inducible transcription factor. Nat Biotechnol 19:287–291

Kavi Kishor PB, Sangam S, Amrutha RN, Laxmi PS, Naidu NR, Rao KRSS, Rao S, Reddy KJ, Theriappan P, Sreenivasulu N (2005) Regulation of proline biosynthesis, degradation, uptake and transport in higher plants: its implications in plant growth and abiotic stress tolerance. Curr Sci 88:424–438

Kumar GBS, Srinivas L, Ganapathi TR, Bapat VA (2006) Hepatitis B surface antigen expression in transgenic tobacco (Nicotiana tabacum) plants using four different expression cassettes. Plant Cell Tissue Organ Cult 84:315–323

Lee SC, Lee MY, Kim SJ, Jun SH, An G, Kim SR (2005) Characterisation of an abiotic stress-inducible dehydrin gene, OsDhn1, in rice (Oryza sativa L.). Mol Cells 19:212–218

Liu YG, Mitsukawa N, Oosumi T, Whittier RF (1995) Efficient isolation and mapping of Arabidopsis thaliana T-DNA insert junctions by thermal asymmetric interlaced PCR. Plant J 8:457–463

Liu HY, Dai JR, Feng DR, Liu B, Wang HB, Wang JF (2010) Characterization of a novel plantain Asr gene, MpAsr, that is regulated in response to infection of Fusarium oxysporum f. sp. cubense and abiotic stresses. J Integr Plant Biol 52:315–323

Ma HS, Liang D, Shuai P, Xia XL, Yin WL (2010) The salt- and drought-inducible poplar GRAS protein SCL7 confers salt and drought tolerance in Arabidopsis thaliana. J Exp Bot 61:4011–4019

Mahajan S, Tuteja N (2005) Cold, salinity and drought stresses: an overview. Arch Biochem Biophys 444:139–158

Munns R (2005) Genes and salt tolerance: bringing them together. New Phytol 167:645–663

Ning J, Li X, Hicks LM, Xiong L (2010) A Raf-like MAPKKK gene DSM1 mediates drought resistance through ROS scavenging in rice. Plant Physiol 152:876–890

Nylander M, Svensson J, Palva ET, Welin BV (2001) Stress-induced accumulation and tissue-specific localisation of dehydrins in Arabidopsis thaliana. Plant Mol Biol 45:263–279

Pfaffl MW, Horgan GW, Dempfle L (2002) Relative expression software tool (REST) for group-wise comparison and statistical analysis of relative expression results in real-time PCR. Nucl Acids Res 30:e36

Puhakainen T, Hess MW, Makela P, Svensson J, Heino P, Palva ET (2004) Overexpression of multiple dehydrin genes enhances tolerance to freezing stress in Arabidopsis. Plant Mol Biol 54:743–753

Ranjbarfordoei A, Samson R, Van Damme P, Lemeur R (2000) Effects of drought stress induced by polyethylene glycol on pigment content and photosynthetic gas exchange of Pistacia khinjuk and P. mutica. Photosynthetica 38:443–447

Richard S, Morency MJ, Drevet C, Jouanin L, Séguin A (2000) Isolation and characterization of a dehydrin gene from white spruce induced upon wounding, drought and cold stresses. Plant Mol Biol 43:1–10

Rorat T (2006) Plant dehydrins: tissue location, structure and function. Cell Mol Biol Lett 11:536–556

Saavedra L, Svensson J, Carballo V, Izmendi D, Wellin B, Vidal S (2006) A dehydrin gene in Physcomitrella patens is required for salt and osmotic stress tolerance. Plant J 45:237–249

Sessa G, Meller Y, Fluhr R (1995) A GCC element and a G-box motif participate in ethylene-induced expression of the PRB-1b gene. Plant Mol Biol 28:145–153

Shekhawat UKS, Ganapathi TR, Srinivas L, Bapat VA, Rathore TS (2008) Agrobacterium-mediated genetic transformation of embryogenic cell suspension cultures of Santalum album L. Plant Cell Tissue Organ Cult 92:261–271

Shekhawat UKS, Ganapathi TR, Srinivas L (2010) Cloning and characterization of a novel stress-responsive WRKY transcription factor gene (MusaWRKY71) from Musa spp. cv. Karibale Monthan (ABB group) using transformed banana cells. Mol Biol Rep. doi:10.1007/s11033-010-0521-4

Tunnacliffe A, Wise M (2007) The continuing conundrum of the LEA proteins. Naturwissenschaften 94:791–812

van Asten PJA, Fermont AM, Taulya G (2011) Drought is a major yield loss factor for rainfed East African highland banana. Agric Water Manage 98:541–552

Wagiran A, Ismail I, Zain CRCM, Abdullah R (2010) Agrobacterium tumefaciens-mediated transformation of the isopentenyltransferase gene in japonica rice suspension cell culture. Aust J Crop Sci 4:421–429

Wasternack C, Parthier B (1997) Jasmonate-signalled plant gene expression. Trends Plant Sci 2:1360–1385

Zhang Y, Li J, Yu F, Cong L, Wang L, Burkard G, Chai T (2006) Cloning and expression analysis of SKn-type dehydrin gene from bean in response to heavy metals. Mol Biotechnol 32:205–217

Zhu JK (2002) Salt and drought stress signal transduction in plants. Annu Rev Plant Biol 53:247–273
Acknowledgments
Authors thank Dr. S F D'Souza, Head, Nuclear Agriculture and Biotechnology Division, BARC for his constant encouragement.
Electronic supplementary material
Below is the link to the electronic supplementary material.
About this article
Cite this article
Shekhawat, U.K.S., Srinivas, L. & Ganapathi, T.R. MusaDHN-1, a novel multiple stress-inducible SK3-type dehydrin gene, contributes affirmatively to drought- and salt-stress tolerance in banana. Planta 234, 915 (2011). https://doi.org/10.1007/s00425-011-1455-3
Received:

Accepted:

Published:
Keywords
Abiotic stress

Agrobacterium-mediated transformation

Banana

Dehydrin

MusaDHN-1