Abstract
Ethylene-responsive transcription factors (ERFs) bind specifically to cis-acting DNA regulatory elements such as GCC boxes and play an important role in the regulation of defense- and stress-related genes in plants. In contrast to other ERFs, class II ERFs contain an ERF-associated amphiphilic repression (EAR) domain and act as GCC-mediated transcriptional repressors. In this study, SlERF3, a class II ERF was isolated from tomato and characterized. To examine whether the EAR motif of class II ERF proteins participates in ERF-mediated functions in plants, the EAR domain was deleted to generate SlERF3ΔRD. We show that SlERF3ΔRD protein retains the character of a transcription factor and becomes a GCC-mediated transcriptional activator. Constitutive expression of full-length SlERF3 in tomato severely suppressed growth and, as a result, no transgenic plants were obtained. However, no apparent effects on growth and development of SlERF3ΔRD transgenic plants were observed. Overexpression of SlERF3ΔRD in transgenic tomato induced expression of pathogenesis-related protein genes such as PR1, PR2 and PR5, and enhanced tolerance to Ralstonia solanacearum. Furthermore, transgenic Arabidopsis and tomatoes constitutively expressing SlERF3ΔRD exhibited reduced levels of membrane lipid peroxidation and enhanced tolerance to salt stress. In comparison with wild-type plants grown under stress conditions, transgenic SlERF3ΔRD tomatoes produced more flowers, fruits, and seeds. This study illustrates a gene-enhancing tolerance to both biotic and abiotic stresses in transgenic plants with the deletion of a repressor domain. Our findings suggest that class II ERF proteins may find important use in crop improvement or genetic engineering to increase stress tolerance in plants.
This is a preview of subscription content, log in to check access.
Access options
Buy single article
Instant access to the full article PDF.
US$ 39.95
Price includes VAT for USA
Subscribe to journal
Immediate online access to all issues from 2019. Subscription will auto renew annually.
US$ 199
This is the net price. Taxes to be calculated in checkout.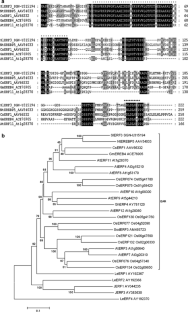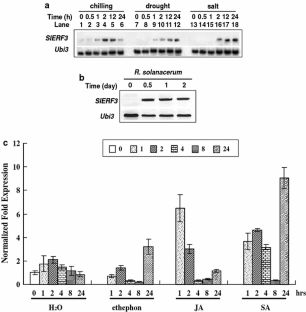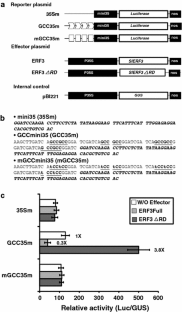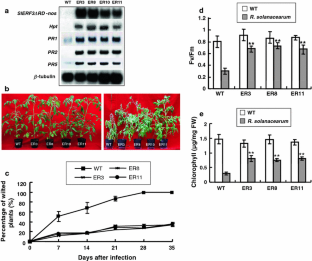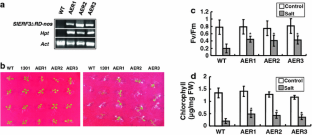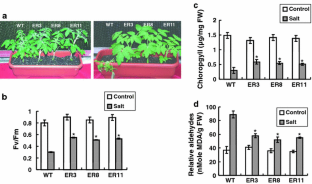 Abbreviations
ERF:

Ethylene-responsive factor

EAR:

ERF-associated amphiphilic repression

JA:

Jasmonic acid

SA:

Salicylic acid
References
Abel S, Theologis A (1994) Transient transformation of Arabidopsis leaf protoplasts: a versatile experimental system to study gene expression. Plant J 5:421–427

Brini F, Hanin M, Lumbreras V, Amara I, Khoudi H, Hassairi A, Pages M, Masmoudi K (2007) Overexpression of wheat dehydrin DHN-5 enhances tolerance to salt and osmotic stress in Arabidopsis thaliana. Plant Cell Rep 26:2017–2026

Brown RL, Kazan K, McGrath KC, Maclean DJ, Manners JM (2003) A role for the GCC-box in jasmonate-mediated activation of the PDF1.2 gene of Arabidopsis. Plant Physiol 132:1020–1032

Cao Y, Song F, Goodman RM, Zheng Z (2006) Molecular characterization of four rice genes encoding ethylene-responsive transcriptional factors and their expressions in response to biotic and abiotic stress. J Plant Physiol 163:1167–1178

Chan YL, Prasad V, Sanjaya, Chen KH, Liu PC, Chan MT, Cheng CP (2005) Transgenic tomato expressing an Arabidopsis thionin (Thi2.1) driven by fruit-inactive promoter battles against phytopathogenic attack. Planta 221:386–393

Chen G, Hu Z, Grierson D (2008) Differential regulation of tomato ethylene responsive factor LeERF3b, a putative repressor, and the activator Pti4 in ripening mutants and in response to environmental stresses. J Plant Physiol 165:662–670

Chen YY, Lin YM, Chao TC, Wang JF, Liu AC, Ho FI, Cheng CP (2009) Virus-induced gene silencing reveals the involvement of ethylene-, salicylic acid- and mitogen-activated protein kinase-related defense pathways in the resistance of tomato to bacterial wilt. Physiol Plant 136:324–335

Ciftci-Yilmaz S, Morsy MR, Song L, Coutu A, Krizek BA, Lewis MW, Warren D, Cushman J, Connolly EL, Mittler R (2007) The EAR-motif of the Cys2/His2-type zinc finger protein Zat7 plays a key role in the defense response of Arabidopsis to salinity stress. J Biol Chem 282:9260–9268

Feinberg AP, Vogelstein B (1983) A technique for radiolabeling DNA restriction endonuclease fragments to high specific activity. Anal Biochem 132:6–13

Fujimoto SY, Ohta M, Usui A, Shinshi H, Ohme-Takagi M (2000) Arabidopsis ethylene-responsive element binding factors act as transcriptional activators or repressors of GCC box-mediated gene expression. Plant Cell 12:393–404

Gu YQ, Yang C, Thara VK, Zhou J, Martin GB (2000) Pti4 is induced by ethylene and salicylic acid, and its product is phosphorylated by the Pto kinase. Plant Cell 12:771–786

Gu YQ, Wildermuth MC, Chakravarthy S, Loh YT, Yang C, He X, Han Y, Martin GB (2002) Tomato transcription factors pti4, pti5, and pti6 activate defense responses when expressed in Arabidopsis. Plant Cell 14:817–831

Hiratsu K, Matsui K, Koyama T, Ohme-Takagi M (2003) Dominant repression of target genes by chimeric repressors that include the EAR motif, a repression domain, in Arabidopsis. Plant J 34:733–739

Hsiao P, Sanjaya, Su RC, da Silva JAT, Chan MT (2007) Plant native tryptophan synthase beta 1 gene act as a non-antibiotic selection marker for plant transformation. Planta 225:897–906

Hsieh TH, Lee JT, Charng YY, Chan MT (2002a) Tomato plants ectopically expressing Arabidopsis CBF1 show enhanced resistance to water deficit stress. Plant Physiol 130:618–626

Hsieh TH, Lee JT, Yang PT, Chiu LH, Charng YY, Wang YC, Chan MT (2002b) Heterology expression of the Arabidopsis C-repeat/dehydration response element binding factor 1 gene confers elevated tolerance to chilling and oxidative stresses in transgenic tomato. Plant Physiol 129:1086–1094

Hsieh TH, Li CW, Su RC, Cheng CP, Sanjaya, Tsai YC, Chan MT (2010) A tomato bZIP transcription factor, SlAREB, is involved in water deficit and salt stress response. Planta 231:1459–1473

Jia Y, Martin GB (1999) Rapid transcript accumulation of pathogenesis-related genes during an incompatible interaction in bacterial speck disease-resistant tomato plants. Plant Mol Biol 40:455–465

Jin LG, Liu JY (2008) Molecular cloning, expression profile and promoter analysis of a novel ethylene responsive transcription factor gene GhERF4 from cotton (Gossypium hirstum). Plant Physiol Biochem 46:46–53

Jofuku KD, den Boer BG, Van Montagu M, Okamuro JK (1994) Control of Arabidopsis flower and seed development by the homeotic gene APETALA2. Plant Cell 6:1211–1225

Kazan K (2006) Negative regulation of defense and stress genes by EAR-motif-containing repressors. Trends Plant Sci 11:109–112

Koornneef A, Pieterse CM (2008) Cross talk in defense signaling. Plant Physiol 146:839–844

Kumar S, Tamura K, Nei M (2004) MEGA3: integrated software for molecular evolutionary genetics analysis and sequence alignment. Brief Bioinform 5:150–163

Liau CH, You SJ, Prasad V, Hsiao HH, Lu JC, Yang NS, Chan MT (2003) Agrobacterium-mediated genetic transformation of an Oncidium orchid. Plant Cell Rep 21:993–998

Lorenzo O, Piqueras R, Sanchez-Serrano JJ, Solano R (2003) ETHYLENE RESPONSE FACTOR1 integrates signals from ethylene and jasmonate pathways in plant defense. Plant Cell 15:165–178

Lu CA, Lim EK, Yu SM (1998) Sugar response sequence in the promoter of a rice alpha-amylase gene serves as a transcriptional enhancer. J Biol Chem 273:10120–10131

Luehrsen KR, DeWet JR, Walbot V (1992) Transient expression analysis in plants using the firefly luciferase reporter gene. Meth Enzymol 216:397–414

Matsui K, Ohme-Takagi M (2009) Detection of protein-protein interactions in plants using the transrepressive activity of the EAR motif repression domain. Plant J 61:570–578

Matsuo N, Banno H (2008) The Arabidopsis transcription factor ESR1 induces in vitro shoot regeneration through transcriptional activation. Plant Physiol Biochem 46:1045–1050

McGrath KC, Dombrecht B, Manners JM, Schenk PM, Edgar CI, Maclean DJ, Scheible WR, Udvardi MK, Kazan K (2005) Repressor- and activator-type ethylene response factors functioning in jasmonate signaling and disease resistance identified via a genome-wide screen of Arabidopsis transcription factor gene expression. Plant Physiol 139:949–959

Mittler R, Kim Y, Song L, Coutu J, Coutu A, Ciftci-Yilmaz S, Lee H, Stevenson B, Zhu JK (2006) Gain- and loss-of-function mutations in Zat10 enhance the tolerance of plants to abiotic stress. FEBS Lett 580:6537–6542

Murashige T, Skoog F (1962) A revised medium for rapid growth and bioassay with tobacco tissue cultures. Physiol Plant 15:473–497

Nakano T, Suzuki K, Fujimura T, Shinshi H (2006) Genome-wide analysis of the ERF gene family in Arabidopsis and rice. Plant Physiol 140:411–432

Narusaka Y, Nakashima K, Shinwari ZK, Sakuma Y, Furihata T, Abe H, Narusaka M, Shinozaki K, Yamaguchi-Shinozaki K (2003) Interaction between two cis-acting elements, ABRE and DRE, in ABA-dependent expression of Arabidopsis rd29A gene in response to dehydration and high-salinity stresses. Plant J 34:137–148

Ohme-Takagi M, Shinshi H (1995) Ethylene-inducible DNA binding proteins that interact with an ethylene-responsive element. Plant Cell 7:173–182

Ohta M, Matsui K, Hiratsu K, Shinshi H, Ohme-Takagi M (2001) Repression domains of class II ERF transcriptional repressors share an essential motif for active repression. Plant Cell 13:1959–1968

Onate-Sanchez L, Anderson JP, Young J, Singh KB (2007) AtERF14, a member of the ERF family of transcription factors, plays a nonredundant role in plant defense. Plant Physiol 143:400–409

Park JM, Park CJ, Lee SB, Ham BK, Shin R, Paek KH (2001) Overexpression of the tobacco Tsi1 gene encoding an EREBP/AP2-type transcription factor enhances resistance against pathogen attack and osmotic stress in tobacco. Plant Cell 13:1035–1046

Pirrello J, Jaimes-Miranda F, Sanchez-Ballesta MT, Tournier B, Khalil-Ahmad Q, Regad F, Latche A, Pech JC, Bouzayen M (2006) Sl-ERF2, a tomato ethylene response factor involved in ethylene response and seed germination. Plant Cell Physiol 47:1195–1205

Pre M, Atallah M, Champion A, De Vos M, Pieterse CM, Memelink J (2008) The AP2/ERF domain transcription factor ORA59 integrates jasmonic acid and ethylene signals in plant defense. Plant Physiol 147:1347–1357

Qin F, Sakuma Y, Tran LS, Maruyama K, Kidokoro S, Fujita Y, Fujita M, Umezawa T, Sawano Y, Miyazono K, Tanokura M, Shinozaki K, Yamaguchi-Shinozaki K (2008) Arabidopsis DREB2A-interacting proteins function as RING E3 ligases and negatively regulate plant drought stress-responsive gene expression. Plant Cell 20:1693–1707

Sakuma Y, Liu Q, Dubouzet JG, Abe H, Shinozaki K, Yamaguchi-Shinozaki K (2002) DNA-binding specificity of the ERF/AP2 domain of Arabidopsis DREBs, transcription factors involved in dehydration- and cold-inducible gene expression. Biochem Biophys Res Commun 290:998–1009

Sanjaya, Hsiao PY, Su RC, Su RC, Ko SS, Tong CG, Yang RY, Chan MT (2008) Overexpression of Arabidopsis thaliana tryptophan synthase beta 1 (AtTSB1) in Arabidopsis and tomato confers tolerance to cadmium stress. Plant Cell Environ 31:1074–1085

Sasaki K, Mitsuhara I, Seo S, Ito H, Matsui H, Ohashi Y (2007) Two novel AP2/ERF domain proteins interact with cis-element VWRE for wound-induced expression of the Tobacco tpoxN1 gene. Plant J 50:1079–1092

Schaller A, Roy P, Amrhein N (2000) Salicylic acid-independent induction of pathogenesis-related gene expression by fusicoccin. Planta 210:599–606

Song CP, Agarwal M, Ohta M, Guo Y, Halfter U, Wang P, Zhu JK (2005) Role of an Arabidopsis AP2/EREBP-type transcriptional repressor in abscisic acid and drought stress responses. Plant Cell 17:2384–2396

Thiel G, Lietz M, Hohl M (2004) How mammalian transcriptional repressors work. Eur J Biochem 271:2855–2862

Thompson JD, Gibson TJ, Plewniak F, Jeanmougin F, Higgins DG (1997) The CLUSTAL_X windows interface: flexible strategies for multiple sequence alignment aided by quality analysis tools. Nucleic Acids Res 25:4876–4882

Tournier B, Sanchez-Ballesta MT, Jones B, Pesquet E, Regad F, Latche A, Pech JC, Bouzayen M (2003) New members of the tomato ERF family show specific expression pattern and diverse DNA-binding capacity to the GCC box element. FEBS Lett 550:149–154

Trujillo LE, Sotolongo M, Menendez C, Ochogavia ME, Coll Y, Hernandez I, Borras-Hidalgo O, Thomma BP, Vera P, Hernandez L (2008) SodERF3, a novel sugarcane ethylene responsive factor (ERF), enhances salt and drought tolerance when overexpressed in tobacco plants. Plant Cell Physiol 49:512–525

Tsutsui T, Kato W, Asada Y, Sako K, Sato T, Sonoda Y, Kidokoro S, Yamaguchi-Shinozaki K, Tamaoki M, Arakawa K, Ichikawa T, Nakazawa M, Seki M, Shinozaki K, Matsui M, Ikeda A, Yamaguchi J (2009) DEAR1, a transcriptional repressor of DREB protein that mediates plant defense and freezing stress responses in Arabidopsis. J Plant Res 122:633–643

van der Fits L, Memelink J (2001) The jasmonate-inducible AP2/ERF-domain transcription factor ORCA3 activates gene expression via interaction with a jasmonate-responsive promoter element. Plant J 25:43–53

Wang H, Huang Z, Chen Q, Zhang Z, Zhang H, Wu Y, Huang D, Huang R (2004) Ectopic overexpression of tomato JERF3 in tomato actives downstream gene expression and enhances salt tolerance. Plant Mol Biol 55:183–192

Yang Z, Tian L, Latoszek-Green M, Brown D, Wu K (2005) Arabidopsis ERF4 is a transcriptional repressor capable of modulating ethylene and abscisic acid responses. Plant Mol Biol 58:585–596

You SJ, Liau CH, Huang HE, Feng TY, Prasad VP, Hsiao HH, Lu JC, Chan MT (2003) Sweet pepper ferredoxin-like protein (pflp) gene as a novel selection marker for orchid transformation. Planta 217:60–65

Zhang Z, Huang R (2010) Enhanced tolerance to freezing in tobacco and tomato overexpressing transcription factor TERF2/LeERF2 is modulated by ethylene biosynthesis. Plant Mol Biol 73:241–249

Zhang W, Wen CK (2009) Preparation of ethylene gas and comparison of ethylene responses induced by ethylene, ACC, and ethephon. Plant Physiol Biochem 48:45–53

Zhang H, Huang Z, Xie B, Chen Q, Tian X, Zhang X, Zhang H, Lu X, Huang D, Huang R (2004) The ethylene-, jasmonate-, abscisic acid- and NaCl-responsive tomato transcription factor JERF1 modulates expression of GCC box-containing genes and salt tolerance in tobacco. Planta 220:262–270

Zhang H, Zhu B, Yu B, Hao Y, Fu D, Xu W, Luo Y (2005) Cloning and DNA-binding properties of ethylene response factor, LeERF1 and LeERF2, in tomato. Biotechnol Lett 27:423–428

Zhang Z, Zhang H, Quan R, Wang XC, Huang R (2009) Transcriptional regulation of the ethylene response factor LeERF2 in the expression of ethylene biosynthesis genes controls ethylene production in tomato and tobacco. Plant Physiol 150:365–377
Acknowledgments
We thank members of the Plant Tech Core Facility for subcellular localization assay and H. Kuhn for manuscript editing. We also appreciate the efforts of S.C. Shen and the Inverted Confocal Microscope Core Laboratory of Academia Sinica for technical assistance. This research was funded by Academia Sinica and National Science Council of the Republic of China.
Additional information
I.-C. Pan and C.-W. Li contributed equally to this work.
Electronic supplementary material
Below is the link to the electronic supplementary material.
About this article
Cite this article
Pan, I., Li, C., Su, R. et al. Ectopic expression of an EAR motif deletion mutant of SlERF3 enhances tolerance to salt stress and Ralstonia solanacearum in tomato. Planta 232, 1075–1086 (2010). https://doi.org/10.1007/s00425-010-1235-5
Received:

Accepted:

Published:

Issue Date:
Keywords
AP2/ERF

EAR

Pathogen resistance

Repression domain

Salt tolerance