Abstract
It has been suggested that LeFRK2, the major fructose-phosphorylating enzyme in tomato plants, may be required for stem xylem development. Yet, we do not know if this enzyme affects the development of individual vessels, whether it affects water conductance, or whether it affects phloem development and sugar transport. Here, we show that suppression of LeFRK2 results in a significant reduction in the size of vascular cells and slows fiber maturation. The vessels in stems of LeFRK2-antisense plants are narrower than in WT plants and have thinner secondary cell walls. Although the cambium produces rounded secondary vessels, these vessels become deformed during the early stages of xylem maturation. Water conductance is then reduced in stems, roots, and leaves, suggesting that LeFRK2 influences xylem development throughout the entire vascular system. Interestingly, the build-up of positive xylem pressure under static (no-flow) conditions was also decreased. Suppression of LeFRK2 reduced the length and width of the sieve elements, as well as callose deposition. To examine the effect of LeFRK2 suppression on phloem transport, we created triple-grafted plants in which a portion of the wild-type stem was replaced with an antisense interstcok, and compared the contents of the transported sugar, sucrose, in the different portions of these stems. Sucrose contents above and within the LeFRK2-antisense interstock were significantly higher than those below the graft. These results show that the antisense interstock restricted the downward movement of sucrose, suggesting that LeFRK2 is required for both phloem and xylem development.
This is a preview of subscription content, log in to check access.
Access options
Buy single article
Instant access to the full article PDF.
US$ 39.95
Price includes VAT for USA
Subscribe to journal
Immediate online access to all issues from 2019. Subscription will auto renew annually.
US$ 199
This is the net price. Taxes to be calculated in checkout.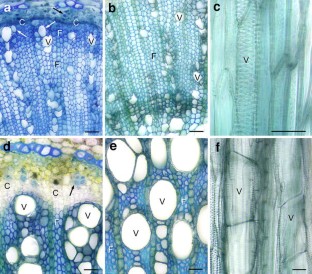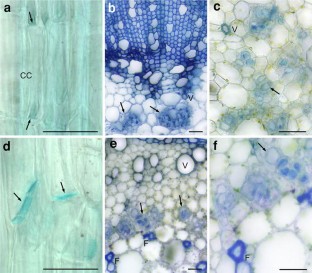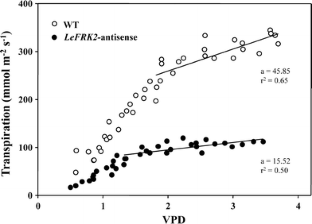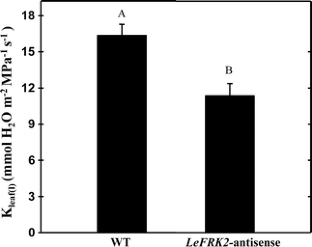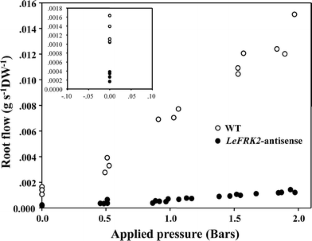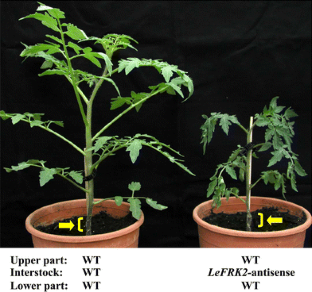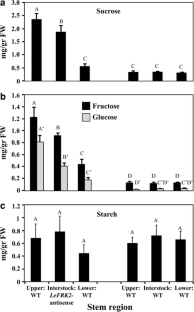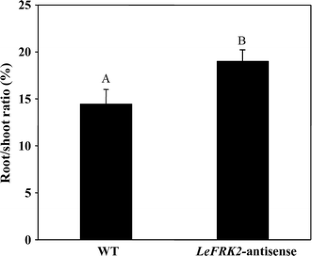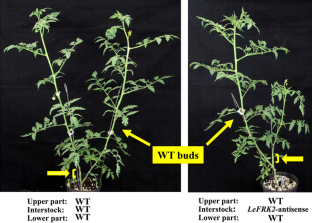 Abbreviations
FRK:

Fructokinase

HXK:

Hexokinase

SuSy:

Sucrose synthase

VPD:

Vapor pressure deficit
References
Aloni R (1980) Role of auxin and sucrose in the differentiation of sieve and tracheary elements in plant tissue cultures. Planta 150:255–263

Aloni R, Peterson CA (1990) The functional-significance of phloem anastomoses in stems of Dahlia-Pinnata Cav. Planta 182:583–590

Aloni R, Zimmermann MH (1983) The control of vessel size and density along the plant axis—a new hypothesis. Differentiation 24:203–208

Dai N, German MA, Matsevitz T, Hanael R, Swartzberg D, Yeselson Y, Petreikov M, Schaffer AA, Granot D (2002a) LeFRK2, the gene encoding the major fructokinase in tomato fruits, is not required for starch biosynthesis in developing fruits. Plant Sci 162:423–430

Dai N, Kandel M, Petreikov M, Levine I, Ricard B, Rothan C, Schaffer AA, Granot D (2002b) The tomato hexokinase LeHXK1: cloning, mapping, expression pattern and phylogenetic relationships. Plant Sci 163:581–590

Davies HV, Shepherd LV, Burrell MM, Carrari F, Urbanczyk-Wochniak E, Leisse A, Hancock RD, Taylor M, Viola R, Ross H, McRae D, Willmitzer L, Fernie AR (2005) Modulation of fructokinase activity of potato (Solanum tuberosum) results in substantial shifts in tuber metabolism. Plant Cell Physiol 46:1103–1115

Dinar M, Rudich J, Zamski E (1983) Effects of heat-stress on carbon transport from tomato leaves. Ann Bot 51:97–103

German MA, Burdman S, Okon Y, Kigel J (2000) Effects of Azospirillum brasilense on root morphology of common bean (Phaseolus vulgaris L.) under different water regimes. Biol Fertil Soil 32:259–264

German MA, Dai N, Chmelnitsky I, Sobolev I, Salts Y, Barg R, Schaffer AA, Granot D (2002) LeFRK4, a novel tomato (Lycopersicon esculentum Mill.) fructokinase specifically expressed in stamens. Plant Sci 163:607–613

German MA, Dai N, Matsevitz T, Hanael R, Petreikov M, Bernstein N, Ioffe M, Shahak Y, Schaffer AA, Granot D (2003) Suppression of fructokinase encoded by LeFRK2 in tomato stem inhibits growth and causes wilting of young leaves. Plant J 34:837–846

German MA, Asher I, Petreikov M, Dai N, Schaffer AA, Granot D (2004) Cloning, expression and characterization of LeFRK3, the fourth tomato (Lycopersicon esculentum Mill.) gene encoding fructokinase. Plant Sci 166:285–291

Gorska A, Ye Q, Holbrook NM, Zwieniecki MA (2008) Nitrate control of root hydraulic properties in plants: translating local information to whole plant response. Plant Physiol 148:1159–1167

Granot D (2007) Role of tomato hexose kinases. Funct Plant Biol 34:564–570

Kanayama Y, Dai N, Granot D, Petreikov M, Schaffer A, Bennett AB (1997) Divergent fructokinase genes are differentially expressed in tomato. Plant Physiol 113:1379–1384

Kanayama Y, Granot D, Dai N, Petreikov M, Schaffer A, Powell A, Bennett AB (1998) Tomato fructokinases exhibit differential expression and substrate regulation. Plant Physiol 117:85–90

Kocacinar F, Sage RF (2004) Photosynthetic pathway alters hydraulic structure and function in woody plants. Oecologia 139:214–223

Koch K (2004) Sucrose metabolism: regulatory mechanisms and pivotal roles in sugar sensing and plant development. Curr Opin Plant Biol 7:235–246

Lejay L, Gansel X, Cerezo M, Tillard P, Muller C, Krapp A, von Wiren N, Daniel-Vedele F, Gojon A (2003) Regulation of root ion transporters by photosynthesis: functional importance and relation with hexokinase. Plant Cell 15:2218–2232

Odanaka S, Bennett AB, Kanayama Y (2002) Distinct physiological roles of fructokinase isozymes revealed by gene-specific suppression of frk1 and frk2 expression in tomato. Plant Physiol 129:1119–1126

Pego JV, Smeekens SC (2000) Plant fructokinases: a sweet family get-together. Trends Plant Sci 5:531–536

Renz A, Stitt M (1993) Substrate-specificity and product Inhibition of different forms of fructokinases and hexokinases in developing potato-tubers. Planta 190:166–175

Schaffer AA, Petreikov M (1997) Inhibition of fructokinase and sucrose synthase by cytosolic levels of fructose in young tomato fruit undergoing transient starch synthesis. Physiol Plant 101:800–806

Sinclair TR, Zwieniecki MA, Holbrook NM (2008) Low leaf hydraulic conductance associated with drought tolerance in soybean. Physiol Plant 132:446–451

Uggla C, Magel E, Moritz T, Sundberg B (2001) Function and dynamics of auxin and carbohydrates during earlywood/latewood transition in scots pine. Plant Physiol 125:2029–2039

Wachter R, Langhans M, Aloni R, Gotz S, Weilmunster A, Koops A, Temguia L, Mistrik I, Pavlovkin J, Rascher U, Schwalm K, Koch KE, Ullrich CI (2003) Vascularization, high-volume solution flow, and localized roles for enzymes of sucrose metabolism during tumorigenesis by Agrobacterium tumefaciens. Plant Physiol 133:1024–1037

Zwieniecki MA, Brodribb TJ, Holbrook NM (2007) Hydraulic design of leaves: insights from rehydration kinetics. Plant Cell Environ 30:910–921
Acknowledgments
This research was supported by research grant No. 890/06 from The Israel Science Foundation, research grants No. IS-3397-06 and No. CA-9100-06 from BARD, the United States—Israel Binational Agricultural and Development Fund. We would like to thank Dr. Yelena Yeselson for her excellent help with HPLC analyses.
About this article
Cite this article
Damari-Weissler, H., Rachamilevitch, S., Aloni, R. et al. LeFRK2 is required for phloem and xylem differentiation and the transport of both sugar and water. Planta 230, 795–805 (2009). https://doi.org/10.1007/s00425-009-0985-4
Received:

Accepted:

Published:

Issue Date:
Keywords
Antisense

Fructokinase

Fructose

Phloem

Sucrose

Xylem