Abstract
Benzalacetone synthase (BAS) is a member of the plant-specific type III PKS superfamily that catalyzes a one-step decarboxylative condensation of 4-coumaroyl-CoA with malonyl-CoA to produce p-hydroxybenzalacetone. In our recent work (Ma et al. in Planta 229(3):457–469, 2008), a three-intron type III PKS gene (PcPKS2) was isolated from Polygonum cuspidatum Sieb. et Zucc. Phylogenetic and functional analyses revealed this recombinant PcPKS2 to be a BAS. In this study, another three-intron type III PKS gene (PcPKS1) and its corresponding cDNA were isolated from P. cuspidatum. Sequence and phylogenetic analyses demonstrated that PcPKS1 is a chalcone sythase (CHS). However, functional and enzymatic analyses showed that recombinant PcPKS1 is a bifunctional enzyme with both, CHS and BAS activity. DNA gel blot analysis indicated that there are two to four CHS copies in the P. cuspidatum genome. RNA gel blot analysis revealed that PcPKS1 is highly expressed in the rhizomes and in young leaves, but not in the roots of the plant. PcPKS1 transcripts in leaves were inducible by pathogen infection and wounding. BAS is thought to play a crucial role in the construction of the C6–C4 moiety found in a variety of phenylbutanoids, yet so far phenylbutanoids have not been isolated from P. cuspidatum. However, since PcPKS1 and PcPKS2 (Ma et al. in Planta 229(3):457–469, 2008) have been identified in P. cuspidatum, it is possible that such compounds are also produced in that plant, albeit in low concentrations.
This is a preview of subscription content, log in to check access.
Access options
Buy single article
Instant access to the full article PDF.
US$ 39.95
Price includes VAT for USA
Subscribe to journal
Immediate online access to all issues from 2019. Subscription will auto renew annually.
US$ 199
This is the net price. Taxes to be calculated in checkout.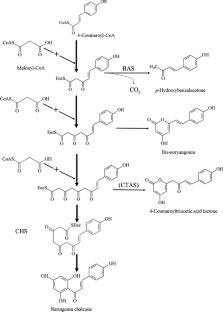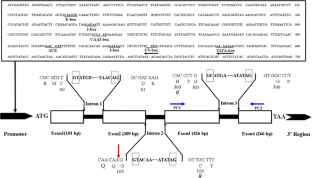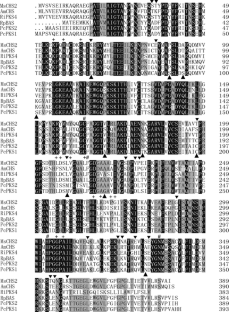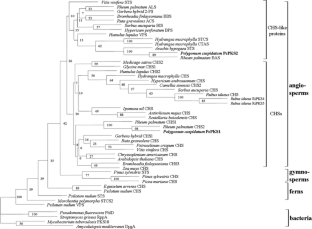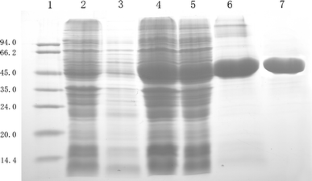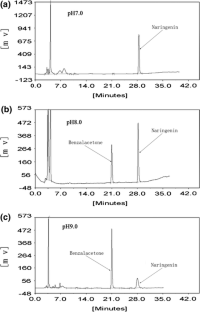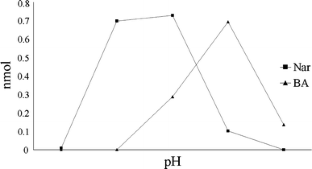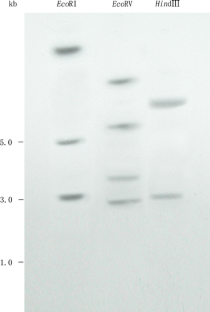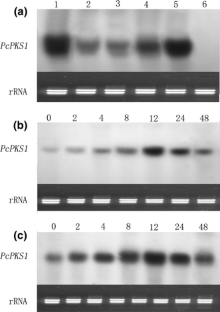 Abbreviations
ALS:

Aloesone synthase

BAS:

Benzalacetone synthase

CHS:

Chalcone synthase

CoA:

Coenzyme A

LC-ESIMS:

Liquid chromatography-electron spray ionization mass spectrometry

OKS:

Octaketide synthase

PKS:

Polyketide synthase

STS:

Stilbene synthase
References
Abe I, Takahashi Y, Morita H, Noguchi H (2001) Benzalacetone synthase. A novel polyketide synthase that plays a crucial role in the biosynthesis of phenylbutanones in Rheum palmatum. Eur J Biochem 268:3354–3359

Abe I, Takahashi Y, Noguchi H (2002) Enzymatic formation of an unnatural C(6)-C(5) aromatic polyketide by plant type III polyketide synthases. Org Lett 4:3623–3626

Abe I, Sano Y, Takahashi Y, Noguchi H (2003) Site-directed mutagenesis of benzalacetone synthase. The role of the Phe215 in plant type III polyketide synthases. J Biol Chem 278:25218–25226

Abe I, Oguro S, Utsumi Y, Sano Y, Noguchi H (2005) Engineered biosynthesis of plant polyketides: chain length control in an octaketide-producing plant type III polyketide synthase. J Am Chem Soc 127:12709–12716

Akiyama T, Shibuya M, Liu HM, Ebizuka Y (1999) p-Coumaroyltriacetic acid synthase, a new homologue of chalcone synthase, from Hydrangea macrophylla var. thunbergii. Eur J Biochem 263:834–839

Arias JA, Dixon RA, Lamb CJ (1993) Dissection of the functional architecture of a plant defense gene promoter using a homologous in vitro transcription initiation system. Plant Cell 5:485–496

Austin MB, Noel JP (2003) The chalcone synthase superfamily of type III polyketide synthases. Nat Prod Rep 20:79–110

Beekwilder J, van der Meer IM, Sibbesen O, Broekgaarden M, Qvist I, Mikkelsen JD, Hall RD (2007) Microbial production of natural raspberry ketone. Biotechnol J 2:1270–1279

Blacklock BJ, Jaworski JG (2006) Substrate specificity of Arabidopsis 3-ketoacyl-CoA synthases. Biochem Biophys Res Commun 346:583–590

Borejsza-Wysocki W, Hrazdina G (1994) Biosynthesis of p-hydroxyphenylbutan-2-one in raspberry fruits and tissue culture. Phytochemistry 35:623–628

Borejsza-Wysocki W, Hrazdina G (1996) Aromatic polyketide synthases (purification, characterization, and antibody development to benzalacetone synthase from raspberry fruits). Plant Physiol 110:791–799

Brown JW, Smith P, Simpson CG (1996) Arabidopsis consensus intron sequences. Plant Mol Biol 32:531–535

Buchanan BB, Gruissem W, Jones RL (2002) Biochemistry and molecular biology of plants. American Society of Plant Physiologists, Waldorf

Durbin ML, McCaig B, Clegg MT (2000) Molecular evolution of the chalcone synthase multigene family in the morning glory genome. Plant Mol Biol 42:79–92

Ferrer JL, Jez JM, Bowman ME, Dixon RA, Noel JP (1999) Structure of chalcone synthase and the molecular basis of plant polyketide biosynthesis. Nat Struct Biol 6:775–784

Hartmann U, Sagasser M, Mehrtens F, Stracke R, Weisshaar B (2005) Differential combinatorial interactions of cis-acting elements recognized by R2R3-MYB, BZIP, and BHLH factors control light-responsive and tissue-specific activation of phenylpropanoid biosynthesis genes. Plant Mol Biol 57:155–171

Hegde VR, Pu H, Patel M, Black T, Soriano A, Zhao W, Gullo VP, Chan TM (2004) Two new bacterial DNA primase inhibitors from the plant Polygonum cuspidatum. Bioorg Med Chem Lett 14:2275–2277

James DW Jr, Lim E, Keller J, Plooy I, Ralston E, Dooner HK (1995) Directed tagging of the Arabidopsis FATTY ACID ELONGATION1 (FAE1) gene with the maize transposon Activator. Plant Cell 7:309–319

Jiang C, Schommer CK, Kim SY, Suh DY (2006) Cloning and characterization of chalcone synthase from the moss, Physcomitrella patens. Phytochemistry 67:2531–2540

Kajikawa M, Yamaoka S, Yamato KT, Kanamaru H, Sakuradani E, Shimizu S, Fukuzawa H, Ohyama K (2003a) Functional analysis of a beta-ketoacyl-CoA synthase gene, MpFAE2, by gene silencing in the liverwort Marchantia polymorpha L. Biosci Biotechnol Biochem 67:605–612

Kajikawa M, Yamato KT, Kanamaru H, Sakuradani E, Shimizu S, Fukuzawa H, Sakai Y, Ohyama K (2003b) MpFAE3 a beta-ketoacyl-CoA synthase gene in the liverwort Marchantia polymorpha L., is preferentially involved in elongation of palmitic acid to stearic acid. Biosci Biotechnol Biochem 67:1667–1674

Lewin B (2000) Gene VII. Oxford University Press Inc., New York

Liu YG, Mitsukawa N, Oosumi T, Whittier RF (1995) Efficient isolation and mapping of Arabidopsis thaliana T-DNA insert junctions by thermal asymmetric interlaced PCR. Plant J 8:457–463

Liu B, Falkenstein-Paul H, Schmidt W, Beerhues L (2003) Benzophenone synthase and chalcone synthase from Hypericum androsaemum cell cultures: cDNA cloning, functional expression, and site-directed mutagenesis of two polyketide synthases. Plant J 34:847–855

Ma LQ, Pang XB, Shen HY, Pu GB, Wang HH, Lei CY, Wang H, Li GF, Liu BY, Ye HC (2008) A novel type III polyketide synthase encoded by a three-intron gene from Polygonum cuspidatum. Planta 229(3):457–469

Morita H, Takahashi Y, Noguchi H, Abe I (2000) Enzymatic formation of unnatural aromatic polyketides by chalcone synthase. Biochem Biophys Res Commun 279:190–195

Schröder J (1997) A family of plant-specific polyketide synthases: facts and predictions. Trends Plant Sci 2:373–378

Sommer H, Saedler H (1986) Structure of the chalcone synthase gene of Antirrhinum majus. Mol Gen Genet 202:429–434

Todd J, Post-Beittenmiller D, Jaworski JG (1999) KCS1 encodes a fatty acid elongase 3-ketoacyl-CoA synthase affecting wax biosynthesis in Arabidopsis thaliana. Plant J 17:119–130

Trapp SC, Croteau RB (2001) Genomic organization of plant terpene synthases and molecular evolutionary implications. Genetics 158:811–832

Xiao K, Xuan L, Xu Y, Bai D, Zhong D (2002) Constituents from Polygonum cuspidatum. Chem Pharm Bull (Tokyo) 50:605–608

Yi T, Zhang H, Cai Z (2007) Analysis of rhizoma Polygoni cuspidati by HPLC and HPLC-ESI/MS. Phytochem Anal 18:387–392

Zheng D, Hrazdina G (2008) Molecular and biochemical characterization of benzalacetone synthase and chalcone synthase genes and their proteins from raspberry (Rubus idaeus L.). Arch Biochem Biophys 470:139–145
About this article
Cite this article
Ma, L., Guo, Y., Gao, D. et al. Identification of a Polygonum cuspidatum three-intron gene encoding a type III polyketide synthase producing both naringenin and p-hydroxybenzalacetone. Planta 229, 1077–1086 (2009). https://doi.org/10.1007/s00425-009-0899-1
Received:

Accepted:

Published:

Issue Date:
Keywords
Benzalacetone synthase

Chalcone synthase

Gene evolution

Phenylbutanoid biosynthesis

Polygonum

Type III polyketide synthase