Abstract
The detection of genes having similar expression profiles following the application of different stimuli that trigger bud break may constitute potent tools for the identification of pathways with a central role in dormancy release. We compared the effects of heat shock (HS) and hydrogen cyanamide (HC) and demonstrated that HS leads to earlier and higher bud-break levels. Changes in transcript levels of catalase, alcohol dehydrogenase and pyruvate decarboxylase were induced following both treatments. However, timing and extent of changes in transcript level differed. Changes occurred earlier in HS-treated buds and were more intense in HC-treated buds. The changes in transcript levels after both treatments were temporary. The rapid and short-lasting changes in gene expression following HS treatment correlated with the faster and higher level of bud-break that this treatment exerted. This correlation may propose that the reported molecular events are mechanistically involved in dormancy release. To test the hypothesis that temporary oxidative stress is part of the mechanism inducing dormancy release, we analyzed the effect of HS and HC treatments on the expression of ascorbate peroxidase, glutathione reductase, thioredoxin h, glutathione S-transferase and sucrose synthase genes and found that they were induced by both treatments in a similar pattern. Taken together, these findings propose that similar cellular processes might be triggered by different stimuli that lead to dormancy release, and are consistent with the hypothesis that temporary oxidative stress and respiratory stress might be part of the mechanism that leads to bud break.
This is a preview of subscription content, log in to check access.
Access options
Buy single article
Instant access to the full article PDF.
US$ 39.95
Price includes VAT for USA
Subscribe to journal
Immediate online access to all issues from 2019. Subscription will auto renew annually.
US$ 199
This is the net price. Taxes to be calculated in checkout.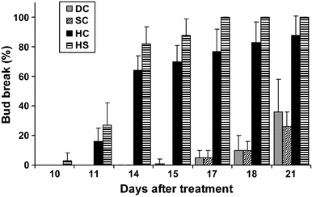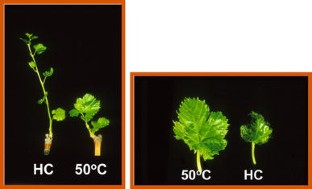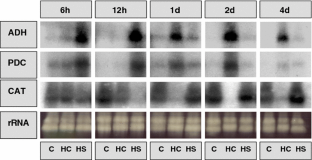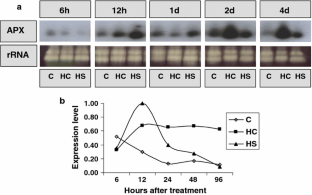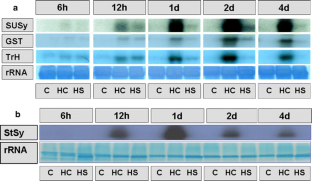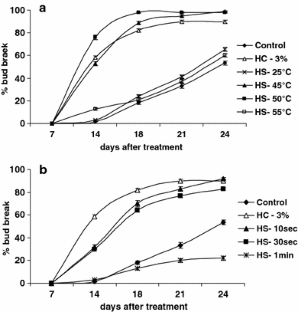 Abbreviations
ADH:

Alcohol dehydrogenase

APX:

Ascorbate peroxidase

CAT:

Catalase

CDPK:

Calcium-dependent protein kinase

EST:

Expressed sequence tag

GR:

Glutathione reductase

GST:

Glutathione S-transferase

HC:

Hydrogen cyanamide

HS:

Heat shock

PDC:

Pyruvate decarboxylase

RE:

Relative expression

ROS:

Reactive oxygen species

SDS:

Sodium dodecyl sulfate

StSy:

Stilben synthase

SuSy:

Sucrose synthase

TrH:

Thioredoxin h
References
Anderson JV, Chao WS, Horvath DP (2001) A current review on the regulation of dormancy in vegetative buds. Weed Sci 49:581–589

Arora R, Rowland LJ, Tanino K (2003) Induction and release of bud dormancy in woody perrenials: ascience comes of age. HortScience 38:911–921

Baud S, Vaultier MN, Rochat C (2004) Structure and expression of the sucrose synthase multigene family in Arabidopsis. J Exp Bot 396:397–409

Borchert R (2000) Organismic and envrionmental controls of bud growth in tropical trees. In: Viemont JD, Crabbe J (eds) Dormancy in plants. From whole plant behaviour to cellular control. CABI Publishing, New York, pp 87–108

Buchanan BB, Gruissem W, Jones RL (2000) Biochemistry and molecular biology of plants. American Society of Plant Physiologists, Rockville, pp 1189–1191

Conrath U, Silva H, Klessig DF (1997) Protein dephosphorylation mediates salicylic acid-induced expression of Pr-1 genes in tobacco. Plant J 11:747–757

Dat JF, Lopez-Delgado H, Foyer CH, Scott IM (1998) Parallel changes in H2O2 and catalase during thermotolerance induced by salicylic acid or heat acclimation in mustard seedlings. Plant Physiol 116:1351–1357

Dennis FG (1986) Two methods of studying rest: temperature alteration and genetic analysis. HortScience 22:820–824

Erez A (1985) Defoliation of deciduous fruit trees with magnesium chlorate and cyanide. HortScience 20:452–453

Erez A (1987) Chemical control of bud break. HortScience 22:1240–1243

Erez A (1995) Means to compensate for insufficient chilling to improve bloom and leafing. Acta Hortic 395:81–95

Foreman J, Demidchik V, Bothwell JHF, Mylona P, Miedema H, Torresk MA, Linstead P, Costa S, Bronlee C, Jonesk JDG, Davies JM, Dolan L (2003) Reactive oxygen species produced by NADPH oxidase regulate plant cell growth. Nature 422:442–446

Foyer CH, Lopes-Delgado H, Dat JF, Scott IM (1997) Hydrogen peroxide and glutathione-associated mechanisms of acclimatory stress tolerance and signaling. Physiol Plant 100:1554–1561

Fuchigami LH, Nee CC (1987) Degree growth stage model and rest-breaking mechanisms in temprate woody perennials. HortScience 22:836–844

Fuchigami LH, Weiser CJ, Kobayashi K,Timmis R, Gusta LV (1982) A degree growth stage (oGS) model and cold acclimation in temperate woody plants. In: Li PH, Sakai A (eds) Plant cold hardiness and freezing stress, vol 2. Academic Press, New York, pp 93–116

Gelhaye E, Rouhier N, Gerard J, Jolivet Y, Gualberto J, Navrot N, Ohlsson PI, Wingsle G, Hirasawa M, Knaff DB, Wang H, Dizengremel P, Meyer Y, Jacquot JP (2004) A specific form of thioredoxin h occurs in plant mitochondria and regulates the alternative oxidase. Proc Natl Acad Sci USA 101:14545–14550

George AP, Nissen RJ, Baker JA (1986) Low chill peach and nectarine cultivars. Qld Agric J 112:27–33

Godon C, Lagniel G, Lee J, Buhler J, Kieffer S, Perrot M, Boucherie H, Toledano MB, Labarre J (1998) The H2O2 stimulon in Saccharomyces cerevisiae. J Biol Chem 273:22480–22489

Gu R, Fonseca S, Puskas LG, Hackler L Jr, Zvara A, Dudits D, Pais MS (2004) Transcript identification and profiling during salt stress and recovery of Populus euphratica. Tree Physiol 24:265–276

Henzell RF, Briscoe MR, Gravett I (1991) Improving kiwifruit vine productivity with plant growth regulators. Acta Hortic 297:345–350

Horvath DP, Anderson JV, Soto-Suarez M, Chao WS (2006) Transcriptome analysis of leafy spurge (Euphorbia esula) crown buds during shifts in well-defined phases of dormancy. Weed Sci 54:821–827

Horvath DP, Soto-Suarez M, Chao WS, Jia Y, Anderson JV (2005) Transcriptome analysis of paradormancy release in root buds of leafy spurge (Euphorbia esula) crown buds during shifts in well-defined phases of dormancy. Weed Sci 53:795–801

Keilin T, Pang X, Venkateswari J, Halaly T, Crane O, Keren A, Ogrodovitch A, Ophir R, Volpin H, Galbraith D, Or E (2007) Digital expression profiling of a grape-bud EST collection leads to new insight into molecular events during grape-bud dormancy release. Plant Sci 173:446–457

Koch K (2004) Sucrose metabolism: regulatory mechanisms and pivotal roles in sugar sensing and plant development. Curr Opin Plant Biol 7:235–246

Lang GA (1987) Dormancy: a new universal terminology. HortScience 22:817–820

Lang GA (1994) Dormancy-the missing links: molecular studies and integration of regulatory plant and environmental interactions. HortScience 29:1255–1263

Lavee S, May P (1997) Dormancy of grapevine buds-facts and speculation. Aust J Grape Wine Res 3:31–46

Marana C, Garcia-Olmedo F, Carbonero P (1990) Differential expression of two types of sucrose synthase-encoding genes in wheat in response to anaerobiosis, cold shock and light. Gene 88:167–172

Martin GC (1991) Bud dormancy in deciduous fruit trees. In: Steward FC (ed) Plant physiology: a treatise. Vol. X: Growth and development. Academic Press, New York, pp 183–225

Mazzitelli L, Hancock RD, Haupt S, Walker PG, Pont SDA, McNicol J, Cardle L, Morris J, Viola R, Brennan R, Hedley PE, Taylor MA (2007) Co-ordinated gene expression during phases of dormancy release in raspberry (Rubus idaeus L.) buds. J Exp Bot 58:1035–1045

Nir G, Lavee S (1993) Metabolic changes during cyanaimide induced dormancy release in grapevines. Acta Hortic 329:271–274

Nir G, Shulman Y, Fanberstein L, Lavee S (1986) Changes in the activity of catalase (EC 1.11.1.6) in relation to the dormancy of grapevine (Vitis vinifera L.) buds. Plant Physiol 81:1140–1142

Nitsch JP (1957) Photoperiodism in woody plants. Proc Am Soc Hort Sci 70:526–527

Or E, Nir G, Vilozny I (1999) Timing of hydrogen cyanamide application to grapevine buds. Vitis 38:1–6

Or E, Belausov E, Popilevsky I, Ben-Tal Y (2000a) Changes in endogenous ABA level in relation to the dormancy cycle in grapevine grown in hot climate. J Hortic Sci Biotechnol 75:190–194

Or E, Vilozny I, Eyal Y, Ogradovitch A (2000b) The transduction of the signal for grape bud dormancy breaking induced by hydrogen cyanamide may involve the SNF-like protein kinase GDBRPK. Plant Mol Biol 43:483–494

Or E, Vilozny I, Fennell A, Eyal Y, Ogrodovitch A (2002) Dormancy in grape buds: isolation and characterization of catalase cDNA and analysis of its expression following chemical induction of bud dormancy release. Plant Sci 162:121–130

Pacey-Miller T, Scott K, Ablett E, Tingey S, Ching A, Henry R (2003) Genes associated with the end of dormancy in grapes. Funct Integr Genomics 3:144–152

Pang X, Halaly T, Crane O, Keilin T, Keren A, Ogrodovitch A, Galbraith D, Or E (2007) Involvement of calcium signaling in dormancy release of grape buds. J Exp Bot 58:3249–3202

Pei ZM, Murata Y, Benning G (2000) Calcium channels activatd by hydrogen peroxide mediate abscisic acid signaling in guard cells. Nature 406:731–734

Perez FJ, Lira W (2005) Possible role of catalase in post-dormancy bud break in grapevines. J Plant Physiol 162:301–308

Powell LE (1987) Hormonal aspects of bud and seed dormancy in temperate-zone woody plant. HortScience 22:845–850

Prasad TK (1996) Mechanisms of chilling-induced oxidative stress injury and tolerance in developing maize seedling: changes in antioxidant system, oxidation of proteins and lipids, and protease activities. Plant J 10:1017–1026

Price AH, Taylor A, Ripley SJ, Griffiths A, Trewavas AJ, Knight MR (1994) Oxidative signals in tobacco increase cytosolic calcium. Plant Cell 6:1301–1310

Rentel MC, Knight MR (2004) Oxidative stress-induced calcium signaling in Arabidopsis. Plant Physiol 135:1471–1479

Rohde A, Bhalerao RP (2007) Plant dormancy in the perennial context. Trends Plant Sci 12:218–223

Ruttink T, Arend M, Morreel K, Storme V, Rombauts S, Fromm J, Bhalerao RP, Boerjan W, Rohde A (2007) A molecular timetable for apical bud formation and dormancy induction in poplar. Plant Cell 19:2370–2390

Sambrook J, Fritsch EF, Maniatis T (1989) Molecular cloning. A laboratory manual. Cold Spring Harbor Laboratory Press, Cold Spring Harbor

Saure M (1985) Dormancy release in deciduous fruit trees. Hortic Rev 7:239–300

Shim I, Momose Y, Yamamoto A, Kim D, Usui K (2003) Inhibition of catalase activity by oxidative stress and its relationships to salicylic acid accumulation in plants. Plant Growth Regul 39:285–92

Shulman Y, Nir G, Fanberstein L, Lavee S (1983) The effect of cyanamide on the release from dormancy of grapevine buds. Sci Hortic 19:97–104

Shulman Y, Nir G, Lavee S (1986) Oxidative processes in bud dormancy and the use of hydrogen cyanamide in breaking dormancy. Acta Hortic 179:141–145

Subbaiah CC, Sachs MM (2003) Molecular and cellular adaptations of maize to flooding stress. Ann Bot 91:119–127

Wang SY, Faust M (1988) Metabolic activities during dormancy and blooming of deciduous fruit trees. Isr J Bot 37:227–243

Wang SY, Jiao HJ, Faust M (1991a) Changes in ascorbate, glutathione, and related enzyme activities during thidiazuron-induced bud break of apple. Physiol Plant 82:231–236

Wang SY, Jiao HJ, Faust M (1991b) Changes in metabolic enzyme activities during thidiazuron-induced lateral budbreak of apple. HortScience 82:231–236
Acknowledgments
This research was supported by Research Grant Award No. IS-3340-02 from BARD, The United States-Israel Binational Agricultural Research and Development Fund.
Additional information
T. Halaly and X. Pang contributed equally to the paper.
About this article
Cite this article
Halaly, T., Pang, X., Batikoff, T. et al. Similar mechanisms might be triggered by alternative external stimuli that induce dormancy release in grape buds. Planta 228, 79–88 (2008). https://doi.org/10.1007/s00425-008-0720-6
Received:

Accepted:

Published:

Issue Date:
Keywords
Bud dormancy

Heat shock

Hydrogen cyanamide

Oxidative stress

Vitis