Abstract
Purpose
Laparoscopy-assisted pylorus-preserving gastrectomy has been increasingly reported as a treatment for early gastric cancer located in the middle third of the stomach because of its low invasiveness and preservation of pyloric function. Advantages of a totally laparoscopic approach to distal gastrectomy, including small wound size, minimal invasiveness, and safe anastomosis, have been recently reported. Here, we introduce a new procedure for intracorporeal gastro-gastrostomy combined with totally laparoscopic pylorus-preserving gastrectomy (TLPPG).
Methods
The stomach is transected after sufficient lymphadenectomy with preservation of infrapyloric vessels and vagal nerves. The proximal stomach is first transected near the Demel line, and the distal side is transected 4 to 5 cm from the pyloric ring. To create end-to-end gastro-gastrostomy, the posterior wall of the anastomosis is stapled with a linear stapler and the anterior wall is made by manual suturing intracorporeally. We retrospectively assessed the postoperative surgical outcomes via medical records. The primary endpoint in the present study is safety.
Results
Sixteen patients underwent TLPPG with intracorporeal reconstruction. All procedures were successfully performed without any intraoperative complications. The mean operative time was 275 min, with mean blood loss of 21 g. With the exception of one patient who had gastric stasis, 15 patients were discharged uneventfully between postoperative days 8 and 11.
Conclusions
Our novel hybrid technique for totally intracorporeal end-to-end anastomosis was performed safely without mini-laparotomy. This technique requires prospective validation.
This is a preview of subscription content, log in to check access.
Access options
Buy single article
Instant unlimited access to the full article PDF.
US$ 39.95
Price includes VAT for USA
Subscribe to journal
Immediate online access to all issues from 2019. Subscription will auto renew annually.
US$ 99
This is the net price. Taxes to be calculated in checkout.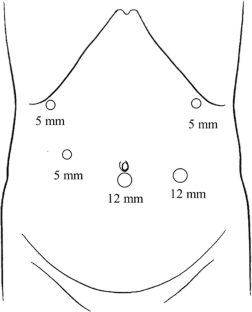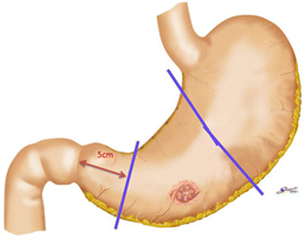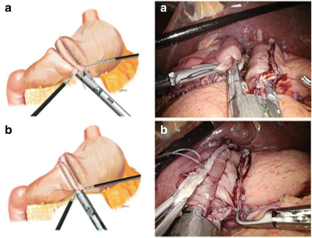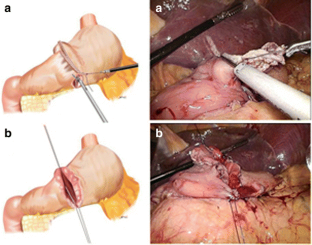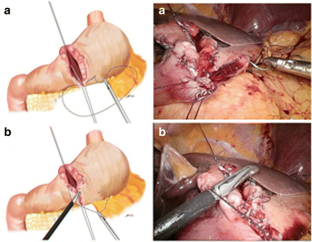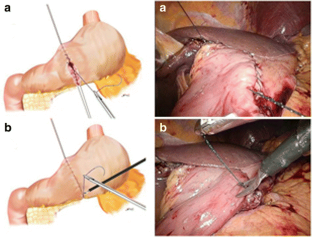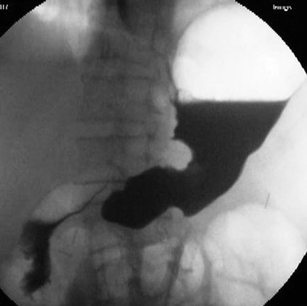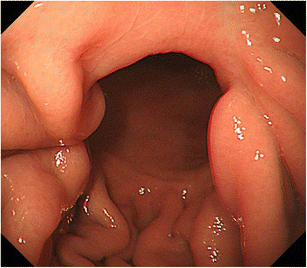 References
1.

Yada T, Yokoi C, Uemura N (2013) The current state of diagnosis and treatment for early gastric cancer. Diagn Ther Endosc 2013:241320

2.

Jiang X, Hiki N, Nunobe S, Fukunaga T, Kumagai K, Nohara K, Katayama H, Ohyama S, Sano T, Yamaguchi T (2011) Long-term outcome and survival with laparoscopy-assisted pylorus-preserving gastrectomy for early gastric cancer. Surg Endosc 25:1182–1186

3.

Japanese Gastric Cancer Association (2011) Japanese classification of gastric carcinoma: 3rd English edition. Gastric Cancer 14:101–112

4.

Japanese Gastric Cancer Association (2011) Japanese gastric cancer treatment guidelines 2010 (ver.3). Gastric Cancer 14:113–123

5.

Nunobe S, Hiki N, Fukunaga T, Tokunaga M, Ohyama S, Seto Y, Yamaguchi T (2007) Laparoscopy-assisted pylorus-preserving gastrectomy: preservation of vagus and infrapyloric blood flow induces less stasis. World J Surg 31:2335–2340

6.

Morita S, Katai H, Saka T, Fukagawa T, Sano T, Sasako M (2008) Outcome of pylorus-preserving gastrectomy for early gastric cancer. Br J Surg 95:1131–1135

7.

Hiki N, Shimoyama S, Yamaguchi H, Kubota K, Kaminishi M (2006) Laparoscopy-assisted pylorus-preserving gastrectomy with quality controlled lymph node dissection in gastric cancer operation. J Am Coll Surg 203:162–169

8.

Ikeda O, Sakaguchi Y, Aoki Y, Harimoto N, Taomoto J, MasudaT OT, Adachi E, Toh Y, Okamura T, Baba H (2009) Advantages of totally laparoscopic distal gastrectomy over laparoscopically assisted distal gastrectomy for gastric cancer. Surg Endosc 23:2374–2379

9.

Lee SW, Bouras G, Nomura E, Yoshinaka R, Tokuhara T, Nitta T, Tsunemi S, Tanigawa N (2010) Intracorporeal stapled anastomosis following laparoscopic segmental gastrectomy for gastric cancer: technical report and surgical outcomes. Surg Endosc 24:1774–1780

10.

Kumagai K, Hiki N, Nunobe S, Sekikawa S, Chiba T, Kiyokawa T, Jiang X, Tanimura S, Sano T, Yamaguchi T (2015) Totally laparoscopic pylorus-preserving gastrectomy for early gastric cancer in the middle stomach: technical report and surgical outcomes. Gastric Cancer 18:183–187

11.

Kanaya S, Gomi T, Momoi H, Tamaki N, Isobe H, Kitayama T, Wada Y, Ohtoshi M (2002) Delta-shaped anastomosis in totally laparoscopic Billroth I gastrectomy: new technique of intraabdominal gastroduodenostomy. J Am Coll Surg 195:284–287

12.

Lee SW, Nomura E, Tokuhara T, Kawai M, Matsuhashi N, Yokoyama K, Fujioka H, Hiramatsu M, Okuda J, Uchiyama K (2011) Laparoscopic technique and initial experience with knotless, unidirectional barbed suture closure for staple-conserving, delta-shaped gastroduodenostomy after distal gastrectomy. J Am Coll Surg 213:e39–e45

13.

Han TS, Kong SH, Lee HJ, Ahn HS, Hur K, Yu J, Kim WH, Yang HK (2011) Dissemination of free cancer cells from the gastric lumen and from perigastric lymphovascular pedicles during radical gastric cancer surgery. Ann Surg Oncol 18:2818–2825

14.

Suh YS, Han DS, Kong SH, Kwon S, Shin CI, Kim WH, Kim HH, Lee HJ, Yang HK (2014) Laparoscopy-assisted pylorus-preserving gastrectomy is better than laparoscopy-assisted distal gastrectomy for middle-third early gastric cancer. Ann Surg 259:485–493

15.

Namikawa T, Hiki N, Kinami S, Okabe H, Urushihara T, Kawashima H, Fukushima N, Kodera Y, Yumiba T, Oshio A, Nakada K (2014) Factors that minimize postgastrectomy symptoms following pylorus-preserving gastrectomy: assessment using a newly developed scale (PGSAS-45). Gastric Cancer 18:397–406
Acknowledgments
Authors' contributions
Study conception and design: Koeda
Acquisition of data: Koeda, Chiba, Noda, Nishinari, Segawa, Akiyama, Iwaya
Analysis and interpretation of data: Koeda, Nishizuka, Nitta, Otsuka
Drafting of manuscript: Koeda
Critical revision: Sasaki
Ethics declarations
Funding
This study was funded in part by a Health Labour Sciences Research Grant of Japan and by MEXT KAKENHI Grant of Japan (Number 15K10114).
Conflict of interest
The authors declare that they have no conflict of interest.
Ethical approval
All procedures performed in studies involving human participants were in accordance with the ethical standards of the institutional and/or national research committee and with the 1964 Helsinki declaration and its later amendments or comparable ethical standards.
Informed consent
Informed consent was obtained from all individual participants included in the study.
Electronic supplementary material
Below is the link to the electronic supplementary material.
About this article
Cite this article
Koeda, K., Chiba, T., Noda, H. et al. Intracorporeal reconstruction after laparoscopic pylorus-preserving gastrectomy for middle-third early gastric cancer: a hybrid technique using linear stapler and manual suturing. Langenbecks Arch Surg 401, 397–402 (2016) doi:10.1007/s00423-016-1378-3
Received:

Accepted:

Published:

Issue Date:
Keywords
Laparoscopic gastrectomy

Gastric cancer

Intracorporeal anastomosis

Pylorus-preserving gastrectomy