Abstract
Purpose
Anatomical liver resection is usually based on Couinaud's anatomical concept. In contrast, Hjortsjo's concept, which divides the right anterior section of the liver into ventral and dorsal segments by the vertical plane named the ventral segment fissure (VSF), has been rarely utilized for liver resection. Identification of the VSF is the most difficult step in liver resection based on Hjortsjo's concept. This study aimed to detail liver resection based on Hjortsjo's concept and report surgical outcomes of this procedure.
Methods
We reviewed the records of 166 consecutive patients who underwent liver resection between September 2009 and June 2012 at Kyoto Medical Center and identified seven liver resections in which Hjortsjo's concept was utilized. These patients consisted of four men and three women aged 55–79 years. Four patients had hepatocellular carcinoma and cirrhosis and three patients had metachronous colorectal liver metastasis.
Results
Liver resection along the VSF consisted of two extended left medial sectionectomies, three extended right posterior sectionectomies, and one Sg 7+8-dorsal resection by a venous-drainage-guided approach and one Sg 8-dorsal resection by a Glissonian approach. In all patients, the VSF was successfully identified as a congested or ischemic border on the liver surface. Mortality and major morbidity were nil. No patients underwent blood transfusion. After a median follow-up of 15 months, there were no deaths or local recurrence.
Conclusions
Anatomical liver resection based on Hjortsjo's concept is feasible and advantageous over conventional liver resection because it preserves more parenchyma. The venous-drainage-guided approach is an effective method for identifying the VSF.
This is a preview of subscription content, log in to check access.
Access options
Buy single article
Instant unlimited access to the full article PDF.
US$ 39.95
Price includes VAT for USA
Subscribe to journal
Immediate online access to all issues from 2019. Subscription will auto renew annually.
US$ 99
This is the net price. Taxes to be calculated in checkout.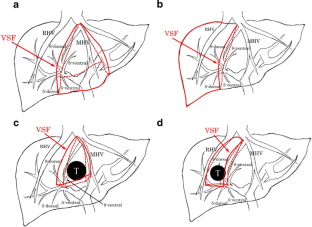 References
1.

Couinaud C (1989) Surgical anatomy of the liver revisited. Couinaud, Paris

2.

Bismuth H (1982) Surgical anatomy and anatomical surgery of the liver. World J Surg 6:3–9

3.

Terminology Committee of the International Hepato-Pancreato-Biliary Association (2000) The Brisbane 2000 terminology of liver anatomy and resections. HPB 2:333–339

4.

Hjortsjo CH (1951) The topography of the intrahepatic duct systems. Acta Anat (Basel) 11:599–615

5.

Kogure K, Kuwano H, Fujimaki N et al (2002) Reproposal for Hjortsjo's segmental anatomy on the anterior segment in human liver. Arch Surg 137:1118–1124

6.

Macchi V, Porzionato A, Parenti A et al (2005) Main accessory sulcus of the liver. Clin Anat 18:39–45

7.

Shindoh J, Satou S, Aoki T et al (2012) Hidden symmetry in asymmetric morphology: significance of Hjortsjo's anatomical model in liver surgery. Hepatogastroenterology 59:519–525

8.

Cho A, Okazumi S, Makino H et al (2004) Relation between hepatic and portal veins in the right paramedian sector: proposal for anatomical reclassification of the liver. World J Surg 28:8–12

9.

Cho A, Okazumi S, Makino H et al (2004) Anterior fissure of the right liver—the third door of the liver. J Hepatobiliary Pancreat Surg 11:390–396

10.

Cho A, Okazumi S, Miyazawa Y et al (2004) Limited resection of the right hemiliver based on reclassification of the right anterior segment of the liver. Hepatogastroenterology 51:820–821

11.

Kondo S, Katoh H, Hirano S et al (2004) Venous-drainage-guided selective hepatectomy: a novel approach to liver surgery. Hepatogastroenterology 51:1–3

12.

Cho A, Yamamoto H, Kainuma O et al (2010) Extended left hepatectomy of the left and middle hepatic venous drainage areas along the anterior fissure. Am J Surg 200:186–190

13.

Tanaka K, Matsumoto C, Takakura H et al (2010) Technique of right hemihepatectomy preserving ventral right anterior section guided by area of hepatic venous drainage. Surgery 147:450–458

14.

Cho A, Okazumi S, Miyazawa Y et al (2004) Limited resection based on reclassification of segment 8 of the liver. Hepatogastroenterology 51:575–576

15.

Takasaki K, Kobayashi S, Tanaka S et al (1990) Highly anatomically systematized hepatic resection with Glissonean sheath code transection at the hepatic hilus. Int Surg 75:73–77

16.

Sano K, Makuuchi M, Miki K et al (2002) Evaluation of hepatic venous congestion: proposed indication criteria for hepatic vein reconstruction. Ann Surg 236:241–247

17.

Igami T, Yokoyama Y, Nishio H et al (2009) A left hepatectomy and caudate lobectomy combined resection of the ventral segment of the right anterior sector for hilar cholangiocarcinoma—the efficacy of PVE (portal vein embolization) in identifying the hepatic subsegment: report of a case. Surg Today 39:628–632

18.

Torzilli G, Donadon M, Marconi M et al (2008) Systematic extended right posterior sectionectomy: a safe and effective alternative to right hepatectomy. Ann Surg 247:603–611

19.

Suzuki S, Sakaguchi T, Yokoi Y et al (2001) Impact of repeat hepatectomy on recurrent colorectal liver metastases. Surgery 129:421–428

20.

Nakajima Y, Ko S, Kanamura T et al (2001) Repeat liver resection for hepatocellular carcinoma. J Am Coll Surg 192:339–344

21.

Hasegawa K, Kokudo N, Imamura H et al (2005) Prognostic impact of anatomic resection for hepatocellular carcinoma. Ann Surg 242:252–259

22.

Kaneko T, Kaneko K, Sugimoto H et al (2000) Intrahepatic anastomosis formation between the hepatic veins in the graft liver of the living related liver transplantation: observation by Doppler ultrasonography. Transplantation 70:982–985

23.

Okano K, Yamamoto J, Moriya Y et al (1999) Macroscopic intrabiliary growth of liver metastases from colorectal cancer. Surgery 126:829–834

24.

Takasaki K (1998) Glissonean pedicle transection method for hepatic resection: a new concept of liver segmentation. J Hepatobiliary Pancreat Surg 5:286–291

25.

Kanemura E, Togo S, Shizawa R et al (2000) Subdivision of liver anterior segment into two units according to hepatic venous drainage. Hepatogastroenterology 47:1056–1059
Author's contributions
Study concept and design: Satoshi Ogiso and Iwao Ikai; acquisition of data: Satoshi Ogiso, Masato Narita, Takahide Murakami, Hiroaki Hata, Takashi Yamaguchi, and Tetsushi Otani; analysis and interpretation of data: Satoshi Ogiso, Iwao Ikai, and Masato Narita; drafting of manuscript: Satoshi Ogiso; critical revision of manuscript: Iwao Ikai.
Conflicts of interest
None.
Electronic supplementary material
Below is the link to the electronic supplementary material.
About this article
Cite this article
Ogiso, S., Ikai, I., Narita, M. et al. Parenchyma-sparing anatomical liver resection based on Hjortsjo's concept. Langenbecks Arch Surg 398, 751–758 (2013). https://doi.org/10.1007/s00423-013-1069-2
Received:

Accepted:

Published:

Issue Date:
Keywords
Liver resection

Hjortsjo's concept

Parenchyma-sparing resection

Venous drainage

Venous congestion