Abstract
Purpose
To examine the effects of exercise-induced trunk fatigue on double poling performance, physiological responses and trunk strength in cross-country skiers.
Methods
Sixteen well-trained male cross-country skiers completed two identical pre- and post-performance tests, separated by either a 25-min trunk fatiguing exercise sequence or rest period in a randomized, controlled cross-over design. Performance tests consisted of a maximal trunk flexion and extension test, followed by a 3-min double poling (DP) test on a ski ergometer.
Results
Peak torque during isometric trunk flexion (− 66%, p < .001) and extension (− 7.4%, p = .03) decreased in the fatigue relative to the control condition. Mean external power output during DP decreased by 14% (p < .001) and could be attributed both to reduced work per cycle (− 9%, p = .019) and a reduced cycle rate (− 6%, p = .06). Coinciding physiological changes in peak oxygen uptake (− 6%, p < .001) and peak ventilation (− 7%, p < .001) could be observed. Skiers chose a more even-pacing strategy when fatigued, with the performance difference between fatigue and control condition being most prominent during the first 2 min of the post-test.
Conclusions
In well-trained cross-country skiers, exercise-induced trunk fatigue led to a substantial decrease in DP performance, caused by both decreased work per cycle and cycle rate and accompanied by reduced aerobic power. Hence, improved fatigue resistance of the trunk may therefore be of importance for high-intensity DP in cross-country skiing.
This is a preview of subscription content, log in to check access.
Access options
Buy single article
Instant unlimited access to the full article PDF.
US$ 39.95
Price includes VAT for USA
Subscribe to journal
Immediate online access to all issues from 2019. Subscription will auto renew annually.
US$ 199
This is the net price. Taxes to be calculated in checkout.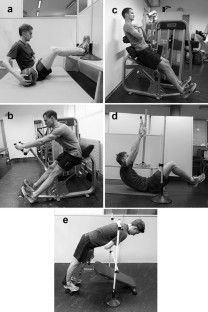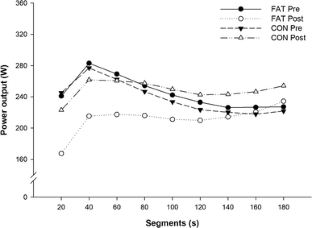 Abbreviations
1RM:

One repetition maximum

3MT:

3-min test

ANOVA:

Analysis of variance

BLa:

Blood lactate concentration

CON:

Control condition

CV:

Coefficient of variation

DP:

Double poling

FAT:

Fatigue condition

HRpeak :

Peak heart rate

ICC:

Intra-class coefficient

RPE:

Rating of perceived exertion

RER:

Respiratory exchange ratio

SD:

Standard deviation

VEpeak :

Peak ventilation

VO2max :

Maximal oxygen uptake

VO2peak :

Peak oxygen uptake

W:

Watt
References
Abt JP, Smoliga JM, Brick MJ, Jolly JT, Lephart SM, Fu FH (2007) Relationship between cycling mechanics and core stability. J Strength Cond Res 21:1300–1304

Andersson E, Supej M, Sandbakk O, Sperlich B, Stoggl T, Holmberg HC (2010) Analysis of sprint cross-country skiing using a differential global navigation satellite system. Eur J Appl Physiol 110:585–595

Andersson E, Holmberg HC, Ortenblad N, Bjorklund G (2016) Metabolic responses and pacing strategies during successive sprint skiing time trials. Med Sci Sports Exerc 48:2544–2554

Asan Grasaas C, Ettema G, Hegge AM, Skovereng K, Sandbakk O (2014) Changes in technique and efficiency after high-intensity exercise in cross-country skiers. Int J Sports Physiol Perform 9:19–24

Baechle TR, Earle RW (2008) Essentials of strength training and conditioning, 3rd edn. Human Kinetics, Champaign

Batterham AM, Hopkins WG (2006) Making meaningful inferences about magnitudes. Int J Sports Physiol Perform 1:50–57

Bjorklund G, Holmberg HC, Stoggl T (2015) The effects of prior high intensity double poling on subsequent diagonal stride skiing characteristics. Springerplus 4:40

Bojsen-Moller J, Losnegard T, Kemppainen J, Viljanen T, Kalliokoski KK, Hallen J (2010) Muscle use during double poling evaluated by positron emission tomography. J Appl Physiol (1985) 109:1895–1903

Corin G, Strutton PH, McGregor AH (2005) Establishment of a protocol to test fatigue of the trunk muscles. Br J Sports Med 39:731–735

Danielsen J, Sandbakk O, Holmberg HC, Ettema G (2015) Mechanical energy and propulsion in ergometer double poling by cross-country skiers. Med Sci Sports Exerc 47:2586–2594

Fabre N, Perrey S, Passelergue P, Rouillon JD (2007) No influence of hypoxia on coordination between respiratory and locomotor rhythms during rowing at moderate intensity. J Sport Sci Med 6:526–531

Faiss R, Willis S, Born DP, Sperlich B, Vesin JM, Holmberg HC, Millet GP (2015) Repeated double-poling sprint training in hypoxia by competitive cross-country skiers. Med Sci Sports Exerc 47:809–817

Halperin I, Chapman DW, Behm DG (2015) Non-local muscle fatigue: effects and possible mechanisms. Eur J Appl Physiol 115:2031–2048

Hart JM, Kerrigan DC, Fritz JM, Ingersoll CD (2009) Jogging kinematics after lumbar paraspinal muscle fatigue. J Athl Train 44:475–481

Hegge AM, Bucher E, Ettema G, Faude O, Holmberg HC, Sandbakk O (2016) Gender differences in power production, energetic capacity and efficiency of elite crosscountry skiers during whole-body, upper-body, and arm poling. Eur J Appl Physiol 116:291–300

Holmberg HC, Lindinger S, Stoggl T, Eitzlmair E, Muller E (2005) Biomechanical analysis of double poling in elite cross-country skiers. Med Sci Sports Exerc 37:807–818

Holmberg HC, Rosdahl H, Svedenhag J (2007) Lung function, arterial saturation and oxygen uptake in elite cross country skiers: influence of exercise mode. Scand J Med Sci Sports 17:437–444

Hopkins WG (2017) Spreadsheets for analysis of controlled trials, crossovers and time series. Sportsci 21:1–4. http://sportsci.org/2017/wghxls.htm. Accessed 17 Jul 2017

Hopkins WG, Marshall SW, Batterham AM, Hanin J (2009) Progressive statistics for studies in sports medicine and exercise science. Med Sci Sports Exerc 41:3–13

Howard J, Granacher U, Behm DG (2015) Trunk extensor fatigue decreases jump height similarly under stable and unstable conditions with experienced jumpers. Eur J Appl Physiol 115:285–294

Kibler WB, Press J, Sciascia A (2006) The role of core stability in athletic function. Sports Med 36:189–198

Lindinger S, Holmberg HC (2011) How do elite cross-country skiers adapt to different double poling frequencies at low to high speeds? Eur J Appl Physiol 111:1103–1119

Losnegard T, Kjeldsen K, Skattebo O (2016) An analysis of the pacing strategies adopted by elite cross-country skiers. J Strength Cond Res 30:3256–3260

Mador MJ, Acevedo FA (1991) Effect of respiratory muscle fatigue on subsequent exercise performance. J Appl Physiol 70:2059–2065

Mikkola J, Laaksonen MS, Holmberg HC, Nummela A, Linnamo V (2013) Changes in performance and poling kinetics during cross-country sprint skiing competition using the double-poling technique. Sports Biomech 12:355–364

Osteras S, Welde B, Danielsen J, van den Tillaar R, Ettema G, Sandbakk O (2016) Contribution of upper-body strength, body composition, and maximal oxygen uptake to predict double poling power and overall performance in female cross-country skiers. J Strength Cond Res 30:2557–2564

Parreira RB, Amorim CF, Gil AW, Teixeira DC, Bilodeau M, da Silva RA (2013) Effect of trunk extensor fatigue on the postural balance of elderly and young adults during unipodal task. Eur J Appl Physiol 113:1989–1996

Prieske O, Muehlbauer T, Granacher U (2016) The role of trunk muscle strength for physical fitness and athletic performance in trained individuals: a systematic review and meta-analysis. Sports Med 46:401–419

Rattey J, Martin PG, Kay D, Cannon J, Marino FE (2006) Contralateral muscle fatigue in human quadriceps muscle: evidence for a centrally mediated fatigue response and cross-over effect. Pflugers Arch Eur J Physiol 452:199–207

Roth R, Donath L, Kurz E, Zahner L, Faude O (2017) Absolute and relative reliability of isokinetic and isometric trunk strength testing using the IsoMed-2000 dynamometer. Phys Ther Sport 24:26–31

Sandbakk O, Holmberg HC (2014) A reappraisal of success factors for Olympic cross-country skiing. Int J Sports Physiol Perform 9:117–121

Sandbakk O, Welde B, Holmberg HC (2011) Endurance training and sprint performance in elite junior cross-country skiers. J Strength Cond Res 25:1299–1305

Seghers J, Spaepen A (2004) Muscle fatigue of the elbow flexor muscles during two intermittent exercise protocols with equal mean muscle loading. Clin Biomech 19:24–30

Siegmund GP, Edwards MR, Moore KS, Tiessen DA, Sanderson DJ, McKenzie DC (1999) Ventilation and locomotion coupling in varsity male rowers. J Appl Physiol 87:233–242

Smidt G, Herring T, Amundsen L, Rogers M, Russell A, Lehmann T (1983) Assessment of abdominal and back extensor function. A quantitative approach and results for chronic low-back patients. Spine 8:211–219

Stoggl T, Holmberg HC (2016) Double-poling biomechanics of elite cross-country skiers: flat versus uphill terrain. Med Sci Sports Exerc 48:1580–1589

Stoggl T, Lindinger S, Muller E (2007) Analysis of a simulated sprint competition in classical cross country skiing. Scand J Med Sci Sports 17:362–372

Stoggl T, Enqvist J, Muller E, Holmberg HC (2010) Relationships between body composition, body dimensions, and peak speed in cross-country sprint skiing. J Sports Sci 28:161–169

Taylor BJ, Romer LM (2008) Effect of expiratory muscle fatigue on exercise tolerance and locomotor muscle fatigue in healthy humans. J Appl Physiol 104:1442–1451

Taylor BJ, How SC, Romer LM (2006) Exercise-induced abdominal muscle fatigue in healthy humans. J Appl Physiol 100:1554–1562

Tong TK, Wu S, Nie J, Baker JS, Lin H (2014) The occurrence of core muscle fatigue during high-intensity running exercise and its limitation to performance: the role of respiratory work. J Sports Sci Med 13:244–251

Verges S, Sager Y, Erni C, Spengler CM (2007) Expiratory muscle fatigue impairs exercise performance. Eur J Appl Physiol 101:225–232

Vesterinen V, Mikkola J, Nummela A, Hynynen E, Hakkinen K (2009) Fatigue in a simulated cross-country skiing sprint competition. J Sports Sci 27:1069–1077

Welde B et al (2017) The pacing strategy and technique of male cross-country skiers with different levels of performance during a 15-km classical race. PLoS One 12:e0187111

Zory R, Millet G, Schena F, Bortolan L, Rouard A (2006) Fatigue induced by a cross-country skiing KO sprint. Med Sci Sports Exerc 38:2144–2150

Zory R, Vuillerme N, Pellegrini B, Schena F, Rouard A (2009) Effect of fatigue on double pole kinematics in sprint cross-country skiing. Hum Mov Sci 28:85–98
Acknowledgements
We would like to thank all the athletes for their effort and support. We further thank Simone Magdika and Jessica Schlageter for the assistance during data collection.
Ethics declarations
Conflict of interest
The authors declare no conflict of interest.
Ethical approval
All procedures performed in studies involving human participants were in accordance with the ethical standards of the institutional and/or national research committee and with the 1964 Helsinki declaration and its later amendments or comparable ethical standards.
Additional information
Communicated by Bénédicte Schepens.
Electronic supplementary material
Below is the link to the electronic supplementary material.
Fatigue_Protocol.mp4 demonstrates the exercise sequence and standardization of each exercise that was used for the fatigue condition. (MP4 168854 KB)
About this article
Cite this article
Bucher, E., Sandbakk, Ø., Donath, L. et al. Exercise-induced trunk fatigue decreases double poling performance in well-trained cross-country skiers. Eur J Appl Physiol 118, 2077–2087 (2018) doi:10.1007/s00421-018-3938-4
Received:

Accepted:

Published:

Issue Date:
Keywords
Core

Ergometer

Ski

Power output

Technique