Abstract
Purpose
To assess the impact of an intervention for baker's allergy and asthma in supermarket bakeries.
Methods
A group randomised trial conducted in 31 bakeries (n = 337 bakers) that were randomly assigned to one of two intervention groups (n = 244 bakers) and a control group (n = 93 bakers). Health data collected prior to and 1-year after the intervention included information obtained from an ECRHS questionnaire; tests for atopy and serum-specific IgE to cereal flours; fractional exhaled nitric oxide (FeNO). Data from the two intervention groups were combined to form one intervention group for purposes of the statistical analysis.
Results
At 1 year of follow-up, the incidence and level of decline of work-related ocular–nasal and chest symptoms, sensitisation status and elevated FeNO (FeNO > 25 ppb) was similar in both intervention and control groups. The mean FeNO difference was also similar across both groups (2.2 ppb vs 1.7 ppb, p = 0.86). In those with FeNO > 25 ppb at baseline, the decline was greater in the intervention compared to control group (16.9 ppb vs 7.7 ppb, p = 0.24). Multivariate logistic regression models (adjusting for smoking, baseline sensitisation to cereal flour, baseline FeNO > 25 ppb) did not demonstrate an appreciable FeNO decline (≥ 10%) in the intervention compared to control group. However, stratification by the presence of work-related ocular–nasal symptoms in bakers at baseline demonstrated a significant FeNO decline (≥ 10%) in the intervention compared to the control group (OR 3.73, CI 1.22–11.42).
Conclusion
This study demonstrates some evidence of an intervention effect on FeNO 1 year after an intervention, particularly in bakers with work-related ocular–nasal symptoms.
This is a preview of subscription content, log in to check access.
Access options
Buy single article
Instant unlimited access to the full article PDF.
US$ 39.95
Price includes VAT for USA
Subscribe to journal
Immediate online access to all issues from 2019. Subscription will auto renew annually.
US$ 199
This is the net price. Taxes to be calculated in checkout.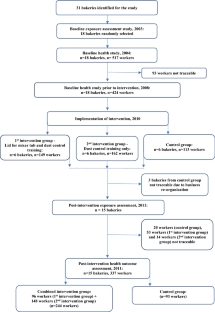 References
Al Badri FM, Jeebhay MF (2017) Factors associated with serial longitudinal changes in exhaled nitric oxide (FeNO)—a review of the literature. Curr Allergy Clin Immunol 30:98–109

Alvarez MJ, Olaguibel JM, Garcia BE et al (2000) Airway inflammation in asthma and perennial allergic rhinitis. Relationship with nonspecific bronchial responsiveness and maximal airway narrowing. Allergy 55:355–362

American Thoracic Society (2005) ATS/ERS recommendations for standardized procedures for the online and offline measurement of exhaled lower respiratory nitric oxide and nasal nitric oxide, 2005. Am J Respir Crit Care Med 171:912–930. https://doi.org/10.1164/rccm.200406-710ST

Baatjies R, Jeebhay MF (2013) Sensitisation to cereal flour allergens is a major determinant of elevated exhaled nitric oxide in bakers. Occup Environ Med 70:310–316

Baatjies R, Lopata A, Sander I et al (2009) Determinants of asthma phenotypes in supermarket bakery workers. Eur Respir J 34:825–833. https://doi.org/10.1183/09031936.00164408

Baatjies R, Meijster T, Lopata A et al (2010) Exposure to flour dust in South African supermarket bakeries: modeling of baseline measurements of an intervention study. Ann Occup Hyg 54:309–318

Baatjies R, Meijster T, Heederik D et al (2014) Effectiveness of interventions to reduce flour dust exposures in supermarket bakeries in South Africa. Occup Environ Med 71:811–818

Basketter D, Berg N, Kruszewski FH et al (2012) Relevance of sensitization to occupational allergy and asthma in the detergent industry. J Immunotoxicol 9:314–319. https://doi.org/10.3109/1547691X.2012.656855

Bernstein DI, Roach DE, McGrath KG et al (1983) The relationship of airborne trimellitic anhydride concentrations to trimellitic anhydride–induced symptoms and immune responses. J Allergy Clin Immunol 72:709–713

Bjermer L, Alving K, Diamant Z et al (2014) Current evidence and future research needs for FeNO measurement in respiratory diseases. Respir Med 108:830–841. https://doi.org/10.1016/j.rmed.2014.02.005

Boulay M-E, Morin A, Laprise C, Boulet L-P (2012) Asthma and rhinitis: what is the relationship? Curr Opin Allergy Clin Immunol 12:449–454

Bousquet J, Khaltaev N, Cruz AA et al (2008) Allergic Rhinitis and its Impact on Asthma (ARIA) 2008 update (in collaboration with the World Health Organization, GA(2)LEN and AllerGen). Allergy 63(Suppl 8):8–160. https://doi.org/10.1111/j.1398-9995.2007.01620.x

Brant A, Zekveld C, Welch J et al (2006) The prognosis of occupational asthma due to detergent enzymes: clinical, immunological and employment outcomes. Clin Exp Allergy 36:483–488

Burney PG, Luczynska C, Chinn S, Jarvis D (1994) The European community respiratory health survey. Eur Respir J 7:954–960

de Groene GJ, Pal TM, Beach J et al (2011) Workplace interventions for treatment of occupational asthma. Cochrane database Syst Rev. https://doi.org/10.1002/14651858.CD006308.pub3

Dressel H, Gross C, De la Motte D et al (2007) Educational intervention decreases exhaled nitric oxide in farmers with occupational asthma. Eur Respir J 30:545–548

Dweik RA, Boggs PB, Erzurum SC et al (2011) An official ATS clinical practice guideline: interpretation of exhaled nitric oxide levels (FENO) for clinical applications. Am J Respir Crit Care Med 184:602–615. https://doi.org/10.1164/rccm.9120-11ST

Foresi A, Leone C, Pelucchi A et al (1997) Eosinophils, mast cells, and basophils in induced sputum from patients with seasonal allergic rhinitis and perennial asthma: relationship to methacholine responsiveness. J Allergy Clin Immunol 100:58–64

Hashimoto S, Ten BA, Roldaan AC et al (2011) Internet-based tapering of oral corticosteroids in severe asthma: a pragmatic randomised controlled trial. Thorax 66:514–520. https://doi.org/10.1136/thx.2010.153411

Jolly Athena T, Klees Julia E, Pacheco Karin A et al (2015) Work-related asthma. J Occup Environ Med 57:e121–e129. https://doi.org/10.1097/JOM.0000000000000572

Malo J-L, Ghezzo H (2004) Recovery of methacholine responsiveness after end of exposure in occupational asthma. Am J Respir Crit Care Med 169:1304–1307. https://doi.org/10.1164/rccm.200312-1749OC

Malo JL, Cartier A, Ghezzo H et al (1988) Patterns of improvement in spirometry, bronchial hyperresponsiveness, and specific IgE antibody levels after cessation of exposure in occupational asthma caused by snow-crab processing. Am Rev Respir Dis 138:807–812. https://doi.org/10.1164/ajrccm/138.4.807

Merget R, Sander I, van Kampen V et al (2015) Serial measurements of exhaled nitric oxide at work and at home: a new tool for the diagnosis of occupational asthma. Environment Exposure to Pollutants. Springer, United States, pp 49–52

Merget R, Sander I, van Kampen V et al (2016) Triticale allergy in a farmer. Am J Ind Med 59:501–505

Moscato G, Vandenplas O, Gerth Van Wijk R et al (2008) Occupational rhinitis. Allergy 63:969–980. https://doi.org/10.1111/j.1398-9995.2008.01801.x

Moscato G, Pala G, Barnig C et al (2012) EAACI consensus statement for investigation of work-related asthma in non-specialized centres. Allergy 67:491–501. https://doi.org/10.1111/j.1398-9995.2011.02784.x

Munoz X, Viladrich M, Manso L et al (2014) Evolution of occupational asthma: does cessation of exposure really improve prognosis? Respir Med 108:1363–1370. https://doi.org/10.1016/j.rmed.2014.08.001

Park HS, Lee SK, Lee YM et al (2002) Longitudinal study of specific antibodies to toluene diisocyanate (TDI)-human serum albumin (HSA) conjugate in patients with TDI-induced asthma. Korean J Intern Med 17:249–251. https://doi.org/10.3904/kjim.2002.17.4.249

Perfetti L, Cartier A, Ghezzo H et al (1998) Follow-up of occupational asthma after removal from or diminution of exposure to the responsible agent: relevance of the length of the interval from cessation of exposure. Chest 114:398–403

Piirila PL, Nordman H, Keskinen HM et al (2000) Long-term follow-up of hexamethylene diisocyanate-, diphenylmethane diisocyanate-, and toluene diisocyanate-induced asthma. Am J Respir Crit Care Med 162:516–522. https://doi.org/10.1164/ajrccm.162.2.9909026

Rees D, Phillips JI (2014) Investigating the effectiveness of occupational health interventions in the workplace. Occup Environ Med 71:809–810. https://doi.org/10.1136/oemed-2014-102389

Rolla G, Guida G, Heffler E et al (2007) Diagnostic classification of persistent rhinitis and its relationship to exhaled nitric oxide and asthma: a clinical study of a consecutive series of patients. Chest 131:1345–1352. https://doi.org/10.1378/chest.06-2618

Soyseth V, Kongerud J, Aalen OO et al (1995) Bronchial responsiveness decreases in relocated aluminum potroom workers compared with workers who continue their potroom exposure. Int Arch Occup Environ Health 67:53–57

Tarlo SM, Malo J-L, de Blay F et al (2017) An official american thoracic society workshop report: presentations and discussion of the sixth jack Pepys workshop on asthma in the workplace. Ann Am Thorac Soc 14:1361–1372. https://doi.org/10.1513/AnnalsATS.201706-508ST

Toren K, Blanc PD (2009) Asthma caused by occupational exposures is common—a systematic analysis of estimates of the population-attributable fraction. BMC Pulm Med 9:7. https://doi.org/10.1186/1471-2466-9-7

Tsolakis N, Malinovschi A, Nordvall L et al (2018) Absence of serum IgE antibodies indicates non-type 2 disease in young asthmatics. Clin Exp allergy. https://doi.org/10.1111/cea.13103

Vandenplas O, Dressel H, Wilken D et al (2011) Management of occupational asthma: cessation or reduction of exposure? A systematic review of available evidence. Eur Respir J 38:804–811

Vandenplas O, Dressel H, Nowak D, Jamart J (2012) What is the optimal management option for occupational asthma? Eur Respir Rev 21:97–104. https://doi.org/10.1183/09059180.00004911
Acknowledgements
We would like to acknowledge the special contribution of Dr Tanusha Singh of the National Institute for Occupational Health for the laboratory analysis, as well as research nurse assistants Dawn Venter and Faieza Desai from the Centre for Environmental and Occupational Health Research (CEOHR) for conducting the fieldwork. We would also like to acknowledge the staff and employees of the bakeries that contributed to the successful completion of this study.
Funding
There was no additional funding required for this sub-study. However, the data collection of the larger study was originally funded through research scholarship grants from the Center for Asthma in the Workplace (Montreal, Canada), South African Medical Research Council, National Research Foundation FA2006040700028 (Republic of South Africa), Fogarty International Centre (Bethesda, Maryland, USA)-National Institutes of Health (2 D43 TW000812-06), Allergy Society of South Africa (Cape Town) and University of Cape Town Research Committee (Cape Town) and the baking industry (Cape Town). The funders had no role in study design; in the collection, analysis and interpretation of the data; in the writing of the report; and in the decision to submit the paper for publication. The contents of this publication are solely the responsibility of the authors and do not necessarily reflect the official views of these agencies.
Ethics declarations
Conflict of interest
The authors declare that they have no competing interests.
Ethics approval
The original study received ethical approval from the Research Ethics Committee of the University of Cape Town (reference no. 272/2002). Informed consent was obtained from all study subjects as per the protocol. The protocol can be accessed on-line (https://1drv.ms/b/s!ApmArVMYxI4B4V-9TiBgKsTKGPMp).
Additional information
Publisher's Note
Springer Nature remains neutral with regard to jurisdictional claims in published maps and institutional affiliations.
About this article
Cite this article
Al Badri, F.M., Baatjies, R. & Jeebhay, M.F. Assessing the health impact of interventions for baker's allergy and asthma in supermarket bakeries: a group randomised trial. Int Arch Occup Environ Health (2020) doi:10.1007/s00420-019-01511-7
Received:

Accepted:

Published:
Keywords
Bakers

Allergy

Asthma

Exhaled nitric oxide

Workplace interventions