Abstract
Purpose
The purpose of the study is to analyze the incidence, manifestations, and treatment of blepharoptosis caused by long-term use of corticosteroid eyedrops.
Methods
Retrospective case series include 46 patients with a history of using corticosteroid eyedrops unilaterally for at least 2 months. The palpebral fissure, MRD1, and levator function were evaluated.
Results
Among 46 patients, the differences of mean MRD1 (p < 0.0005), palpebral fissure height (p < 0.0005), and levator function (p = 0.003) between eyes with and without corticosteroid eyedrops application were significant. Ptosis existed in 40 out of 46 eyes with corticosteroid; the differences of the mean MRD1 (p < 0.0005) and palpebral fissure height (p = 0.001) between eyes with and without ptosis were significant. Nine patients underwent levator aponeurosis repair surgeries. Pathological examinations revealed mainly vascular fibers and few muscle fibers, as well as apoptosis of levator palpebrae muscle and Muller muscle.
Conclusion
Blepharoptosis is frequently observed after chronic corticosteroid eyedrops use in Chinese population.
This is a preview of subscription content, log in to check access.
Access options
Buy single article
Instant access to the full article PDF.
US$ 39.95
Price includes VAT for USA
Subscribe to journal
Immediate online access to all issues from 2019. Subscription will auto renew annually.
US$ 199
This is the net price. Taxes to be calculated in checkout.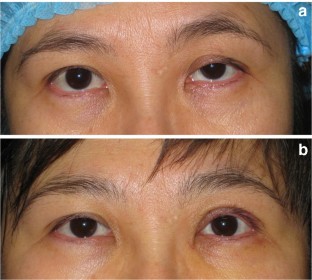 References
1.

McGhee CN (1992) Pharmacokinetics of ophthalmic corticosteroids. Br J Ophthalmol 76(11):681–684

2.

Watson D, Noble MJ, Dutton GN, Midgley JM, Healey TM (1988) Penetration of topically applied dexamethasone alcohol into human aqueous humor. Arch Ophthalmol 106(5):686–687

3.

McGhee CN, Noble MJ, Watson DG et al (1989) Penetration of topically applied prednisolone sodium phosphate into human aqueous humour. Eye (Lond) 3(Pt 4):463–467

4.

Watson DG, McGhee CN, Midgley JM, Dutton GN, Noble MJ (1990) Penetration of topically applied betamethasone sodium phosphate into human aqueous humour. Eye (Lond) 4(Pt 4):603–606

5.

Decramer M (2001) Respiratory muscles in COPD: regulation of trophical status. Verh K Acad Geneeskd Belg 63(6):577–602

6.

Lee M-C, Wee G-R, Kim J-H (2005) Apoptosis of skeletal muscle on steroid-induced myopathy in rats. J Nutr 135(7):1806S–1808S

7.

Song A, Carter KD, Nerad JA, Boldt C, Folk J (2008) Steroid-induced ptosis: case studies and histopathologic analysis. Eye (Lond) 22(4):491–495

8.

Newsome DA, Wong VC, Cameron TP et al (1971) "Steroid-induced" mydriasis and ptosis. Investig Ophthalmol 10(6):424–429

9.

Viola F, Morescalchi F, Ratiglia R, Staurenghi G (2007) Ptosis following an intravitreal injection of triamcinolone acetonide. Eye (Lond) 21(3):421–423

10.

Morley AM, Tumuluri K, Meligonis G, Collin JR (2009) Myopathic ptosis following posterior sub-Tenon's triamcinolone acetonide injection. Eye (Lond) 23(3):741–742

11.

Ideta S, Noda M, Kawamura R et al (2009) Dehiscence of levator aponeurosis in ptosis after sub-Tenon injection of triamcinolone acetonide. Can J Ophthalmol 44(6):668–672

12.

Dal Canto AJ, Downs-Kelly E, Perry JD (2005) Ptosis and orbital fat prolapse after posterior sub-tenon's capsule triamcinolone injection. Ophthalmology 112(6):1092–1097

13.

Zhu Y, Sun C, Zhang X, Shentu X (2017) Ptosis induced by topical steroid eye drops: two cases reports. Medicine (Baltimore) 96(51):e9288

14.

McGhee CN, Dean S, Danesh-Meyer H (2002) Locally administered ocular corticosteroids: benefits and risks. Drug Saf 25(1):33–55

15.

Loewenstein A, Lipshitz I, Varssano D, Lazar M (1997) Complications of excimer laser photorefractive keratectomy for myopia. J Cataract Refract Surg 23(8):1174–1176

16.

Lafranco Dafflon M, Tran VT, Guex-Crosier Y, Herbort CP (1999) Posterior sub-Tenon's steroid injections for the treatments of posterior ocular inflammation: indications, efficacy and side effects. Graefes Arch Clin Exp Ophthalmol 237(4):289–295

17.

Tanner V, Kanski JJ, Frith PA (1998) Posterior sub-Tenon's triamcinolone injections in the treatment of uveitis. Eye (Lond) 12(Pt 4):679–685

18.

Yoshikawa K, Kotake S, Ichiishi A, Sasamoto Y, Kosaka S, Matsuda H (1995) Posterior sub-tenon injections of repository corticosteroids in uveitis patients with cystoid macular edema. Jpn J Ophthalmol 39(1):71–76
Funding
This study was funded by the Non-profit Central Research Institute Fund of Chinese Academy of Medical Sciences (2018PT32029).
Ethics declarations
Conflict of interest
All authors certify that they have no affiliations with or involvement in any organization or entity with any financial interest or non-financial interest in the subject matter or materials discussed in this manuscript.
Ethical approval
Procedures performed in this study were in accordance with the ethical standards of the Peking union medical college hospital and with the 1964 Helsinki Declaration and its later amendments or comparable ethical standards.
Informed consent
Informed consent was obtained from all individual participants included in the study.
Additional information
Publisher's note
Springer Nature remains neutral with regard to jurisdictional claims in published maps and institutional affiliations.
About this article
Cite this article
Zhang, X., Zhang, M., Zhao, D. et al. Corticosteroid eyedrops induced blepharoptosis and atrophy of levator muscle. Graefes Arch Clin Exp Ophthalmol (2020). https://doi.org/10.1007/s00417-020-04622-x
Received:

Revised:

Accepted:

Published:
Keywords
Corticosteroid eyedrops

Uveitis

Blepharoptosis

Atrophy of levator muscle

Palpebral fissure

Margin reflex distance

Levator function