Abstract
Purpose
The aim of this study was to evaluate changes in choroidal thickness and in choroidal vascular blood flow in patients with thyroid-associated orbitopathy (TAO) and their relationship with clinical features and disease activity using spectral domain optical coherence tomography (SD-OCT) and Angio-OCT technology.
Methods
Eighteen patients and control subjects underwent a complete eye examination, OCT, and Angio-OCT. We also obtained angiographic scans at 3 different consecutive levels (L1, L2, and L3) below the choriocapillary.
Results
The subfoveal choroid was significantly thicker in TAO patients than the control eyes (285.6275 ± 32.5 μm compared with 135.89 ± 19.8 μm, respectively, p = 0.0089). The correlation analysis in the TAO group showed a significant correlation between the choroidal thickness and EUGOGO clinical score (r = 0.84, p = 8.44032E-07). Vascular flow of choriocapillary was markedly reduced in subjects with TAO compared with healthy subjects (49.78 ± 4.5 vs. 53.36 ± 1.07; p = 2.5105E-07) and vascular flow of the deeper layer L3 resulted higher in subjects with TAO than in healthy subjects (46.9 ± 20.23 and 41.475 ± 3.06; p = 0.01168).
Conclusions
Subfoveal choroidal thickness and choroidal blood flow were significantly different in patients with TAO compared with healthy subjects.
This is a preview of subscription content, log in to check access.
Access options
Buy single article
Instant access to the full article PDF.
US$ 39.95
Price includes VAT for USA
Subscribe to journal
Immediate online access to all issues from 2019. Subscription will auto renew annually.
US$ 199
This is the net price. Taxes to be calculated in checkout.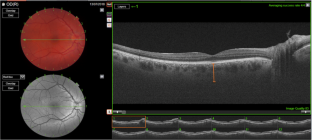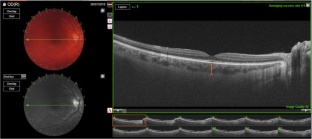 References
1.

Bahn RS (2010) Graves' ophthalmopathy. N Engl J Med 362(8):726–738

2.

Bartley GB (1994) The epidemiologic characteristics and clinical course of ophthalmopathy associated with autoimmune thyroid disease in Olmstead County, Minnesota. Trans Am Ophthalmol Soc 92:477–588

3.

Çalışkan S, Acar M, Gürdal C (2017) Choroidal thickness in patients with Graves' ophthalmopathy. Curr Eye Res 42(3):484–490

4.

Özkan B, Koçer ÇA, Altintaş Ö, Karabaş L, Acar AZ, Yüksel N (2016) Choroidal changes observed with enhanced depth imaging optical coherence tomography in patients with mild graves orbitopathy. Eye 30(7):917–924

5.

Margolis R, Spaide RF (2009) A pilot study of enhanced depth imaging optical coherence tomography of the choroid in normal eyes. Am J Ophthalmol 147(5):811–815

6.

Nickla DL, Wallman J (2010) The multifunctional choroid. Prog Retin Eye Res 29(2):144–168

7.

Nicolo' M, Rosa R, Musetti D, Musolino M, Saccheggiani M, Traverso CE (2017) Choroidal vascular flow area in central serous chorioretinopathy using swept-source optical coherence tomography angiography. Invest Ophthalmol Vis Sci 58:2002–2010. https://doi.org/10.1167/iovs.17-21417

8.

Nakase Y, Osanai T, Yoshikawa K, Inoue Y (1994) Color Doppler imaging of orbital venous flow in dysthyroid optic neuropathy. Jpn J Ophthalmol 38:80–86

9.

Otto AJ, Koornneef L, Mourits MP, Deen-van LL (1996) Retrobulbar pressures measured during surgical decompression of the orbit. Br J Ophthalmol 80:1042–1045

10.

Somer D, Ozkan SB, Ozdemir H, Atilla S, Söylev MF, Duman S (2002) Colour Doppler imaging of superior ophthalmic vein in thyroid associated eye disease. Jpn J Ophthalmol 46:341–345

11.

Odrobina D, Laudanska-Olszewska I, Gozdek P, Maroszynski M, Amon M (2013) Influence of scleral buckling surgery with encircling band on subfoveal choroidal thickness in long-term observations. Biomed Res Int 2013:586–894

12.

Yu N, Zhang Y, Kang L, Gao Y, Zhang J, Wu Y (2018) Analysis in choroidal thickness in patients with Graves' ophthalmopathy using spectral-domain optical coherence tomography. J Ophthalmol 2018:3529395

13.

Barrio-Barrio J, Sabater A, Bonet-Farriol E, Velázquez-Villoria Á, Galofré JC (2017) Graves' Ophthalmopathy: VISA versus EUGOGO Classification, Assessment, and Management. J Ophthalmol 2015:249125

14.

Yanik B, Conkbayir I, Acaroglu G, Hekimoglu B (2005) Graves' ophthalmopathy: comparison of the Doppler sonography parameters with the clinical activity score. J Clin Ultrasound 33(8):375–380

15.

Tranquart F, Bergès O, Koskas P et al (2003) Color Doppler imaging of orbital vessels: personal experience and literature review. J Clin Ultrasound 31(5):258–273
Ethics declarations
Conflict of interest
The authors declare that they have no conflict of interest.
Ethical approval
All procedures performed in studies involving human participants were in accordance with the ethical standards of the institutional review board and with the Helsinki declaration and its later amendments or comparable ethical standards.
Informed consent
The participants provided informed consent. Patient information was anonymized and de-identified prior to analysis.
Additional information
Publisher's note
Springer Nature remains neutral with regard to jurisdictional claims in published maps and institutional affiliations.
About this article
Cite this article
Del Noce, C., Vagge, A., Nicolò, M. et al. Evaluation of choroidal thickness and choroidal vascular blood flow in patients with thyroid-associated orbitopathy (TAO) using SD-OCT and Angio-OCT. Graefes Arch Clin Exp Ophthalmol (2020). https://doi.org/10.1007/s00417-020-04616-9
Received:

Revised:

Accepted:

Published:
Keywords
Angio-OCT

Choroid

OCT

Orbitopathy

Thyroid