Abstract
Purpose
To describe a new technique to perform trabeculotomy ab interno on eyes with open-angle glaucoma (OAG).
Methods
This was a retrospective study. We inserted a 25-gauge forceps that is usually used for internal limiting membrane peeling into the anterior chamber, and grasped and pulled the inner wall of Schlemm's canal away from the canal. The inner wall of Schlemm's canal was stripped for about 100° to 120° in 26 eyes of 23 patients. The intraocular pressure (IOP) and number of glaucoma medications were recorded before, and 1 day, 1 week, 2 weeks, and 1, 3, 6, 10, 12, 15, 17, 19, 24, 27, 30, and 33 months after the surgery. The intra- and postoperative complications were recorded.
Results
The mean ± standard deviation of the preoperative IOP was 20.0 ± 6.8 mmHg with a range from 10 to 38 mmHg (n = 26). The IOP was significantly reduced (P < 0.05; paired t-tests) at 1 week, 2 weeks, and 1, 3, 6, 10, 12, 15, 17, 24, 19, 27, 30, and 33 months after the surgery. The mean preoperative number of glaucoma medications was significantly reduced (P < 0.001; paired t-tests) at 1 week, 2 weeks, and 1, 3, 6, 10, 12, 15, 17, 19, 24, 27, 30, and 33 months after the surgery. No vision-threatening complications were found in any of the cases, but there were blood clots in the anterior chamber postoperatively in 92.3 % of the cases.
Conclusions
Trabeculotomy ab interno for OAG is effective but with some minor complications. A larger number of patients with longer follow-up periods are needed to determine the long-term effectiveness of this procedure.
This is a preview of subscription content, log in to check access.
Access options
Buy single article
Instant unlimited access to the full article PDF.
US$ 39.95
Price includes VAT for USA
Subscribe to journal
Immediate online access to all issues from 2019. Subscription will auto renew annually.
US$ 199
This is the net price. Taxes to be calculated in checkout.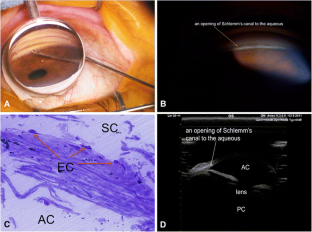 References
1.

Palmer SS (1991) Mitomycin as adjunct chemotherapy with trabeculectomy. Ophthalmology 98:317–321

2.

Chihara E, Nishida A, Kodo M et al (1993) Trabeculotomy ab externo: an alternative treatment in adult patients with primary open-angle glaucoma. Ophthalmic Surg 24:735–739

3.

Zacharia PT, Deppermann SR, Schuman JS (1993) Ocular hypotony after trabeculectomy with mitomycin C. Am J Ophthalmol 116:314–326

4.

Costa VP, Wilson RP, Moster MR et al (1993) Hypotony maculopathy following the use of topical mitomycin C in glaucoma filtration surgery. Ophthalmic Surg 24:389–394

5.

Greenfield DS, Liebmann JM, Jee J et al (1998) Late-onset bleb leaks after glaucoma filtering surgery. Arch Ophthalmol 116:443–447

6.

Brown RH, Yang LH, Walker SD et al (1994) Treatment of bleb infection after glaucoma surgery. Arch Ophthalmol 112:57–61

7.

Philips WB II, Wong TP, Bergren RL et al (1994) Late onset endophthalmitis associated with filtering blebs. Ophthalmic Surg 25:88–91

8.

Ferrari E, Bandello F, Roman-Pognuz D et al (2005) Combined clear corneal phacoemulsification and ab interno trabeculectomy: three-year case series. J Cataract Refract Surg 31(9):1783–1788

9.

Nakasato-Sonn H, Uemoto R, Meguro A et al (2013) Modification of Swan–Jacobs lens for iridocorneal angle surgery. Graefes Arch Clin Exp Ophthalmol 251(9):2247–2248

10.

Mori Y, Miyai T, Kagaya F et al (2011) Intraoperative mydriasis by intracameral injection of mydriatic eye drops: in vivo efficacy and in vitro safety studies. Clin Exp Ophthalmol 39(5):456–461

11.

Sugai S, Yoshitomi F, Oshika T (2010) Transconjunctival single-plane sclerocorneal incisions versus clear corneal incisions in cataract surgery. J Cataract Refract Surg 36(9):1503–1507

12.

Francis BA, Minckler D, Dustin L et al (2008) Combined cataract extraction and trabeculotomy by the internal approach for coexisting cataract and open-angle glaucoma: initial results. J Cataract Refract Surg 34(7):1096–1103

13.

Ferrari E, Ortolani F, Petrelli L et al (2007) Ab interno trabeculectomy: ultrastructural evidence and early tissue response in a human eye. J Cataract Refract Surg 33(10):1750–1753

14.

Mansberger SL, Gordon MO, Jampel H et al (2012) Reduction in intraocular pressure after cataract extraction: the Ocular Hypertension Treatment Study. Ophthalmology 119(9):1826–1831
Acknowledgments
We thank Professor Duco I. Hamasaki, PhD for editing this manuscript.
Funding
This research received no specific grant from any funding agency in the public, commercial or not-for-profit sectors.
Competing interests
None declared
Contributorship statement
Houmei Nakasato and Riyo Uemoto: All works.
Masaru Isozaki: histological section
Tatsukata Kawagoe and Akira Meguro: analysis of data.
Nobuhisa Mizuki: Design.
Electronic supplementary material
Below is the link to the electronic supplementary material.
About this article
Cite this article
Nakasato, H., Uemoto, R., Isozaki, M. et al. Trabeculotomy ab interno with internal limiting membrane forceps for open-angle glaucoma. Graefes Arch Clin Exp Ophthalmol 252, 977–982 (2014) doi:10.1007/s00417-014-2616-4
Received:

Revised:

Accepted:

Published:

Issue Date:
Keywords
Trabeculotomy ab interno

25G internal limiting membrane forceps

Modified Swan–Jacobs lens