This is a preview of subscription content, log in to check access.
Access options
Buy single article
Instant unlimited access to the full article PDF.
US$ 39.95
Price includes VAT for USA
Subscribe to journal
Immediate online access to all issues from 2019. Subscription will auto renew annually.
US$ 199
This is the net price. Taxes to be calculated in checkout.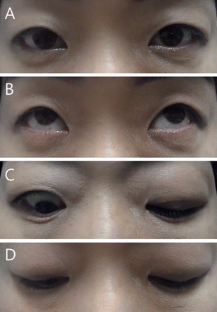 References
1.

Harvey JT, Anderson RL (1981) Lid lag and lagophthalmos: a clarification of terminology. Ophthalmic Surg 12:338–340

2.

Gaddipati RV, Meyer DR (2008) Eyelid retraction, lid lag, lagophthalmos, and von Graefe's sign quantifying the eyelid features of Graves' ophthalmopathy. Ophthalmology 115:1083–1088

3.

Silvestri NJ, Wolfe GI (2012) Myasthenia gravis. Semin Neurol 32:215–226

4.

Puklin JE, Sacks JG, Boshes B (1976) Transient eyelid retraction in myasthenia gravis. J Neurol Neurosurg Psychiatry 39:44–47
Funding/Support
None
Financial disclosures
None
Electronic supplementary material
Below is the link to the electronic supplementary material.
About this article
Cite this article
Han, S.Y., Kim, U.S. Ocular myasthenia gravis presenting as transient eyelid lag. Graefes Arch Clin Exp Ophthalmol 251, 2281–2282 (2013). https://doi.org/10.1007/s00417-013-2279-6
Received:

Revised:

Accepted:

Published:

Issue Date:
Keywords
Thyroid Autoantibody

Levator Palpebrae

Ocular Myasthenia

Levator Palpebrae Superioris

Superioris Muscle