Abstract
Background
A modified implantable collamer lens (ICL) with a central hole (diameter, 0.36 mm), a "Hole-ICL", was created to improve aqueous humour circulation. The aim of this study was to investigate the fluid dynamic characteristics of aqueous humour in a Hole-ICL using computational fluid dynamics.
Methods
Fluid dynamics simulation using an ICL was performed with thermal-hydraulic analysis software FloEFD V5 (Mentor Graphics Corp.). For the simulation, three-dimensional eye models based on a modified Liou–Brennan model eye with conventional ICL (Model ICM, STAAR SURGICAL) and a Hole-ICL were used. Both ICLs were −9.0 diopters (D) and 12.0 mm in length, with an optic of 5.5 mm. The vaulting was 0.50 mm. The quantity of aqueous humour produced by the ciliary body was set at 2.80 μl/min. Flow distribution between the anterior surface of the crystalline lens and the posterior surface of the ICL was also calculated, and trajectory analysis was performed.
Results
The flow velocity 0.25 mm in front of the centre of the crystalline lens was 1.52 × 10-1 mm/sec for the Hole-ICL and 1.21 × 10-5 mm/sec for the conventional ICL. Outward flow from the hole in the Hole-ICL was confirmed by trajectory analysis.
Conclusion
These results suggest that Hole-ICLs improve the circulation of aqueous humour to the anterior surface of the crystalline lens.
This is a preview of subscription content, log in to check access.
Access options
Buy single article
Instant unlimited access to the full article PDF.
US$ 39.95
Price includes VAT for USA
Subscribe to journal
Immediate online access to all issues from 2019. Subscription will auto renew annually.
US$ 199
This is the net price. Taxes to be calculated in checkout.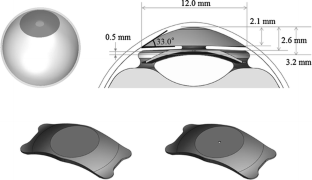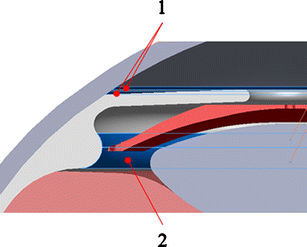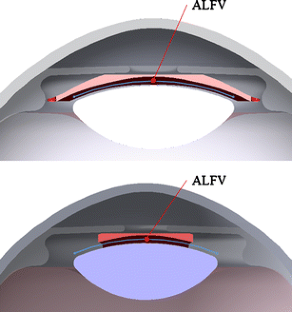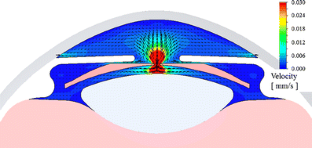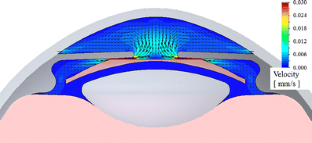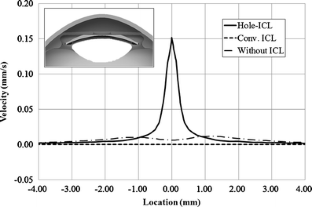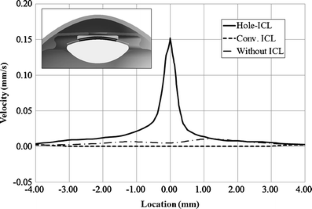 References
1.

Chen LJ, Chang YJ, Kuo JC, Rajagopal R, Azar DT (2008) Metaanalysis of cataract development after phakic intraocular lens surgery. J Cataract Refract Surg 34:1181–1200

2.

Lovisolo CF, Reinstein DZ (2005) Phakic intraocular lenses. Surv Ophthalmol 50:549–587

3.

Kamiya K, Shimizu K, Aizawa D, Igarashi A, Komatsu M, Nakamura A (2010) One-year follow-up of posterior chamber toric phakic intraocular lens implantation for moderate to high myopic astigmatism. Ophthalmology 117:2287–2294

4.

Sanders DR, Schneider D, Martin R, Brown D, Dulaney D, Vukich J, Slade S, Schallhorn S (2007) Toric Implantable Collamer Lens for moderate to high myopic astigmatism. Ophthalmology 114:54–61

5.

Fujisawa K, Shimizu K, Uga S, Suzuki M, Nagano K, Murakami Y, Goseki H (2007) Changes in the crystalline lens resulting from insertion of a phakic IOL (ICL) into the porcine eye. Graefes Arch Clin Exp Ophthalmol 245:114–122

6.

Shiratani T, Shimizu K, Fujisawa K, Uga S, Nagano K, Murakami Y (2008) Crystalline lens changes in porcine eyes with implanted phakic IOL (ICL) with a central hole. Graefes Arch Clin Exp Ophthalmol 246:719–728

7.

Fechner PU, Haigis W, Wichmann W (1996) Posterior chamber myopia lenses in phakic eyes. J Cataract Refract Surg 22:178–182

8.

Lindland A, Heger H, Kugelberg M, Zetterstrom C (2010) Vaulting of myopic and toric Implantable Collamer Lenses during accommodation measured with Visante optical coherence tomography. Ophthalmology 117:1245–1250

9.

Schmidinger G, Lackner B, Pieh S, Skorpik C (2010) Long-term changes in posterior chamber phakic intraocular collamer lens vaulting in myopic patients. Ophthalmology 117:1506–1511

10.

Alfonso JF, Lisa C, Abdelhamid A, Fernandes P, Jorge J, Montes-Mico R (2010) Three-year follow-up of subjective vault following myopic implantable collamer lens implantation. Graefes Arch Clin Exp Ophthalmol 248:1827–1835

11.

Khalifa YM, Moshirfar M, Mifflin MD, Kamae K, Mamalis N, Werner L (2010) Cataract development associated with collagen copolymer posterior chamber phakic intraocular lenses: clinicopathological correlation. J Cataract Refract Surg 36:1768–1774

12.

Yan PS, Lin HT, Wang QL, Zhang ZP (2010) Anterior segment variations with age and accommodation demonstrated by slit-lamp-adapted optical coherence tomography. Ophthalmology 117:2301–2307

13.

Alio JL, de la Hoz F, Ruiz-Moreno JM, Salem TF (2000) Cataract surgery in highly myopic eyes corrected by phakic anterior chamber angle-supported lenses(1). J Cataract Refract Surg 26:1303–1311

14.

Sanders DR, Vukich JA (2002) Incidence of lens opacities and clinically significant cataracts with the implantable contact lens: comparison of two lens designs. J Refract Surg 18:673–682

15.

Uozato H, Shimizu K, Kawamorita T, Ohmoto F (2011) Modulation transfer function of intraocular collamer lens with a central artificial hole. Graefes Arch Clin Exp Ophthalmol 249:1081–1085

16.

Ohmoto F, Shimizu K, Uozato H, Kawamorita T, Uga S (2010) Optical performances of Implantable Collamer Lenses with and without a central perforation. Kitasato Med J 40:150–153
Acknowledgement
This study was supported by a grant from the Kitasato University School of Allied Health Sciences (Grant-in-Aid for Research Project, No. 2010–1029) (T.K.), a Kitasato University Research Grant for Young Researchers 2010–2011) (T.K.), and a Grant-in-Aid for Young Scientists (B) (T.K.). The authors thank KOZO KEIKAKU ENGINEERING Inc. (Mr. Osamu Kuwahara, Mr. Soichi Masuda, and Dr. Tsuyoshi Yamada) for technical support, and American journal experts for critical reading of the manuscript.
Financial disclosure
Takushi Kawamorita, None; Hiroshi Uozato, None. Dr. Shimizu received a consulting fee from STAAR.
Additional information
Presentation at a conference
An earlier version of this paper was presented at the 34th Annual Meeting of the Japanese Society of Ophthalmic Surgeons, Kyoto, January 28, 2011.
About this article
Cite this article
Kawamorita, T., Uozato, H. & Shimizu, K. Fluid dynamics simulation of aqueous humour in a posterior-chamber phakic intraocular lens with a central perforation. Graefes Arch Clin Exp Ophthalmol 250, 935–939 (2012). https://doi.org/10.1007/s00417-011-1850-2
Received:

Revised:

Accepted:

Published:

Issue Date:
Keywords
Fluid dynamics

Phakic IOL

ICL

Hole-ICL

Aqueous humour circulation