Abstract
Background
Propranolol is recommended as first-line treatment for preventing migraine attacks; acupuncture has not been compared with propranolol in a head-to-head trial.
Objective
To compare acupuncture with propranolol using indirect treatment comparison meta-analysis.
Method
We searched MEDLINE, EMBASE, and Cochrane Central Register of Controlled Trials (CENTRAL). Randomized controlled trials comparing acupuncture or propranolol with sham acupuncture, placebo, waiting-list control or usual care were included. We extracted information from the included trials using a standardized extraction form. The primary outcome was migraine episodes. The secondary outcomes included migraine days, migraine frequency, and adverse events.
Results
We included 19 RCTs (n = 3656) after screening 1078 articles. The analysis showed that acupuncture had a significant advantage over propranolol in reducing migraine episodes over a 4-week period (SMD − 0.74, 95% CI − 1.04 to − 0.44). Acupuncture also had a significant advantage over waiting-list control in decreasing migraine frequency (SMD − 1.57, 95% CI − 2.08 to − 1.06). Acupuncture caused fewer adverse events than propranolol (RR 0.82, 95% CI 0.11–5.94).
Conclusions
Acupuncture had a better effect than propranolol in reducing migraine episodes in indirect comparison. The result should be confirmed in subsequent head-to-head studies.
Registration: PROSPERO CRD42018108585
This is a preview of subscription content, log in to check access.
Access options
Buy single article
Instant unlimited access to the full article PDF.
US$ 39.95
Price includes VAT for USA
Subscribe to journal
Immediate online access to all issues from 2019. Subscription will auto renew annually.
US$ 199
This is the net price. Taxes to be calculated in checkout.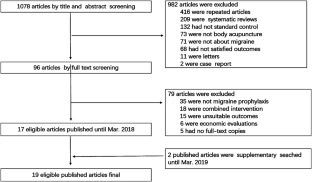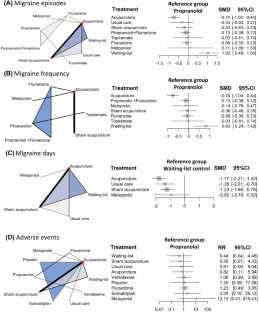 References
1.

Manack AN, Buse DC, Lipton RB (2011) Chronic migraine: epidemiology and disease burden. Curr Pain Headache Rep 15:70–78. https://doi.org/10.1007/s11916-010-0157-z

2.

Buse DC, Lipton RB (2013) Global perspectives on the burden of episodic and chronic migraine. Cephalalgia 33:885–890. https://doi.org/10.1177/0333102413477736

3.

Vo P, Fang J, Bilitou A, Laflamme AK, Gupta S. Patients' perspective on the burden of migraine in Europe: a cross-sectional analysis of survey data in France, Germany, Italy, Spain, and the United Kingdom. J Headache Pain 2018;19. doi:10.1186/s10194-018-0907-6.

4.

Hawkins K, Wang S, Rupnow M (2010) Direct cost burden among insured US employees with migraine. Headache J Head Face Pain 48:553–563. https://doi.org/10.1111/j.1526-4610.2007.00990.x

5.

Hazard E, Munakata J, Bigal ME, Rupnow MFT, Lipton RB (2009) The burden of migraine in the United States: current and emerging perspectives on disease management and economic analysis. Value Health 12:55–64. https://doi.org/10.1111/j.1524-4733.2008.00404.x

6.

Carville S, Padhi S, Reason T, Underwood M, Guideline Development Group. Diagnosis and management of headaches in young people and adults: summary of NICE guidance. BMJ 2012;345:e5765. doi:10.1136/bmj.e5765.

7.

Rücker G, Schwarzer G (2015) Ranking treatments in frequentist network meta-analysis works without resampling methods. BMC Med Res Methodol 15:58. https://doi.org/10.1186/s12874-015-0060-8

8.

Nadelmann JW, Phil M, Stevens J, Saper JR (1986) Propranolol in the prophylaxis of migraine. Headache 26:175–182

9.

Ludin HP (1989) Flunarizine and propranolol in the treatment of migraine. Headache 29:219–224

10.

Gawel MJ, Kreeft J, Nelson RF, Simard D, Arnott WS (1992) Comparison of the efficacy and safety of flunarizine to propranolol in the prophylaxis of migraine. Can J Neurol Sci 19:340–345

11.

Holroyd KA, Penzien DB, Cordingley GE (1991) Propranolol in the management of recurrent migraine: a meta-analytic review. Headache 31:333–340

12.

Kangasniemi P, Hedman C (1984) Metoprolol and propranolol in the prophylactic treatment of classical and common migraine. A double-blind study. Cephalalgia 4:91–96. https://doi.org/10.1046/j.1468-2982.1984.0402091.x

13.

Linde K, Allais G, Brinkhaus B, Fei Y, Mehring M, Vertosick EA, et al. Acupuncture for the prevention of episodic migraine. Cochrane Database Syst Rev 2016:CD001218. doi:10.1002/14651858.CD001218.pub3.

14.

Naderinabi B, Saberi A, Hashemi M, Haghighi M, Biazar G, Abolhasan Gharehdaghi F et al (2017) Acupuncture and botulinum toxin A injection in the treatment of chronic migraine: a randomized controlled study. Caspian J Intern Med 8:196–204. https://doi.org/10.22088/cjim.8.3.196

15.

Wang L-P, Zhang X-Z, Guo J, Liu H-L, Zhang Y, Liu C-Z et al (2012) Efficacy of acupuncture for acute migraine attack: a multicenter single blinded, randomized controlled trial. Pain Med 13:623–630. https://doi.org/10.1111/j.1526-4637.2012.01376.x

16.

Musil F, Pokladnikova J, Pavelek Z, Wang B, Guan X, Valis M (2018) Acupuncture in migraine prophylaxis in Czech patients: an open-label randomized controlled trial. Neuropsychiatr Dis Treat 14:1221–1228. https://doi.org/10.2147/NDT.S155119

17.

Xu J, Zhang FQ, Pei J, Ji J. Acupuncture for migraine without aura: a systematic review and meta-analysis. J Integr Med 2018.

18.

Zhao L, Chen J, Li Y, Sun X, Chang X, Zheng H et al (2017) The long-term effect of acupuncture for migraine prophylaxis: a randomized clinical trial. JAMA Intern Med 177:508–515. https://doi.org/10.1001/jamainternmed.2016.9378

19.

Li Y, Zheng H, Witt CM, Roll S, Yu SG, Yan J et al (2012) Acupuncture for migraine prophylaxis: a randomized controlled trial. Can Med Assoc J. 184:401–410. https://doi.org/10.1503/cmaj.110551

20.

Diener H-C, Kronfeld K, Boewing G, Lungenhausen M, Maier C, Molsberger A et al (2006) Efficacy of acupuncture for the prophylaxis of migraine: a multicentre randomised controlled clinical trial. Lancet Neurol 5:310–316. https://doi.org/10.1016/S1474-4422(06)70382-9

21.

Vickers AJ, Cronin AM, Maschino AC, Lewith G, MacPherson H, Foster NE et al (2012) Acupuncture for chronic pain: individual patient data meta-analysis. Arch Intern Med 172:1444–1453. https://doi.org/10.1001/archinternmed.2012.3654

22.

Lillie EO, Patay B, Diamant J, Issell B, Topol EJ, Schork NJ (2011) The n-of-1 clinical trial: the ultimate strategy for individualizing medicine? Per Med 8:161–173. https://doi.org/10.2217/pme.11.7

23.

Tfelt-Hansen P, Block G, Dahlöf C, Diener HC, Ferrari MD, Goadsby PJ, et al. Guidelines for controlled trials of drugs in migraine: second edition. Cephalalgia 2000;20:765–86. doi:10.1046/j.1468-2982.2000.00117.x.

24.

Guyatt GH, Oxman AD, Sultan S, Glasziou P, Akl EA, Alonso-Coello P, et al. GRADE guidelines: 9. Rating up the quality of evidence. J Clin Epidemiol 2011;64:1311–6. doi:10.1016/j.jclinepi.2011.06.004.

25.

Rücker G (2012) Network meta-analysis, electrical networks and graph theory. Res Synth Methods 3:312–324. https://doi.org/10.1002/jrsm.1058

26.

Mills EJ, Thorlund K, Ioannidis JPA (2013) Demystifying trial networks and network meta-analysis. BMJ 346:f2914. https://doi.org/10.1136/bmj.f2914

27.

Riley RD, Jackson D, Salanti G, Burke DL, Price M, Kirkham J et al (2017) Multivariate and network meta-analysis of multiple outcomes and multiple treatments: rationale, concepts, and examples. BMJ 358:j3932. https://doi.org/10.1136/bmj.j3932

28.

Krahn U, Binder H, König J (2013) A graphical tool for locating inconsistency in network meta-analyses. BMC Med Res Methodol 13:35. https://doi.org/10.1186/1471-2288-13-35

29.

Zhao L, Liu J, Zhang F, Dong X, Peng Y, Qin W et al (2014) Effects of long-term acupuncture treatment on resting-state brain activity in migraine patients: a randomized controlled trial on active acupoints and inactive acupoints. PLoS ONE 9:e99538. https://doi.org/10.1371/journal.pone.0099538

30.

Wang Y, Xue CC, Helme R, Da Costa C, Zheng Z (2015) Acupuncture for frequent migraine: a randomized, patient/assessor blinded, controlled trial with one-year follow-up. Evidence-Based Complement Alter Med 2015:1–14. https://doi.org/10.1155/2015/920353

31.

Vickers AJ, Rees RW, Zollman CE, McCarney R, Smith CM, Ellis N et al (2004) Acupuncture for chronic headache in primary care: large, pragmatic, randomised trial. BMJ 328:744. https://doi.org/10.1136/bmj.38029.421863.EB

32.

Streng A, Linde K, Hoppe A, Pfaffenrath V, Hammes M, Wagenpfeil S, et al. Effectiveness and tolerability of acupuncture compared with metoprolol in migraine prophylaxis. Headache: The Journal of Head and Face Pain 2006;46:1492–502. doi:10.1111/j.1526–4610.2006.00598.x.

33.

Salviz M, Yuce T, Acar H, Karatas A, Acikalin RM (2016) Propranolol and venlafaxine for vestibular migraine prophylaxis: A randomized controlled trial. Laryngoscope 126:169–174. https://doi.org/10.1002/lary.25445

34.

Melchart D, Thormaehlen J, Hager S, Liao J, Linde K, Weidenhammer W (2003) Acupuncture versus placebo versus sumatriptan for early treatment of migraine attacks: a randomized controlled trial. J Intern Med 253:181–188

35.

Lücking CH, Oestreich W, Schmidt R, Soyka D. Flunarizine vs. propranolol in the prophylaxis of migraine: two double-blind comparative studies in more than 400 patients. Cephalalgia 1988;8 Suppl 8:21–6. doi:10.1177/03331024880080S805.

36.

Linde M, Fjell A, Carlsson J, Dahlöf C (2005) Role of the Needling per se in Acupuncture as Prophylaxis for Menstrually Related Migraine: A Randomized Placebo-Controlled Study. Cephalalgia 25:41–47. https://doi.org/10.1111/j.1468-2982.2004.00803.x

37.

Linde K, Streng A, Jürgens S, Hoppe A, Brinkhaus B, Witt C et al (2005) Acupuncture for patients with migraine: a randomized controlled trial. JAMA 293:2118–2125. https://doi.org/10.1001/jama.293.17.2118

38.

Bordini CA, Arruda MA, Ciciarelli MC, Speciali JG (1997) Propranolol vs flunarizine vs flunarizine plus propranolol in migraine without aura prophylaxis. A double-blind trial Arq Neuropsiquiatr 55:536–541

39.

Ashtari F, Shaygannejad V, Akbari M (2008) A double-blind, randomized trial of low-dose topiramate vs propranolol in migraine prophylaxis. Acta Neurol Scand 118:301–305. https://doi.org/10.1111/j.1600-0404.2008.01087.x

40.

Allais G, De Lorenzo C, Quirico PE, Airola G, Tolardo G, Mana O et al (2002) Acupuncture in the prophylactic treatment of migraine without aura: a comparison with flunarizine. Headache 42:855–861

41.

Alecrim-Andrade J, Maciel-Júnior JA, Carnè X, Severino Vasconcelos GM, Correa-Filho HR (2008) Acupuncture in migraine prevention: a randomized sham controlled study with 6-months posttreatment follow-up. Clin J Pain 24:98–105. https://doi.org/10.1097/AJP.0b013e3181590d66

42.

Alecrim-Andrade J, Maciel-Júnior J, Cladellas X, Correa-Filho H, Machado H (2006) Acupuncture in Migraine Prophylaxis: A Randomized Sham-Controlled Trial. Cephalalgia 26:520–529. https://doi.org/10.1111/j.1468-2982.2006.01062.x

43.

Ialongo C (2016) Understanding the effect size and its measures. Biochem Med (Zagreb) 26:150–163. https://doi.org/10.11613/BM.2016.015

44.

Meissner K, Fässler M, Rücker G, Kleijnen J, Hróbjartsson A, Schneider A et al (2013) Differential effectiveness of placebo treatments: a systematic review of migraine prophylaxis. JAMA Intern Med 173:1941–1951

45.

Wang C, Liu B, Liu Y, He L, Li H, Liu J (2018) Analysis on the concepts related to adverse events and adverse reactions of acupuncture. Zhongguo Zhen Jiu 38:87–90. https://doi.org/10.13703/j.0255-2930.2018.01.023

46.

Lin J-G, Chen W-L (2008) Acupuncture analgesia: a review of its mechanisms of actions. Am J Chin Med 36:635–645. https://doi.org/10.1142/S0192415X08006107

47.

Zheng Y-Q, Wei W (2005) Total glucosides of paeony suppresses adjuvant arthritis in rats and intervenes cytokine-signaling between different types of synoviocytes. Int Immunopharmacol 5:1560–1573. https://doi.org/10.1016/j.intimp.2005.03.010

48.

Wickramasekera I (1980) A conditioned response model of the placebo effect predictions from the model. Biofeedback Self Regul 5:5–18
Acknowledgement
The systematic review was financially supported by the National Natural Science Foundation of China (no. 81774321 and no. 81473777) granted to Min Chen and Hui Zheng, respectively, and it was also supported by Innovation Team Project from Chengdu University of Traditional Chinese Medicine (no. CXTD1701) granted to Hui Zheng.
Ethics declarations
Conflicts of interest
The authors have no conflict of interest to declare in this study.
Electronic supplementary material
Below is the link to the electronic supplementary material.
About this article
Cite this article
Chen, Y., Li, J., Chen, M. et al. Acupuncture versus propranolol in migraine prophylaxis: an indirect treatment comparison meta-analysis. J Neurol 267, 14–25 (2020) doi:10.1007/s00415-019-09510-x
Received:

Revised:

Accepted:

Published:

Issue Date:
Keywords
Acupuncture

Propranolol

Migraine prophylaxis

Indirect treatment comparison

Meta-analysis